Inside Manhattan Criminal Court With Donald Trump
The former president of the United States is officially a defendant.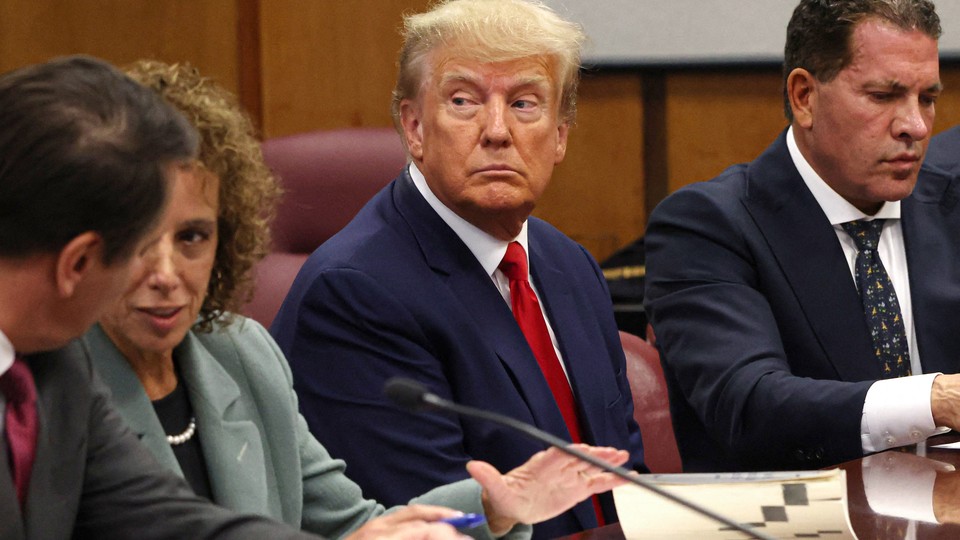 In the weeks leading up to today's arraignment in New York, former President Donald Trump was reportedly enamored by the idea of a dramatic "perp walk." He seemed to revel in the power of the word arrested. Perhaps Trump, a noted Godfather fan, wanted this historic day to resemble that of the real-life mafioso John Gotti, the former Gambino-crime-family boss, who famously strutted into the New York State Supreme Court in 1990 as flashing cameras captured his smirk.
Trump's supporters and detractors alike seemed similarly hungry for a spectacle. Hundreds of reporters, photographers, and news cameras lined the area outside Manhattan Criminal Court on this blue-sky morning. Many had waited overnight in the cold in hopes of securing one of the three colors of passes to make it inside. Helicopters hovered overhead. The Fire and Fury author Michael Wolff stood atop a riser for a live-TV hit. Thousands of New York police officers were ready for deployment in case protests turned violent.
Ultimately, though, there was no mugshot, no handcuffs. Trump didn't address the crowd on his way into the courthouse or as he left. A pro-Trump demonstration before the arraignment had more reporters than participants—Representative Marjorie Taylor Greene of Georgia left almost as soon as she arrived.
Still, it was a historic day—the first time a former American president has been charged with a crime. As we learned when Indictment No. 71543-23—"The people of the State of New York against Donald J. Trump"—was unsealed, Trump faces 34 counts of falsifying business records in the first degree, each a Class E felony that carries a four-year maximum sentence.
But today was just a hearing; the actual trial won't get under way until the first or second quarter of 2024. By then, Trump may well be the Republican nominee for president once again. He may also be indicted in other felony cases.
I made it inside. The defendant's red tie was the first thing I saw coming down the courtroom's center aisle, as I watched the CCTV feed from an overflow room in the courthouse. Trump looked sullen as he found his place at the defense table. He was sitting dead center, flanked on each side by a pair of lawyers. While they ruffled through papers and folders, Trump sat quietly, hands in his lap, shoulders sunk.
Just five photographers were permitted to capture the historic image. They were promptly escorted out of the courtroom before the arraignment began. No TV cameras, laptops, or audio-recording devices were allowed, per a ruling from Judge Juan Manuel Merchan. A scrum of journalists shifted in the long, creaky wooden benches and furiously scribbled notes and quotes on paper.
The prosecution rattled off the broad contours of its case, paying special attention to the way the alleged crimes, in their view, undermined the 2016 presidential election. How do you plead? Trump leaned into the microphone: "Not guilty." He sounded hoarse.
In New York, falsifying business records is typically a misdemeanor, unless it's done with the intent to commit or hide a second crime. The Trump indictment and accompanying statement of facts do not specify what that second potential crime may be, although the latter document highlights how the former president allegedly "orchestrated a scheme with others to influence the 2016 presidential election" and "violated election laws." In a press conference following the arraignment, Manhattan District Attorney Alvin Bragg cited what he says are breaches of New York State election law, tax law, and federal campaign-finance law. The indictment itself lays out charges for each falsely logged payment Trump made to his attorney and fixer Michael Cohen from February to December 2017, reimbursing Cohen for giving hush money to Stormy Daniels, an adult-film actor who claims she had a brief relationship with Trump.
Today's proceeding was, as one longtime city lawyer sitting in the back of the overflow room described it, mostly posturing. Assistant District Attorney Christopher Conroy argued that Trump's recent inflammatory rhetoric was a threat to public safety. He referenced Trump's social-media posts featuring phrases such as "death and destruction" and "World War III." He described an image that the former president had shared of himself wielding a baseball bat at Bragg's head. Conroy presented printouts of these posts to the judge and to the defense. Trump handed the papers down the line to his lawyers without looking at them. As the descriptions continued, Trump appeared to ask his lawyer to see one of the papers. The prosecution said threats had been made against not only individuals in the case but also their family members.
Todd Blanche, the first of Trump's defense lawyers to speak, appeared unprepared for this moment. "I didn't realize we were going to make opening statements today," he told the room. He painted his client as a man under attack who has a First Amendment right to free speech. He lamented the "leaks galore" and spoke of the "grave injustice" against the former president, who at the moment is campaigning to be the future president. "I don't share your view that certain language and certain rhetoric is justified by frustration," Judge Merchan countered. Rather than issue a gag order, which would have barred Trump from discussing the case publicly, the prosecution is seeking a protective order, which would prevent Trump from posting documents related to the case on social media. Merchan told the two sides that they needed to agree to the terms of the order.
Trump sat back in his chair, arms crossed, looking angry. The prosecution raised the prospect of a potential conflict of interest on Trump's legal team—claiming that Stormy Daniels, who is expected to testify as a witness, once sought the legal counsel of Joe Tacopina. "First and foremost, I never met Stormy Daniels," Tacopina replied. He tripped up on whether he should use her stage name or her legal one, Stephanie Clifford: "Ms. Daniels … Ms. Clifford … whatever her name is." Occasional muffled laughter could be heard in the overflow room.
Trump had arrived in New York late yesterday afternoon. Cable-news cameras followed his motorcade's every move from Mar-a-Lago to the tarmac, showing his name-branded plane soaring through the sky and landing at LaGuardia Airport, in his native Queens. His second motorcade drove him to his namesake tower in Midtown Manhattan, where he stepped out, waved at a crowd of reporters and supporters, and entered through a side door.
As with this morning, yesterday's assembly was mostly media and police. A small group of pro-Trump protesters held colorful banners that read TRUMP 2024 and FINISH THE WALL. Across the street, tourists stood behind metal barricades outside luxury stores such as Bergdorf Goodman and Bulgari. People in Phillies jerseys briefly stopped to take in the scene on their way up to the Bronx for the night's Yankees game. A man walked north on Fifth Avenue yelling "Witch hunt!" Trump Tower's windows could have used a wash.
Around 10:30 a.m. today, Marjorie Taylor Greene exited a white SUV and was escorted through throngs of reporters and a small cabal of Trump supporters in Collect Pond Park, across the street from the courthouse. Her congressional colleague George Santos also made a cameo in the park. As Greene spoke, whistles and screams from counterprotesters drowned her out. A man stomped out a beat on a kick drum with the message UNFUCK THE WORLD splayed across the front. Competing chants from the pro- and anti-Trump forces filled the park: "Fuck Donald Trump!" "Fascists go home!" "Fuck your feelings!"
A day earlier, New York Mayor Eric Adams had warned Greene, "When you're in town, be on your best behavior," and had issued a blanket statement to potential pot-stirring Trump supporters: "New York is our home and not a place for your misplaced anger."
Steve Mercyzinski, 56, of Brooklyn, wore red, white, and blue Trump apparel and a handmade SAVE AMERICA scarf, and told me that Trump was being unfairly targeted. "He's being indicted on 34 counts today? Where were the 33,000 counts against Hillary Clinton for deleting 33,000 emails which were subpoenaed?" Across the way, Gregory Williams, 57, from the Bronx, held a homemade sign that read LOCK HIM UP in one hand and a cardboard cutout of Clinton in the other. He told me he had saved the prop from a 2016 Election Night party.
The Daily Show's Jordan Klepper milled about among the crowd, as did podcast hosts from Barstool Sports. There was a guy dressed as Freddy Krueger, a guy smoking a joint, a guy in an orange prison jumpsuit wearing a demonic rubber Trump mask. But, this being Manhattan, there was also a guy in a baseball hat from the Odeon, the venerable TriBeCa hotspot nearby.
As Merchan adjourned today's session, Trump stood and straightened the lapels of his navy blazer, doing his best tough-guy, Gotti-coming-out-of-court impression. Merchan announced that December 4 would be the next time the court convened in person.
After the hearing, Bragg held a brief press conference. "These are felony crimes in New York State, no matter who you are," he said. "We cannot and will not normalize serious criminal conduct."
The prosecution loosely proposed a January 2024 trial date; Trump's defense lawyers said they felt spring '24 might be more reasonable. By then, if polls hold, Trump may once again be the Republican nominee for president of the United States, indictment be damned.
Morgan Ome contributed to this report.