Unprecedented
Former President Donald Trump was charged with 34 counts of falsifying business records.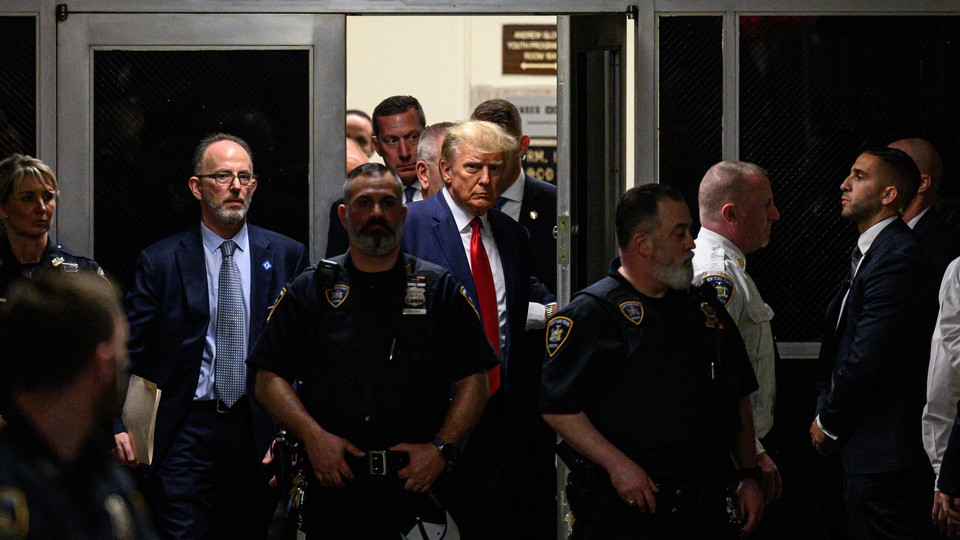 Donald Trump, the 45th president of the United States, became the first former president to be arraigned today. After surrendering to authorities in Manhattan early this afternoon, Trump pleaded not guilty to 34 felonies during a closed-door hearing.
The day provided a series of striking images. The New York–born mogul slowly traveled from Trump Tower in Midtown to a courthouse in Lower Manhattan via motorcade. Trump seemed to speak for many Americans, both those who support him and those who loathe him, in a social-media posting during that trip: "Heading to Lower Manhattan, the Courthouse. Seems so SURREAL — WOW, they are going to ARREST ME. Can't believe this is happening in America. MAGA!"
Manhattan District Attorney Alvin Bragg charged Trump with 34 counts of falsifying business records in the first degree, all related to a hush-money payment to Stormy Daniels, an adult-film actor who alleged a brief sexual relationship with Trump in 2006. Michael Cohen, then Trump's fixer, made the payment in the closing weeks of the 2016 presidential election, and was later reimbursed by Trump once he was in the White House.
All of this was already known, and speculation ahead of today's arraignment focused on whether prosecutors would produce new allegations or evidence of a new scheme. But the indictment and an accompanying statement of facts provide little new information or argument. As filings from the DA's office note, much of this material is already a matter of public record through previous proceedings against Cohen and American Media Inc., which owned the National Enquirer and assisted in a scheme to pay for rights to the story and then bury it. Cohen in 2018 pleaded guilty to violating campaign-finance laws for his role.
The biggest challenge facing Bragg will not be demonstrating that Trump falsified business records. He will have to prove that allegation in court, but he appears to have extensive evidence to back it up. And he also claims to be able to show that the point of the payoff was to influence the election. The statement of facts alleges that Trump told Cohen to delay paying Daniels as long as possible—ideally until after the election "because at that point it would not matter if the story became public" and they could avoid paying altogether.
The question looming over the case is whether Bragg can prove that Trump did all this "with intent to defraud and intent to commit another crime and aid and conceal the commission thereof," and whether that's sufficient to sustain felony charges and to escape statutes of limitations. In short, this case is likely to hinge less on disputes over facts than on disputes over interpreting New York state law.
The eye-popping total of 34 felony charges stems from the scheme under which Trump reimbursed his aide. Cohen paid Daniels $130,000 for her silence, after Trump agreed to cover the costs. According to prosecutors, Cohen and Trump Organization Chief Financial Officer Allen Weisselberg—who last year pleaded guilty to tax fraud—agreed on a $420,000 payment: "They reached that figure by adding the $130,000 payment to a $50,000 payment for another expense for which [Cohen] also claimed reimbursement, for a total of $180,000. [Weisselberg] then doubled that amount to $360,000 so that [Cohen] could characterize the payment as income on his tax returns, instead of a reimbursement, and [Cohen] would be left with $180,000 after paying approximately 50% in income taxes. Finally, [Weisselberg] added an additional $60,000 as a supplemental year-end bonus. Together, these amounts totaled $420,000."
This still left the problem of how to disguise the scheme for record-keeping purposes. But they found an arrangement for that, too: Each month, Cohen would invoice Trump $35,000 for legal services as part of a supposed retainer agreement—yet "at no point did [Cohen] have a retainer agreement with the Defendant or the Trump Organization," prosecutors allege. Trump faces one to five charges of falsifying records for each payment between February and December 2017.
The case remains strangely pedestrian compared with some of the other criminal investigations Trump now faces, which focus on his attempts to subvert the 2020 election, his incitement of an insurrection on January 6, 2023, and his hoarding of classified documents after leaving the White House. Even Bragg's description of the case in a statement was plain and matter-of-fact: "Manhattan is home to the country's most significant business market. We cannot allow New York businesses to manipulate their records to cover up criminal conduct … As this office has done time and time again, we today uphold our solemn responsibility to ensure that everyone stands equal before the law."
Speaking outside the courthouse after the hearing, Trump's lawyers dismissed the charges as politically motivated and flimsy. "I don't expect this to happen in this country. You don't expect this to happen to someone who was the president of the United States," said attorney Todd Blanche.
In lieu of novel information, the focus for the day remained—as usual—Trump himself. Reaching the courthouse, Trump briefly turned to acknowledge bystanders before heading inside without making any remarks. He was later seen entering a courtroom after being processed. An instant-classic photograph from the court produced an odd echo of Rembrandt's chiaroscuro The Night Watch: Trump walking through a poorly lit doorway, glaring at news photographers while surrounded by police officers, Secret Service agents, and lawyers.
Knowing Trump's mind is impossible, but although some close to Trump had publicly suggested ahead of the appearance that he would face the humiliating process with a display of bravado, the former president instead seemed subdued. He left the courtroom without making a public statement. He is expected to speak tonight at Mar-a-Lago. In the meantime, for the moment, the former president has exercised a right afforded to defendants but one that he seldom favors: the right to remain silent.