Don't Take Your Eye Off Jack Smith
The classified-documents scandal is continuing to look worse and worse for Donald Trump.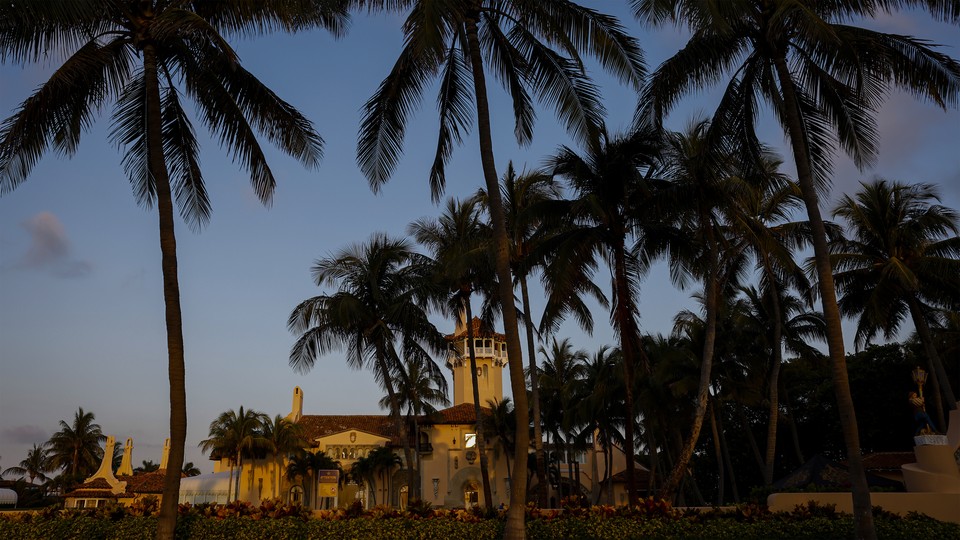 Manhattan, as always, likes to take the glory. But Washington is where the real power resides.
Donald Trump knows that—there's a reason he left New York to go into politics. It's also a good way to think about the news around Trump this week. The eyes of the world will be on Manhattan, where the former president is expected to be arraigned tomorrow morning. But the clearest threat to Trump is quietly still the one posed by the Justice Department's investigation into his handling of classified documents.
What exactly Manhattan District Attorney Alvin Bragg has on Trump is expected to become public when the indictment is unsealed, which may be tomorrow. The strength of the case, which public evidence suggests relates to the 2016 payment of hush money to the adult-film actor Stormy Daniels, is unclear. Some legal observers worry that the case depends too much on novel or tenuous legal theories. But even if it is strong, it is an odd (and old) footnote to Trump's worst behavior once he was elected president.
The documents matter is different. Unlike the DOJ probe into Trump's attempts to steal the 2020 election (which, like the documents investigation, is being run by Special Counsel Jack Smith) or an investigation into the 2020 election in Fulton County, Georgia, it does not cut straight to Trump's worst damage to American democracy. Yet absconding with presidential records is a crime that only a high-ranking official like the president could commit. Beyond that, the case has long appeared to be the most straightforward to prosecute, as I explained in January. The law is simple, and the general outline is clear: Trump took the documents, and he refused to give them back when asked.
An eye-opening new report in The Washington Post underscores the strength of the possible case against Trump—and in particular the suggestion that he has tried to obstruct the investigation.
As has now become clear, classified documents do occasionally end up in former officials' possession, as in other recent cases involving President Joe Biden and former Vice President Mike Pence. Many officials caught with such documents complain that they are victims of overclassification, but the law is the law. Even so, two things set Trump's situation apart: First, the documents are extremely sensitive, reportedly covering nuclear secrets and programs aimed at China and Iran. Second, when the government asked Trump for the documents, he (unlike Biden and Pence) refused to hand them over. This truculence is why the FBI ended up making an unannounced search in August, which turned up more than 100 documents marked classified.
According to the new report: "Federal investigators have gathered new and significant evidence that after the subpoena was delivered, Trump looked through the contents of some of the boxes of documents in his home, apparently out of a desire to keep certain things in his possession, the people familiar with the investigation said."
If true and provable, that would be a major development. Trump has tried to muddy the waters related to the documents. He has argued that the papers he took belonged to him. Questions also exist about who actually moved documents and what Trump knew about what was in them, and he has historically been clever about maintaining a veneer of deniability. But evidence that shows that Trump personally went through the documents after the subpoena would strongly suggest that obstruction had taken place and set the case even further apart from other classified-material probes. No legal theory suggests that the target of a subpoena can pick and choose whether to comply with some parts and not others.
This is just one newspaper report, of course. But it sounds a lot like something Trump would do, doesn't it? In fact, he has already all but confirmed it. During an interview last month, Fox News's Sean Hannity tried to inoculate Trump, who instead eagerly incriminated himself.
"I can't imagine you ever saying, 'Bring me some of the boxes that we brought back from the White House. I'd like to look at them,'" Hannity said. "Did you ever do that?"
"I would have the right to do that," Trump replied. "There's nothing wrong with—"
"I don't think you would do it," Hannity pleaded.
"Well, I don't have a lot of time, but I would have the right to do that. I would do that," Trump said. "There would be nothing wrong."
Hannity, perhaps sensing danger, tried to change the topic, but Trump charged ahead. He noted that the estate of Richard Nixon ended up receiving $18 million in a federal settlement over presidential records. (Left unsaid: that Nixon's misdeeds were a catalyst for changing the law on records to what exists now.) So Trump has already said he'd do exactly the sort of obstruction suggested, and he's provided a profit motive.
Smith's probe has perhaps gotten less attention than the others because, like Robert Mueller before him, he has overseen an investigation with few leaks. Mueller, too, ended up zeroing in on obstruction, and provided clear evidence that Trump had obstructed justice—though he refused to say so plainly or bring charges, citing DOJ guidance against indicting a sitting president. Smith faces no such procedural hurdle.
At the time of the Mueller probe, Trump's defenders took to writing off any instances of obstruction as mere "process crimes," as though some crimes are somehow not really crimes. Often, prosecutors do bring obstruction charges when the act impedes prosecuting an underlying crime. But in this case, obstruction is not just an effort to avoid prosecution; it's a perpetuation of the crime itself—keeping the documents. Smith has an opportunity to recognize that and act where the previous special counsel couldn't or wouldn't.