This Is Actually Quite Bad
The Manhattan district attorney's charges underscore how profoundly unsuited Trump is for the office he is now again seeking.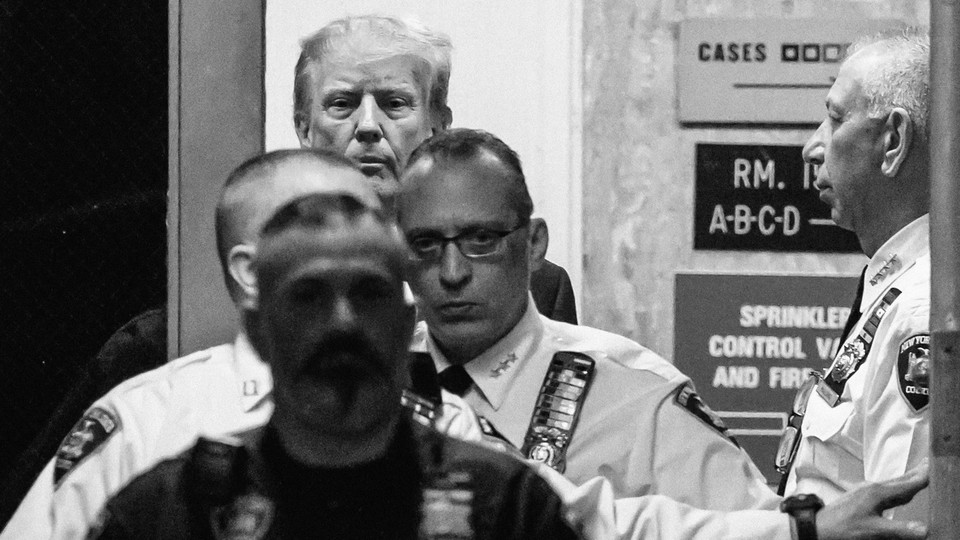 Updated at 5:14 p.m. ET on April 5, 2023.
The crimes Donald Trump is charged with are a strange fit for the drama and solemnity that ought to accompany the first-ever criminal charges to be filed against a former president. They concern payments allegedly coordinated by Trump to silence women who, in advance of the 2016 election, otherwise might have spoken publicly about their past sexual relationships with him. One of the women paid off is Karen McDougal, a former Playboy model; the other, Stormy Daniels, is an adult-film star. Also involved is a former Trump Tower doorman who allegedly received $30,000 to stop talking about his claim—for which years of reporting have failed to produce any evidence—that Trump had fathered an illegitimate child. The whole business is pure New York–tabloid absurdity.
The case isn't immediately connected to the survival of American democracy as is the federal investigation into Trump's responsibility for the January 6 insurrection or the Georgia probe into his efforts to meddle in the state's counting of the 2020 vote. It lacks the urgent national-security concerns posed by Trump's ferreting away of classified documents at his Florida estate. And yet it would be a mistake to brush it off as unserious. The Manhattan case, in its own quirky way, underscores how profoundly unsuited Trump is for the office he once held and that he is now again seeking.
For much of yesterday, the day of Trump's arraignment, the mood around the Manhattan courthouse and on cable news was that of a circus. A group of protesters, counterprotesters, and journalists waited outside. Someone was handing out whistles. Television cameras tracked the former president's journey by motorcade from Trump Tower to the courthouse, producing footage uncomfortably reminiscent of O. J. Simpson's 1994 flight from police. Inside the courtroom, though, Judge Juan Merchan had banned cameras and other electronics. One of the few photographs permitted by the judge shows Trump seated at a dark wooden table with his lawyers, chin thrust forward, expression blank. He pleaded not guilty.
At a press conference following the arraignment, Manhattan District Attorney Alvin Bragg argued that the case was fundamentally about lies—"like so many of our white-collar prosecutions." Trump, he alleged, had "lied again and again to protect his interests, and to evade the laws to which we are all held accountable."
Bragg was, to some extent, on the defensive. For weeks, his office had faced scrutiny from pundits and journalists questioning his decision to resuscitate a case that had once seemed dead. In 2018, the U.S. Attorney's Office for the Southern District of New York charged Trump's lawyer Michael Cohen for his role in shepherding the payments to Daniels and McDougal, arguing that the payments constituted an unreported in-kind contribution to the Trump campaign and thus violated federal election law. Yet Trump himself was never charged. When the Manhattan District Attorney's Office picked up the case under Bragg's predecessor, Cyrus Vance, it filed fraud charges against the Trump Organization and its chief financial officer—but, again, the man for whom the organization was named went unscathed.
After Bragg took over the office, he reportedly clashed with the prosecutors leading the Trump investigation. Two quit in protest over what they perceived as Bragg's unwillingness to press charges—an ugly dispute that became unusually public when one prosecutor, Mark Pomerantz, published a book early this year complaining that Bragg had decided to let Trump off the hook. And yet, by that point, Bragg had seemingly changed his mind and began pursuing the case with renewed vigor. This somewhat puzzling soap opera culminated in Trump's arraignment, finally, yesterday.
Before the grand jury even handed up the indictment, the apparent quarrel between Bragg and Pomerantz had already highlighted potential weaknesses in the case against Trump. The days and weeks preceding news of the indictment last Thursday, and the arraignment four days later, were stuffed full of speculation from pundits wondering about what charges Bragg might pursue and what legal theories might support them.
In the end, the indictment and the accompanying "statement of facts" released by Bragg's office provided surprisingly little new information. Trump has been charged with 34 counts of falsifying business records under New York law. The charges hinge on how the Trump Organization recorded a series of checks made out to Cohen as fees for his legal services; in fact, they were reimbursements for Cohen's payment of $130,000 to Daniels, which he made out of pocket in the fall of 2016. But in New York, falsification of business records is a misdemeanor. The charges against Trump are felonies—"bumped up" to more serious charges under New York law because of their link to the commission of another crime. So which crime? The indictment does not say. In his press conference, Bragg indicated that this was a strategic choice by his office and pointed to a range of possibilities, including New York state-tax fraud and violations of both New York State and federal election law.
Each of those possibilities, though, offers potential pitfalls into which prosecutors might tumble. Following the arraignment and press conference, some commentators, including former prosecutors in the Manhattan District Attorney's Office, seemed confident about Bragg's decision to pursue the case. Others, though, continued to worry that the charges' legal foundations remained wobbly, and that Bragg's U-turn on pursuing the case opens the district attorney up to accusations of politicized prosecution. "This kind of case can give credence to Trump claims of a witch hunt," Rick Hasen, an election-law expert at UCLA Law School, warned in Slate. He would prefer, he wrote, to "see the fire aimed where it belongs: at Trump's attempts to undermine American democracy and interfere with the peaceful transition of power during the 2020 election."
It is inarguably true that the 2016 hush-money payments do not cut to the heart of the crises facing American democracy in the same way that the several other ongoing investigations into Trump do. A special grand jury in Fulton County, Georgia, reportedly recommended multiple indictments over the Trump-led effort to interfere in the 2020 election, when Trump and his allies pressured and threatened Georgia election officials to throw the state's electoral vote to Trump even though a majority of Georgia voters had cast their ballots for Joe Biden. Fulton County District Attorney Fani Willis has said that her decision on whether to bring charges in that case is "imminent."
At the Justice Department, meanwhile, Special Counsel Jack Smith is investigating both Trump's responsibility for the January 6 riot and the ex-president's improper storage of classified documents at Mar-a-Lago. The Washington Post recently reported that federal investigators have amassed a wealth of evidence that Trump intentionally blocked government officials from recovering sensitive material, simply on the grounds that he didn't want to give it to them. The Mar-a-Lago investigation, the January 6 probe, and the Fulton County special grand jury all speak to Trump's insistence that he alone is the ultimate source of power and authority: His word ought to be law, regardless of legal structures or even the will of voters. Prosecutions of his conduct in such cases could signify a powerful reassertion of the rule of law over individual will, in a way the Manhattan hush-money prosecution, in all its grimy absurdity, can't.
Or can it? Bragg consistently framed the charges in his press conference as efforts to hold Trump accountable for lies to the public. The statement of facts alleges that Trump and his team set the hush-money payments in motion to better his chances in the 2016 election: "The Defendant did not want this information to become public because he was concerned about the effect it could have on his candidacy," the district attorney writes of McDougal's account of an affair. Trump schemed with Cohen to pay off Daniels after news broke in early October 2016 of the Access Hollywood tape, further endangering his campaign. As sketched by Bragg, this was a coordinated effort to deny American voters relevant information in advance of the election. According to the statement of facts, Trump initially suggested to Cohen "that if they could delay the payment until after the election, they could avoid paying altogether, because at that point it would not matter if the story became public."
Trump did not just purchase silence ahead of the 2016 vote. He worked while he was in office to complete the cover-up. When The Wall Street Journal first began reporting about the payments to Daniels and McDougal in 2018, Trump lied repeatedly to the American public and claimed that he had no knowledge of the matter. Before that, as Bragg sets out and as Cohen admitted in his plea deal with the Southern District of New York, Trump repaid Cohen with a series of checks in 2017, after Trump had sworn the oath of office. According to Bragg, the two finalized the arrangements for repayment in a February 2017 meeting held in the Oval Office itself.
This is, by now, a familiar portrait: a candidate, and then a president, obsessed with gaining and holding on to power at all costs, without any care for or comprehension of his obligations to the public, nor any commitment to play by the rules that bind everyone else. Such conduct speaks directly to Trump's unfitness for office and inability to conceptualize anything outside of himself. I would not, personally, rank it as worse than seeking to overturn the results of a lawful election or attempting a coup. But it is disturbing all the same.
The moral egregiousness of Trump's behavior concerning the hush-money payments is, however, a separate question from the strength of the case that Bragg plans to bring against him. This latter point is difficult to evaluate without seeing more of what the district attorney's office has planned. Over the past few days, the phrase "No one is above the law" has become a mantra of sorts among supporters of the Manhattan indictment. But given how the American system depends on the good judgment of prosecutors, just what "the law" is—and what it means to be above it—can be a slippery thing.
Trump, of course, isn't waiting to pass judgment. Despite Judge Merchan's request at the arraignment that he refrain from "statements that are likely to incite violence or civil unrest," the former president complained bitterly at a Mar-a-Lago rally that evening about the forces arrayed against him: Bragg, he said, is a "criminal"; Merchan is "Trump-hating"; Fani Willis is "racist" and Jack Smith is a "lunatic." All the investigations, all the many scandals, combine into a fractal of self-centered grievance.
---
This article previously misstated the year of O. J. Simpson's flight from police.