Angel Reese Meets the Same Old Stereotypes
The LSU star doesn't deserve the second-guessing.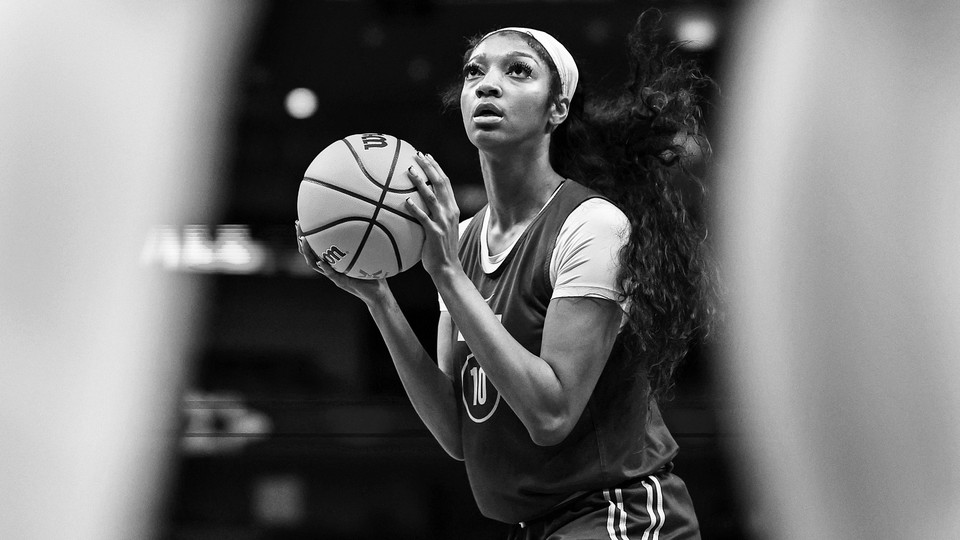 Even after Louisiana State University won its first national championship in women's basketball on Sunday by crushing the University of Iowa, many people seemed to be conspiring to tell the Tigers' standout forward, Angel Reese, that her light doesn't deserve to shine as brightly as other stars'.
First Lady Jill Biden said she wanted LSU to come to the White House but suggested that Iowa should also be invited. She clumsily backpedaled yesterday—her press secretary declared that Biden had wanted to applaud "all women athletes"—but not before Reese, on Twitter, mocked Biden's initial comment as "A JOKE."
The past few days have been eventful for Reese. The NCAA tournament's Most Outstanding Player sparked a controversy when, at the end of the most-watched women's-college-basketball game in history, she waved her hand in front of her face and pointed to her ring finger—a taunt directed at Iowa's Caitlin Clark, who'd recently done a similar "you can't see me" hand-wave after hitting her sixth three-pointer in a superb 40-point, triple-double performance against the University of Louisville in the tournament's Elite Eight round.
When Clark chided an opponent, she was applauded. John Cena, the professional wrestler turned actor who popularized the "you can't see me" motion during his WWE career, tweeted out a clip of Clark. Cena wrote: "Even if they could see you … they couldn't guard you!" ESPN aired a segment after the Iowa–Louisville game highlighting "Caitlin Clapbacks"—instances when Clark growled at her teammates and talked trash to her opponents.
But when Reese, who is Black, gave Clark, who is white, a dose of her own medicine, the reaction wasn't so enthusiastic. The LSU sophomore was subjected to such intense vitriol online that you would have thought she had used her hand to smack Clark. The media personality Keith Olbermann called Reese "a fucking idiot." Dave Portnoy, the founder of Barstool Sports, described Reese as "a classless piece of shit"—which is striking considering that Portnoy has been accused of sexual misconduct by multiple women, once made a rape joke on his website, and infamously referred to the ESPN television host Samantha Ponder as a "fucking slut." Portnoy has denied the sexual-misconduct allegations, but his calling anyone classless is absurd.
The criticism of Reese is an old but consistent story in sports. When white athletes are demonstrative, they're playing with passion and showing their love of the game. When Black athletes reveal their feelings, they're disgraceful and "classless."
Black women receive especially harsh scrutiny when they show confidence, cockiness, or any other strong emotion. Serena Williams dealt with this throughout her entire career. Remember the pearl-clutching that occurred when the tennis legend did the "C-Walk"—on the grass court at Wimbledon, no less—after beating Maria Sharapova at the 2012 Olympics? Also known as the "Crip Walk," the dance originated with the Los Angeles Crips gang in the 1970s before crossing over into popular culture. A lot of non-gang-affiliated Angelenos—including Williams, who grew up in Compton—do this dance as a tribute to the L.A. area. When the NBA player Brent Barry, who is white, did the C-Walk during the 2003 NBA All-Star Weekend's three-point shooting contest, nobody accused him of irresponsibly promoting gang culture.
Reese has dealt with these double standards and hypocrisies throughout her career, even back in high school, when she was one of the top-rated players in the nation. On a website that covers women's basketball, an opposing high-school coach questioned "celebrating a player (w god given height and talent) and zero humility or impulse control. As a female coach of female high school ballers, I find this behavior repulsive, unacceptable, unflattering and unnecessary. You can have swag while not acting like a punk. Highlight some other girls in the conference who aren't as genetically gifted."
In January, during LSU's narrow 79–76 victory over Arkansas, Reese received a technical foul after blocking a shot with one hand while holding her shoe, which had come off, in the other. After the block, Reese stared down Arkansas' Samara Spencer. The two exchanged words and Reese was given the penalty.
The spectacular play went viral, but an intense debate broke out among fans about Reese's behavior—even though male players are often celebrated when they make similar moves and jeer their opponent. Despite the significant advancements women have made in sports, they are still sometimes told that it's unseemly for them to be as aggressive and in-your-face as men.
Reese's bold play and her appearance—she wears long hair and long lashes and carries herself unapologetically—has made her a target. "All year I was critiqued about who I was," Reese told reporters after LSU's championship victory. "I'm too hood, I'm too ghetto—y'all told me that all year. When other people do it, y'all don't say nothing. This was for the girls that look like me."
Black women are constantly stereotyped as overly aggressive and confrontational. A couple of days before the controversy with Reese unfolded, the University of South Carolina coach Dawn Staley, who is Black, scolded reporters for characterizing her team, most of whose members are Black, as bullies. It was as if she was forecasting what Reese was about to face. "We're not bar fighters," Staley said. "We're not thugs. We're not monkeys. We're not street fighters. This team exemplifies how you need to approach basketball on the court and off the court … Some of the people in the media, when you're gathering in public, you're saying things about our team and you're being heard."
Reese's situation resonates with a lot of Black people, which is why the phrase Black women was trending for hours on Twitter earlier this week and why so many Black celebrities immediately rushed to Reese's defense, including the NBA legend and former LSU standout Shaquille O' Neal and the actor Samuel L. Jackson.
Jill Biden's comments also struck a nerve, because it seemed as if Reese and LSU were being penalized for their greatness. Reese's fans saw it as another instance when Black women's accomplishments were being overshadowed. An invitation to the White House has always been an honor reserved for champions, and to suddenly change that to assuage Clark and her Iowa teammates felt like an indignity. Clark defended Reese on ESPN yesterday, saying that "we're all competitive" and that "Angel's a tremendous, tremendous player. I have nothing but respect for her." The Iowa star also noted that runners-up don't usually go to the White House.
Would Biden have been so gracious to LSU had Iowa won? Thankfully, we'll never know. LSU deserves to relish its overwhelming victory, but that doesn't entirely take away the sting of the grief Reese faced—all for daring to be herself.