What Not to Do If You Win an Oscar
A Hollywood speechwriter on what makes for a great—or a terrible—moment at the mic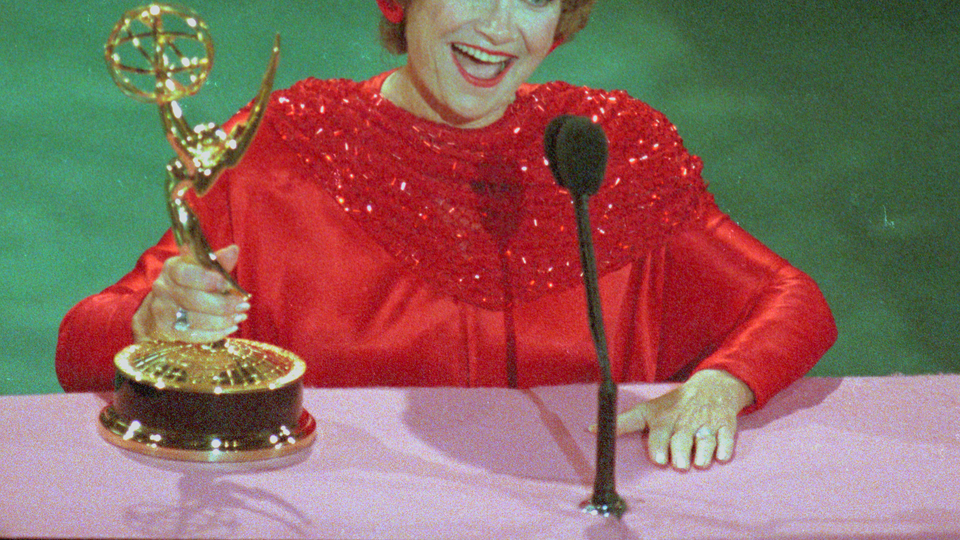 The moment an artist wins an Oscar or a Grammy or a Tony, they are handed two things: some kind of statue (sure, nice) and, perhaps more important, 45 seconds—maybe a minute, two tops—of live, relatively unbridled stage time with millions of people watching. They can use that time however they choose, thanking their parents, thanking their agents, thanking God, advocating for causes, crying. After that the music will play.
Wendy Shanker is a writer with a niche skill: She helps celebrity clients draft acceptance speeches so that they can maximize these high-adrenaline, high-profile moments.
Shanker told me that she once found herself moved to tears when a client seemed to be forgoing the drafted speech in favor of something else—only to suddenly realize that Shanker herself had in fact written the words in question. "She's such a phenomenal actress that I didn't even recognize my own writing," Shanker said.
Ahead of this weekend's Oscars, Shanker and I caught up by phone to discuss the art of acceptance speeches (keep the thank-you list short, she says) and her biggest pet peeve (reading off a phone).
Our conversation has been condensed and edited for clarity.
---
Caroline Mimbs Nyce: Let's pretend you get hired by a new A-list client tomorrow. Walk me through your process.
Wendy Shanker: My process is to try and do a lot of research and to get to know that person's voice as well as I can before I actually connect with them directly. So I'm reading interviews and watching videos. The best is when I do get to work directly with that client as opposed to going through a publicist or a manager. Just even having a really brief conversation with somebody, I can really hear really, really quickly what it is that they want to say and the voice that they want to say it in. And I can also provide a little bit of guidance to them on what might work and what might not work.
A good example of this would be I wrote an acceptance speech—this wasn't a televised show; this was a private event. A woman was being honored, and her team had said, "Look, whatever you do, don't talk about her mother." Her mother is also famous. "Don't make this about her mother." I went, "Okay, okay, okay." And then I got 10 minutes with my client on the phone. And the first thing she said is, "I really just wanted to talk about my mother."
Nyce: Do you think they were trying to keep her from it?
Shanker: I don't think they were trying to keep her from it. I just think nobody knows the heart and soul of what that person wants to say in the moment except for that person.
Nyce: Do you ever get intervening agents telling you, "Don't let them say that. Cut that line"?
Shanker: Yeah, that happens a lot. Most representatives are trying to protect their clients. But a lot of what I do is get this very busy person to focus in on this thing they know is coming and haven't really thought about. Just like any of us lowly humans, they procrastinate. The conversation with me gives them time to shut out all the other noise and focus on What is it that I really want to say?
Nyce: About how long are acceptance speeches usually?
Shanker: It depends on the show. For a network show that's airing live, the time is tight; it is 45 seconds or 60 seconds. While the person on the stage is accepting the honor, there are the producers backstage trying to figure out how long they're going to let them talk. Maybe it says 45 seconds on the clock, but if you're saying something really good or you're a legend in the industry, they're going to let you go a little longer. I'll also say from the producing side of it that nobody ever wants to cut anybody off.
A lot of people don't want to prepare because they think they're going to hex it. And I would like to congratulate anybody who thinks they have the magical-thinking power to win or lose an Oscar by preparing a speech or not preparing a speech.
Nyce: How much can you fit into 45 seconds?
Shanker: I advise clients to have one central thought, especially one that could be connected to your performance or your album or the theme of the project that you were in—something that speaks to a social or cultural issue connected to the work that you are being honored for.
I really, really encourage people to limit the thank-you list. If there's one special thank you that you want to give out—to your parents or to your fifth-grade theater teacher or to the real-life person whom you were portraying on screen—great! But we don't need to hear about your agent's assistant's assistant's Uber driver. If you are going to go the list way, write them down, practice it, get everybody in there. "Oh, I'm going to forget somebody!" I should never hear that from you onstage.
Nyce: This gets at the question of "Who are award speeches for?" The people in the room or the audiences at home?
Shanker: We all know that the numbers of people watching awards shows are sinking. And I think that's because we have so much access to a lot of these people that we laud all the time. The Oscars might have been the only time in a year when I would get to hear Barbra Streisand say something. But now Barbra's tweeting.
I think people get excited about the pageantry of it. I think people still get excited about films and albums and Broadway shows that mean something to us and mean something to the culture, that give us something that we didn't have before.
And there's still so much coverage of these shows. We get excited when our beloved film wins and frustrated when it goes the wrong way. So they continue to have a lot of cultural worth, even if they're losing the numbers.
Nyce: What have you noticed about the acceptance speeches this season? Are there any that have stood out to you?
Shanker: I do think there's real joy in seeing people who have been in the industry for a long time and haven't been recognized speak. Ke Huy Quan has this amazing comeback story, and that's what a lot of his speeches have centered on. Michelle Yeoh is talking about inclusion and representation in a really wonderful way. It's thrilling and exciting to hear Jamie Lee Curtis say, "I'm 64, and this is just amazing." Sheryl Lee Ralph bursting into song—completely memorable. Watching Jennifer Coolidge get a lot of awards in this cycle has been super fun because she's another person who's worked for decades in an industry that hasn't always been kind and generous to her or to her talent. When she's up there, I think she's being very genuine, and she's also savvy about giving the audience what they want.
Nyce: What are some of your acceptance-speech pet peeves?
Shanker: My No. 1 pet peeve is going onstage with your cellphone. To me, it just seems unprepared and casual; it doesn't step up to the intensity and honor of the moment.
The other thing that really bugs me is false humility. When people approach and go, "I just didn't think I'd … Who, me?" It's like, You were nominated. You campaigned for it. You've spent months wining and dining and talking to people. You've been standing in front of a mirror with a hairbrush since you were 4 years old. This is not a shock. Humility is wonderful, but false humility is annoying.