Trump Gets a Taste of His Own Medicine
The master of normalizing the once-unthinkable faces indictment, and no one seems surprised.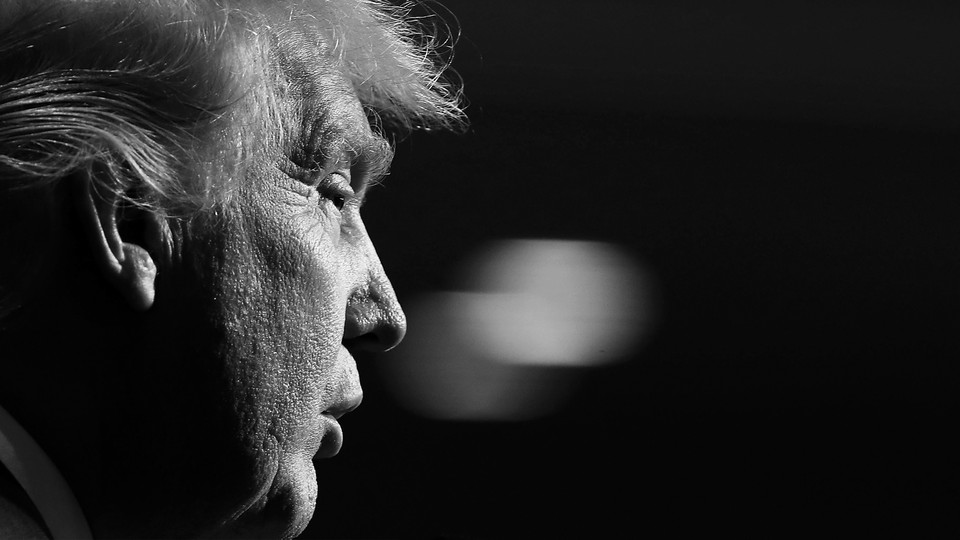 "This is not normal," Donald Trump's opponents warned as he took office and began enacting his agenda. He gave them so many chances to use the phrase that it became first a cliché and then a sorry joke.
But the warning was not wrong: Trump acclimated Americans to many egregious actions by exposure therapy. What was once novel and frightening became familiar; familiarity bred contempt, but also enough acceptance to let Trump get away with a lot. Ironically, Trump may himself now risk falling victim to the same pattern. The idea that a former president might be indicted for a crime has, through repetition, gone from an unthinkable breach of long-settled norms to something so expected that the actual event may feel like an anticlimax.
Yesterday, The New York Times broke the news that Trump has been invited to testify before a Manhattan grand jury, which is investigating whether he illegally paid hush money to an adult actress to cover up an affair. The $130,000 payment is a matter of fact; Trump denies the affair and any lawbreaking. Such an invitation is almost always a prelude to charges, and it is almost always declined.
Trump responded publicly with a video and a statement in which he hit all the usual notes: witch hunt, Democratic politicians, Hunter Biden, etc. But at this point, Trump seems to be laying the groundwork to defend himself in court, rather than trying to head off every one of the investigations into him.
Each of those probes is moving ahead at speed, and any could produce charges. Manhattan District Attorney Alvin Bragg seems to almost be in a race to indict with Fani Willis, the prosecutor in Fulton County, Georgia, who is investigating attempts by Trump and others to subvert the 2020 election there. (By comparison to the Fulton County probe, the allegations in Manhattan feel awfully pedestrian, but maybe this shows how Trump has normalized behavior once deemed unacceptable.) Meanwhile, federal Special Counsel Jack Smith, who is looking into potential crimes related to the January 6 insurrection and Trump's mishandling of documents, is facing a de facto deadline of the next presidential inauguration.
Not that long ago, the idea that a former president could be indicted for a crime was a topic of dread, even for those who believed that charging Trump was justified or even prudent.
"One can easily imagine a losing president resisting the call to leave the White House at least in part because he feared subsequent prosecution, or a winning president prosecuting her opponents over normal political differences," Paul Rosenzweig wrote in The Atlantic in October 2020. "Indicting one former president risks making a habit of doing so, and reducing America to little more than a revolving-door banana republic." (This was prophetic; Trump lost, tried to resist leaving, and is now threatened with prosecution.)
Although Rosenzweig recommended investigating Trump for crimes committed only before or after his presidency, others came to different conclusions. Even some strident Trump critics felt that any attempt to prosecute was too fraught to consider, while others felt the rule of law demanded comprehensive investigations and charges if justified, no matter when any crimes occurred.
The point is that there was a robust debate. Somewhere that slipped away. Plenty of commentators still argue that charges against Trump will have dangerous effects or are simply not justified by the facts, but the conversation is now academic. Identifying when the switch happened is tough—was it when the FBI search turned up so many presidential documents at Mar-a-Lago? Or when the Fulton County grand jury completed its work? Or when Jack Smith was appointed?—but a prospect that once seemed remote has, through long discussion, become nearly inevitable.
In a way, Trump has fallen victim to his own trick. During his first campaign and his presidency, he would introduce some astonishing concept, weather the initial backlash, and then repeat it until the population had become numb to it. Calling for a ban on Muslims entering the U.S., interfering with Justice Department investigations into himself, willy-nilly disclosures of classified material, openly siding with dictators such as Kim Jong Un and Vladimir Putin over the U.S. military and intelligence agencies, enlisting the federal government's investigatory power as a tool for his reelection—even when each of these continued to appall, it lost shock value through sustained exposure.
And after all, it was Trump who first normalized the idea of prosecuting a rival presidential candidate. (Perhaps he regrets that now.) Like Trump's use of the tactic to enable his abuses, the normalization of prosecuting Trump is bad for American society. This is true even if you believe (as I do) that many of Trump's actions justify his being charged. The idea that a former president would be indicted should never become commonplace, but the way out is not to be found in prosecutorial discretion one way or another. Instead, it's on voters. A good start would be to avoid electing presidents likely to commit lots of crimes.