Republicans Are Targeting Drag Shows. This Congressman Loves Them.
Representative Robert Garcia is expanding what it looks like to be gay in Congress.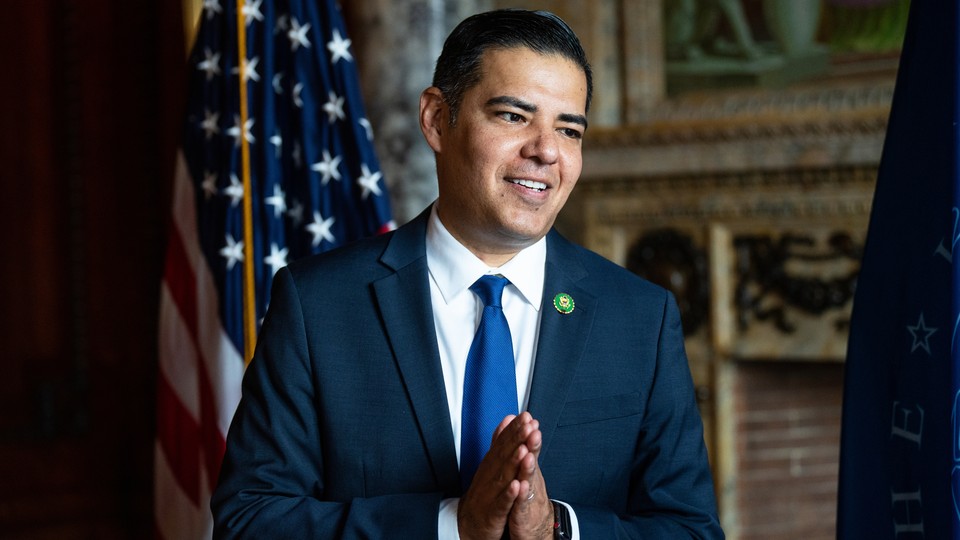 Updated at 2:15 p.m. ET on March 16, 2023
Robert Garcia, a 45-year-old former Long Beach, California, mayor and newly elected Democratic U.S. representative, is hardly the first openly gay member of Congress, but there's something unique and irreverent in how he has approached his first few months on the job. He's publicly celebrated drag culture, casually criticized Republican colleagues on Twitter, and paid tribute to Beyoncé on the House floor. Although some of his commentary is cringeworthy—after a recent jobs report, he tweeted that "President Biden's economy is SLAYING"—Garcia embodies something new and welcome in American federal politics: an eagerness to embrace the pop culture and institutions made by and for gay people.
On a Friday night in mid-February, I met Garcia and three of his friends at Hamburger Mary's, a drag bar and restaurant in downtown Long Beach. "We have a celebrity in the house, y'all," the hosting queen hooted. The lights fell on Garcia. "You giving all those crazy bitches hell for us, Congressman?" she asked, sidling up to him. Garcia laughed and handed the queen—stage name Mia Farrow—a wad of dollar bills, which she slipped between a black-velvet dress and a pair of shiny silicone breasts.
The location was Garcia's idea. His hair combed to a Clark Kent sheen, Garcia greeted the Hamburger Mary's staff with kisses on the cheek. As he and his friends chatted about an episode of RuPaul's Drag Race the bar had shown on TV, they arranged three neat piles of cash to give to the queens strutting by. "I've been to every gay bar in Long Beach tons of times," Garcia told me over a double Tito's soda.
There are more openly gay, lesbian, and bisexual politicians in Congress than ever, but Garcia stands out among his political contemporaries, many of whom have public images that seem to resist gay stereotypes. Transportation Secretary Pete Buttigieg ran for president as a married veteran. Colorado Governor Jared Polis was once described in The New York Times as a "who-cares gay" with a schlubby tech-nerd vibe. Former Representative Sean Patrick Maloney, who emerged from the macho politics of New York State, was known for his combative style.
All these men march in pride parades and speak freely about their sexuality, but being gay for Garcia entails more conspicuous enthusiasm for queer people who aren't his husband. In Long Beach, he hosts fundraisers at gay bars and has attended drag shows for years. Jewels, a local drag queen whom Garcia honored with a key to the city in 2019, told me it's been "mind-boggling" to see her friend of two decades and a champion of drag performers make it to Congress, especially at a time when Republican-led state legislatures are trying to restrict drag shows. (Tennessee just passed a law banning "adult cabaret" performances in public.) Garcia, Jewels said, is willing to stand up for people who want "the freedom to do more than conform."
That change is overdue. In 1986, Barney Frank became the first member of Congress to voluntarily come out as gay, and for many years he was one of just a handful. "It was really only in the '90s that gay issues hit the national political stage with Don't Ask, Don't Tell and the Defense of Marriage Act," the historian George Chauncey told me. The gay-rights movement's emphasis on two pillars of hetero respectability—the military and marriage—elevated politicians who fit a similar mold. "There was no meeting where everyone agreed to be a little less subversive in exchange for political access and power," the cultural critic Dan Savage told me in an email. But as more aspects of gay culture entered the mainstream—including drag and frank discussion of sex—more forms of gay respectability emerged too. "Once we had space to be ourselves—to be a Cabinet member or International Mr. Leather—we … kept being ourselves," Savage said.
Garcia considers himself "pretty vanilla," but vanilla in Long Beach is different from vanilla in Washington. Most politicians talk about drag queens and other gender-nonconforming people with contempt, or like a caring but slightly clueless parent. When Garcia does, it's from a place of familiarity—even reverence. He called drag "an important art form" in our conversation, and vocally defends the raunch and camp that bring millions of people joy and meaning, even as some Republicans try to legislate it out of existence. "I'm not going to, like, dial back things that make me who I am," Garcia told me.
Garcia, the first gay immigrant elected to Congress, was 5 years old when he and his mother left Peru for the United States, settling in Southern California. "My mom's first couple jobs were cleaning houses and working for shops," he told me. "We always just worked to make it." He learned English by reading comics, and realized in middle school that, like the superheroes he read about, he had an identity he wanted to keep secret. (A comic-book nerd to this day, Garcia was sworn into Congress with the Constitution and an original first-issue Superman.)
Garcia came out in college, and in our conversation he was remarkably candid about his first experiences as a gay man—from going to his first gay bar as a closeted fraternity pledge, to his first gay sexual experience with a fraternity brother, to his first drag show at a club in Long Beach called Ripples, featuring a local performer named Dolly Levi. (Long Beach has a storied "gayborhood" that is both racially and economically diverse. "For most of us poor queers of color, Long Beach was the shit," Melissa Hidalgo, a professor of women's, gender, and sexuality studies at California State University at Long Beach, told me.) By the time Garcia graduated, he had a crew of gay friends. One Fourth of July, they went to Factory, a West Hollywood spot that closed in 2018, and Garcia danced all night with the guy who, in 2018, became his husband, Matthew Mendez, now a political-science professor at CSULB. "I was so sprung," Garcia said.
The precarity Garcia felt as both a gay man and an immigrant (he became a U.S. citizen in college) drove him to enter public service and help people who didn't have the opportunities he did. In 2009, at age 32, he won his first race, for a seat on the Long Beach City Council. In 2014, he was elected the city's youngest, first Latino, and first gay mayor. During his eight years in the job, he built up the city's downtown; opened the Long Beach convention center to immigrant children who arrived at the border unaccompanied; and worked with the city's gay-bar owners to safely revive nightlife during the coronavirus pandemic and to vaccinate bartenders, drag queens, and go-go boys against monkeypox.
In Congress, Garcia has begun to use his new platform to position himself as a foil to Republican Representatives Marjorie Taylor Greene and George Santos. Garcia—who earned praise as mayor for his handling of COVID, which killed his mother and stepfather in 2020—sits on the COVID-19 oversight subcommittee with Greene, who has spread misinformation about COVID vaccines. At one committee meeting last month, she asked the head of the Government Accountability Office how much federal COVID funding had gone toward drag-queen story hours, which Greene had previously described as "an attack on our children." (The GAO head said he did not know.) "She sits, like, right across from me. It's hard to listen to, but you just show up prepared," Garcia told me. "I think most people would tell you that they'd rather leave their kid with a drag queen than with fucking Marjorie Taylor Greene." (When I emailed Greene's spokesperson with a request for comment, he wrote back: "I'm not responding to someone with 'pronouns' in their signature.")
Garcia also has made a target of Santos, recently introducing a resolution, largely symbolic in the GOP-controlled House, to expel the New York freshman from Congress, after revelations that he had fabricated much of his résumé. Garcia reserves particular ire for Santos's apparent lie that some of his former co-workers died in the 2016 Pulse nightclub shooting, in which 49 people, most of them gay Latino men, were killed. Yet Garcia also expressed pained empathy for Santos; both are gay men from South American immigrant families. "Have you seen the videos of him as Kitara?" Garcia asked me, referring to a stage name Santos reportedly used in a drag performance in Brazil. "He looks so happy. My heart breaks a little." (Santos denies having been a drag queen. "I was young, and I had fun at a festival," he told reporters. His office did not return a request for comment for this article.)
Garcia, of course, is just getting started in his new job, and to stay in office, he'll have to deliver for his constituents. That his arrival in Washington still seems remarkable is a reminder of many Americans' narrow expectations for queer people in public life. But Garcia seems intent on showing how a serious public servant can celebrate queer culture at its most playful, and expand what it looks like to be gay and represent America.
As we were leaving Hamburger Mary's, he looked back at the stage. "Oh my God," he said, grabbing a handful of dollar bills before running back to where we had been sitting. Dolly Levi, the first queen Garcia saw perform, as a college kid, had taken the stage and was lip-synching to an up-tempo track from Disney's The Hunchback of Notre Dame. As Levi spun around, the beat dropped and the black shroud she was wearing fell away to reveal a flowing pink-and-lavender dress. Garcia seemed transfixed. The smoke billowed and the lights flashed, and I thought of RuPaul's line that drag "doesn't hide you. It reveals who you are."
---
This article previously misidentified the bar where Garcia saw his first drag show.