NFL Owners Are Making an Example of Lamar Jackson
Teams are always looking for a top-tier quarterback, but the Baltimore Ravens star is garnering surprisingly little interest.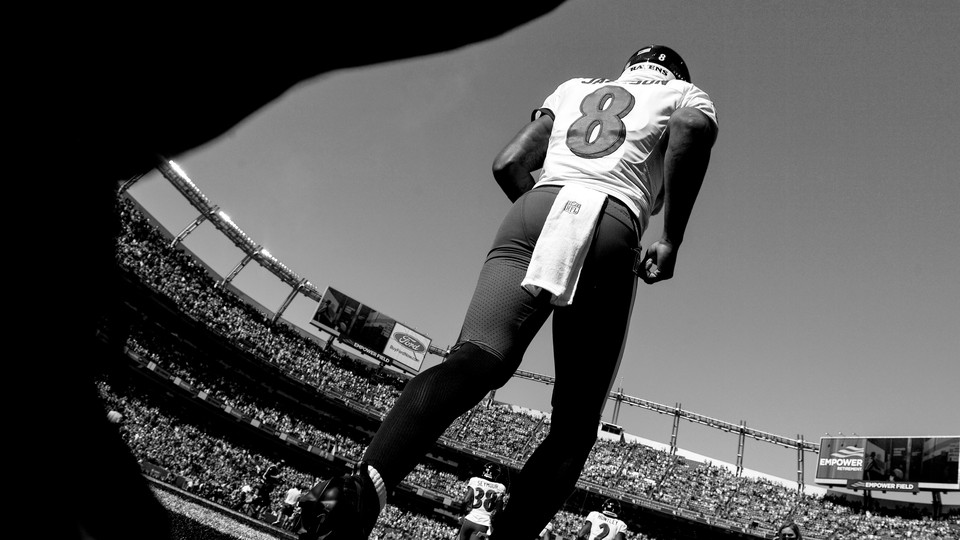 Quarterback thirst is a perennial issue in the NFL—where most teams struggle to fill football's marquee position—but that isn't helping the former league MVP Lamar Jackson.
Jackson's ongoing contract dispute with the Baltimore Ravens has morphed into a good, old-fashioned power struggle that pits players' interests against the hypocrisy and stubbornness of NFL owners, who are desperate to reset the market now that quarterbacks are successfully using their leverage to attain precedent-setting contracts. Historically, most NFL players' contracts have been partly contingent upon their staying healthy and maintaining their skills, but quarterbacks in particular have been seeking and receiving fully guaranteed contracts.
Owners seem to be using Jackson to show their resolve. The Ravens and Jackson have been trying to negotiate a long-term contract extension for two years. Earlier this month, the Ravens placed a nonexclusive franchise tag on Jackson, giving him the right to negotiate with other teams, and themselves the right to match any offer. If Jackson gets another offer that Baltimore doesn't match, his new team will have to compensate the Ravens with two first-round draft picks. The Ravens have until July 17 to sign Jackson to a long-term deal, but if that doesn't happen, Jackson will earn $32.4 million next season. That number may sound good, but had the Ravens given Jackson the exclusive franchise tag, Jackson's salary would have been about $45 million.
On the surface, the Ravens' strategy is risky: Another team could sign their franchise quarterback. But the second-youngest MVP in NFL history doesn't seem to be garnering much interest from other NFL teams. It's perplexing—even to other NFL players. As the New Orleans Saints safety Tyrann Mathieu recently asked on Twitter, "When is the last time a league MVP was treated so disrespectfully??"
A number of factors complicate the story. One is Jackson's health history. Jackson has missed 10 regular-season games over the past two seasons because of ankle and knee injuries. One of the things that makes Jackson a special player is that he's dangerously elusive and one of the best athletes in the league; he holds NFL records for rushing yardage by a quarterback. But his style of play also leaves him vulnerable to injuries.
Another factor is that Jackson doesn't have an agent, and that seems to bother a lot of people. If Jackson were to get what he's worth without traditional representation, that would be a pretty big glitch in the matrix.
But the biggest issue may be that NFL team owners see an opportunity to regain a semblance of control over quarterbacks' escalating salaries. The top 10 NFL quarterbacks entering the 2022 season were earning at least $35 million a year, and those salaries and the amount of guaranteed money will continue to rise, because a good quarterback is essential for any team that wants to seriously compete for a championship—or even just put fans in the seats. Perfect example: The Carolina Panthers just sent the Chicago Bears four draft picks as part of a blockbuster trade that gives the Panthers the No. 1 overall pick in this year's draft—which Carolina is expected to use on a quarterback. (The Panthers could have mortgaged less of their future by pursuing Jackson.)
Last year, the Cleveland Browns signed the former Houston Texans quarterback Deshaun Watson to a $230 million contract that included the most guaranteed money for a player in league history. Watson received this massive deal despite having served an 11-game suspension after more than two dozen women accused him of sexual misconduct during massage treatments. Watson, who has proclaimed his innocence, settled civil lawsuits with more than 20 of his accusers.
The optics of Watson's highly lucrative deal were terrible. But what reportedly got other owners seething was that Cleveland had unwittingly created a new quarterback-compensation standard that included fully guaranteed contracts. In fact, Baltimore owner Steve Bisciotti all but admitted at the NFL owners meeting last year that the Browns had put him at a disadvantage in contract talks with Jackson.
"It's like, damn, I wish they hadn't guaranteed the whole contract. I don't know that [Watson] should've been the first guy to get a fully guaranteed contract," Bisciotti told reporters. "To me, that's something that is groundbreaking, and it'll make negotiations harder with others."
I'm accusing NFL owners not of collusion against Jackson but of a ruthless awareness of their shared interest in limiting his leverage. The Ravens were likely willing to let Jackson test the market because they knew that other owners' pettiness would give them the advantage they needed. Almost as soon as Jackson became a free agent, so to speak, journalists who cover professional football began leaking which teams weren't interested in Jackson. It felt as if the owners were sending the message that they weren't going to let another deal like Watson's happen on their watch.
Considering that most teams have been willing to do whatever it takes to land a great quarterback, the owners seem to be digging into a lost cause. A multiyear contract worth more than $100 million is now the floor for a starting quarterback in today's NFL. The promising young quarterbacks Jalen Hurts of the Philadelphia Eagles, Joe Burrow of the Cincinnati Bengals, and Justin Herbert of the Los Angeles Chargers all are eligible for contract extensions. Last week, the New York Giants signed the quarterback Daniel Jones to a four-year, $160 million deal that included $82 million in guaranteed pay. Jones is 21–31–1 as a starter—so imagine the rewards awaiting Burrow and Hurts, who have recently appeared in a Super Bowl, and Herbert, the former offensive rookie of the year and a 2021 Pro Bowler. Of course, some NFL players took note that Jones received a new contract before the more experienced and decorated Jackson. The Chicago Bears safety Jaquan Brisker tweeted, "MVP lol … other Bruh got paid today and is trash."
NFL players should hope Jackson does receive a contract that rivals Watson's—though most league insiders believe that is highly unlikely—because they benefit from his disruption of the way the NFL usually operates.
Making Jackson pay for a NFL owner's lack of discipline is not just unfair; it's wildly hypocritical. It's not Jackson's fault that the Browns prioritized winning over good character. Cleveland was the only team willing to give Watson that much guaranteed money, but multiple teams still wanted Watson—which says a lot about what owners are willing to excuse in order to win.