The FBI Desperately Wants to Let Trump Off the Hook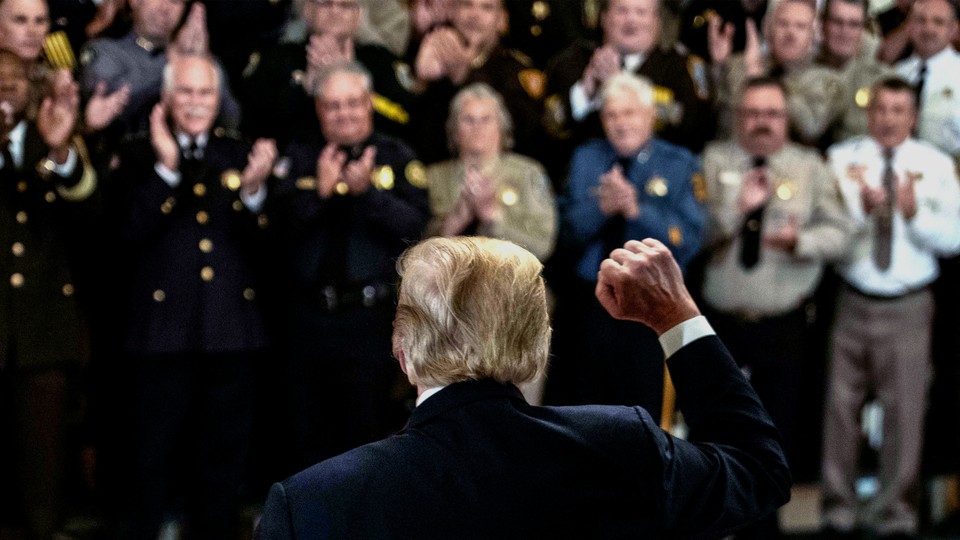 The way conservatives tell it, the Federal Bureau of Investigation is a hive of anti-Trump villainy, filled with agents looking for any excuse to hound the former president with investigative witch hunts. But the thing to understand about Donald Trump's legal troubles is that they exist not because federal agents are out to get him, but despite the fact that the FBI is full of Trump supporters who would really like to leave him alone.
This morning, The Washington Post reported that FBI investigators clashed with federal prosecutors over the decision to search the former president's residence, where highly classified documents were found despite Trump's insistence that he had none.
"Some of those field agents wanted to shutter the criminal investigation altogether in early June," the Post reported, adding that FBI agents were "simply afraid" and "worried taking aggressive steps investigating Trump could blemish or even end their careers." The FBI did not exhibit this worry in 2016, when it publicly announced that it was reopening the investigation into Hillary Clinton's handling of classified documents, an announcement that, even with all the other mistakes her campaign made, likely cost Clinton the election. That decision was made in part because then-Director James Comey feared that pro-Trump FBI agents would leak the details if he did not announce them publicly. The federal investigation into the Trump campaign, by contrast, was properly kept confidential until after the election. As one agent told the reporter Spencer Ackerman in 2016, "The FBI is Trumpland."
President Joe Biden is also under investigation for his mishandling of classified documents, but for now the two situations are distinguished by Biden's attorneys discovering and voluntarily handing those documents over, as opposed to lying about having them and then insisting that they were his to keep. Neither man, however, should be above prosecution if the circumstances call for it.
A simple but obvious fact has been lost over the past few years, amid Trump's direct attacks on the FBI, and liberal defenses of the FBI against those attacks: FBI agents are cops. Law-enforcement officers, including the FBI, have long been disproportionately conservative, but in the past few decades, like the rest of the nation, they have also become far more polarized by party, a reality reflected in the rhetoric and positioning of advocacy groups such as the Fraternal Order of Police. There are liberal and moderate cops, but they are not close to comprising a majority. Simply put, the FBI is full of people who would prefer not to investigate Donald Trump. He remains under federal investigation only because of his own inability to stop criming.
Michael Fanone, a former Metropolitan Police officer who was injured by the mob that attempted to overthrow the government on Trump's behalf on January 6, became disillusioned by the lack of support he received from fellow officers. "What it is is Trumpism," Fanone told Politico in 2022. "And it's a loyalty to Donald Trump because he says things like, 'We love our law enforcement officers.' And, you know, there's a lot of police officers at the Metropolitan Police Department and other law enforcement agencies that participated in the defense of the U.S. Capitol on January 6, that still do not accept the reality of what January 6th was."
Steven D'Antuono, one of the former top FBI officials described in the Post story as reluctant to carry out the search, also said a few days after January 6 that there had been "no indication" of potential violence that day. A moderately active news consumer would have understood that the risk of violence was real; perhaps the only people unaware of that potential worked at the FBI or as regular columnists for elite publications.
I am not alleging any malignant intent here. But the partisan lean of law-enforcement officers has consequences, producing ideological blind spots and an institutional bias in favor of conservative individuals. They are also more sensitive to criticism from the right, not only because it comes from powerful people, but because it is always more painful to be attacked by people you perceive as being on your side. The stakes here are not simply political; as the debacle of January 6 showed, such blind spots affect the bureau's ability to fulfill its duties.
In theory, proper, vigorous oversight by Congress might check this kind of bias, among other benefits. But having recently lost one presidential election to FBI intervention, the Democratic Party appears reluctant to engage in such oversight, and the Republican Party is only interested in confirming the conspiratorial explanations of its base for why the benevolent Mr. Trump continues to come under investigative scrutiny. This has merely reinforced to both the bureau's leadership and its rank and file that the only political danger they need to heed comes from the right, further exacerbating the underlying ideological dynamic.
The irony of all Trump's legal problems, however, is that the FBI desperately wants to leave him alone—if only he would let them.