The Librarians Are Not Okay
"​​I've been called a pedophile. I've been called a groomer. I've been called a Communist pornographer."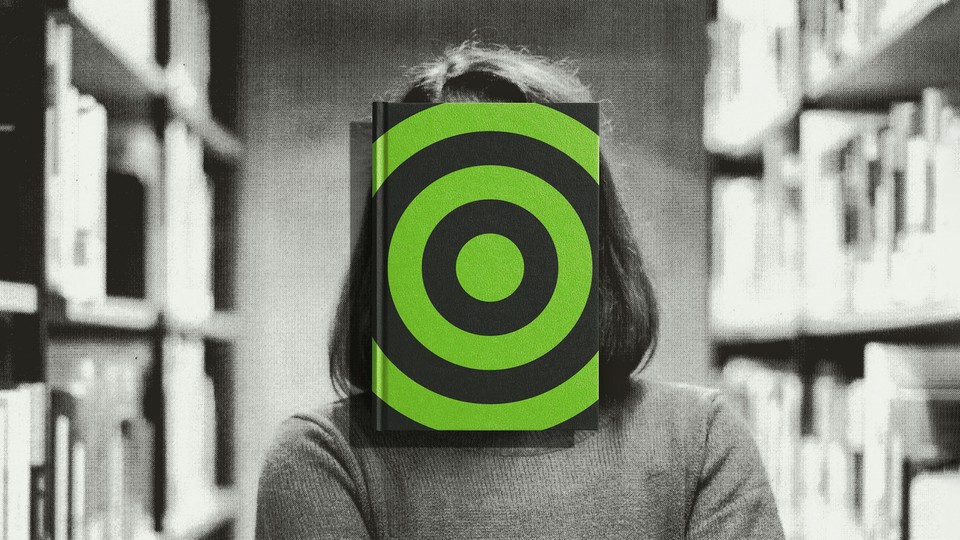 Updated at 10:58 a.m. ET on March 15, 2023
This article was featured in One Story to Read Today, a newsletter in which our editors recommend a single must-read from The Atlantic, Monday through Friday. Sign up for it here.      
The line for the tattoo station at the annual conference of the New York Library Association in Saratoga Springs was already snaking through the hotel lobby, and I hadn't even had my first morning cup of coffee yet. Harry Potter motifs, ghost dogs, angelic hearts, and, of course, books were just some of the tats of choice. These weren't temporary tattoos or the kind that eventually fades away. These were the real deal. If getting inked seems an act of gritty rebellion more suited to a bikers' rally than a librarians' convention, it's only because we haven't been paying attention.
Across the country, Republican politicians and right-wing groups such as Moms for Liberty have been waging war against books. Their battlefield: the shelves of libraries. "Book challenges"—attempts to ban or restrict titles—have hit a record high. In August 2022, Missouri passed Senate Bill 775, which made distributing "explicit sexual material" to minors illegal and resulted in the removal of nearly 300 titles from school libraries in the state. People everywhere are targeting books that deal with questions of race and sexual identity or expression.
As I puttered around the conference, I thought about the fact that although books don't have feelings, the librarians forced to remove them from the shelves definitely do. America's librarians are under enormous pressure, and they need to blow off some steam.
I practically grew up in the Brooklyn Public Library. It served as an after-school center, an SAT training school, and a place to get help filling out my financial-aid forms for college. So when I was invited to give a talk at the conference, I immediately said yes. The night I arrived, I stopped in the hotel bar for a glass of wine before dinner. The place was already packed; the librarians, the bartender told me, knew how to party. He was anticipating a late night.
But at dinner, the conversation was subdued and serious. Reading about all the attacks on books, Angela Gonzalez, a librarian from Penn Yan, New York, told me, "you get nervous. You're like, Oh my gosh, they're coming for us."
Nearly every tumultuous movement in American politics has coincided with a call to ban books. "This piece of it is nothing new to librarians," Allison Grubbs, the director of the Broward County Libraries in Florida, told me. "What I think is new is some of the pathways that people are choosing to take." Protests in and outside libraries and library board meetings have become more dramatic. Online, in Facebook groups such as "Informed Parents of California" and "Gays Against Grooming," the language is more and more incendiary. And the librarians themselves are being personally attacked.
They told me about getting hate mail and harassing phone calls on their private lines, about being verbally attacked while on the job over things as seemingly banal as book displays. "You can't do a pride display—forget about it," Shirley Robinson, the executive director of the Texas Library Association, told me. "That's not gonna work."
"​​I've been called a pedophile. I've been called a groomer. I've been called a Communist pornographer," Cindy Dudenhoffer, a former president of the Missouri Library Association, told me. "I've been called all kinds of things. And I know many of my colleagues have been as well. It's very hurtful."
Robinson recounted the story of a Texas library worker who had facilitated a children's story hour while wearing rainbow-flag Pride socks; a patron filed a complaint to the city accusing the individual of grooming children. Grubbs said she had heard angry patrons in Florida call library staff pedophiles too.
Maybe Americans have gotten ruder, but it's not only that. Online groups are coordinating protests of Drag Queen story hours, compiling lists of books to challenge, and strategizing ways to amend laws in order to censor books. "They might organize a protest and not even live in the state that that library serves," Grubbs told me.
Moms for Liberty honed this playbook. The group was founded in 2021 to protest mask requirements for kids and later turned to keeping LGBTQ issues and critical race theory out of schools. Their efforts are part of a larger "parents' rights" movement that includes many other groups. No Left Turn, for example, offers a list of "aberrant books" on its website, under the "Exposing Indoctrination" tab, just above a link exposing "Woke School Staff & Board" members.
It isn't just that the attacks are getting more personal for librarians; the laws are as well. Missouri's S.B. 775 holds librarians (along with teachers and school administrators) criminally liable for distribution of materials deemed inappropriate. A librarian found guilty can face up to a year in prison and up to $2,000 in fines, not including legal fees.
In Texas, Jonathan Mitchell, the attorney behind S.B. 8, the law enabling citizens to sue individuals who violate the state's abortion ban, is now going after books. Last month, Axios reported that he was allegedly writing draft ordinances for local governments that would use the same strategy, allowing private individuals to sue librarians over the books they choose to stock or even for just expressing LGBTQ support. "There's a lot of fear," Robinson told me, "which is what these groups were after from the beginning."
The graduate degree for librarians is not, typically, a master of arts, but a master of science—in library and information sciences. Librarians may adore books, but they are trained in the technical and data-driven work of running libraries. Unlike a privately owned bookstore, where the stock might reflect the tastes and preferences of the proprietor, at the library, books are acquired based on information about what its particular community wants and needs.
"Librarians love data," Dudenhoffer, who now coordinates the information-science program at the University of Missouri, told me. "Knowing how to analyze your community, knowing how to look at data, knowing how to look at circulation numbers, knowing how to look at population movement, those things are becoming increasingly important in what we do, and that drives all of this."
Public librarians, she said, are looking at such things as regional household income, age, education level, and racial and ethnic backgrounds while making their selections. They also consider patron requests. In a school library, this analysis might include information shared by students or teachers about the needs and interests of the current student body.
Librarians who showcase books about underrepresented groups, including LGBTQ people, surely believe that these stories are valuable. But the librarians I spoke with insisted that they're making these choices because an assessment determined that there was a patron need for these books, not to push some personal social agenda. Those controversial book displays? Many, Dudenhoffer said, are a means of letting patrons know that material they might be too shy or embarrassed to ask for is in stock.
"It's really unfair to characterize displays or programs as 'woke,'" Dudenhoffer lamented. "That's just such a terrible word to use right now. But it's not about that. It's about serving our community, and everyone in the community, to the best of our abilities."
What seemed most painful to the librarians I spoke with—even more than the personal attacks and fear of litigation—was the way in which book bans hinder their ability to connect their patrons to information that might help them.
Senate Bill 775 requires the removal of any materials deemed sexual in nature (which is subjective), with exceptions for "works of art" or of "anthropological significance" (also subjective). The law's rollout was tumultuous at best: The list of books to be removed varied wildly across the state. One place banned more than 200 titles; others, just two or three. This was partly because the methodology, if you could call it that, also varied—not just county by county, but school district by school district. In some places, the choices were made by a school administrator; in others, an attorney for the district chose. Sometimes the librarians themselves were told they had to decide, which also meant deciding how much personal risk each book in their collection was worth.
"This is chaos," Tom Bober, a vice president of the Missouri Association of School Librarians, told me. "When this law was put into effect, there was no process. There was no procedure. Everyone had to figure it out for themselves." He said that one librarian in his association was told, essentially, "You figure that out." In other words: "We're not going to give you any support with this, because we don't want to be liable for anything. So this is all on your shoulders."
The state finally pushed the librarians too far. Last month, the Missouri ACLU filed a lawsuit on behalf of Bober's organization and the Missouri Library Association challenging the law, arguing that it suppresses their members' First Amendment rights. It also, they argue, exposes school personnel to prosecution based on what they teach their own children at home. The Moms for Liberty don't want the government dictating what their children learn, but neither do parents who happen to be Missouri personnel.
The Texas Library Association is fighting back, too, with a campaign called Texans for the Right to Read, which raises awareness about efforts to censor books. They also started a volunteer-staffed help line to offer support to librarians being intimidated into censorship.
Censorship is hardly the only challenge librarians face. Budget cuts mean that many librarians, particularly in smaller communities, are also tasked with things like unclogging toilets and taking on programs previously offered by schools. As public-facing professionals, they are on the front lines of the masking wars, the homelessness crisis, the opioid epidemic, and the general rise in public rage. The library, Grubbs told me, is "often the last place, the last opportunity" for people who have nowhere else to go.
In Los Angeles, librarians will soon be trained in administering Narcan to patrons overdosing on opioids. Gonzalez told me she's seen mentally ill people strip their clothes off in the library, throw things. "A guy died on us," she said. "He died right at the computers."
About 50 librarians got tattoos at the New York conference. I asked the librarians I spoke with what else they did to let off steam. Unsurprisingly, I heard a lot about reading: fantasy, romance, literary fiction. Grubbs had just taken a "bookcation" with friends; they rented an Airbnb for a long weekend and read, cooked, and talked about books together. Others told me about therapy and yoga and socializing with other librarians. Dudenhoffer does needle felting—sculpting animals and dolls and other objects out of felt—which she described as a "stabby" craft."I stab things," she said. "We all have our outlets."
The attacks on books aren't letting up anytime soon, but luckily, the librarians aren't either. "One of my mantras," Dudenhoffer said, "is 'I am smart and well intentioned.' And so I just have to always go back to that, and I swear I say it 25 million times a day. 'I am smart and well intentioned. This is the work I do. My work is important. My work is good.'"