The Arsenal of Democracy Is Reopening for Business
But after decades of decay, will it happen quickly enough to save Ukraine?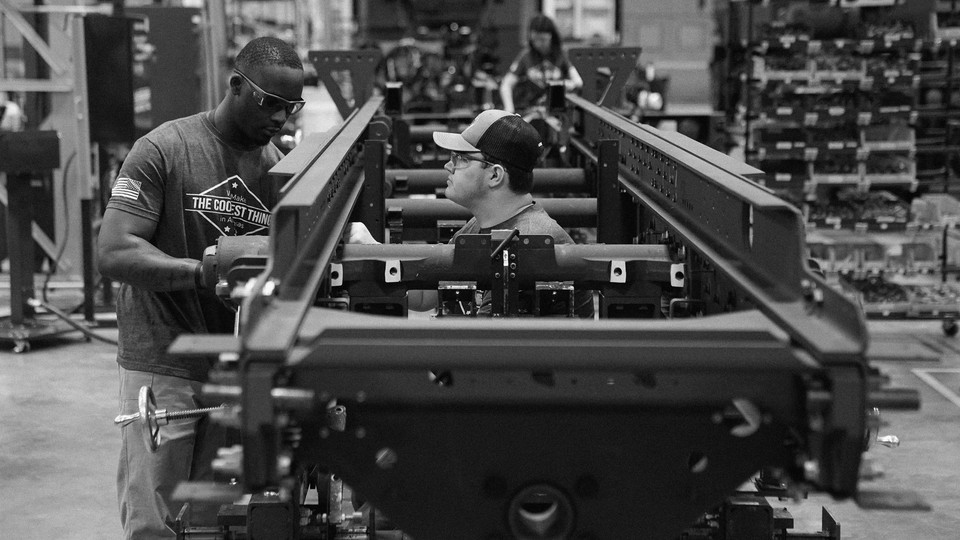 Lockheed Martin builds its advanced mobile rocket launchers in a converted diaper factory, of all places. When I visited the plant in southern Arkansas at the end of February, I found it humming with activity. The factory and its workers are a key component of America's arsenal of democracy. The dollars the Biden administration is spending to provide abundant military aid for Ukraine are creating jobs here, and in other industrial towns throughout the United States. But watching the workers on the assembly line also underscored the extent of the challenge ahead. After decades of atrophy and neglect, America's defense industries are struggling to meet the sudden surge in demand.
I found Becky Withrow, Lockheed's director of business development, standing on the factory floor, 90 minutes south of Little Rock, in East Camden. "We had to hang a curtain across the back wall for the opening-day ceremony in 2017," she says wryly. "There were still a few places we hadn't cleaned up yet." It's a far cry from the famed Ford factory at Willow Run, the mile-long assembly line that cranked out B-24 Liberator bombers during the Second World War, with a new plane rolling out every hour at the peak of production. But it's at factories like this one where the war in Ukraine, and conflicts to come, may be lost or won.
Dozens of welders and assemblers work the production line behind Withrow. They crawl over mobile rocket launchers in various stages of assembly, the parts laid out like so many toy-model kits. The launchers come in two variants: the tracked M270, and the newer High Mobility Artillery Rocket System, or HIMARS, which is wheeled. The M270 program is a public-private partnership, in which Lockheed refurbishes older models stored at Red River Army Depot in northeastern Texas so they can be shipped to our allies, whereas the HIMARS are built from the ground up in Lockheed's Camden facility.
It wasn't the war in Ukraine, or even an American purchase order, that first reinvigorated the HIMARS program. By 2013, Lockheed had stopped manufacturing HIMARS altogether, but an order by the United Arab Emirates for 12 launchers in 2017 led the company to open the current facility. It hasn't closed since, and demand has only grown. To date, NATO has sent Ukraine at least 20 HIMARS and 10 M270s, with more to follow. Of the $67.1 billion appropriated by Congress last year to arm Ukraine, $631 million was awarded to Lockheed Martin for the construction of new HIMARS.
Along with Withrow, I'm guided on my tour by Dennis Truelove, a 40-year veteran at Lockheed. He's worked on the M270 program for decades, and today he's retiring. "I like to call myself 'Redeployment,'" he says, as he speaks about the M270, which is a recapitalization of old systems. "Also, I'm a bit of a hoarder." He gestures to the old rocket launchers awaiting refurbishment. More than one Lockheed employee tells me of the pride they feel when they see a HIMARS or an M270 launching rockets at Russian targets on the news. That pride extends past the battlefield. Many of the Lockheed assemblers—who are decades younger than Truelove—wear T-shirts that proclaim Coolest Thing Made in Arkansas, 2022 Winner: HIMARS. This, I'm told, was a great coup; Cheetos are also made in Arkansas.
Currently, the Camden facility produces 48 refurbished M270s and 48 new HIMARS each year. The HIMARS numbers are set to expand, doubling to 96 by the third quarter of 2025—two and a half years after a new contract was awarded. Although certain steps are automated, production remains manpower-intensive. One part on the HIMARS chassis requires an assembler to drill 1,300 precision holes by hand. Increasing the rate of production isn't as simple as flipping a switch.
The potential for expanded capacity is certainly there. Right now, Lockheed employees work a single shift four days a week. To meet increased demand, management plans to add additional shifts and hire another 200 employees over the next five years. Lockheed's Camden facility, which sits on 2,427 acres, has significant potential for growth. "Camden has unlimited production capacity," Truelove tells me as we walk around the factory, adding that the facility is "a strategic resource for the U.S. government." It is located on the larger Highland Industrial Park, whose 18,500 acres were originally the Shumaker Ammunition Depot, built during the Second World War to manufacture and store torpedoes, bombs, and other munitions.
The Navy selected East Camden in the Second World War to produce and store large quantities of munitions because of its remote location, and it remains remote today. On my way in from the airport the night before, I had to drive 30 minutes to find somewhere to grab a bite to eat, settling on some snacks at a "Boots & Liquor" store off the highway. The non-defense-related economy around East Camden has remained slow to develop, but executives at Lockheed see that changing. In the past four years, their workforce in Camden has doubled to more than 1,000 employees. Highland Industrial Park also counts General Dynamics, Raytheon, and Aerojet Rocketdyne as tenants.
Those who criticize the $67.1 billion approved by Congress for Ukraine argue that this money would be better spent on domestic investment. That critique, however, supposes that these congressional appropriations are akin to direct cash transfers to the Ukrainian government, which they are not. This is money that goes back into the American economy. And military aid to Ukraine is allowing America to rebuild its arsenal of democracy.
There's historical precedent for this. Nine months before the Japanese attack on Pearl Harbor, President Franklin Roosevelt signed into law An Act to Promote the Defense of the United States, better known as the Lend-Lease Act. Lend-Lease reversed neutrality acts passed by an isolationist Congress in 1935, 1937, and 1939. By inhibiting the United States' ability to arm its allies, these neutrality acts stunted the growth of America's manufacturing base while the Axis powers invested in theirs. The passage of Lend-Lease reinvigorated America's defense manufacturing industry. Over the course of the Second World War, Lend-Lease would account for 17 percent of U.S. defense expenditure, a total of $719 billion in today's dollars, that armed our allies, including Britain, France, the Soviet Union, and China.
Although U.S. defense-production rates have never declined back to interwar levels, there is growing bipartisan consensus that the U.S. must reinvest in its manufacturing capacity. The CHIPS and Science Act, passed last August, provides $280 billion in funding to boost semiconductor manufacturing and research in the United States. Today, more than 90 percent of the advanced chips and semiconductors used in defense are manufactured in Taiwan. Given the possibility of a Chinese invasion, this is an unacceptable national-security risk.
The war in Ukraine requires a different type of reinvestment. It is a hungry war, devouring resources at a rate not seen in decades. On an average day in Ukraine, the two sides lob approximately 30,000 artillery shells at each other. This has created a munitions shortage for both NATO and Russia. The war's pace has also strained supplies of the rockets fired from both the M270 and HIMARS. Those rockets, known as the guided multiple-launch rocket system, or GMLRS, are manufactured in a separate facility in Camden.
On the drive out to the GMLRS factory, we pass hundreds of black cylindrical railway cars parked along tracks that terminate in the Highland Industrial Park. These railway cars transport many of the raw energetic chemicals Lockheed uses to build its rocket boosters and warheads. The manufacture of GMLRS requires significantly more automation than the production of HIMARS and the M270. The Camden factory is the only one in the world that produces the GMLRS, a munition relied upon by half a dozen allied nations.
On the factory floor, a Jervis Webb conveyor system rattles overhead. In its clutches is a 200-pound warhead. Due to security concerns, no photographs are allowed inside the facility, but at successive stages of assembly, we're able to witness the accelerant being placed into the rocket's outer shell, the warhead being fixed onto the rocket's end, and the series of electrical tests conducted on each pod of six rockets for quality control. Noticeably, on this side of the Lockheed complex there are more women than men at work, performing tasks that require great precision and dexterity.
A control room with a dozen screens sits in the center of the plant. A supervisor monitors video feeds from each assembly station. He tracks every rocket as it proceeds down the line. On one screen, he has a pacing chart, showing how long each intermediate step should take. In the center of this screen is a large 52 on a red background. At the end of the day, if the team hits that goal, the number turns green. Jay Price, Lockheed's vice president for missile and fire control, tells me that last year they built 7,500 GMLRS. This year, that number will increase to 10,000. He says that this facility has "capacity to go beyond that, if needed."
As Price and I leave the factory, I start doing some back-of-the-envelope math as to what maximum rocket production might look like if, say, the war in Ukraine increased in intensity or if China moved on Taiwan. Fifty-two rockets a day multiplied by 365 is 18,980 GMLRS units each year. Sure, maybe, Price says. Obviously, this would require more shifts. Possibly, Price adds. Could that number edge higher if the daily rate of production increased past 52? Although Price acknowledges that the team at Lockheed could surge production numbers, if needed, he explains that it wouldn't be simple.
"Do you know how many parts it takes to build a rocket?" he asks me, glancing back at the factory.
I confess that I have no idea.
"All of them," he says.