Erdoğan Is Getting Desperate
Turkey's regime put a bounty on my head. We're not ready for what it might do next.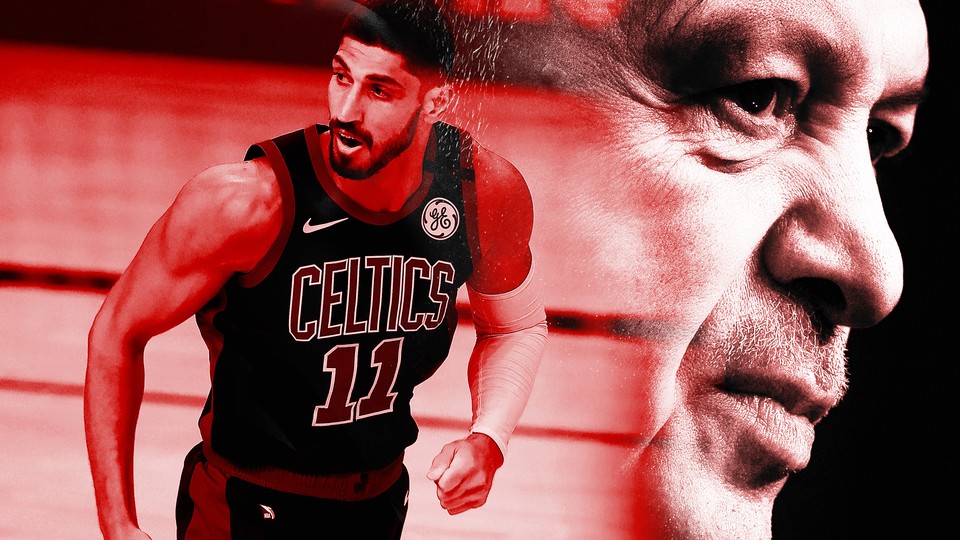 ​​When I learned last month that Turkey had placed a $500,000 bounty on my head, part of me was flattered.
Turkey has targeted me for years because I have used my platform as a professional basketball player to denounce its strongman, Recep Tayyip Erdoğan. His regime has revoked my passport, filed 12 lawsuits against me, and put my name on Interpol's "Red Notice" list. It has come after my family too. The government raided my home in Turkey and imprisoned my father. It also seems to have gotten my brother fired from his basketball team and prevented my sister from finding a job. I was pretty sure I had been a headache for Erdoğan—the $500,000 was proof.
The earthquake that struck Turkey earlier this month represents one of the biggest disasters the country has ever faced. I was devastated when I heard the news. Despite what Erdoğan has done, I love my country and its people, and I'm proud to be a Turk. I have many family members and friends still living there. They are fine, fortunately, but thousands of lives have been destroyed.
The world has generously offered much-needed resources to help us recover. But it hasn't done enough to stop a populist authoritarian from hijacking the democracy I knew as a kid.
After a coup failed to oust him in 2016, Erdoğan took full control of the legislature and judiciary. Many people objected, of course, but he quickly stamped out dissent. Virtually overnight he dismissed thousands of judges who could have resisted his orders. He didn't have to tolerate anyone who didn't like him; he could simply discard them.
Remember Erdoğan's visit to Washington, D.C., in 2017? When peaceful protesters—most of them American—gathered outside the Turkish ambassador's residence, Erdoğan watched as his security detail kicked, punched, and choked them, seemingly in response to his own orders. Just think for a moment: He did that in the capital of the world's strongest sovereign state. What do you think he does to his own citizens in his own country, where he has virtually unlimited power?
Human-rights groups give us a sense. Freedom House's overall evaluation of Turkey is simply "not free." Amnesty International has slammed Turkey's human-rights violations, which have been carried out under the pretext of anti-terror measures. The World Justice Project ranks Turkey 117th out of 139 countries in its Rule of Law Index. Erdoğan may think of himself as a historically great leader, but he is taking a country that I love to unprecedented lows.
In 2021, I became an American citizen. It has been a joy to see up close the democratic values that I've long cherished. I feel lucky to live in such a country. But do I feel safe? It is hard to answer "yes" to that question when the Turkish regime continues to harass people like me, who have left the country for political reasons. Even though we're gone, Erdoğan wants to deny us the peace and dignity that come with living in a democracy. Turkey has reportedly kidnapped 98 people from 34 countries. When I was in Indonesia in 2017, I narrowly avoided being kidnapped myself. We don't know what happened to all of those who were captured, but reports of torture abound.
Erdoğan doesn't mind using his leverage with the West to further his hunt for dissidents. Recently, Erdoğan tried to compel Sweden and Finland to extradite up to 130 of his critics in exchange for supporting their NATO-membership bids. Because NATO decisions require unanimity, Turkey's support for new members is essential. Instead of using this fact to promote Turkey's interests, he uses it to enact vengeance on his perceived enemies.
Erdoğan's targets cannot protect themselves. And even if they could, constantly looking over one's shoulder is no way to live. Democracies must stand together to keep them safe. The cost of promoting human rights around the world is steep, but the West has a moral duty to keep paying it.
I recognize that, here in the U.S., we have many differences of opinion on any number of issues. Tolerating them helps us prosper, but we can't forget our shared ideals. When it comes to the value of human life and the right to dissent, we must set aside our disagreements.
Some claim that an autocratic leader in a remote location can't harm the U.S. and its allies. This is myopic. Look at the wedge that Erdoğan is driving through the West, leaving Nordic countries vulnerable to potential Russian aggression. Our leniency toward Erdoğan inspires other autocratic regimes, such as Iran, which murders its own citizens who protest for freedom and dignity. We don't have the luxury to limit the fight for democracy to our own soil or bow to Erdoğan's blackmail.
The presidential elections in Turkey are only a few months away, and Erdoğan is more vulnerable than ever. He has failed to stem a years-long economic crisis, and the recent earthquake has revealed the depths of his incompetence. He will come under increasing pressure to further consolidate his power and shore up support however he can. His regime will keep trying to sow discord outside Turkey, especially in Europe, where there is a significant Turkish diaspora. If he thinks that putting a bounty on a basketball player will help him, we need to think more creatively about what else he might be willing to try.
Erdoğan is getting desperate—and even more dangerous. A deputy in his party recently promised to "destroy" dissidents no matter where they are in the world. That his regime feels comfortable threatening the lives of opposition members in sovereign states is a sure sign the West is failing. We must make clear that he will be shunned from the world stage if he continues down this path. If we don't, what will he have to lose?