Trump's Last-Ditch Gamble to Avoid Indictment
An unusual and little-noticed missive from the former president maps out his defense against any charges relating to January 6.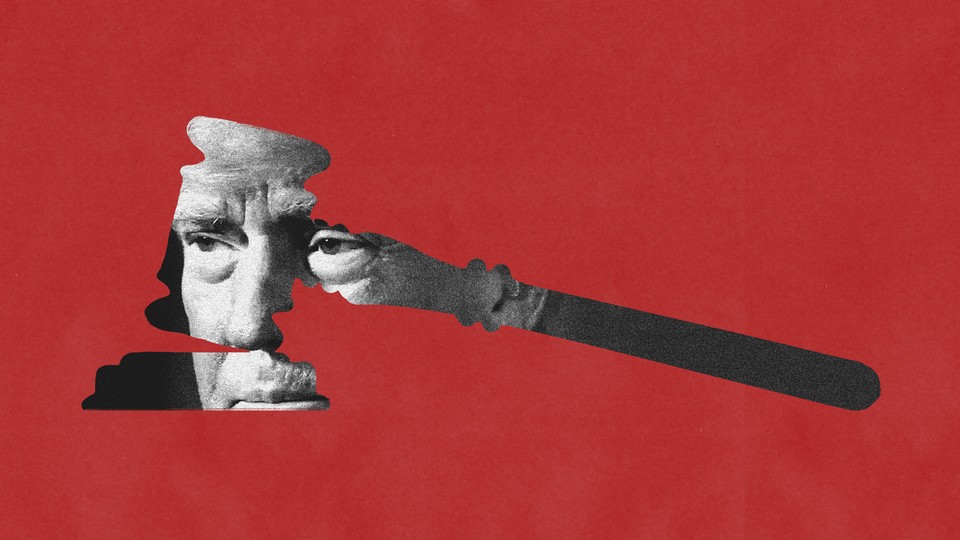 At one time, Donald Trump's every word was subject to intense scrutiny; remember the close reading of covfefe? Those days are gone, and altogether for the better, but one strange result is that the former president can make a surprising or interesting comment and have it go largely ignored by the general public. Yesterday afternoon, Trump sent out a curious, lengthy statement via Truth Social and his press email list. Understandably, almost everyone overlooked the missive, titled "Statement by President Donald J. Trump on the Witch Hunt of January 6th." After all, how many of those have we gotten?
Yet attached was something different from the usual: a more-than-nine-page document, double-spaced and footnoted, that seems to preview the defense Trump would use if he is charged in connection with the violent insurrection that day in 2021. The points it makes add up to a message that is extremely unconvincing as a matter of common sense—everyone saw what happened and how Trump encouraged the riot, and evidence since then has only reinforced his culpability—but might sow enough doubt with a jury to derail a conviction.
As everyone must realize by now, trying to read too much into shadowy moves by prosecutors is usually vain, but some signs suggest that Jack Smith, the special counsel appointed to investigate Trump matters including January 6 and his hoarding of classified documents at Mar-a-Lago, is moving quickly toward possible indictments. Smith is on a tight deadline—Trump or any other Republican would likely shut down a case if they become president on January 20, 2025—but is also making aggressive moves, such as trying to question a Trump lawyer under the crime-fraud exception, which circumvents attorney-client privilege in certain cases if it might cover up a crime.
The Trump statement released yesterday is a mix of old and new. It is written in the first person, and some parts of it read as though written by Trump himself, or by someone very familiar with his manner of speaking. Other parts of it, such as the footnotes in careful legal form ("​​Id. at 216, emphasis added"), very much do not. Trump begins by arguing that he said all the right things on January 6, but that because Twitter and Facebook suspended him shortly after the insurrection, his statements have not received the attention they deserve. "These Tweets were concealed from the public's view for almost two years, because the former executives of Twitter followed the wishes of Joe Biden and the FBI in censoring me, and cancelling my account," he writes.
In fact, Trump's statements from January 6 have been relatively easy to find, even after his accounts were suspended. (Both Twitter and Meta, Facebook's parent company, have recently restored his accounts.) Moreover, the substance of the messages is not all that exculpatory. "I am asking everyone at the U.S. Capitol to remain peaceful. No violence! Remember, WE are the Party of Law & Order—respect the Law and our great men and women in blue," he wrote in one. "Please support our Capitol Police and Law Enforcement," he wrote in another. "They are truly on the side of our Country. Stay peaceful!"
The problem is that these tweets came after Trump had spent weeks telling his followers that the election had been stolen and hours after he demanded that a crowd gathered in Washington, D.C., "fight like hell" if it wanted to keep the country as they knew it. The tweets were too little, too late; by the time Trump sent them, rioters had already overcome police and broken into the Capitol.
In a swerve back to more Trumpian language, he attacks a former aide to former Chief of Staff Mark Meadows who was a key witness for the House January 6 committee: "Likewise, the ridiculous and dangerous remarks made by a woman named Cassidy Hutchinson have been fully refuted by the U.S. Secret Service." This is not really true; Hutchinson's secondhand account of a violent struggle in the presidential limousine was not corroborated, but other testimony confirmed that Trump was angry that agents wouldn't drive him to the Capitol.
Trump claims, as he and allies have before, that he actually tried to make sure that adequate police and National Guard forces were on hand before January 6, and he claims that former Speaker Nancy Pelosi and D.C.'s mayor, Muriel Bowser, were negligent. There is no disputing that police were unprepared for the attack on the Capitol, but Trump's claims about his own role don't stand up to scrutiny. His statement leans heavily on an account by former Acting Defense Secretary Christopher Miller, but Miller himself contradicted it in testimony to the House committee.
Next, Trump discusses the video he released later in the day on January 6, calling on protesters to go home. "We have to have peace," he said. "We have to have law and order. We have to respect our great people in law and order. We don't want anybody hurt." But the video came after hours of inaction, despite the pleas of aides and family members—and even in that message, Trump insisted that the election was stolen.
Yesterday's statement finishes with swipes at the Democrats Maxine Waters and Chuck Schumer for impolitic and imprudent remarks they made about political confrontation, ignoring the fact that their supporters didn't storm the Capitol.
This statement represents a striking shift for Trump: He is effectively blaming the protesters. Since January 6, he has tried to avoid doing that. As I wrote in October 2021, he both insisted that the protests were peaceful and blamed antifa for violence; he both praised protesters for trying to stop the supposed theft of the election and attacked police for using excessive force. He's also said he would pardon people convicted for their participation. To mount a successful defense here, however, he has to separate himself from the mob, arguing that he wanted peace but the rioters didn't listen to him. That's politically risky but legally canny.
Complicating Smith's work, should he wish to charge Trump, is that, as the statement shows, Trump's remarks on January 6 were characteristically ambiguous. He called for a fight, and then he called for peace; he told protesters to go home, but only once it was too late. Nothing he said was ever quite unequivocal. The January 6 committee was extremely effective in painting a picture of Trump encouraging the riot by implication and omission, and sitting idly by while it went on. But those are political and moral sins, and they don't necessarily add up to proof of intent in a trial. "You and I know it, it's not a secret, but proving it beyond a reasonable doubt, in a court of law, with admissible evidence, in a contested hearing, is a lot harder," the former federal prosecutor Paul Rosenzweig told me last month.
Trump's defense is unconvincing, but it might work anyway. As a result, Trump may not mind, for once, if this statement doesn't get a great deal of public attention. He's not trying to convince the general public. He's aiming at an audience of Jack Smith alone, and whether Smith is persuaded will probably be clear soon enough.