Requiem for the Spartans
The school I love is forever changed.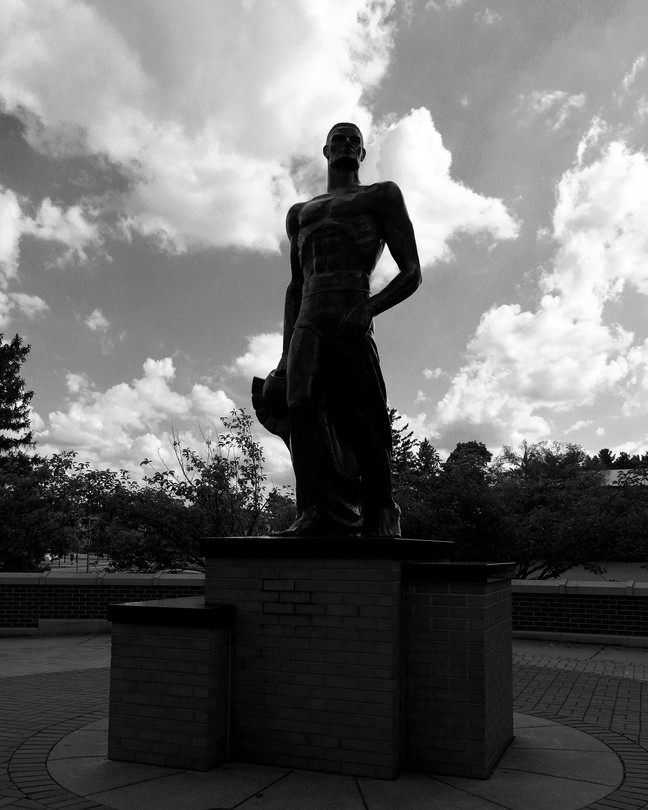 This article was featured in One Story to Read Today, a newsletter in which our editors recommend a single must-read from The Atlantic, Monday through Friday. Sign up for it here.      
On the banks of the Red Cedar, a modest tributary that winds through the heart of one of America's magnificent college campuses, there's a school that's known to all. Its specialty is winning: Michigan State University boasts numerous programs that rank among the world's best, including supply-chain management, agricultural engineering, and graduate education. Oh, and those Spartans play good ball, on the gridiron and the hardwood and beyond, racking up Big Ten titles and churning out professionals, all-stars, Hall of Famers. It's the home of overachievers and underdogs, an ideal place for someone with a point to prove. The official mantra, "Spartans Will," is more than a deft motto; it's a defiant mentality that makes the school exceptional.
Despite its imposing scale—50,000 undergrads fanned out across 5,200 acres of campus—Michigan State is an intimate place, a public school that feels like a private club, an institution that nurtures notions of shared values. Anyone, anywhere, who ventures into the world wearing a Spartan logo on their hat or jacket is prone to be saluted with "Go Green," and as reflexively as breathing, they respond, "Go White." This is the ritual by which perfect strangers become extended family. This is the culture that welcomes pimple-faced teenagers to campus—that immaculate, bucolic campus—and then welcomes their children and grandchildren.
But the Michigan State campus was different yesterday. The chime of Beaumont Tower's grand clock echoed across empty quads, empty benches, empty buildings. A place that should be buzzing on a Tuesday morning midway through spring semester was all but abandoned. Only the flapping of yellow police tape in the February breeze broke the awful stillness.
Twelve hours earlier, a coward had menaced the people of Michigan State. Spraying bullets into the Berkey Hall research building and the nearby Student Union, this coward—a criminal with previous gun charges; a known troublemaker who reportedly took target practice in his urban backyard; a manifest threat who, this being America, still managed to legally possess a firearm—murdered three Spartan students and sent another five to the hospital with life-threatening injuries. The crime scene I encountered was surreal. Here, in the center of campus, spectators not old enough to buy a six-pack watched from behind police lines as a man in protective wear scrubbed the blood of their fellow students off the sidewalk.
I was shocked, though I had no right to be. In the 15 years since I graduated from Michigan State, there have been scores of deadly mass shootings in academic settings. No place has been off limits: Gunmen have terrorized small elementary schools and big universities alike, leaving parents and students and educators with an unresolvable sense of helplessness. Did I think it would happen to my school? Of course not.
"You're at Michigan State. There's a trust here. You think it's safe. I mean, look around," Connor Villeneuve, a junior majoring in human biology, as he swept his hand across the landscape, told me.
Villeneuve had left the library at 7 o'clock Monday night. Walking face-first into a blistering wintry wind, his apartment still some distance away, he had nearly stopped into the Student Union to grab a coffee and warm up. Instead, he hustled home, only to learn of the horror unfolding at the location he'd just brushed past.
"That's always going to be in the back of my mind," Villeneuve said. "I think MSU will come back from this. This is a strong school, and we'll come back stronger than ever. But that trust—" he paused. "I don't know if that comes back."
My heart ached for him. Raised an hour away, much closer to that other university, the one in Ann Arbor, I never entertained the idea of living in East Lansing. And then I visited the campus. Most products of the youthful imagination are eventually rejected, cruelly and unceremoniously, by the realities of maturation. But every dream that came to my child's mind when conceiving of college—the stately buildings and the sprawling green spaces, the roaring football stadium and the whispering river, the camaraderie and the conviviality and the bottomless school spirit—was a reality at Michigan State. Suddenly, all I wanted was to become a Spartan.
As I walked the campus yesterday, nearly 20 years later, every sight evoked a memory. There was the library where I pulled all-nighters studying for finals. There was the field where I spent spring afternoons lounging on a beach towel, smoking cigarettes, listening to Led Zeppelin, reading about war and religion. There was the dorm where I met my first real girlfriend; the patio where I declared my love for her; the bar where we hugged, cried, and broke up. Each of these memories is a treasure. Every experience I had at Michigan State—even the immature mistakes and the horrible hangovers—is something for which I'm deeply grateful.
Today's Spartans might never know that luxury. Standing outside Berkey Hall, gazing upward at square grids of glass, I found myself thinking about the hundreds of young people who had come and gone from this place one day earlier. I studied the windows facing East Circle Drive—one decorated with athletic-department decals, another with stick-on ornaments that shimmered in the sunlight—and wondered what they must have represented to the people who had been trapped on the other side. I thought about the five kids fighting to stay alive at the hospital. I thought about their friends who survived but who will carry scars for the rest of their lives. Mostly, I thought about the three people—cherished children, dear friends, beloved Spartans—who had been slain: Arielle Anderson. Brian Fraser. Alexandria Verner.
College is something more than classes and keggers, caps and gowns. It is a process of ripening, of discovering the outer world but also one's inner self. It is a collection of experiences and memories that shape a foundation for life. It is a gift. That gift was snatched away from Arielle Anderson, Brian Fraser, and Alexandria Verner on Monday.
Walking the campus a day later, I had to question what that gift would mean to the survivors. Would it be a gift at all? Everyone I spoke with counted themselves as fortunate. But the more time I spent with these students—as they wept in a prayer circle, as they hugged their parents in a pickup line, as they laid flowers in front of the place where their classmates had just been slaughtered—the more it became apparent that something special had been spoiled for them. These Spartans would forever associate Michigan State with fear as much as fun, death as much as a new phase of life.
"This place is changed now," said Madi LaJoice, a sophomore music major who lives in the Campbell dormitory. She spends most weeknights at the Student Union; it's right across the street from Campbell. But Monday was a rare exception. When she received the email alert from campus authorities with a set of prioritized instructions—"Run, Hide, Fight"—LaJoice and her friends turned off the lights in her dorm room. They barricaded the door by stacking trash cans on top of furniture. And then they sat on the floor in silence for the next five hours.
LaJoice described the scene while leaning against her red sedan, wiping tears from her eyes. She was in the Campbell parking lot, preparing to drive home to the Detroit suburbs after classes had been canceled. Nearby, kids were stuffing duffel bags and laundry baskets into their parents' vehicles. LaJoice wasn't sure when she would be ready to return to campus.
"Everyone is always telling you, 'College is the best time of your life. You better make it count,'" she said. "I love Michigan State. I've made the best friends here. It's my home. It's my favorite place. And I don't want to let this guy ruin that for me; I don't want to give him that power."
She collected herself. "But it's never going to be the same, you know? We can try to move on, show how strong we are, and all that. But it's never going to be the same."
As we spoke, a young woman ran up and hugged LaJoice. It was her close friend Penny Devine. After a long embrace, they began swapping stories. Devine was in the Student Union on Monday night. She heard three gunshots but felt frozen by the sudden chaos. Finally, seeing the stampede toward the exits, she bolted from her study table, shuffling to keep her slippers from falling off, and merged with the panicked masses streaming down the dark streets outside. Devine called her dad, who told her to stay with people. But she was surrounded by strangers. Two young women, overhearing the call and sensing her desperation, grabbed Devine and brought her to their friend's apartment.
"That's Michigan State," LaJoice said. "For such a big school, it's such a small community."
Devine vowed to fight for that community. She hadn't survived this ordeal to wallow. If February 13, 2023, was going to define Michigan State, she said, it would be because of the response to the tragedy, not the tragedy itself. LaJoice was visibly inspired listening to her friend. Her disposition changed. She and Devine began drawing up a list of tasks that awaited them. Like every other student I met yesterday, they reminded me that they were resilient, that they were Spartans.
The losses of Monday night, they swore to me, would not prevent a victory for MSU.