Turkey's Trust in Government Has Turned to Dust
The country was a construction site. It has become a cemetery.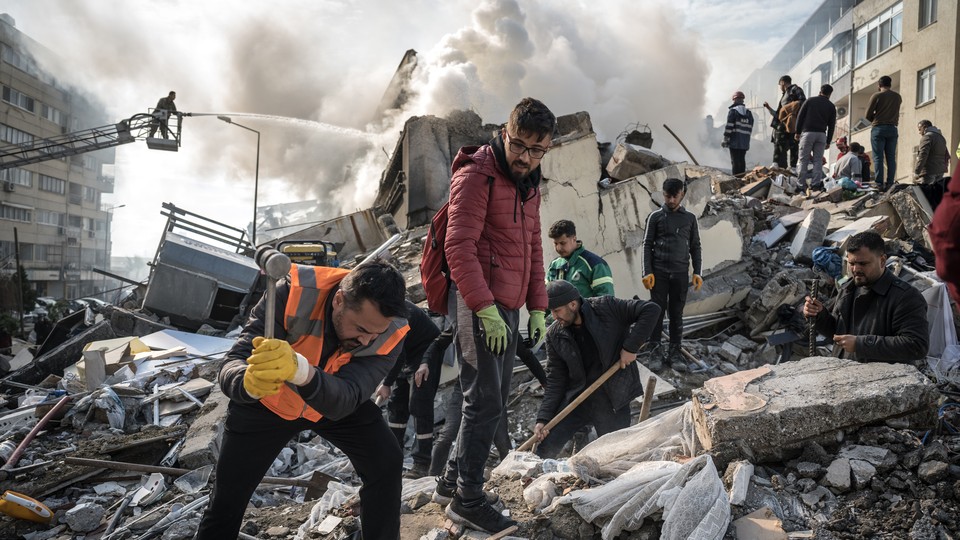 Earthquakes serve as turning points in Turkish history, a shattering of silence in mere seconds. In 1999, an earthquake struck near Istanbul, my hometown. More than 17,000 people were killed and many more injured. I had always known that earthquakes were something to be wary of, that they are expected in a country that sits on the Anatolian Plate bordering two major fault lines. But I had never lived through a quake before, or seen its aftermath. For weeks people slept outdoors—in parks, on the waterfront, in streets and stadiums—unable to go back to homes that had been destroyed, or afraid to return to homes still standing.
That disaster and the slow rescue operations that followed brought the AKP, or the Justice and Development Party, to power. It promised modern, transparent governance, and has led our country ever since. And yet it went on to waste decades protecting its own rule, luxuriating in its own ideological priorities, and failing to prepare for this catastrophe.
On Monday, two major earthquakes hit Turkey and Syria, leaving more than 11,000 people dead, four times that number injured, and many still missing. The World Health Organization has said that the death toll could rise to more than 20,000. In Turkey, close to 6,000 residential and commercial buildings collapsed.
The first earthquake, at magnitude 7.8, hit the city of Gaziantep, bordering Syria, soon after 4 a.m. as people slept. Approximately half a million refugees from the Syrian war are living there, refugees who must once again feel a horrific sense of displacement. Nine hours later, a 7.5-magnitude quake hit Kahramanmaraş province, about 60 miles to the north. Several Turkish cities were severely rocked. Aftershocks were felt in Greece, Cyprus, and Lebanon; they are still being felt.
About 380,000 people have taken refuge in hotels, dormitories, community centers, and other facilities. The pain is not over. Many people are still trapped under the rubble, and others are working to rescue them, in the freezing cold—the rain and snow alternating. President Recep Tayyip Erdoğan has declared a three-month state of emergency in the provinces hit hardest by the catastrophe, and declared seven days of national mourning. Because in Turkey, that's what we do: Today we mourn, and tomorrow we forget, until the next tragedy.
But the Turkish people have questions: Where did the billions of dollars they paid in "earthquake taxes" since the 1999 catastrophe go? Why were the construction codes aimed at making structures more quake-resistant not followed? Why, despite experts' warnings and politicians' promises, was more not done to prevent all this death?
When the AKP came to power, in the early 2000s, it was little known. Voters embraced it because they were fed up with the old system of governance and its party coalitions, lack of transparency, police violence, and financial inequality. That paved the way for AKP's messianic promise to create what it came to call a "New Turkey."
But instead of focusing on shoring up the country, the government has spent the past several years on nationalist campaigns—attacking Kurds in Turkey (nearly 20 percent of the country is of Kurdish origin) and in Syria, and by threatening its neighbor Greece. It has focused on ideology—exhorting women to bear "at least three children" and creating a "pious generation" by opening up many religious schools. It has oppressed dissent by sacking officials who do not align with the party's conservative views.
In short, it has worked to crush secularism and democracy and turn everything into a symbol of its own rule. It has done this by cultivating, in a largely uneducated and easily manipulated population, nationalism, fear of the other, financial dependence, and unquestioning confidence in a heroic father figure.
This "New Turkey" used infrastructure projects to highlight its break with the past. The more the government built, the more powerful and modern it seemed. It looked toward the skyscrapers of Qatar and Saudi Arabia as models, instead of toward Europe. Favors and contracts and permits were granted to construction companies and businesses close to the party, in exchange for kickbacks and votes. In 2021, in a speech celebrating the completion of a new bridge, Erdoğan said, "Foreigners now view our roads, bridges, and airports with envy when they come to Turkey." If that was ever true, it isn't anymore.
Shortly after Monday's earthquakes, Turkish citizens called out on social media to wealthy real-estate and construction-company owners to bring their earthmovers and other heavy machinery to the wreckage sites while lives could still be saved. After all, aren't they the ones who ignored building codes to maximize their revenues? Aren't the roads they made and the houses they built with cheap materials nothing but debris and dust today?
I have often heard, in the aftermath of corruption scandals, some Turkish people say things like Okay, yes, they steal. So what? Every government has stolen from us; at least they give to the people by building bridges, airports, and roads. Now the bridges have broken, the airports are closed, and roads have cracked open as if meteors had fallen on them, preventing emergency help from reaching desperate areas.
In the affected region, a shopping mall is reported to have collapsed, along with a historic mosque, and hospitals were destroyed, forcing patients and caregivers out in the cold. Electricity, fuel, gas, and running water are scarce. Gaziantep Castle, a landmark that stood strong from the Hittite to Roman and Byzantine periods, has been severely damaged. There are reports of mangled Orthodox and Armenian churches, as well as synagogues—sites of worship that were some of the few reminders of a multiethnic history that the government has tried to stamp out.
But it's difficult to know what exactly has fallen, and what still stands, because in the past few years, the government has shut down many independent media outlets. This morning, Twitter—which people had been using to share information about survivors and their needs—was running slowly in the country, probably because the government had restricted it.
My mother was born in Erzincan, in eastern Turkey, more than a decade after the earthquake of 1939, which killed 30,000 people and remains the most destructive in the nation's history. In 2017, I went to visit her remote village in the beautiful high mountains; people there still tell stories about the trauma of that earthquake, a trauma carried in every corner of my homeland. What happened this week will be remembered at least as long.
Our republic will turn 100 this year, in October. Presidential and parliamentary elections are to be held in May. Of course, the government did not cause this earthquake; fault lines deep in the earth did that. But on election day, we should stop giving our power to a party that has abused it, that cares more for its own survival than the people's well-being, and remember the bare hands of rescue workers and residents digging people out from under our cities. Turkey was a construction site. It has become a cemetery. It deserves better.