Who Will Replace Dianne Feinstein?
California Democrats haven't seen a Senate primary as energetic as the one now developing since 1992.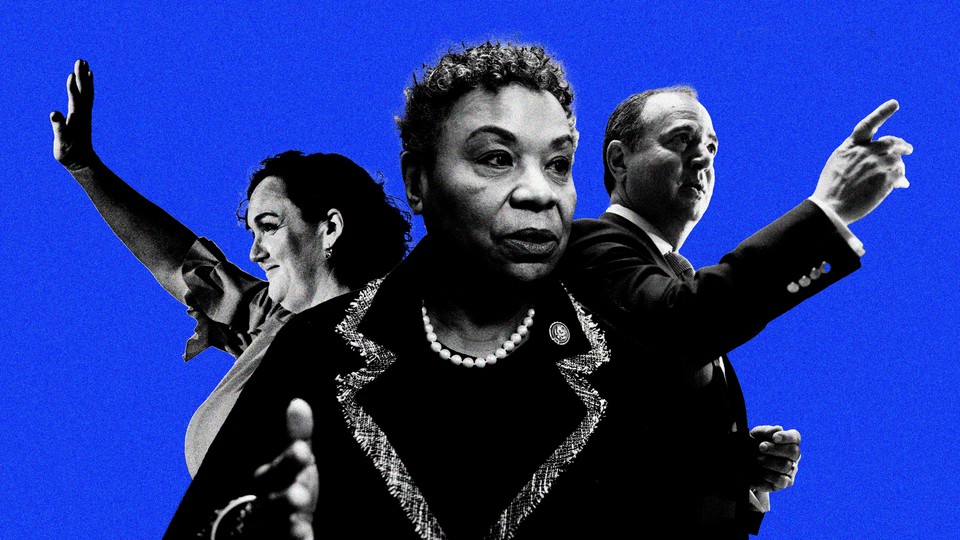 Senator Dianne Feinstein hasn't yet announced whether she's retiring, but the race to replace her has already begun. The 2024 contest will be the first wide-open Democratic Senate primary in California since 1992, when Feinstein, who is now 89 years old, was first elected to the seat.
The field is quickly getting crowded: U.S. Representatives Adam Schiff and Katie Porter have announced their candidacies, and Barbara Lee is expected to join them. The state's Democratic strategists aren't ruling out other contenders eventually jumping in as well, although most expect Feinstein to retire rather than run again.
As it stands, the contest will offer voters a choice between three distinct eras of Democratic thinking: Porter, 49, embodies the pugnacious anti-corporate populism associated with Senators Bernie Sanders and Elizabeth Warren; Schiff, 62, is a more mainstream liberal, shaped by Clinton-era centrism; and Lee, 76, is an uncompromising leftist and living link to the most confrontational elements of the 1960s social movements.
With or without Feinstein in the race, a Democrat is almost guaranteed to win the Senate seat in 2024. California hasn't elected a Republican senator since Pete Wilson in 1988, and Carly Fiorina in 2010 has been the only GOP Senate nominee in this century to reach 40 percent of the statewide vote.
California Democrats haven't seen a Senate primary as energetic as the one now developing since 1992, when the party actually battled through two of them. Not only did Feinstein win the nomination for Wilson's Senate seat, which he'd vacated after beating her for governor in 1990, but Barbara Boxer, then a U.S. representative, beat two Democratic men to win the nomination for the Senate seat left open by the retirement of Alan Cranston. Both Feinstein and Boxer then won in November—and served together for nearly the next quarter century.
This time, the three principal contenders are separated along lines of gender, ideology, and geography. Female candidates have often had an advantage in California Democratic primaries because, as in other states, women account for close to 60 percent of Democratic voters. Given that Governor Gavin Newsom appointed a man (California's then–secretary of state, Alex Padilla) to replace Kamala Harris in the Senate after she was elected vice president, some Democratic operatives believe that some voters of both genders may prefer to maintain at least one woman senator.
"Would the California Democratic electorate buy replacing two women with two males? I hate to put it that crassly, but that is going to be a factor," Garry South, a Democratic consultant, told me. But if Lee joins Porter in the race, voters who want to elect a woman may split between them, diluting any advantage.
The same split might recur on ideology. Porter's supporters already are working to portray her as a more committed progressive than Schiff. Adam Green, a co-founder of the Progressive Campaign Change Committee, which has endorsed Porter, told me there is a difference between the two not only on ideology but also in boldness.
Many Democrats would share Green's basic assessment. Schiff, a former assistant U.S. attorney, was first elected in 2000 as part of the backlash against the House GOP's impeachment of Bill Clinton. Following the September 11, 2001, attacks, Schiff voted both for the PATRIOT Act and to authorize the Iraq War. Over time, he migrated more into the liberal mainstream, and since Democrats recaptured the House majority in 2018, virtually every member of the House Democratic caucus has voted for all of the party's key initiatives. That means there's little space between Porter's voting record and Schiff's. "It would be hard to get a piece of paper between them on most major issues," South told me.
Porter, a former law professor, still clearly embodies another strain of Democratic energy. Influenced by Warren, whom she studied under at Harvard Law School, Porter has become famous for dismantling hostile witnesses during congressional hearings while scribbling furiously on a whiteboard. Porter is a more logical fit for the activists and voters seeking a crusading progressive champion than Schiff, whose style is more cerebral and contained. (It's telling that Warren has already endorsed Porter, while former Speaker Nancy Pelosi says she'll back Schiff if Feinstein, as expected, doesn't run.)
But for Porter, efforts to frame Schiff as insufficiently liberal, even implicitly, will be complicated by his prominent roles in Donald Trump's first impeachment trial and on the January 6 committee. For many voters, those credentials are likely enough to establish his liberal bona fides.
And Lee may further hinder Porter's ability to consolidate liberal voters. A former chair of the House Progressive Caucus, Lee was the only House or Senate member in either party to vote against the use of force in Afghanistan immediately after the 9/11 attacks. She also voted against the Iraq War authorization, which Schiff supported. Her unbending liberal profile will inevitably attract some voters on the left.
The final line separating the three contenders previously has been the most decisive: geography. Both Porter, who represents a seat in Orange County, and Schiff, who holds a district in Los Angeles, are based in Southern California, while Lee represents a district centered on Oakland and Berkeley. There's a long history of candidates from Northern California beating those from the south in statewide Democratic primaries: Boxer, Feinstein, Harris, and Newsom all defeated opponents from Southern California.
"Northern Californians have had a tendency to be very loyal to their candidates," Mel Levine, a former Democratic representative from Los Angeles who lost the 1992 Senate primary to Boxer, told me. But many observers doubt that Lee can consolidate support in the Bay Area nearly as much as those predecessors. That's partly because of her militant politics and her age but also because she hasn't had to advertise much over the years to win her reliably Democratic district, which has limited her name recognition.
Exactly how much voters know about Porter and Schiff is uncertain, too. Traditionally, House members are largely invisible to California voters. Schiff and Porter have assets that were unavailable to earlier generations of congressional representatives: Both are superstars on MSNBC and CNN and have built robust online grassroots fundraising networks. But many California strategists doubt that their national exposure will translate into anything more than the most cursory awareness among voters in the state.
While California voters "paid attention to the Trump impeachment, were they watching Adam Schiff on the floor? Probably not," Rose Kapolczynski, a California Democratic consultant, told me. "Have they been watching Katie Porter and her whiteboard in hearings? Probably not. All the candidates are going to need to expand beyond the MSNBC/Democratic Twitter base to reach those millions of voters who are not paying attention now and probably won't be paying attention until next year."
As they run against one another next spring, the Democratic contenders also must keep an eye on the November election. Since 2012, California has selected its Senate nominees in an open primary, which puts all the candidates on a single ballot, with the top two finishers advancing to the general election in November. If two Democrats emerge from the primary, the general election could be decided by the millions of Republican voters who then would be forced to choose between them.
Most California experts I spoke with give Schiff a slight edge (among other things, he has much more money in the bank than his competitors), but all expect a dynamic, and unpredictable, contest. What's virtually certain is that the race will end with a new Democratic senator likely to quickly emerge as a rising star in the party. For years, many Democrats have grumbled about Feinstein's eroding physical and mental capacity and reluctance to confront Republicans. Whatever else happens along the way, there's little chance anyone will say the same about California's next senator.