When a Christian Revival Goes Viral
At Asbury University, in Kentucky, a student chapel service turned into a revival that has captivated TikTok.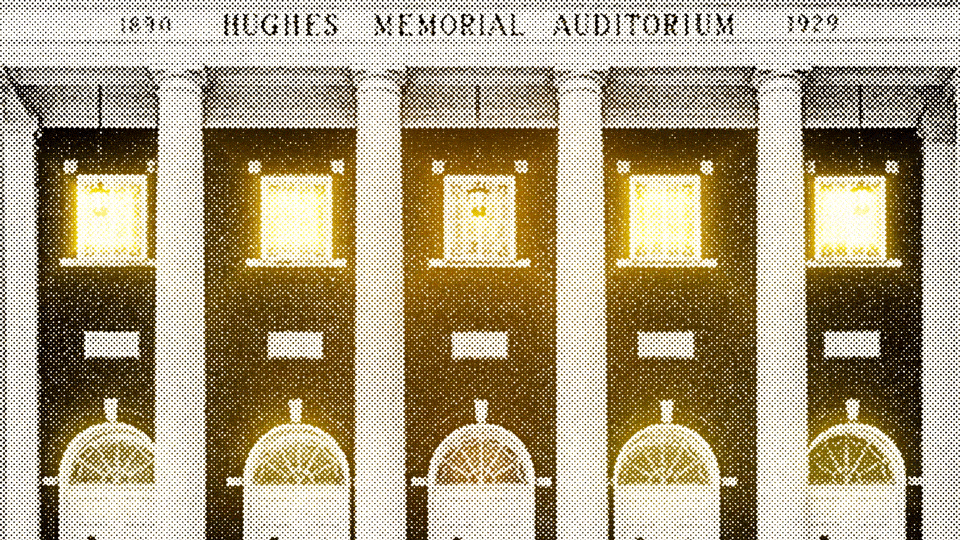 On February 8, after a regularly scheduled chapel service on Asbury University's campus, in Wilmore, Kentucky, a group of about 20 students lingered and began to worship and pray for one another. The chapel speaker that day, Zak Meerkreebs, had exhorted the students to "become the love of God by experiencing the love of God," and closed with a prayer asking God to "revive us by your love." According to the students, as they stayed and prayed, an unexplainable, surreal peace descended upon the room. As minutes stretched into hours, many students who had gone to class returned to the auditorium when they heard what was going on. They would eventually be joined by faculty, staff, and community members who trickled in to participate in worship and prayer.
In the days since, a stream of pilgrims has made its way to Wilmore. All of the auditorium's almost 1,500 wooden flip seats are occupied; the walls and archways leading into the gathering space are crammed with people hungering to join in. Crowds have congregated in auditoriums and chapels elsewhere in town, singing and praying and reading the Bible. There has been a steady diet of proclamation (both standard preaching and personal testimonies), public confession, prayer (individual and corporate), scripture reading, and singing. People I have spoken with who entered these spaces describe encountering a "sweet presence," "deep peace," or "the quiet, heavy presence of God." A sense of awe prevails. It is, one participant told me, as if "heaven opened up."
I live 20 minutes from Asbury and have spent nine days there since the revival began, and I see a paradox at play. The event has gone viral online—on TikTok, the hashtag #asburyrevival has more than 100 million views and counting. But its appeal is actually its physicality and simplicity. In a time of factionalism, celebrity culture, and performance, what's happening at Asbury is radically humble. And it gives me great hope for the future of American Christianity.
As of this Friday, the university will no longer hold public worship services. "I have been asked if Asbury is 'stopping' this outpouring of God's Spirit and the stirring of human hearts," the university president said in a statement. "I have responded by pointing out that we cannot stop something we did not start." Indeed, the phenomenon has been reported to have spread to other schools, including Samford University, Lee University, and Cedarville University.
The images from Asbury have served a Rorschach-test-like function for onlookers from afar who have projected onto them their own hopes, fears, and past wounds. Some see what could be the seeds of another nationwide Great Awakening, and others see echoes of the crowds of January 6 and the looming threat of Christian nationalism. Many have suggested that these experiences embody simple hyped-up emotionalism and lack the necessary elements for "true revival," whether those are quotas of conversions or minimum standards of preaching time.
What people watching online miss is the sense of divine presence and the unity of purpose that worshippers at Asbury are experiencing. In my discussions with participants, they repeatedly described the sensation of time slipping away and of being filled with love for God and for others. Tom McCall, a professor at Asbury Theological Seminary, described "a quiet but powerful sense of transcendence." Glimpses of the transcendental nature of the experience can be seen on the faces in the photos, but not grasped.
And so, instead, many onlookers have opted to debate whether what is happening at Asbury is a revival at all. The word revival does not appear in the Bible, but it is often used to describe outpourings of God's Holy Spirit that result in individual and corporate transformation, including personal holiness, greater love of neighbor, and boldness to proclaim the gospel of Jesus. It tends to be used synonymously with outpouring, renewal, and awakening, although many people would nuance these usages based on the scope and impact of any given event.
Asbury University has been careful in its descriptions, favoring "outpouring." James Thobaben of Asbury Theological Seminary is comfortable labeling this a "revival," and President Timothy Tennent of the same institution goes as far as to suggest that it is an "awakening." Almost everyone involved acknowledges that the event's long-term impact is still unknown.
Singing hymns and other religious songs—what Christians call worship—has been the central unifying element of this outpouring. Where Asbury's 1970 revival was led and sustained by student testimony, this event is firmly centered on worship—a mix of piano, guitar, cajón, and an eclectic chorus of college students. There are no flashy light systems, screens, or celebrity worship leaders. "It's not even low production—it's no production," Adam Russell, a Kentucky pastor and the director of Vineyard Worship (USA), observed on his podcast.
When a speaker stands before the crowds, no introductions or last names are offered. I've watched world-class biblical scholars usher people to open seats and the university's president introduce himself by saying, "Hi, my name is Kevin. I work here at Asbury." And although scholars and presidents are serving the community, the core of this movement, both its leadership and target audience, is the Gen Z students who have been present since the beginning.
The leaders on the ground have turned away people seeking to co-opt the event. Professional revivalists and Christian celebrities have been welcomed in, but they have not been offered platforms. Christian nationalists who arrived toting their flags have been allowed to enter but told to leave their flags at the door—this is about Jesus, not America. No AR-15s or individuals dressed in flak jackets are present. Fox News's Tucker Carlson was asked not to come to cover the revival, because it has nothing to do with politics or business. No one wants to pervert or disrupt what God is seemingly doing in this community.
The events in Asbury are unsettling, because they are subversive in ways that are hard to articulate. In our world of 24/7 access, it is almost unheard-of for an event to not try to increase exposure through media. Not until day 12 was a livestream established, and even then only out of necessity, in an attempt to diffuse the crowds that had swamped this small town. Estimates suggest that thousands of participants flooded into Wilmore this past weekend. By Sunday, law enforcement was deflecting incoming traffic to alleviate the strain on the town's infrastructure.
These students have chosen hiddenness and simplicity, selfless hospitality, and a relentless hunger for Jesus. I know this gives me hope for the future, and it should give you hope as well.