Why Some Students Are Skipping College
A new crop of Americans simply doesn't want to take on debt.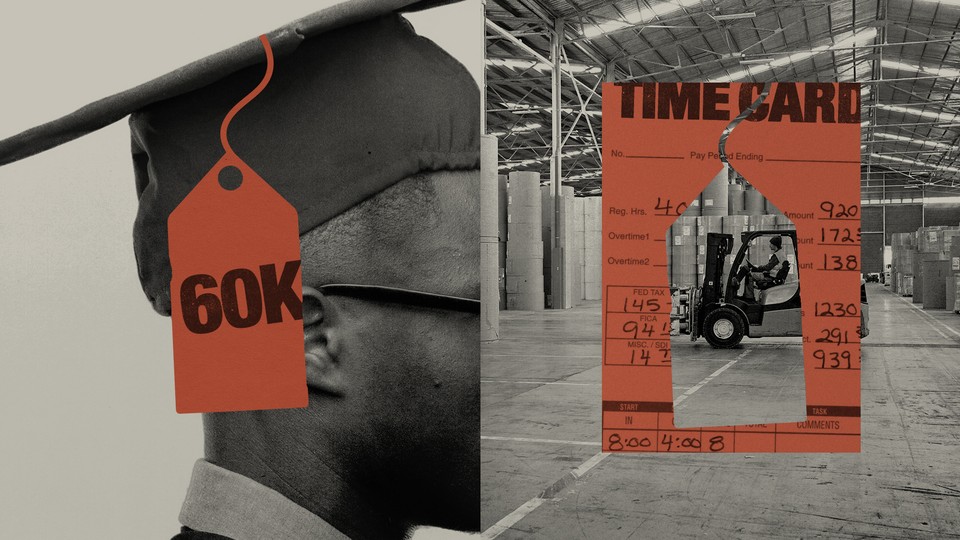 Updated at 3:00 p.m. ET on January 9, 2023
Legal challenges now stand in the way of President Joe Biden's plan to cancel thousands of dollars in education loans for millions of Americans. As a professor focused on debt and inequality, I'm rooting for the plan to succeed. But I'm also concerned that it does nothing to address the problems in higher education that are scaring off a new generation of potential students.
Over the past three and a half years, I have been talking with more than 30 low-income students and their families from across the country about their attitudes toward student debt and their paths after high school. Contrary to my expectations, many told me they were enrolling in inexpensive two-year colleges or eschewing higher education entirely.
These interviews suggest that some families, forced to borrow money just to cover the basic cost of living, are not willing to borrow yet more money for educational reasons, even if it would give them access to skilled jobs and better salaries in the future. Their fear is rational under current circumstances.
As I traveled to different states, I met low-income high-school graduates like Olivia Hall, who grew up watching her mother struggle to pay off her loans and vowed not to fall into the same trap. Hall considered charging tuition to a credit card, rather than borrowing, but ultimately skipped college. She works at a sandwich shop now. Charlie Andry asked friends and family to donate to her GoFundMe campaign to save up money for the University of Illinois at Chicago, after turning down an offer from the more expensive Northwestern University to retain a few thousand dollars. Many others, such as Mia Mujaahid, are lured away from education by $17-an-hour jobs at warehouses and big-box stores.
The American higher-education system appears broken for all but the most well-off. Selective colleges are receiving more applications than ever before, fueling the impression that Americans of all sorts are aiming for the elite college experience. But the rise of applications is partly the result of the same students sending applications to more schools, as a recent report shows.
Already-stretched families hesitate to extend themselves more. Students who borrow for higher education but fail to complete their degrees struggle the most to pay back the money. This group includes disproportionately high numbers of people of color and low-income individuals. Among those enrolled full-time, 40 percent of Black students and 54 percent of Latino students attain a bachelor's degree within six years, compared with about two-thirds of white students. Almost half of students from families with incomes below $35,000 fail to graduate within the same period, compared with less than a third from families with incomes above $75,000. Students who drop out default on student loans at a rate three times higher than those who graduate. Families who fail to make payments on college debt risk their wages being garnisheed, their income-tax refunds being withheld, and their credit scores being lowered, which can make it difficult to obtain leases and can lead to higher interest rates on other loans.
In recent decades, the U.S. has made an attempt to narrow persistent race- and income-based inequalities in educational attainment by helping students of different backgrounds access loans. Now the Biden administration is trying to cancel some of that debt. But canceling existing student debt up to a specific amount does nothing to help new students apply to and attend universities that will give them the greatest odds of success.
Before 1965, most federal aid was given directly to colleges and not to students. Historically, states issued more assistance to postsecondary institutions and students than the federal government did. In 1990, states' per-student funding was almost 140 percent more than that of the federal government, according to research by the Pew Charitable Trusts. But in recent years, the amount of funding supplied by states has dropped. States should increase direct funding levels.
The pandemic has exposed and perpetuated inequalities in higher education. Americans can no longer pretend that trying to equalize college access with postcollege approaches will be sufficient. Families desperately need the hope and opportunity that education provides. That starts with recognizing their unwillingness to take on debt.
---
Correction: This article has been updated to clarify the percentage of Black and Latino students who attain bachelor's degrees within six years, compared with about two-thirds of white students.