How Noma Made Fine Dining Far Worse
The food world glorified a Copenhagen restaurant built on uncompensated labor.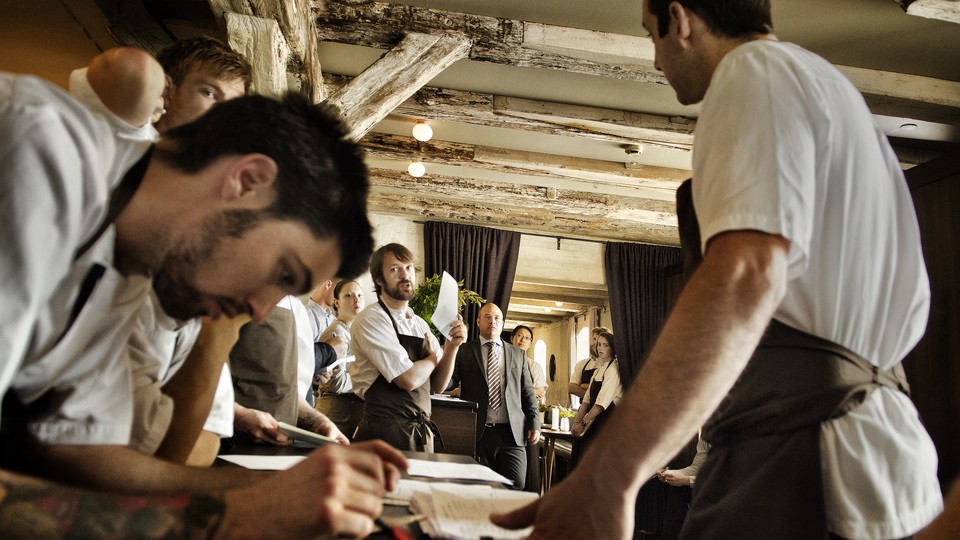 This article was featured in One Story to Read Today, a newsletter in which our editors recommend a single must-read from The Atlantic, Monday through Friday. Sign up for it here.      
Even if you haven't eaten at Noma, you've eaten at Noma. Or at least at someplace trying to be a mini-version of the influential Copenhagen restaurant, where tweezer-wielding worker bees obsess over each microgreen so that every morsel of food looks and tastes transcendent. When the chef, René Redzepi, announced last week that, at the end of next year, Noma will close its doors to guests and transform into "Noma 3.0"—something of a Willy Wonka–style food lab and pop-up-restaurant incubator—The New York Times predicted that the news would "send shock waves through the culinary world." But for those of us in the restaurant industry, Noma's announcement felt less like a seismic event and more like the dampened thud of a silver spoon falling on a plush dining-room carpet.
As a burned-out chef slogging through the challenges of running a restaurant myself, I'm shocked only that Noma—along with many other ultra-high-end restaurants built on the same foundation—has been running for so long. Despite Noma's global reputation and eye-popping prices, the restaurant has depended heavily on uncompensated labor. The Financial Times has reported that, in its last year of operations before the pandemic, the restaurant typically had 34 paid cooks—and about 30 unpaid interns. Only in October, after nearly two decades in business, did Noma start paying the people who painstakingly prep and stage its food for presentation to customers.
In any other industry, this would go without saying: A business that builds wealth and renown without paying anything, much less a living wage, to nearly half its workers is not worth celebrating no matter how exceptional the output. But ever since Noma started racking up Michelin stars and topping world's-best lists, the rest of the food world has looked to it as the embodiment of what a perfect, modern fine-dining establishment should be. Other restaurateurs have tried to copy its minimal design and its heterodox food. For better and for worse, Noma's popularity has forced all chefs to grapple with the New Nordic Manifesto on their menus, whether they were serving 15-course tasting menus in cosmopolitan cities or, like me, serving casual fare along the beach in a vacation town.
Now Redzepi admits that his approach is unsustainable. "Financially and emotionally, as an employer and as a human being, it just doesn't work," he told The New York Times. But he and his admirers seem far from fully reckoning with our industry's sins. Some industry veterans have applauded Noma's pivot as a brilliant marketing move that will make the restaurant's products scarcer and more desirable. The language on the Noma 3.0 website is blithe, not repentant. "Our goal," it declares, "is to create a lasting organization dedicated to groundbreaking work in food, but also to redefine the foundation for a restaurant team, a place where you can learn, you can take risks, and you can grow!" This from the place where staff cooks reportedly told one unpaid intern that she was forbidden to laugh in the kitchen. (A Noma spokesperson told the Times that her account "does not reflect our workplace or the experience we wish for our interns or anyone on our team.")
The truth is that the kind of high-end dining Noma exemplifies is abusive, disingenuous, and unethical. Chefs know it but continue to imitate Redzepi. The food media know it but continue to celebrate his kind of food. Wealthy diners know it but continue to book tables en masse—if not at Noma, then at comparable destination restaurants around the world.
I too have been unable to resist Noma's gravitational pull. I've made the pilgrimage twice. One day for lunch in 2018, I rolled up to the restaurant's imposing wood door only partly recovered from food poisoning the night before. Not wanting to waste the hard-to-nab reservation and expensive prepaid meal, I sat, pale-green, at the restaurant's communal table with a dozen or so chatty strangers while slurping down a 15-course tasting menu of mostly shellfish thoughtfully paired with flights of nonalcoholic fermented juices. Sadly, my queasy gut dashed my expectations for the meal.
On my second visit the following year, I genuinely marveled at the way the wizards in Noma's kitchen transformed several courses of fuzzy mold and crunchy insects into something beautiful. Still, the experience was intellectual, not emotional. It left my mind buzzing but my stomach unsatisfied. My husband and I headed to my favorite laid-back Copenhagen restaurant—one run, I should note, by a Redzepi disciple. There, a friendly host met our party at the door, loud music brightened our mood, and a series of exciting dishes was brought to our table directly from a wood-burning oven—albeit without all the flourishes that a corps of unpaid interns might have added.
What that trip to Copenhagen crystallized for me was that the discipline and exhausting work of fine dining rarely translate into a substantially better experience for the guest. And if that's the case, then is all of the work really worth it?
Today, that question has taken on even more resonance. Ever since the pandemic turned normal on its head and gave everyone in our industry an unexpected but well-deserved moment to breathe, restaurant operators everywhere have started to make decisions that serve the needs of our employees, our organizations, and ourselves first instead of our customers'. To some, that has meant restricting hours and limiting menu options. To others, it has meant raising prices and offering ownership shares to employees. But finding a formula that allows everyone to prosper is difficult.
When you're running a restaurant—whether fancy or casual—you always have new problems to fix, issues on your mind to work out: an oven on the fritz; a salad you tasted the night before that wasn't dressed properly; a line cook who threatened to punch a dishwasher; a customer who didn't like his slice of cake and wrote you a treatise about it; a server who wants to talk about her paycheck, again; produce that keeps coming in bruised and way too expensive; new menus that need to be completed, printed, and uploaded to three different sites by next week. Never mind your self-imposed pressure to succeed, the bank-imposed pressure to make money, the team-imposed pressure to keep spirits high, and the guest-imposed pressure to keep the doors open and a smile on your face day after day after day.
All too often, the brutal dynamics of our industry result in the mistreatment of the lowest-ranking workers, which everyone then justifies as how things have always been done or the only way a restaurant can work efficiently. Redzepi himself has written and spoken extensively about his personal difficulties in that regard, including in a stunningly honest and self-reflective 2015 article for Lucky Peach:
I started cooking in a time when it was common to see my fellow cooks get slapped across the face for making simple mistakes, to see plates fly across a room, crashing into someone who was doing his job too slowly … It wasn't uncommon to reach for a pan only to find that someone had stuck the handle in the fire and then put it back on my station just to mess with me. I watched chefs—mine and others—use bullying and humiliation to wring results out of their cooks … This was how I had been taught to cook, and it was the only way I knew to get a message through.
This is the toxicity that guests feasting on reindeer moss never see. But being transparent about your sins isn't a substitute for making amends. In the eight years since he wrote those words, stories from disgruntled workers have continued to leak out. Across our industry, abusive norms have persisted even under the spotlight of a thousand cooking shows and food blogs and amid an influx of investment capital for the best-known chefs.
Later in the same mea culpa essay, Redzepi asks: "How can we rectify the screaming and shouting and physical abuse we've visited on our young cooks? How do we unmake the cultures of machismo and misogyny in our kitchens? Can we be better? Perhaps, the real question is this: Do we want to be better?"
The answer to that last question depends on the meaning of we. Usually left out of this equation are the lives—and dignity—of the people creating and serving that food. Diners not only should be looking down at plates for more joyful and bountiful presentations of food; they also should be looking up. Are the people in the kitchen smiling and moving loosely? Or do they look like stressed-out zombies on the brink of collapse? Food, ultimately, is supposed to provide satisfaction and joy—not just to the person eating but to those making and serving it too.
Restaurants around the globe are already pioneering different ways of doing business. At Zingerman's Delicatessen and its related businesses in Ann Arbor, Michigan, for example, a hardy group of midwestern anarcho-capitalists has built a culinary empire using the principles of servant leadership, mindfulness, appreciation, and gratitude over the past 40 years.
Many such pioneers wouldn't be classified by the food media as existing in the same realm as Noma, but maybe that should change. New models for the restaurant industry are already brewing. They have been for years. Just not on a table in a food lab in Copenhagen.