Why Memphis Is Different
Because of the sheer prevalence of police brutality in America, public officials have gotten better at managing the shock.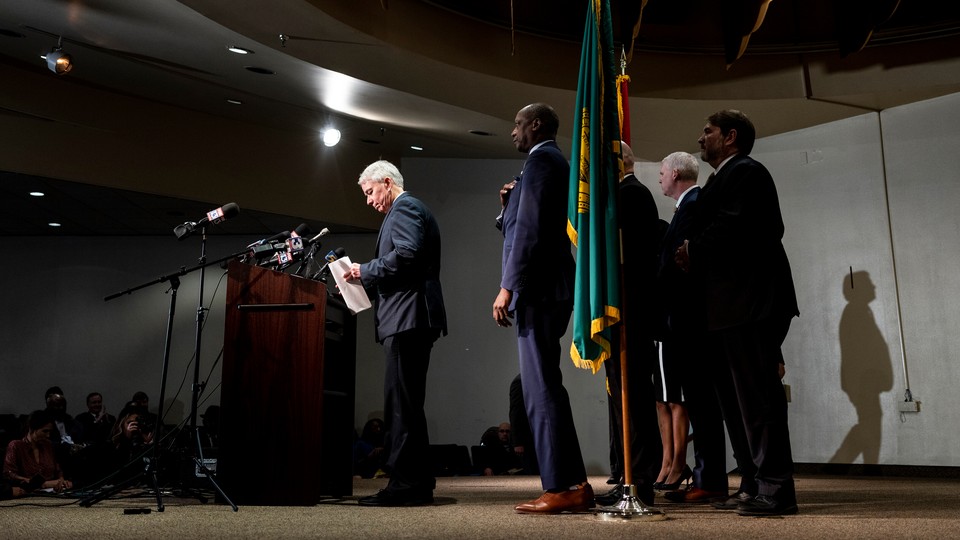 As multiple video recordings of the fatal police beating of Tyre Nichols in Memphis were released to the public on Friday night, the nation prepared for the reaction. Peaceful protests can easily turn into violent ones, especially in a country that is rightly outraged about the ongoing police brutality against Black men. It has become a familiar call and response: Police misconduct leads to more harm in or for the communities that were targeted by the misconduct in the first place.
But as Friday night unfolded, the protests remained peaceful; news reports showed Americans in various cities righteously and nonviolently demanding justice. We have witnessed many peaceful protests in response to police violence before, but there was one noticeable difference this time around: Rollout of the video footage seemed highly choreographed.
By the time protesters were chanting in the streets, the five officers who had beaten Nichols, a 29-year-old Black man, had already been charged with second-degree murder. By the time the video footage of the attack was released, the anger and dismay had already been predicted; law-enforcement and political leaders had issued statements preparing the public for some of the worst police violence this nation has seen. The Memphis police chief likened Nichols's beating to that of Rodney King in 1991. These officials were right: The footage was brutal, at times unbearable, with Nichols appearing not to resist the officers as they repeatedly struck him. All of this reveals the sad fact that, because of the sheer number of times Americans have now confronted videos of police officers killing Black citizens, public officials have gotten better at managing the shock.
This observation is not meant to minimize the police violence on display in the Memphis videos and so many before, but to acknowledge how important it is to mitigate the harm that such violence can cause even beyond the misconduct itself. As we have seen too many times, when videos reveal police violence or verdicts fail to bring officers to justice, the result is often more violence, including clashes between civilians and police. The Rodney King verdict in 1992, in which four Los Angeles police officers were acquitted for a beating that aired on television, led to the L.A. riots. During those days of unrest, 63 people died from violence related to what had started out as peaceful protests. The deaths of Michael Brown, George Floyd, and others also sparked violence in the streets—each side with its own narrative of who had initiated it—in addition to large, peaceful demonstrations. Our nation has been through this so many times before.
The release of the Nichols footage suggests that a combination of factors can help prevent police-civilian clashes, though it might be too soon to say. First, there was the quick firing of the five police officers involved, even before criminal charges were filed, and before the videos were made public. This rarely happens, but it is the correct response when the facts are impossible to defend. Memphis Mayor Jim Strickland also made a commitment to examine the city's SCORPION squad, its supposedly elite street-crime unit to which the police officers involved in Nichols's beating were assigned. On Friday, just before the release of the footage, Strickland went further and said the unit would be "inactive" for the foreseeable future.
Then there were the very direct and ominous warnings of what the public could expect to see in the videos, which were available in the first place only because of the increased use of body and street-pole cameras in response to previous incidents of police brutality. Memphis Police Chief Cerelyn Davis cautioned that the footage showed something "heinous" and "inhumane." We were told to prepare for scenes at least as terrible as King's beating. Americans have already been trained to expect horror in such videos, but officials made explicit that the footage would provoke outrage. Though the footage itself was still far worse than any description, people were braced for it.
As for the timing of the release—on a Friday night—it was, at first, surprising. Were officials hoping people wouldn't be watching the news and would miss the footage, or was it a careless choice, given that a weekend night is a time when people are less likely to be distracted by the obligations of daily life, and is, therefore, riper for a strong backlash? It turned out that, because Memphis officials waited until Friday night, every police department in America had sufficient warning to prepare for protest; they were effectively put on notice to focus their tactics on de-escalation in anticipation of reaction to the video. By waiting a week between when the police officers were fired and when the footage was released, officials also created time for religious and other leaders to support and counsel their communities. So far, we have not seen a major show of force in U.S. cities, from either civilians or police.
Anticipating unrest after police misconduct, and trying to minimize its likelihood, is no solution for the misconduct itself. Nor should the lack of violence in the streets be conflated with a lack of urgency for reform. But we have seen, possibly, how public officials and community leaders can at least prepare for the righteous anger and frustration that is sure to follow, and then anticipate how to support communities as they express that reaction in nonviolent ways. Like mass shootings, police brutality is, tragically, common enough in the United States that we are getting better at addressing its consequences. The challenge is to not become numb to it.