Inhumanity in Memphis
The police officers who fatally beat Tyre Nichols must have known their actions were being recorded, but that hardly seemed to deter them.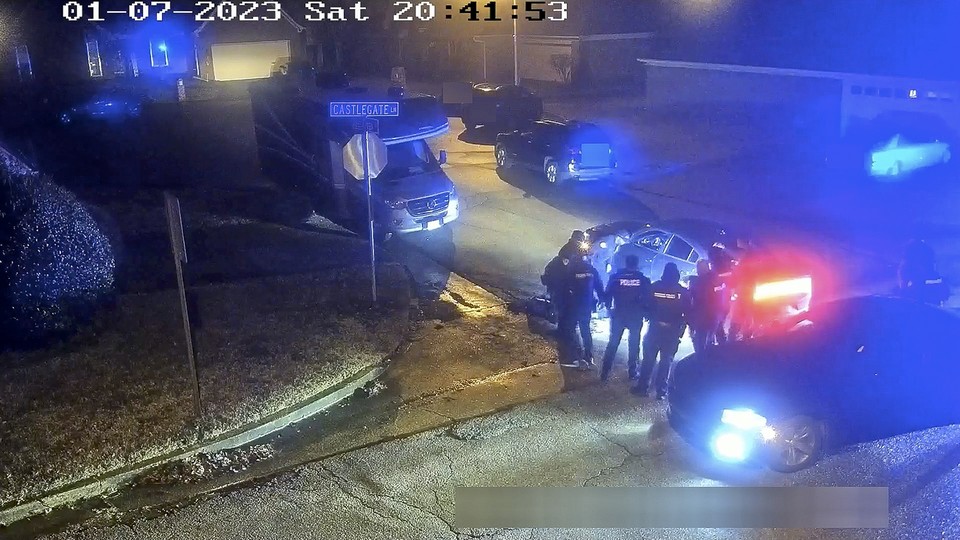 Even before the city of Memphis released video Friday evening of the fatal beating of Tyre Nichols, it seemed the footage would be horrifying. Defense attorneys compared it to the Rodney King beating in 1991, a comparison that now rings true, but the Memphis police chief and the head of the Tennessee Bureau of Investigation similarly said they were appalled by what they'd seen. Cops often remind critics that their job necessarily entails violence, so when seasoned law-enforcement officers react this way, it's telling.
They were right to be appalled. Though the public might have started to become accustomed to de facto snuff films of people dying at the hands of police, this video is shocking, showing officers wantonly beating a 29-year-old Black man. If they did not intend to kill him, they showed little hesitation in beating him nearly to death and little remorse after they'd finished. Five officers have been fired, and all five have been charged with second-degree murder. All of them were part of a vaunted "hot spot" policing unit called SCORPION, established only in 2021.
One of the more remarkable things about the video is that it exists. Footage like this is both essential to bearing witness to violence and practically unbearable to watch. Memphis released four clips, three of them from body cams but the fourth from a permanently installed surveillance camera, apparently part of a citywide network called SkyCop. Though it hasn't proved especially effective as a crime-fighting tactic, the system is ubiquitous, unmissable, and roughly as dystopian as it sounds: Nearly anywhere you go in Memphis, you can see the blue lights of the system twinkling above you. That means the officers who beat Nichols surely knew they were on camera.
The most chilling thing about a video of the murder of George Floyd in Minneapolis in 2020 was the nonchalance of Officer Derek Chauvin as he slowly suffocated Floyd with a knee on his neck. The Nichols footage is something else entirely: It shows officers eagerly and savagely beating a man who appears to be defenseless, inert, and as compliant as possible. They strike him with a baton and appear to kick him in the head when he's down as he calls for his mother. It's only when they finish that they show the kind of indifference Chauvin did, milling around, panting and wheezing from the exertion, and talking over what happened. Even after the fire department arrives, Nichols receives little medical attention. For long stretches, it's as if a human being isn't even there.
Speaking to the Daily Memphian today, Mayor Jim Strickland—a Democrat who has run as a tough-on-crime backer of police yet has seen crime rise on his watch—said an outside review was needed to determine whether the problem was a lack of training or something in the culture of the Memphis Police Department. If the fact that officers acted this way in plain view, apparently unworried about repercussions, doesn't answer Strickland's question, it's hard to know what an outside review might do for him.
What the videos don't do is explain how the encounter between Nichols and the police began. MPD said in a January 8 statement that Nichols was stopped for reckless driving, but just as with the initial official statement about Floyd's murder, the description of the incident bears little resemblance to the footage. Officers are heard alleging that Nichols was driving into oncoming traffic before they stopped him. None of that is in the footage released today.
The first video only begins as an officer pulls up behind Nichols's car and he and other officers demand, with weapons drawn, that Nichols get out of the car. "Damn, I didn't do anything," Nichols says as they drag him from the car and pepper-spray him. But in the scrum, the officers also spray themselves, and Nichols somehow breaks free and runs away on foot. After giving chase, two officers mill around, pouring water in their eyes and catching their breath. The radio barks that an officer has found Nichols some distance away. "I hope they stomp his ass," one cop says.
He got his wish. The next three videos, two from body cams and one from SkyCop, don't capture the moment when officers catch up with Nichols, but the surveillance camera shows several officers beating him on a suburban corner. He doesn't appear to be resisting them, or even physically able to do so; he looks like a rag doll. They shout for him to do this and that, but Nichols, being yanked in every direction by the officers, could hardly have complied if he wanted to. They stomp and kick him as he repeatedly calls for his mother.
"I'm gonna baton the fuck outta you," one officer says. Another replies, "Hit him!," and they hold up Nichols to take the blow. They eventually stop, leaving him on the ground. His slurred moans are audible in one clip. The officers, meanwhile, sound almost exhilarated. They seem particularly furious that Nichols had (in their view) made them pepper-spray themselves, and they speculate that he is "high as a mother" or "high as a kite." They also talk about how strong he must be. "I was hitting him with straight haymakers, dawg," one officer says. He or another adds, "I was rocking him!"
After leaving Nichols on the ground for a bit, they drag him over to lean against a police car. Four excruciating minutes later, the fire department arrives to tend to Nichols, but it's hard to see what, if anything, the firefighters do for him. (Two of them have been suspended for their actions that night.) The police officers mostly ignore him. If anyone is concerned for his well-being, the videos don't capture it. Roughly 25 minutes pass between the beating and the arrival of an ambulance to take Nichols away. Three days later, he would die in a hospital. And a little more than two weeks later, the five officers would be charged with murder.