The Gas-Stove Debate Exemplifies the Silliest Tendencies of American Politics
A big nothing can morph into a huge controversy for no good reason at all.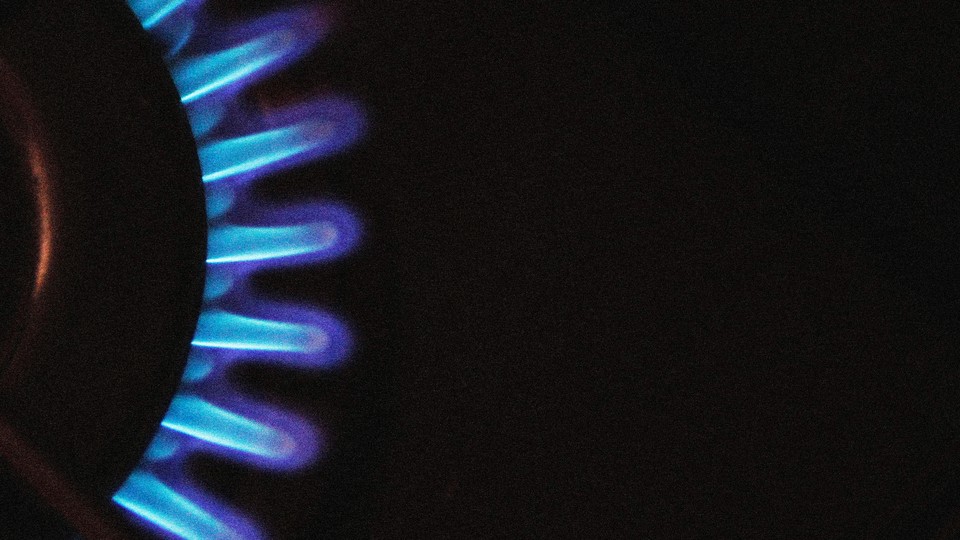 Occasionally, a news item comes around that seems to perfectly exemplify the most knee-jerk tendencies of both of America's two main political parties—a moment when, without really considering any of the underlying issues, partisans immediately harden into familiar postures and begin emitting lots of hot air.
Hot air, in the most recent example, is not just a figure of speech. At issue is the future of gas stoves. In December, scientists published a study finding that ranges that burn natural gas account for almost 13 percent of childhood-asthma cases in the United States. Some advocates in both the public-health and environmental spheres have long argued against gas stoves, saying the pollution they emit makes them inferior to other options, such as electric or induction ranges. The eye-popping asthma statistic breathed new life into the debate.
Then, in an interview with Bloomberg, a member of the Consumer Product Safety Commission, an independent federal agency that regulates some products and oversees recalls, suggested that the body might prohibit gas stoves altogether. "This is a hidden hazard. Any option is on the table. Products that can't be made safe can be banned," said Commissioner Richard Trumka Jr. (If the name seems familiar, that's because his father, Richard Trumka Sr., was head of the AFL-CIO and a mainstay of Democratic politics until his death in 2021.)
Trumka's suggestion is a steep escalation. Policy makers have sought ways to encourage Americans to switch away from gas, including a rebate of as much as $840 on new electric stoves that was included in last year's Inflation Reduction Act. Members of Congress have also written to the CPSC suggesting stricter rules about gas stoves. But an outright ban is a very different kind of regulatory approach. Besides, the foundation for such a ban is still shaky: As the economist Emily Oster wrote, reviewing the new study, the data show that gas stoves aren't great for health (yours, your children's, or the planet's), but they probably don't substantiate the huge share of asthma cases claimed.
Leaping to a ban over other potentially effective and less coercive approaches, and doing so on the basis of relatively ambiguous data, feels like a stereotype of a certain kind of 21st-century progressivism: If we believe in science—and of course we do!—the federal government must institute a ban.
Thankfully, this self-caricature was met with calm and graceful dismissiveness on the right. Ha, just kidding! Trumka's remark set off a paroxysm of agitation among conservatives. One National Review writer warned, "Biden Administration Considers Banning Gas Stoves Over Health Concerns," which is true in the sense that a single appointee in the administration discussed it. Fox News alone flooded the zone with pro-gas venting: An anguished restaurateur poured out his woes on Tucker Carlson's show; a CPSC spokesperson's limp deflection earned its own write-up; Fox Business carried a barely reworked press release on the topic from a very neutral observer, the American Gas Association; and, naturally, a story involving Alexandria Ocasio-Cortez getting flamed on Twitter was a must. (Other coverage was more insightful: Charles C. W. Cooke wryly noted a potential policy case for banning electric stoves.)
The reflex to position gas stoves as the last redoubt of traditional American life, threatened by big government, is just as stereotypical of the contemporary American right as the impulse to instate a ban is of the American left. "If the maniacs in the White House come for my stove, they can pry it from my cold dead hands," Representative Ronny Jackson of Texas tweeted, echoing a famous Second Amendment–rights slogan. The sense of persecution is familiar from past freak-outs such as Michele Bachmann's effort to build a political career around preserving incandescent light bulbs.
Cooking styles are deeply personal. As the sort of person who was very precious about my gas stove until I bought a house with an induction one, I am prepared to say that many people are too precious about gas stoves. But these sorts of feelings can lead to the conversation becoming, shall we say, a bit overheated.
That's especially the case because Trumka seems to have been speaking out of turn. The CPSC's chair issued a statement yesterday saying that although research "indicates that emissions from gas stoves can be hazardous, and the CPSC is looking for ways to reduce related indoor air quality hazards," he is "not looking to ban gas stoves and the CPSC has no proceeding to do so." The White House also said that President Joe Biden does not support banning the stoves.
Do not mourn the quick passage of this charming episode too deeply, though. A new topic is sure to spark a similar partisan food fight before long, even if this one was a mere flash in the pan.