The Sports Scandal Almost Nobody Is Talking About
UFC's Dana White faces almost no consequences for publicly slapping his wife.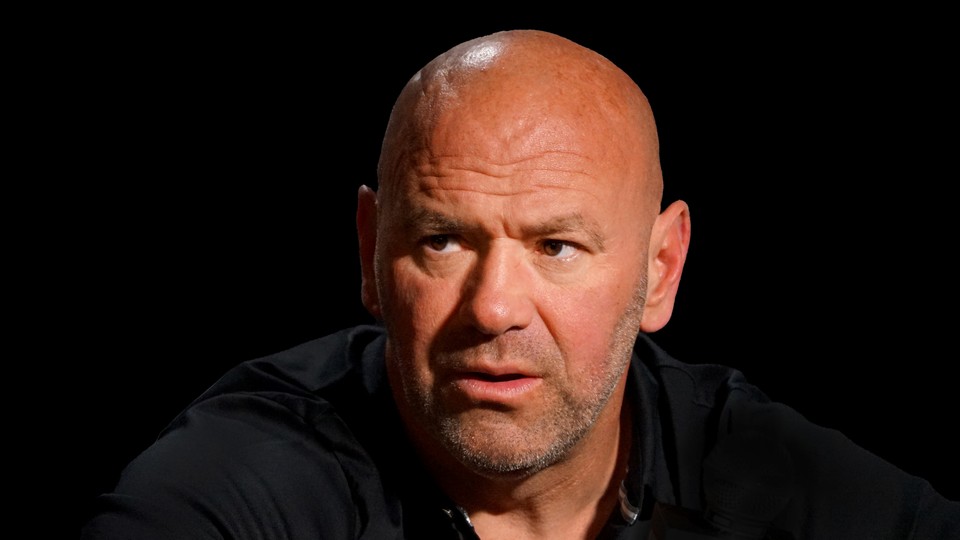 When the head of a major sports organization is caught on video slapping his wife multiple times, his career should be in jeopardy. But other than a few days of remarkably mild criticism, Ultimate Fighting Championship President Dana White appears to be avoiding any real professional consequences.
Last week, TMZ released a video that shows White in a heated argument with his wife, Anne, at a nightclub in Cabo San Lucas, Mexico, on New Year's Eve. In the video, White approaches his visibly distraught wife, who strikes him in the face. White then retaliates by slapping her twice, and the two briefly tussle before she storms away.
White subsequently expressed embarrassment while also downplaying the importance of the incident. "People are going to have opinions on this, and most of their opinions would be right," White told the celebrity-news website. "You don't put your hands on a woman—ever. My wife and I obviously love each other. We've been together for a very long time. We've known each other since we were very little, and this was just one of those unfortunate situations." White's wife also released a statement to TMZ blaming alcohol for the reason their confrontation turned physical. "Unfortunately, we were both drinking too much on New Year's Eve and things got out of control, on both sides," she said.
There are plenty of examples of athletes and other sports figures facing some repercussions when credibly accused of domestic violence: intense public scrutiny, suspension, loss of income or, in extreme cases, their employment.
But curiously, since the video's release, White has not been subject to an avalanche of media coverage or nonstop discussions about whether he should be fired, fined, or otherwise. His behavior hasn't been condemned by UFC's parent company, Endeavor, or UFC's biggest television partner, ESPN, which reached a five-year, $1.5 billion broadcast-rights deal in 2018 to air mixed-martial-arts events and then, in 2019, extended the arrangement to make ESPN the sport's exclusive pay-per-view provider.
These major stakeholders in the UFC are best positioned to hold White accountable, but they don't seem particularly motivated to get involved. Endeavor isn't commenting, and neither is ESPN. In fact, when I requested comment, a spokesperson declined to elaborate on network officials' coverage decisions and instead emailed me multiple clips showcasing ESPN's news coverage of White across the network's digital, television, radio, and podcasting platforms.
The issue isn't that ESPN has ignored White's situation entirely. It's just that the coverage of the incident has overall been pretty soft. Having worked at ESPN for 12 years, I know intimately the difference between cursory coverage and a nonstop national conversation fueled by the massive sports-media machine. The most recent example of the latter is the Brooklyn Nets star Kyrie Irving, who became a daily fixture in ESPN's news coverage and commentary after he was suspended for posting a link on his social media to an anti-Semitic film. (Full disclosure: I left the network several years ago amid a dispute with its top management—a matter that I and others have written about extensively.)
The ESPN writer and editor Jeff Wagenheim essentially confirmed my observation that the network is intentionally going easy on White. Wagenheim tweeted, "We've been told to not write anything incendiary on social media about the Dana White situation, and I understand why and have abided by that. I just ask y'all to understand that some of us at ESPN do not have as soft a take as this on domestic violence."
Wagenheim backpedaled slightly in a follow-up tweet but didn't entirely retreat from his original point. "Clarification: There was no edict from ESPN bosses regarding the White situation," Wagenheim wrote, "but in general we are strongly discouraged from incendiary posts on social media, and with a business partner things are sensitive. My bad on the wording. (The thought that follows still stands.)"
Given ESPN's huge financial stake in UFC's success, Wagenheim's revelation is hardly surprising. Because ESPN is a business partner of virtually every major sports league in the country—the NFL, the NBA, college sports, and professional soccer, among others—the network's journalists face a difficult balancing act when major players of those leagues behave inappropriately.
But business ties aren't the only relationships that have compromised ESPN's coverage of White. On Wednesday, the ESPN hosts Molly Qerim and Stephen A. Smith discussed White on First Take, one of the network's most popular and prominent sports-debate shows. Qerim and Smith were especially gracious to White, whom they both admitted they are friendly with.
"I just wish the best for him and his family," Smith said. "He knows how wrong he was to do this. He knows that we're on this. He knew ahead of time, because I reached out to him to let him know I would be talking about this this morning. He knows that he crossed a line that he has never crossed before and that he swears he will never cross again. And he is incredibly ashamed of himself. That's just where we are right now."
Qerim added, "In terms of it being an isolated incident, I've known Dana since I was 22. I have the utmost respect for him. I don't judge people by their worst moment."
To be fair, Smith and Qerim both acknowledged their personal relationship with White, and both agreed that he should be punished. But how could a viewer not wonder whether their conversation about White would have been as nuanced and delicate if it had been about someone they didn't know? Neither acknowledged that in 2011, White's own mother accused him of treating women poorly.
In many analogous situations, athletes—especially Black athletes—have not been offered the same grace and support that White is receiving. (The UFC president is white.) They usually face harsher responses. The Baltimore Ravens running back Ray Rice never played in the NFL again after TMZ released video of him knocking out his then-fiancée in an elevator in 2014. Like White, Rice insisted that he had never hit his fiancée prior to that night and that alcohol was a major factor, but hardly anyone was willing to give him the benefit of the doubt or reserve judgment. In fact, at the time, White chimed in on Rice's situation. "There's one thing that you never bounce back from and that's putting your hands on a woman," White told Fox Sports Live in 2014. "Been that way in the UFC since we started here. You don't bounce back from putting your hands on a woman."
White hasn't exactly adhered to a zero-tolerance policy in his own organization. He had no problem signing the former NFL player Greg Hardy, who had been convicted on multiple counts of domestic violence. (The sentence was overturned and the charges were expunged from his record because his ex-girlfriend failed to appear in court during his appeal.) UFC eventually let Hardy's contract expire, but White's stance on domestic violence clearly comes with some wiggle room.
Obviously, UFC is not nearly as popular as the NFL and therefore does not receive the same level of media attention.  Mixed martial arts also remains slightly outside the circle of the major mainstream sports, and part of the attraction for many fans is that the sport is more freewheeling than other major sports entities. But White is the face of UFC and one of the most recognizable names in sports. He has sought to make his sport a mainstream staple, and with that comes a high level of responsibility. I can't imagine the commissioner of any other prominent sports organization being in White's position and not facing official punishment.
The lack of outrage and the obvious double standard have not gone unnoticed among Black entertainers. The actor and comedian D. L. Hughley posted on his Instagram page:
If that had been a brotha, it'd be NONSTOP coverage, dredging up a playground fight from the 3rd grade, scouring old tweets, you name it. #DanaWhite's ENTIRE LIFE is immersed in brutal, physical violence, he's amassed a fortune from it. Where are the salacious headlines?? Where's the pressure?? Ohhhhh, he apologized🙄 #WhitePrivilege (PUN INTENDED) scores a 1st round knockout yet again.
In the comments section, the actor Jamie Foxx remarked: "Fucking preach!!!!"
Some commentators have even gone so far as to try to justify White's response by making the disgraceful argument that the executive's wife hit him first. Never mind that he is bigger and stronger than she is. The UFC light-heavyweight title contender Jamahal Hill tweeted, "If you don't want to get hit don't hit nobody period!!!" On his podcast, the UFC bantamweight contender Sean O'Malley also defended White. "I feel bad for Dana," O'Malley said. "His wife slapped him. That is rude. And it deserves a slapping back. I don't know. I don't know. It's a tricky one. I don't know, treat people how you want to be treated."
The general dismissal of violence toward women is a contributing factor to White being viewed so sympathetically. Unfortunately, the worst consequence he faces as of now is a canceled television show. White's TBS reality series, Power Slap: Road to the Title, was supposed to premiere on Wednesday, but the network has rescheduled it to January 18. I'll be surprised if the network goes through with a show that is based on competitive open-hand hitting and has White's name attached.
The grand irony of all of this is that White doesn't actually seem eager to accept the graciousness that others are so willing to give him. "You've heard me say for years, 'There's never ever an excuse for a guy to put his hands on a woman,'" White said, "and now here I am on TMZ talking about it."
White isn't offering any excuses, so why is almost everyone else doing it?