Biden's Classified Documents Should Have No Impact on Trump's Legal Jeopardy
Given the facts as they are now known, only the most superficial parallel can be drawn between the two situations.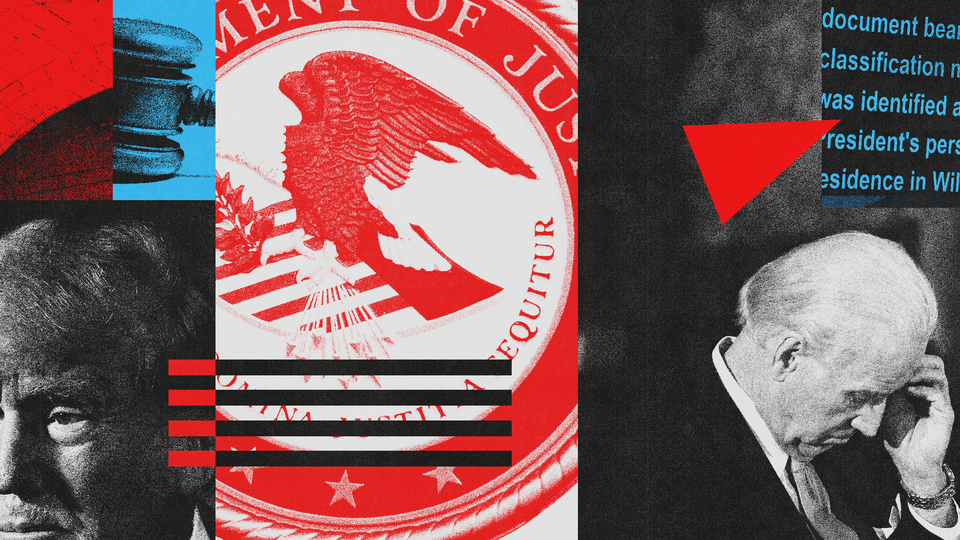 The recent discovery of a small number of classified documents, left over from President Joe Biden's time as vice president and found at his private office and home, has injected confusion into the public's understanding of whether any criminal liability might be appropriate for former President Donald Trump in connection with the huge trove of classified documents found last year at Mar-a-Lago.
Given the facts as they are now known, only the most superficial parallel can be drawn between Biden's possession of these documents and Trump's conduct relating to the documents held at Mar-a-Lago. To be clear, Biden having classified documents in unsecure, nongovernmental settings violates the law regarding the handling of such documents. Unfortunately, his administration has done itself no favor by its delayed disclosure of the problem, creating unnecessary suspicion and political turmoil.
Under these circumstances, Attorney General Merrick Garland has, in our view, acted wisely in appointing special counsels to fully evaluate the facts concerning both events, and his selection of someone reported to be a highly qualified, experienced prosecutor—Robert K. Hur—is a sign that Garland is taking account of the need for public trust in the administration of justice.
Even if, at some point, evidence of potential criminal conduct develops in the Biden case, in no proper prosecutorial universe should that affect or deter Special Counsel Jack Smith's investigation of Trump. In the unlikely event that both men did commit crimes, that would be no reason not to prosecute Trump—or Biden, for that matter, once he is out of office. No person is above the law.
But these two cases are not equivalent. For starters, let's consider the two stories through the lens of the statutes cited in the Mar-a-Lago search warrant approved by a federal court.
Individuals violate the Espionage Act when, among other things, they willfully retain national-defense documents and fail to return them to a proper government official upon request. In November, Biden's personal lawyer discovered the classified documents and returned them to the government without a request. So that statute does not apply. Biden has denied knowing that he had the documents.
The contrast with Trump is stark. The National Archives and Records Administration first asked him to return missing documents in May 2021. The following January, Archives officials retrieved 15 boxes of government records, and on June 3, 2022, his lawyer signed a sworn statement that all documents responsive to a grand jury subpoena were being returned after a "diligent" search. (That any lawyer would do so without conducting the search herself raises serious ethical questions, and strongly implies that she was instructed by someone to make the statement.)
In August, a federal court was provided evidence that the lawyer's statement was likely false, and the court issued the search warrant that allowed the FBI to seize upwards of 11,000 documents from Mar-a-Lago. They included more than 70 documents marked "Secret" or "Top Secret," some apparently containing information whose disclosure could conceivably endanger the lives of American intelligence sources overseas.
The apparent obstruction of justice—with evidence pointing to Trump's direct involvement—makes up the serious misconduct here, more serious than a former president simply having removed documents from their proper place. Trump's lawyers repeatedly asserted in court that the Mar-a-Lago documents were "personal," effectively admitting that Trump took them and kept them.
The centrality of concealment to the case is made even clearer by the second statute cited in the Mar-a-Lago affidavit. It subjects to prosecution anyone who "knowingly … conceals [or] covers up … any record, document, or tangible object with the intent to impede [or] obstruct … the investigation or proper administration of any [federal] matter."
By contrast, in Biden's case, no evidence yet exists of concealment or of intent to impede or obstruct the proper administration of any federal matter. With Trump, a federal judge has already determined, in approving the Mar-a-Lago warrant, that there was probable cause to believe that Trump intended to impede or obstruct an investigation or NARA's proper administration of government records, and likely both.
Similarly, the third criminal statute relied on in the Mar-a-Lago affidavit prohibits "willfully and unlawfully concealing [or] removing" a government record or document from "any public office … of the United States." Willful and unlawful intent requires knowledge that one is breaking the law, and Trump was placed on notice over the course of many months, and asked numerous times by multiple federal agencies to return all classified and presidential records. He still did not.
From what we know now, Biden's situation differs significantly both from Trump's conduct at Mar-a-Lago and from prior prosecutions of high-level government officials for mishandling classified documents.
In 2005, Sandy Berger, a former national security adviser to President Bill Clinton, pleaded guilty to unlawfully removing government documents. In 2003, years after his government service, he had gone to the National Archives to review files, and as he left, a staffer spotted what appeared to be paper protruding from Berger's pant leg. Stuffing documents into his trousers to hide them, along with his later attempt to throw the records into a construction site, was powerful evidence of willful and unlawful intent.
In 2015, David Petraeus, a former general and CIA director under President Barack Obama, pleaded guilty to having given his mistress and biographer, Paula Broadwell, classified material that he had improperly retained. Petraeus had falsely attested to having no classified material in his possession. Like documents taken and concealed in clothing, false statements are compelling evidence of a guilty mind and a cover-up.
One of us (Mark S. Zaid) has represented many clients who have accidentally taken classified documents home or unintentionally left them in unsecured environments. Those cases involved no deliberate flouting of law but rather negligent or reckless conduct. These situations are routinely resolved through administrative proceedings, such as suspension or revocation of security clearances or other sanctions short of prosecution.
Biden's case requires careful handling, and that appears to be just what Garland has in mind. In November, shortly after learning that classified documents were discovered at Biden's University of Pennsylvania think tank, Garland properly directed U.S. Attorney John R. Lausch Jr., a Trump-appointed prosecutor, to investigate the matter and later accepted his recommendation to appoint a special counsel. In that role, Robert Hur will determine whether the matter involves anything more than inadvertent security violations without any effort to conceal them.
The current state of facts strongly suggests that Biden's errors are not criminal. It is not even clear that these incidents can be tied to him personally, unlike Trump's conduct at Mar-a-Lago. But whatever Hur finds to be true, the facts and law regarding Trump's concealment and evasion are a separate matter. The administration of justice must advance swiftly and not be influenced by those attempting to create a false equivalence between the two cases.