The Literary Legacy of C. Michael Curtis
Across six decades as an Atlantic editor and a teacher, C. Michael Curtis discovered and nurtured multiple generations of American writers.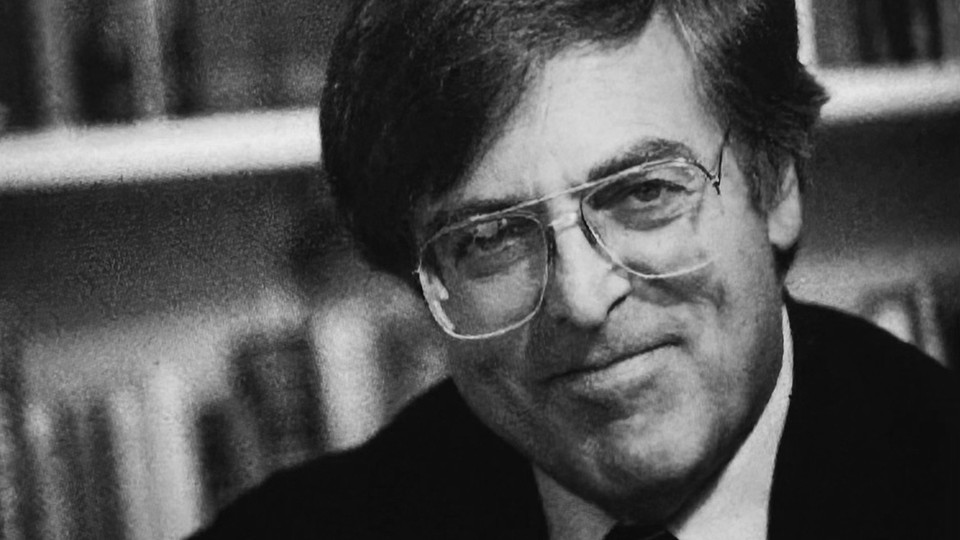 A few years ago, the novelist and short-story writer Lauren Groff reflected on what had launched one of the more sparkling literary careers of recent years:
When C. Michael Curtis pulled my short story "L. DeBard and Aliette" from the slush pile in 2005, I was in my first semester in graduate school at Madison. In the years since I'd graduated from college, I'd been a bartender and administrative assistant and had worked my brain and fingers raw, trying and mostly failing to write well on my own. In that time, I finished three and a half apprentice novels and countless short stories, none of which was very good. Finally, with the story that The Atlantic took, I had at last written a story that was not only good enough but good enough for Curtis's sharp eye and exacting standards.
Groff went on: "My entire life as a writer unfolded from that moment of acceptance from C. Michael Curtis and The Atlantic, and the sheer luck of that snip in time feels holy to me."
Mike Curtis, who died last week at the age of 88, was a member of The Atlantic's staff for 57 years. The American literary empyrean is thickly populated with writers Mike discovered or nurtured. For good reason: Over his long career as an Atlantic editor—and as a teacher of writing at Harvard, MIT, Cornell, Tufts, Boston University, Bennington College, and, most recently, Wofford College, in Spartanburg, South Carolina, where he co-occupied the John C. Cobb Chair in the Humanities with his wife, the novelist Betsy Cox—Mike was a tireless champion of short fiction who loved nothing more than discovering new talent. "The best part of my job," he once said, "is turning over all those rocks and finding a silver dollar now and then."
---
During his long tenure at The Atlantic, Mike turned over a lot of rocks, and found a lot of silver dollars. Among the writers whose work that Mike was the first, or among the first, to discover and publish in a national magazine were Charles Baxter, Ann Beattie, Ethan Canin, Louise Erdrich, Rebecca Lee, Bobbie Ann Mason, Jay McInerny, James Alan McPherson, Tim O'Brien, John Sayles, Akhil Sharma, Elizabeth Stuckey-French, and Tobias Wolff. Mike also worked with plenty of established masters: A. S. Byatt and Saul Bellow, Raymond Carver and Cynthia Ozick, Alice Munro and Richard Ford, John Updike and Philip Roth, Richard Yates and Paul Theroux and Walter Mosley, Barth and Barthelme and Borges, and many, many others.
In 2002, Nic Pizzolatto, then a student in the M.F.A. program at the University of Arkansas, submitted two stories to The Atlantic. He came home one day to find a message on his voicemail—it was Mike Curtis saying that he liked the stories and was accepting them for publication. "I think at first I thought it was one of my friends, being an asshole," Pizzolatto recalled. But the magazine published "Ghost-Birds" in the October 2003 issue and "Between Here and the Yellow Sea" in November 2004, and Pizzolatto embarked on a successful career as a novelist and television writer, eventually creating and writing the acclaimed True Detective series for HBO.
Ann Beattie recently described the role Mike played in her career:
When I first started to write fiction in the early 70s, the name C. Michael Curtis was interchangeable with Shining Star. He was one: someone to look up to because of his ability to spot emerging talent; an esteemed editor among editors; a man who shaped taste and followed through with writers, encouraging them in significant (and also thoughtful) ways. He really loved short stories, and he was responsible for helping along—really, for determining—the early careers of many young writers, in a genre that, pre-mass-MFA, had been faltering. I knew him as a person determined to re-energize the contemporary American short story—a dedication that was indispensable to its resurgence. He was such an astute reader, and, in his interactions with writers, a listener. Watchful. Helpful and kind. He just assumed that reading and writing were important, essential pursuits, and that it was his role to encourage things along, spreading the good word. In many senses, he was a true believer.
One of the first people Mike brought into The Atlantic after arriving at the magazine was a writing student at Syracuse University who, in the early 1960s, was contributing violent, bloody, sex-and-booze-saturated stories to a variety of university-affiliated publications. Mike pictured the writer, who went by "J. C. Oates," as "a scruffy garage mechanic with a sour view of humanity, someone I wouldn't want to meet on a dark night." But he admired the writing and accepted one of Oates's submissions, contingent on the author allowing Mike to cut the story by one-third. "In the Region of Ice," whose author had dropped the initials and was now going by Joyce Carol Oates, was published in The Atlantic in August 1966, and was deemed the best story of the year by the O. Henry Collection, then the most prestigious garland in short fiction. In the ensuing decades, Mike published many stories by Oates, now one of the most influential voices in American fiction and herself a dedicated teacher.
Across six decades, Mike and his team of interns and editorial assistants sifted through thousands of stories each month. His correspondence was immense and never-ending, scrawled in the white space of the letters he received in a tight, nearly indecipherable hand. As Jane Rosenzweig, now the director of the writing center at Harvard, remembered:
When I started working as Mike's assistant, in 1994, his first compliment was about how fast I could type (on the electric typewriter in my office)—not because he didn't value my reading and critiquing skills, but because my typing speed allowed me to keep up with the enormous number of letters he wrote to authors who submitted their short stories to the magazine. Mike read everything with the same attention and interest—stories submitted by literary agents, stories sent directly to him by authors, stories pulled from the "slush" pile by interns. His personal replies to authors were legendary; I still meet writers who can quote verbatim what he said to them 25 years ago, both the praise and the criticism. He may have thought the story was "too long for what it accomplishes," or "small," or "engaging, but not for us," but he encouraged those writers to try again, and many did—for decades. The letters were usually brief—just a sentence or two—but enough to remind an aspiring writer that someone was out there, waiting for their next story.
Tobias Wolff recalled Mike's shrewd relentlessness in a task that required both judgment and endurance:
How many manuscripts came pouring through Mike's mail slot every day? In the course of a week? A month? Hundreds, for sure. Yet whenever I spoke to Mike about writing, almost always on the phone, during editing sessions (we met only twice, and briefly), he warmed to the subject with the freshness of youth. And he brought that same freshness to our editing sessions. In truth, I couldn't wear the man down, hard as I often tried, in my defense of a word or phrase or passage that I thought indispensable to my story, and that Mike did not. He wasn't always right, but he was right most of the time.
---
Mike's path to becoming an influential figure in American fiction was far from foreordained. He was indeed hard to wear down. Born in 1934, he experienced a Dickensian early childhood—a tumultuous and disrupted family life; stints in foster homes; boarding school starting at age 4; and high-school classmates who beat him up, at an Arkansas school from which almost no one went on to college and where he played on a basketball team that never won. Ralph Lombreglia, one of the writers Mike worked with for decades, recalled getting a rare glimpse into Mike's past:
I first met Mike in the mid-1970s when I wrote to ask his advice about becoming a fiction writer. He invited me to the Atlantic offices where I arrived in a suit, tie, and London Fog raincoat with epaulets on the shoulders. I'll always be grateful to him for not remembering that meeting. Later, whenever he bought one of my short stories, we had lunch together on Newbury Street, concluding with his favorite dessert, chocolate-covered ice cream bonbons. One of those lunches was particularly memorable. The story he was publishing concerned a woman raised in an orphanage despite having had two living parents. "You know," he said, "your story is remarkably similar to my own life," and went on to tell me that he was the illegitimate son of the prominent architect Ely Kahn. Mike's mother had had a passing affair with him in the 1930s, but she "didn't want a son around," as he put it, and so he was abandoned to various boarding schools and foster homes. For years he'd known his father's identity but never revealed it, even when he first met members of the man's family. I told Mike that my own mother's life was the basis of that story, and that I intended to expand it into a novel someday. My last letter from Mike, in 2018, began, "Finished your novel, all 576 pages of it." His unsurprising advice was to cut it by half and send it back to him. I'm still in the middle of that rewrite. I assumed that Mike would be around forever.
From his inauspicious Arkansas high school, Mike eventually escaped to Cornell's School of Hotel Management, in 1952. Browsing in the university library, he discovered the works of Franz Kafka. No more hotel management—he wanted to transfer to the liberal-arts college and become a literature major. He had to apply several times before administrators realized he was serious enough to admit. Soon, he was editing the literary magazine and working for the newspaper and rooming with an engineering major and aspiring writer named Thomas Pynchon. His other roommate was the folk singer and novelist Richard Fariña, who would go on to write the 1966 cult classic Been Down So Long It Looks Up to Me. (Fariña would later marry Joan Baez's sister Mimi; Pynchon served as best man.)
After graduation, in 1956, Mike briefly worked at the Ithaca Journal and at Newsweek before returning to Cornell for a doctorate in political science. He was unsure whether he should pursue a career at the CIA or as a journalist. But he kept his hand in literature, writing fiction for campus literary magazines and composing poems, one of which won an American Academy of Poets Prize. In 1961, when Peter Davison, The Atlantic's longtime poetry editor, came to Cornell with Anne Sexton to do a reading, Mike pressed some poems into his hands. Davison ended up accepting three of them for publication. He also offered Mike a summer job reading the fiction slush pile. This led to a phone call in the spring of 1963 from the magazine's top editor, Edward Weeks, asking if Mike would come to Boston and take a job as a junior editor. Mike was about to take his comprehensive exams en route to securing his Ph.D. But, as he recalled in a 1984 interview with The Missouri Review, "I had been in grad school for four years and my wife was about to have a baby and I'd been in Ithaca for twelve years and it was time to leave. So I said yes, took a leave of absence from grad school, and came to The Atlantic." That leave of absence never ended. "In those days The Atlantic had no masthead and we really didn't have titles in any formal way. I came as an assistant to the editor. I was there for five weeks before I ever saw Mr. Weeks. In fact, I feared he might not even know I was there." An older editor, Charles Morton, took Mike under his wing, and he soon developed a portfolio editing both fiction and nonfiction, especially pieces on sports, religion, and the social sciences.
In 1966, Weeks was succeeded as editor in chief by Robert Manning. In his memoir, The Swamp Root Chronicle, Manning recorded that among the editors he inherited was "a young Cornellian named C. Michael Curtis [who] had a sharp ear and a clear eye for promising new short story writers as well as a good grip on the many social issues with which the magazine concerned itself. Mike was a shy and complicated fellow whom the vicissitudes of childhood had afflicted with a stutter that magically disappeared when he taught creative writing at nearby colleges … or when he held a good hand at the poker table."
In time left over after editing, teaching, and family, Mike applied himself to pickup basketball. He played at YMCAs and writers' conferences all over the country. He wasn't tall, and after age 50 he wore rec specs and a bulky knee brace that he used as a weapon when posting up in the paint. But he was an ardent competitor—nickname: "Bear"—who could score layups over taller defenders using crafty spin and whose passing was crisp and creative; unalert teammates were liable to take a hard no-look pass to the nose or the back of the skull. He refused to let advancing infirmity keep him off the court, playing regularly deep into his 80s. The writer Ethan Canin remembered those games:
He pretty much gave me my start as a writer, picking me out of a slush pile that only a person like him would have bothered to read, let alone conscientiously. And then for the next thirty years fighting the good fight, always pushing literary fiction, always pushing young writers. But what I remember most about Mike was the way he played basketball. Rumor had it that in his prime he'd been a Golden Gloves boxer, and he certainly played that way. He showed up on the court with a piece of hardware around his knee that looked like the spurs from a Roman chariot. And it turns out he was in basketball as he was in life—always pushing, always pushing.
Mike possessed both stoicism and a sly wit. The wit emerged from what appeared, deceptively, to be a placid and dry demeanor, and it made itself known like an ambush in his letters and lectures. A mischievous tone sometimes took on an edge. For years, a letter Mike wrote in 1989 hung on the walls of The Atlantic's offices. A frustrated aspiring contributor who had had his submissions rejected many times had written in to say that he'd heard rumors that the magazine used five different forms of rejection letters for different situations. Mike responded:
The persistent rumors are quite true, though modest in their assessment of our protocols. We have, in fact, many more than five different kinds of rejection slips. One slip, for example, is sent in response to all stories about household pets. Another is used to reject stories about troubled academic couples traveling in Europe (still further distinction is made between stories in which the warring couple is restored in their affection for each other by the spectacle of alien hearts at play and stories in which the more justifiably aggrieved of the pair comes at last to his/her senses and cuts short what promises to become a damaging drift into self-degradation).

Other slips are used for war stories, for stories about adolescents involving college (or high school) chums who finally realize the truth of their relationships, or any story in which one character is a fish. We have a special stock and ink for stories about children who have been abandoned or abused by one or both parents, and for whom the memory has become particularly acute as the child, now an adult, reflects upon the neediness of his/her own child/children. Still other rejection slips are earmarked for stories which make use of anthropomorphism, women who suddenly develop male sexual characteristics, or automobiles that talk back.

We have rejection slips for retired professionals, for children under the age of 14, for writers who hold political office, and for academics who have been told by friends they ought to submit manuscripts to The Atlantic.

We have rejection slips for stories sent simultaneously to more than one magazine, for writers who use only one name (usually a vegetable or mineral), for fiction manuscripts sent as proof that anyone can do better than the author of a recent Atlantic story, and for writers who say they will renew their subscriptions to this magazine only if we will publish their fiction.

We also have a special rejection letter for writers who are more wedded to the possibilities of language than to the niceties of convincing narrative. That is the letter you are reading at this moment.
---
When The Atlantic was based in Boston, Mike and his family would host lively annual softball games and picnics at their home in Concord and then in Littleton, Massachusetts, where children of staff would play alongside the sheep he kept in the summer, in lieu of having to mow the lawn. Inevitably a basketball game would also break out at the hoop on the garage or across the street. Those were family occasions, and children were never shy around Mike. Tobias Wolff remembers:
One day my wife heard my then-5-year-old son, Michael, talking to someone upstairs, yet she knew he was alone up there. She found him with the telephone in his hand, gabbing away. It was Mike on the other end. He'd called to discuss a story, but was happy to talk to my boy instead. He was laughing when I took possession of the phone. Well, why not? It was surely more fun than listening to me plant my flag on some needless adjective.
---
Decades of reading more than 10,000 short stories a year in search of the dozen or so that The Atlantic could actually publish that year infused Mike with a deep belief in the importance of fiction to culture, and a kind of impish wisdom about the writing life.
On handling disappointing news from editors: "Take your rejection slips and cover a wall with them. I did that when I was in college. I became fascinated by the different paper colors and typefaces and probably sent work to magazines I otherwise wouldn't have, except that I wanted to get copies of their rejection slips."
On what a short story can accomplish: "The value of short fiction lies, perhaps, in its capacity to ignite uncertainty and mindfulness into our lives, as well as to remind us of the perceptiveness and artfulness of the storytellers among us."
Mike leaves behind six anthologies of short fiction, including Contemporary New England Stories (1992), Contemporary West Coast Stories (1993), God: Stories (1998), and Faith: Stories (2003); five Atlantic National Magazine Awards for fiction, along with many more finalist nominations; and the C. Michael Curtis Short Story Book Prize, which awards $5,000 and publication to a debut book of short fiction by writers living in the South.
He is survived by his wife, the novelist and poet Betsy Cox; his brothers, Ben Curtis and Andrew Curtis; his son Hans Curtis; his daughter, Hilary Curtis Osmer; his stepdaughter, Elizabeth Morrow; his stepson, Michael Cox; and five grandchildren—D. J. Osmer, Jack Morrow, Nate Morrow, Caroline Cox, and Andrew Cox. His oldest son, Christopher Curtis, died in 2013. He is also survived by hundreds of writers whose careers he launched or nurtured; by the thousands more whose work he gave the respect of serious attention; and by a republic of letters enriched by his having contributed to it with such dedication for so long.