Why Can't Democrats Pass Gun Control?
The NRA is in turmoil, but gun-control proponents still can't get what they want.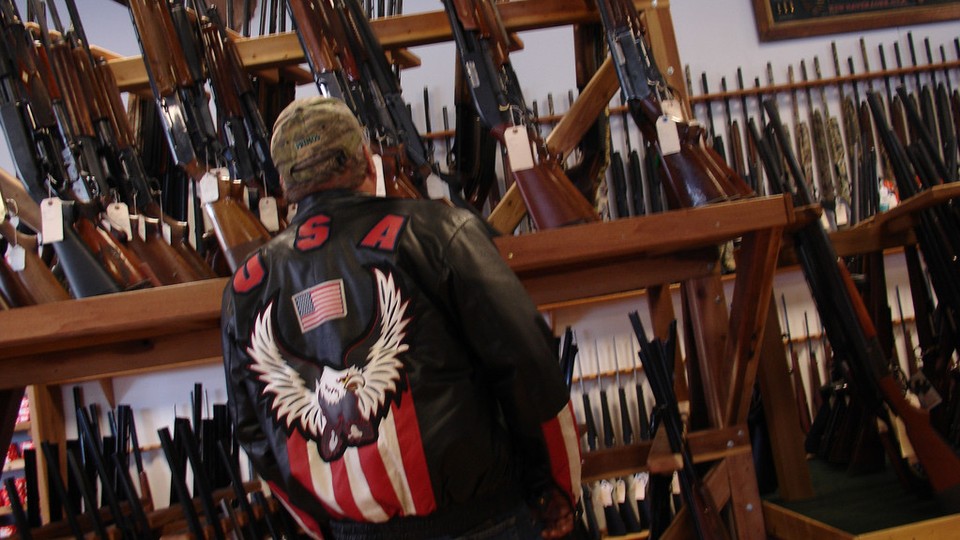 President Joe Biden was dealt a significant setback this month when he was forced to abandon David Chipman, his nominee to head the Bureau of Alcohol, Tobacco, Firearms, and Explosives. The nomination was only the second he was forced to withdraw, and it was a blow to the gun-control groups who had backed Biden's pick.
What went wrong?
One explanation gun-control advocates often lean on when they face setbacks involves the power of the National Rifle Association. The NRA creates "puppet politicians" who do "nothing but lie and continue taking the NRA's dirty money," March for Our Lives wrote in a September 15 fundraising appeal. Brady, another gun-control group, appealed to its donors a week later to give more so they could stop "the NRA and their bought-and-paid-for politicians" from enacting more permitless-gun-carry laws. In an August 21 message to supporters, Brady said it was fighting to break the "NRA's stranglehold on our democracy."
The narrative is familiar: Gun-control measures can never pass, because the NRA forbids it. The group buys off all the politicians with its incredible campaign spending. Then it owns their votes, and gets everything it wants. But the reality is starkly different.
In the 2020 election cycle, the NRA contributed less than $1 million directly to candidates. That made it the 996th-largest donor for the cycle, according to OpenSecrets. The group spent about $5.4 million on lobbying in that same time frame, which put it a bit higher, at 169th. Since 2012, the NRA's highest contribution ranking has been 294th, and its highest lobbying ranking has been 85th.
Congressional staffers from both sides of the aisle, several of whom asked not to be named so they could speak candidly, told me the NRA's campaign spending is not the reason restrictions on gun ownership or use haven't passed at the federal level in decades.
The recent withdrawal of Biden's ATF nominee, David Chipman, shows how the group's influence plays out in practice. The senators on whom the NRA spent money to get elected did not deliver the nomination's knockout blow. Although the group's lobbying did help keep Republican opposition united, Chipman's confirmation needed just the 50 votes that the Democratic caucus could have provided. Instead, Chipman's fate was sealed by Senator Angus King of Maine, and Democrats Joe Manchin of West Virginia, Kyrsten Sinema of Arizona, and Jon Tester of Montana.
These senators have two things in common: They never publicly supported Chipman's nomination, and they all have D ratings from the NRA. In fact, not only has the NRA not given these senators money, but it explicitly endorsed their most recent opponents and even spent hundreds of thousands on ads opposing Manchin.
Furthermore, the NRA is the weakest it's been in years.
The party it spent millions trying to keep away from power now has full control of Congress and the White House. The president, Senate majority leader, and speaker of the House vehemently support not just extending background checks for private gun sales, but instituting a more aggressive version of the assault-weapons ban that Biden helped pass in the mid-1990s.
NRA membership hasn't grown in eight years. In 2020, it mustered only about half of what it spent in 2016 to elect Donald Trump. Leaked financial documents indicate that its revenue dropped by more than $80 million over those same four years.
The group also just failed in its attempt to declare bankruptcy and faces a dissolution suit filed by New York's attorney general, stemming from corruption accusations against its executives, including CEO Wayne LaPierre. The attorney general recently filed a 187-page amended complaint outlining dozens more allegations brought to light during the bankruptcy proceedings. The NRA has even started to argue in court filings that the allegations against LaPierre should not be held against the group at large if they are found to be true.
Even so, Democratic leaders can't seem to pass the gun policies they want.
And it isn't because of the filibuster, either. The Democrats can't get bare majorities to support their top gun priorities. They haven't passed an assault-weapons ban since retaking the House in 2018. They're unlikely to pass one or even bring it up for a vote before the 2022 midterms. And even if it passed the House, it wouldn't pass the Senate.
The deadlock isn't the result of the NRA paying off politicians to vote against the wishes of their constituents. It's much simpler than that: Many people in this country own guns, and millions of them are dedicated voters. And they are what now stand in the way of new gun laws.
"What I'm going to say is not earth-shattering: Our country is deeply divided on every issue," a former aide to Republican Senator Pat Toomey of Pennsylvania told me. "People who have deeply held beliefs on things, they organize and they represent themselves. On the left, there's always this narrative against anything right of center, that the group that the people use to actually represent themselves in Washington is evil. And the only reason that people do it is not because they have deeply held values; it's because they're paid to do it, right? It's just not true on, really, any issue."
Passionate opposition to restrictions on gun ownership can be formidable even when polling indicates broad support for specific proposals. "Universal background checks is a hugely popular proposal and yet doesn't sway Republican colleagues," the Toomey staffer said. "It's an 80/20 issue, and 80 percent of the population supports it, but you have to look at that 20 percent. That's intense opposition from that 20 percent. It's probably what those people vote on. The 80 percent support it, but it's not likely what they are voting on."
When Toomey joined with Manchin to support a universal-background-check bill following 2012's Sandy Hook massacre, he faced a fierce backlash from many gun owners in his home state. By the time his reelection came around in 2016, Toomey had managed to stave off any attempt at a primary challenge. But his campaign noticed that many gun voters held a grudge, even without another box to check on the ballot.
"People were pretty upset about it even then," the former staffer said. "A lot of people wrote in '2A,'" for the Second Amendment. "It's pretty sophisticated to get a lot of people to write in '2A' across the state at hundreds of polling places. It's a level of motivation and organization that shows that people feel strongly about the issue."
In 2016, the gun-rights advocates were outspent about six to one by gun-control advocates in a battle over a Maine referendum that would have expanded background checks. Despite the many polls showing overwhelming national support for the general concept of expanded background checks, the referendum was narrowly defeated.
Now a renewed assault-weapons ban faces the same fate. King, the senator from Maine, expressed his skepticism toward an assault-weapons ban while talking with the Bangor Daily News last year. Manchin did the same on MSNBC back in 2018. Roy Loewenstein, Tester's press secretary, told me the Montana Democrat also isn't on board.
"Senator Tester is a proud gun owner and a staunch defender of Montanans' Second Amendment rights," he said. "He makes decisions on legislation based on what is best for Montana, and that's why he doesn't support an assault-weapons ban."
Democrats managed to pass two background-check bills through the House on slim margins. But those bills aren't likely to pass the Senate, because they put more restrictions on gun sales and transfers than the Manchin/Toomey compromise that failed to pass the Senate in 2013. Both senators have also publicly suggested that the House bills have even less support in the upper chamber than their deal did back then.
"The Democrats know this. We have more votes to expand gun rights than there are to contract them,"a current staffer from Toomey's office said. "There are a lot of rural Democrats whose constituents own AR-15s."
"They have a fragile majority," a Senate staffer from another Republican office said. "Moderate members, even if they're Democrats, don't want to vote on these things."
But while the NRA isn't buying off politicians with campaign donations, it is far from powerless. The group is skilled at mobilizing gun owners with issue ads and other sizable independent expenditures, and through internal marketing aimed at mobilizing its members. As recently as 2016, it ranked in the top-10 groups nationally for outside spending on election campaigns; even amid its other struggles, it still made the top 25 in 2020. During the fight over Chipman's nomination, the NRA spent $3 million on ads and mailers to encourage members and other gun owners to contact the moderate Democrats who ultimately stopped Chipman's confirmation. "Liberals miss this completely," a staffer from a third Senate Republican office told me. "The NRA isn't powerful because of its lobbyists or its money or its PR. It's powerful because 5 million Americans decided they wanted to be members. Pro–Second Amendment advocacy is bottom-up, not top-down."
Jason Ouimet, the head of the NRA's Institute for Legislative Action, told me the group uses a "multipronged approach" to advocacy that includes campaign spending, lobbying, and advertising but relies primarily on members' influence. Although he and other NRA lobbyists have direct contact with policy makers, the group's ability to activate its members is what provides it with the most leverage in discussions.
"No matter what the media and our opponents would like you to believe, the majority of Americans care deeply about gun rights," he said. "They also know the NRA delivers. That's why gun owners turn to us, and that's a pivotal component to our continued influence and success."
In 2021 alone, five states passed NRA-backed permitless-gun-carry bills. The NRA's Wayne LaPierre was right next to Governor Greg Abbott at the signing event for Texas's bill, which passed only after the NRA led a bruising fight against some law-enforcement and gun-safety training groups. The NRA's lobbying efforts helped persuade even moderate Republicans to stand united against Chipman, which put further pressure on the Democrats who ended up blocking his nomination.
"The real power is the membership," Phillip Journey, an NRA board member, told me. "When a legislator gets a personal letter from someone that lives in their district, it carries more weight than 100 letters from people that live outside the district. That is the NRA's great resource: They are able to coordinate and target their membership to contact the right legislators, the legislators that represent them."
The former Toomey aide, who worked with the senator during the height of the backlash over his support for universal background checks, concurred. "The biggest asset the NRA has is their email list," the former aide said. "They send something out that riles up their list. And the bigger backlash is not campaign dollars; it's the fact that your office gets overrun with people calling and writing letters and going public with the fact that you're a 'gun-grabbing liberal.'"
The NRA is also the only gun-rights group with a nationwide lobbying apparatus. "We are different from other advocacy groups primarily because of the relationships with lawmakers across the country, thanks to our experienced and well-versed staff," Ouimet said. "The NRA has the best depth of knowledge on 2A legislation, its history, its politics, and its implications. We bring a clear, articulate, and honest message to every lawmaker we talk to, regardless of party."
That might be just what you'd expect the NRA to say, but the current Toomey staffer said the group's professional approach to advocacy on the Hill is actually fairly unusual among groups on the right. "You can get technical assistance from them, from a team of lawyers who really understand how things work," the staffer said. "The left, they've got groups with teams of lawyers and they've been around for 30 years. And they can tell you about some bill from 15 years ago and how it works. There are very few people that can do that on our side. The NRA is one of them."
Warts and all, the NRA remains the most influential gun group on Capitol Hill, and few on either side of the aisle even try to pretend otherwise.
Ultimately, though, the Toomey staffer said the lack of new gun laws while the NRA's political opponents control the federal government has less to do with campaign spending or effective lobbying. Instead, it's a straightforward clash of ideas in a polarized nation.
"The two sides have deeply held beliefs that are in complete opposition to one another," the staffer said. "It's like, if the NRA is effective, then that means the left groups aren't effective. But that's not true either. It's just we're at a stalemate in America. We're very divided. It's pretty much 50/50. When the rubber hits the road, you have to write a law and the details matter. The Democrats care about it just as much as we do, and they want to get it right. We want to get it right. And sometimes we just don't agree."
A lot of Americans own guns and value their gun rights—and that makes restricting access to them difficult even when the NRA is weak and its opponents are ascendant.