What's Missing From the Discourse About Anti-racist Teaching
Black educators have always known that their students are living in an anti-Black world and that their teaching must be set against the very order of that world.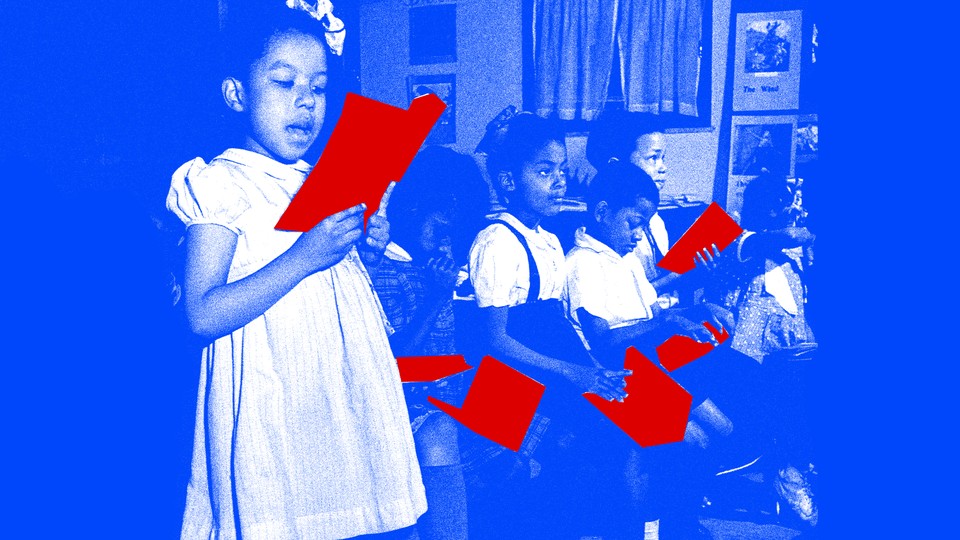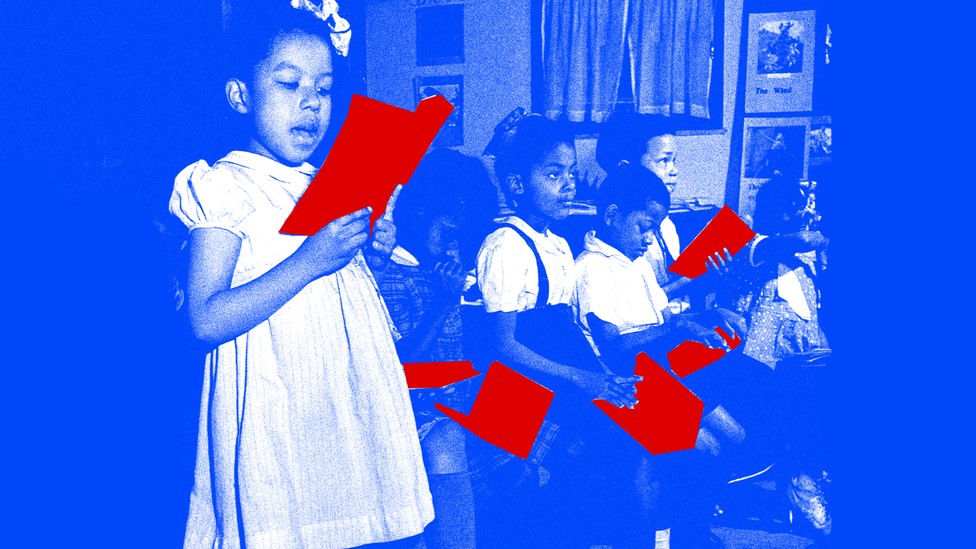 People often remind me that my story is peculiar. "Black Kid From Compton Becomes a Harvard Professor" is the headline, as they see it. Although I am apprehensive to conflate a job at Harvard with some universal vision of success, I do recognize why my family, my friends, and even those with whom I am unacquainted take pride in the accomplishment. But this flattened narrative of individual achievement misses a key aspect of my development: My education was mostly led—and undoubtedly influenced—by Black teachers.
The educators who taught me, like so many generations of African American teachers before them, operated from a pedagogical vision that was fundamentally anti-racist. They exposed students to expansive visions of Black life, through both their lessons and the relationships they formed with us as students. They helped us understand that we were more than the suffering of our people. Our dignity and self-worth had to be cultivated from within, even as we were taught to resist racism in all its forms.
The concept of anti-racist teaching is being fiercely debated right now. Its advocates insist that students learn about the roots of racial inequality, that they be encouraged to name and challenge it explicitly. Critics suggest that anti-racist teaching is dogmatic, unpatriotic, and an impediment to critical thinking. They have, in recent weeks, irresponsibly clumped together anti-racist teaching, critical race theory, ethnic studies, and anything else involving the systematic study of race and racism, painting them as one heap of race-talk mumbo jumbo. Lost in the discourse on both sides, however, is the acknowledgment that Black teachers, as early as the 19th century, have been deeply engaged in the work of challenging racial domination in American schools. The traditions of African American teachers provide the country with a model, a vital intellectual resource for more nuanced conversations about the place and possibility of anti-racism in the classroom.
For more than 10 years, I've researched, written, and taught about the subversive teaching practices of African Americans during slavery through Jim Crow, and I see a clear connection between their work and that of my own teachers. Black educators have always known that their students are living in an anti-Black world and, therefore, decided that their teaching must be set against the very order of that world. Their political clarity manifested in lessons that were explicitly about race, history, and Black culture; but their views also shaped the social systems of classrooms, even at times when tenets of anti-racism were not explicitly named. They took a holistic approach to teaching—honoring Black life, with all its beauty and contradictions, and nurturing the ambition of their students, even when the lesson had nothing to do with responding to whiteness or anti-Black violence. In my classrooms growing up, we had to study and enact anti-racism, certainly. But we also had to know that our worth and our offering to the world, and to ourselves, was much more than that.
I attended an all-Black parochial school in Compton from elementary through eighth grade, then a public high school in the Watts neighborhood of Los Angeles, where a majority of my teachers and administrators were Black. When I reached UC Berkeley in 2006 for college, I was shocked to learn that some of my Black peers had never had a Black teacher in their entire educational experience. Data show that having one Black teacher by third grade increases a Black student's chances of college enrollment by 13 percent, and having two Black teachers by then increases the chance by 32 percent. And yet such traditional metrics of educational accountability, although important, are not how I measure the value of Black teachers.
Black teaching, at its best and as I experienced it, included knowledge handed down from past generations. I was recently reminded of this by two news articles in the span of two days. One was an obituary for Irene West, the first Black teacher in California's Elk Grove school system, a graduate of Fisk University, and the mother of the intellectual giant Cornel West. Her work always exceeded the classroom, carrying over to the many Black community institutions to which she belonged and that she helped sustain. The second article was about the passing of Al Young, the former poet laureate of California. Young was a powerful educator in his own right, but what struck me about him was his recollection of his second-grade teacher in Laurel, Mississippi, during the 1940s. "Miz Chapman, my tireless and inspired all-day second-grade teacher," Young wrote in one of his books, "was smuggling down to me the majesty and magic of poetry and the blues." Despite the constraints imposed on Black education during Jim Crow, including racist school curricula and violent surveillance by white school authorities, "Miz Chapman nevertheless forced [Young and his peers] to memorize poems, especially works by colored writers."
Teachers such as Miz Chapman and Irene West were not anomalies, nor were their methods. Originally from Selma, Alabama, Willis N. Huggins began teaching in New York City public schools in 1924. Recognizing the constraints of the dominant curriculum at Brooklyn's Bushwick High School, where he taught, Huggins led the Harlem History Club, to help students and community members in the neighborhood where he lived. Many future leaders attended this study group, including the intellectual John Henrik Clarke and Ghana's first prime minister, Kwame Nkrumah. Huggins also taught Sunday-morning courses on "Negro History." In the 1930s, he opened Blyden Bookstore, which Clarke recalled as "the first fully equipped bookstore in Harlem."
Many African American teachers have strived to model an image of Black life not wholly contingent on the external elements of whiteness and white supremacy. Black life has always been, and must continue to be, concerned with more than such defensive posturing. To make anti-anything the total concern of one's teaching would be to concede that our lives have no meaning without that which we refuse. Like Black educators before them, my teachers worked diligently to equip students with critical resources for reading the world and our lives against the grain. They also modeled for us how our dignity and self-worth might be set apart from our material circumstances.
Miss Butterfield, my preschool teacher, worked alongside her family members, who were sharecroppers in 1940s Mississippi, before ever entering a classroom. She had the conviction, patience, and skill to teach us—3- and 4-year-old children—to memorize excerpts from Martin Luther King Jr.'s "I Have a Dream" speech. She helped us find the courage to perform these words onstage for Black History Month in front of hundreds of people who gazed upon us Black children with much more than contempt and pity. My kindergarten teacher, Miss Huff, an African Panamanian woman, called me "Booger" as a playful nickname. I remember her pulling me aside during recess in 1993 to see how I was holding up, after my father had been shot and killed at the age of 22. The details from our talk are hazy; the feeling of hope, however, I can never forget. She helped me begin clearing a path; she made me feel as if whatever task lay ahead, it could be done.
Mister Moses, our music teacher, who seemed to play every instrument, taught us that music was in all of us. Not satisfied with prepackaged scripts, my third-grade teacher, Miss Todman, wrote original plays, built around ideas that we had brainstormed as a group. Our most memorable piece was built on Eloise Greenfield's poem about Harriet Tubman. Mister Madyun, my fifth-grade teacher, was the child of Black Power activists. Every day after lunch, he instructed us to rest our head on our desk in the dimly lit classroom, so that he could read aloud for 20 minutes from novels and even from his college-level Black-studies textbooks. Years later, I asked why he'd done this. Without hesitation, he responded, "If those books could save my life, I knew they could do the same for y'all."
From preschool through eighth grade, we began each morning on the schoolyard singing "Lift Every Voice and Sing" and reciting poems by Black authors for the entire neighborhood to hear. In a recent conversation, Miss Paige, the school's principal and one of my teachers, explained, "I was just doing what I knew"—having performed these rituals as a schoolgirl in Lake Providence, Louisiana, during the 1950s.
At King/Drew High School in Watts, Miss Hutchinson—who began her education at a segregated school in Hot Springs, Arkansas, and started teaching after the 1965 Watts rebellion—played a pivotal role in shaping my high school's academic culture. During winter break in 2004, I attended a 24-hour reading marathon at her home, which she had hosted annually since 1989. To mark the new year, current and former students of hers read aloud from books she chose. We debated and took the occasional walk around the neighborhood. Some fell asleep and woke up 30 pages later. Together, we picked apart the worlds reflected in the words of Toni Morrison, Edward P. Jones, and Ernest Gaines. These books helped us recognize and reflect on the beauty around us, but they also allowed suffering to speak. And very often, through our exchanges, we arrived at some call to action, some demand for justice, some clarity about the moral imperative of our individual and collective missions. Such political clarity was not a final achievement, but merely our point of departure.
Black learning and striving were about trying to catch the likeness of a new world students could envision building together. The developmental needs of children, especially Black children, required a fierce social analysis of power in the world around them, and also exposure to the kind of beauty, justice, and right relationships they might enact upon the world.
My teachers' educational philosophy extended from a tradition that helped form the minds of many Black leaders. Carter G. Woodson, Zora Neale Hurston, Martin Luther King Jr., Maya Angelou, James Baldwin, Angela Davis, John Lewis, and bell hooks are just a few of the many whose thoughts and spirits were molded by Black teachers during Jim Crow. In their autobiographical literature, these leaders identify how Black teachers marked them and their mission in profound ways. Surely today's educators, and all concerned with anti-racism and critical pedagogy, can learn something from the teachers who inspired dreams in generations of Black people, despite their living under violent, state-sanctioned persecution.
We have yet to fully account for the tools African American teachers of the past left behind for us to pick up, reconfigure, and do battle with in our time. Their history has long been submerged, but such omission does not have to be permanent. While current discourse continues to exaggerate the novelty of anti-racist teaching, those in search of more nuance might look to the traditions of Black educators as we collectively strive to meet the moment.