Schools Must Open This Fall. In Person. Five Days a Week.
The American Federation of Teachers, which I lead, is committed to making this happen.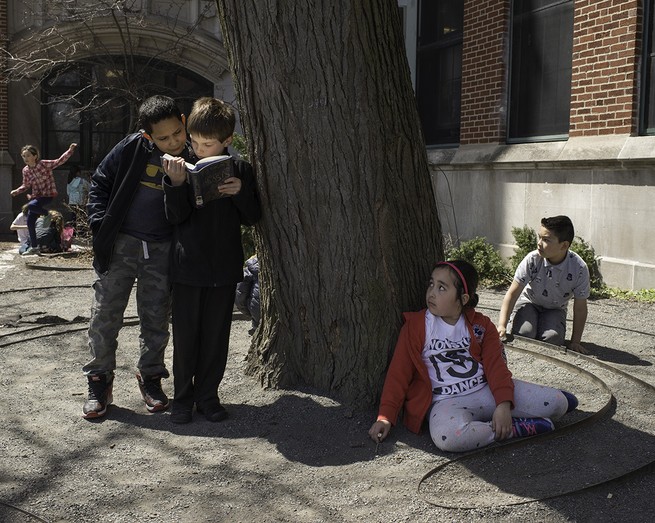 ---
Schools must open this fall. In person. Five days a week. With the space and and health safeguards to do so. The American Federation of Teachers, which I lead, is committed to making this happen.
School is where children learn best, where they play together and form relationships and acquire resilience. It's where many children who otherwise might go hungry eat breakfast and lunch. Parents rely on schools, not only to educate their kids, but so they can work. Nearly 3 million mothers have dropped out of the workforce during the pandemic.
Over the past 14 months, teachers have scrambled to redesign lessons and projects, and to create virtual field trips and labs to keep kids engaged and learning from afar. They are exhausted. They're working longer hours, troubleshooting IT problems, and trying to connect with students despite the barriers—whether a computer screen or a plexiglass shield. School food workers kept meals coming, often feeding anyone in the community who needed it. Many school-bus drivers delivered those meals, along with schoolwork and internet hotspots, so students could learn from home.
All the while, educators have yearned to be back in school, with their students. They asked only for a safe workplace during this pandemic, and the resources they and their students need to succeed.
Yet critics have scapegoated teachers and vilified their unions because of school closures during the pandemic, ignoring the extreme disparities among schools and blaming teachers for problems outside their control.
Creating safe conditions in schools during a public-health crisis is not an obstacle to reopening classrooms; it is the pathway to going back, staying back, and building trust throughout school communities.
We faced stiff headwinds. Donald Trump tweeted multiple times that schools should reopen but did nothing to help them do so safely. The Trump administration politicized safety and undermined science. As a result, from last April right up to January 19 this year, we were working to reopen schools in a climate of chaos, fear, and misinformation as the pandemic surged in wave after wave.
Thankfully, the Biden administration changed course and is fighting the pandemic with science, truth, transparency, and, yes, money. We have experienced some bumps, of course—this is a once-in-a-century pandemic. But today an overwhelming majority of schools across the country are open for in-person learning, either full- or part-time.
Vaccines have been a game changer. I hear this sentiment in educators' voices and see it in our polling results. The fear that they will bring the virus home decreases the moment they get their shot. According to our data, 89 percent of our members are fully vaccinated or want to be. And this week we had more good news: The FDA authorized use of the Pfizer vaccine for 12-to-15-year-olds.
Fully reopening is not risk-free. Public-health experts caution that unless many more people get vaccinated, we will not reach herd immunity against the coronavirus. But we can manage the threat by encouraging people to get a shot and following guidance from the CDC to prevent the spread of disease—which currently includes the layered mitigation strategies of masking, distancing, ventilating, sanitizing, hand washing, and regular COVID-19 testing.
The fear of the virus isn't gone. I see that in who is back in school and who is not. Some school staff members need accommodations to protect their health or that of someone in their household. And some families are still keeping their children at home, and considering doing so in the fall.
The AFT, with the NAACP, the League of United Latin American Citizens, and others, recently polled parents of public-school students across the country. Only 73 percent of all parents said they are comfortable with full in-person learning for their child this fall; only 59 percent of Black parents said this. But if the safety measures in the AFT's reopening plan—layered mitigation, testing, and vaccines—are in place, the comfort level jumps to 94 percent of parents, including 87 percent of Black parents. Parents whose children's schools are open feel more comfortable with in-person learning. The same is true of educators: The more they are in school with appropriate safeguards, the more they trust in-person learning.
Mitigation measures create trust. So does collaboration. So here's an idea: Every school should have a committee of school staff, parents, and, where appropriate, students to plan for and respond to safety issues. These committees can conduct health-and-safety walk-throughs this summer, as we just did in Washington, D.C., at McKinley Technology High School and McKinley Middle School.
Here's another idea: Let's integrate the best practices for both health and learning.
One way is to link class size to the CDC's revised guidance that, with universal masking, students should remain three feet apart in classrooms. For the most part, this will mean fewer students in each class—effectively aligning health and pedagogical best practices. Smaller class size has been shown to have a positive impact on academic achievement, suspension rates, and teacher retention. So why don't school systems work through the summer to find adequate space in order to set up classes they can keep intact all school year? The constant reconfiguring of classrooms and classes is part of what has created such uncertainty during the pandemic.
This change will also help end the untenable practice of simultaneous teaching. This juggling act requires teachers to essentially teach two classes, in two different modalities—one with kids in a classroom, and one with kids online—at the same time. This is not just unsustainable; it's educationally disastrous.
The AFT does a back-to-school campaign every year to engage with members. This year, we are dedicating $5 million to this effort. We'll still connect with teachers and school staff, but we'll also reach out to families and communities about the value of children returning to school in-person.
From San Francisco to Kanawha, West Virginia; from Jefferson Parish, Louisiana, to Minneapolis; from pre-K to higher education—we are developing programs and deploying activists to this campaign like we would for get-out-the-vote efforts.
Members of some of our local chapters, such as the Pittsburgh Federation of Teachers, will go door-to-door, visiting students' homes to talk about the health-and-safety and education programs in place at schools, and to encourage families to send their children back for in-person learning.
In New York City, the United Federation of Teachers is advocating for schools to hold open houses for parents, to show them health safeguards and other resources, to answer questions, and to build trust.
United Teachers Los Angeles and the Chicago Teachers Union are participating in COVID-19 vaccination events for students, families, and communities. The CTU is calling on the mayor and the school district to join its members over the summer in engaging with the majority of families that have opted thus far to stick with remote learning, and encouraging them to return.
The AFT will operate "office hours" and clinics—designated times when affiliates and others can call in to discuss ideas and get technical support for returning to school. We hope that parents and superintendents will join us in this effort. And Share My Lesson, the AFT's free online platform for education resources, will be a clearinghouse for best practices.
And finally, we must recognize the opportunity we have to do more than just physically return to schools, as important as that is. We must also put in place supports to help students recover from the pandemic—socially, emotionally, and academically. And we must reimagine teaching and learning to focus on what sparks students' passion, builds confidence, and nurtures critical thinking—so all children have the opportunity to thrive.
The United States will not be fully back to normal until we are fully back in school. And our union is all in.