I Tell My Patients Not to Mask Their Kids Outside
For most young people, the social and emotional benefits of taking masks off outdoors greatly outweigh the personal and public-health advantages of keeping them on.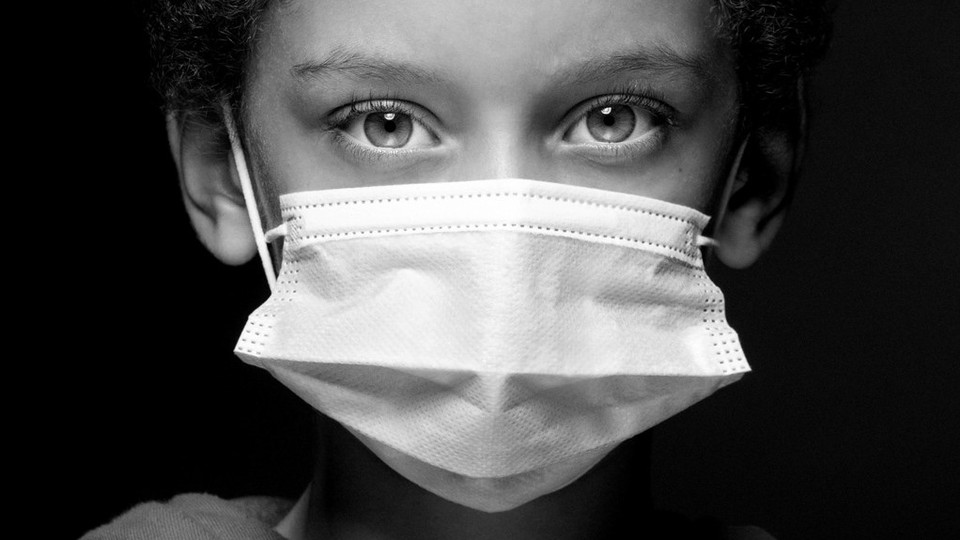 As parents gradually reap the rewards of vaccination—including unmasking outdoors, socializing unmasked indoors with other vaccinated people, and abandoning anxiety about getting seriously ill—they're wondering if they need to keep up pandemic precautions for their children's sake.
I am a primary-care doctor, and the parents I talk with are deeply concerned about their communities; they also want to see their kids reengage in life. They want to liberate themselves from the intensity of pandemic child care and worry. I can empathize: I'm a mother of three.
Although emergency-use authorization for the Pfizer vaccine was granted this week for 12-to-15-year-olds, kids in this age group and younger ones don't need to wait for freedom through shots. They can and should enjoy some benefits of our collective progress. That's why I've begun telling my patients that their kids, vaccinated or not, do not need to wear masks outside—despite the fact that the CDC recently issued summer-camp guidelines that recommend kids wear masks whenever physical distancing is difficult, including outside. I know that parents in some communities get dirty looks at the playground if they let their kids run around without masks, but doing so is not a sign of recalcitrance; it's a sign that they're following the science.
With new daily COVID-19 case numbers in the tens of thousands, the CDC is appropriately worried about ongoing community spread. Unvaccinated kids are vulnerable to COVID-19 and can infect other unvaccinated people.
Any general recommendation, moreover, has exceptions. As a physician, I'm well aware that parents of high-risk kids may continue telling their children to wear masks outside. So may parents of kids routinely in contact with high-risk or unvaccinated adults. Different people are entitled to different fears and different levels of risk tolerance, for their families and their communities.
But for most young people, the social and emotional benefits of taking masks off outside greatly outweigh the personal and public-health advantages of keeping them on. Unmasking kids outside, getting them moving, and reconnecting them with their friends is the evidence-based path toward restoring their health and well-being.
The big picture is that we're entering a new phase of the pandemic. As more than half of adults in the United States have received at least one vaccine dose and case rates drop, the risk of transmitting COVID-19 to unvaccinated people also lowers. In Israel, more than 60 percent of adults are fully vaccinated (kids under 16 are not), and cases in kids have fallen 99 percent since January.
Even before we entered this new phase, researchers understood that outdoor transmission was extremely rare. Viral particles disperse effectively outside. An early 2020 study of symptomatic cases in China, which involved careful contact tracing, discovered that just one of the 7,324 infection events investigated was linked to outdoor transmission. In a recent analysis of more than 232,000 infections in Ireland, only one case of COVID-19 in every 1,000 was traced to outdoor transmission. And a scoping review from the University of Canterbury also concluded that the risk of outdoor transmission is vanishingly small.
Reassuring information comes from sports as well. A study of more than 91,000 American youth soccer players over 10 weeks in the summer of 2020 found only one incident of COVID-19 transmission due to participation in the sport. Another study, which has not been peer-reviewed, looked at more than 30,000 high-school athletes and found that just one of 2,390 COVID-19 cases was related to sports. And mask usage during sports was not correlated with COVID-19 incidence. Finally, a study of adult rugby players who were infected with the coronavirus during their matches found that none transmitted the virus to any players in close contact with them during the matches, despite no masks being worn.
Some parents may worry about scary news stories that seem to contradict these findings. They may remember, for example, headlines from last summer about a Georgia overnight camp that was the source of a major COVID-19 outbreak. But many activities there took place indoors, and the counselors did not open windows or doors to increase ventilation in the cabins where campers slept. Masking the campers outdoors wouldn't have stopped this outbreak.
I tell parents that residual anxiety about their kids' health is normal, but that the data provide a nice antidote for fear. After a year of terrifying headlines about kids having protracted symptoms, known as "long COVID," or multisystem inflammatory syndrome (MIS-C), it turns out that the prevalence of long COVID in kids is low and the risk of contracting MIS-C is tiny. (MIS-C is also treatable.)
In fact, children and young adults remain at low risk for COVID-19 overall. A little perspective is in order. According to the CDC, COVID-19 had killed 490 kids under the age of 18 as of May 10—fewer kids than die during a bad flu season. For example, the flu killed approximately 643 kids under the age of 18 during the 2017–18 flu season, and that's despite widespread vaccination against the flu.
The death of any child is tragic. But we don't close down our lives for the flu, and we don't mask up our kids—inside or out—during flu season. Instead, we send our kids to school, camp, day care, activities, and social gatherings.
As the Johns Hopkins University epidemiologist Jennifer Nuzzo recently told The New York Times, "I can accept the risks of my kids getting COVID, in part because I compare it to the risk of getting other infectious diseases and the risk seems very, very small. I feel that if my kids were to get COVID, they would be okay. I also see the direct harms of their not having a normal life."
Throughout the pandemic, public-health officials have exhorted Americans to think not only of themselves or their kids, but also of the vulnerable people around them. This good advice doesn't change my opinion on kids unmasking outdoors. People under the age of 20 may be half as susceptible to infection as people over the age of 20, and they are at least one-third less likely to spread the virus to others. The evidence at this point is overwhelming: Kids don't appear to get COVID-19 as much as adults do, they generally don't get that sick if they do get COVID-19, and they don't transmit the virus to others as much as adults do. And the national picture has changed radically since 2020: Vaccination is widely available to adults, vulnerable and otherwise.
All of this research points to the conclusion that if you let your kids go unmasked outdoors, you're not putting them or your community at significant risk. The risk is not zero, but then again, the risk of excessive caution is not zero either.
Kids are dealing with isolation, loneliness, neglect, abuse, anxiety, and depression. During the pandemic, I haven't met a parent whose child isn't struggling in some way. We know from research on other pandemics that one in five people experiences post-pandemic PTSD, more so those who were infected or quarantined. We also know that adverse childhood experiences show up later as PTSD and cardiovascular disease.
Continuing to expose kids to unnecessary fear has to end. Kids need to reconnect with their friends and practice reengaging in regular life. They need playgrounds and playdates, recess and recreation, sports and socialization. They can have this and see one another's faces, taking in the full range of expression. Engaging with their peers and discharging pent-up stress can help prevent PTSD and pave the way for improved health and well-being.
For all of us, health is more than the absence of disease; it's about meeting broad human needs. It's about applying public-health advice to our particular medical situations, understanding our unique risks and risk tolerances, and knowing the facts to make smart, safe decisions for ourselves and our families.
Replacing fear with facts—then taking small, calculated risks—is the best way forward. That should absolutely include letting kids unmask outdoors, as we shift our focus away from masks and onto the faces behind them.