Athletes Will Never Be Quiet Again
A year of activism after George Floyd's murder reframed the role of sports in American public life.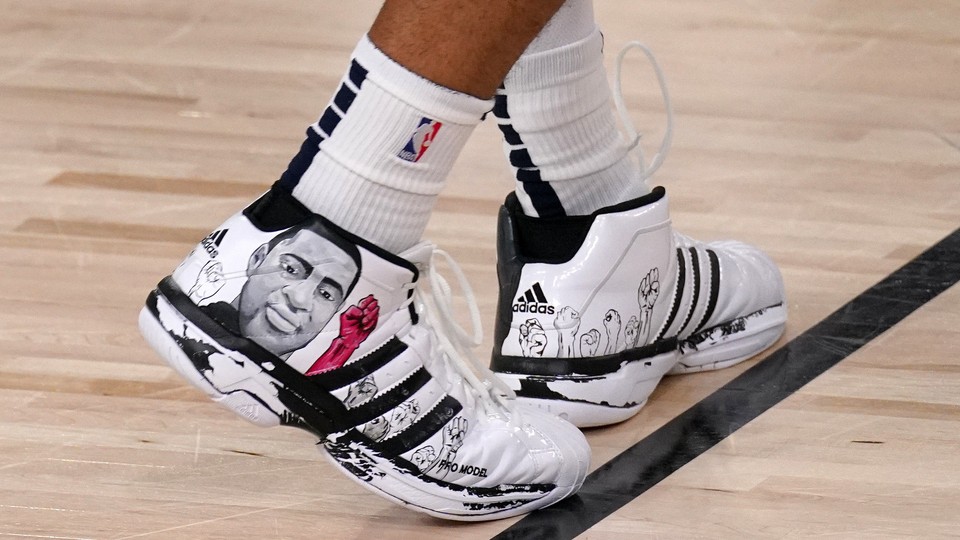 George Floyd's murder last Memorial Day persuaded a lot of people in sports to use their public profile to fight racism in America. So it was fitting that the NBA, its players' union, and the WNBA players' union joined together Tuesday, the first anniversary of Floyd's death, to publicly challenge Congress to pass the George Floyd Justice in Policing Act.
Among all of America's professional sports leagues, the WNBA and the NBA have been the most visible in the social-justice fight in the year since the former Minneapolis police officer Derek Chauvin killed Floyd. And while sports activism long predates Floyd's death, the event imbued athletes and coaches with a new sense of purpose that remains strong a year later—and not just in pro basketball. In an uncharacteristically bold step, Major League Baseball chose to move this year's all-star game from Atlanta to Denver in response to Georgia's new voting laws, which many experts have flagged as textbook voter suppression. The NASCAR driver Bubba Wallace's outspokenness led to NASCAR finally banning the Confederate flag at races and events.
The past year has permanently reframed the proper role of sports in public life. Athletes expect more of their leagues now, regardless of whether those leagues want to be willing participants in creating societal change. These players also expect more of themselves.
"It's not an athlete's job to speak out," the Philadelphia 76ers coach, Doc Rivers—himself a former NBA point guard—said at a press conference on Tuesday. "It's no one's job to speak out. It's our responsibility, if we want to make it that. You should speak out."
Wearing a T-shirt bearing the slogan call your senators, Rivers urged support for the justice-in-policing bill, which the House of Representatives passed in March. The legislation would ban choke holds and no-knock warrants at the federal level, lower a legal barrier to prosecuting police misconduct, and establish a national database of police misconduct. The NBA is the first major professional sports league to champion the bill. That stance isn't surprising. The NBA has received high marks for the diversity among its management and coaching ranks; 74 percent of NBA players are Black; and many of those players—including the league's biggest star, LeBron James—have spoken out against police brutality, which disproportionately kills Black people.
People who are affected by politics should be active in it, argued Rivers, one of two coaches in the Social Justice Coalition, which the NBA created in November. "I know one thing: Politics are involved in us every day," Rivers said. "Everything you do, there's been some kind of political bill in your life. And I always tell everyone, 'Well, then you should be involved in it.'"
Not everyone sees the value in athletes leveraging their power to bring awareness to worthwhile causes. Conservative commentators have argued that social-justice messaging is ruining sports. Such claims are dubious. But even if players' outspokenness were truly hurting ratings, players have been determined to use their voice no matter what.
Over the past year, many athletes participated in the nationwide protests sparked by Floyd's death. After Jacob Blake, another Black man, was shot multiple times by police in Kenosha, Wisconsin, the NBA and the WNBA decided not to play, which ignited boycotts in other sports. After Kelly Loeffler, then a U.S. senator from Georgia and co-owner of the WNBA's Atlanta Dream, made dismissive remarks about the Black Lives Matter movement, players in the league banded together to oust her from both positions of power. They helped anoint Raphael Warnock as the best candidate to beat her in the general election—which he did, delivering the Senate to the Democrats—and their pressure forced Loeffler to sell her stake in the Dream.
WNBA players weren't strangers to speaking out on matters of justice. Back in 2016, months before the San Francisco 49ers quarterback Colin Kaepernick began protesting police brutality by kneeling during the national anthem, the Minnesota Lynx wore T-shirts during a warm-up honoring Alton Sterling and Philando Castile, two Black men who were killed by police. Four members of the Minneapolis police department who worked security at Lynx games walked off their post in response. After Floyd's death, WNBA players—who also created the Say Her Name campaign last year in honor of Breonna Taylor, who was shot by Louisville police officers who entered her home on a no-knock warrant—enjoyed much broader support for their activism, especially from their male colleagues.
Across the sports world, Floyd's death created an atmosphere of zero tolerance for excuses. Suddenly, power structures that had allowed racism to flourish were faced with the reality that athletes were going to hold them publicly accountable for their inaction.
Last June, Kylin Hill, a Mississippi State running back now with the Green Bay Packers, tweeted that he would no longer represent Mississippi if it didn't change its flag, which carried a Confederate symbol.
Even though both the NCAA and the Southeastern Conference had already announced that they would not hold any postseason events in Mississippi because of the flag, Hill's tweet was a tipping point. With the leading rusher in the SEC threatening to cut ties with his home state, fans—including Mississippi lawmakers—could imagine the impact that might have on his team, its future recruiting efforts, and the state's reputation. Hill's stance also inspired his coach, Mike Leach, and the University of Mississippi football coach, Lane Kiffin, to lobby legislators to change the flag. Earlier in 2020, Governor Tate Reeves had designated April as Confederate Heritage Month in Mississippi; he did so again this year. But eight days after Hill's tweet in June, Reeves signed a bill that didn't just end the state's 126-year relationship with the rebel flag, but also banned Confederate emblems from appearing on any public building.
Athletes working for racial justice did not win every fight they waged. The University of Texas decided to continue using its school anthem, "Eyes of Texas," despite its origins in Confederate nostalgia and racist minstrel shows. Even though several Texas athletes wrote a letter demanding that the school replace the song, The Texas Tribune reported that a number of alumni donors wrote to the university's president, Jay Hartzell, threatening to pull their financial support if the school song was changed. And speaking of Texas and anthems: Legislators there passed a bill that requires any professional sports team that has contracts with the state to play the national anthem before games.
Meanwhile, some initially promising developments yielded little progress in the end. Last June, for example, seven former and current NHL players formed the Hockey Diversity Alliance, to "eradicate racism and intolerance in hockey." Within months, the group ended negotiations over a potential partnership with the NHL, accusing the league of being interested only in "performative public relations efforts."
When NFL Commissioner Roger Goodell asserted that "we, the National Football League, believe that Black lives matter" and apologized for not listening to players when they had previously voiced their concerns about racial and social issues, it seemed to be a seminal moment for the league. But what followed were mere symbolic gestures: Empty slogans were painted in end zones, and before last year's season-opening games, teams played a prerecorded performance by Alicia Keys of the so-called Black national anthem, "Lift Every Voice and Sing."
Despite the NFL's pledge to take inequality more seriously after Floyd's death, the league is now currently investigating allegations by the former coach Eugene Chung that he was told while interviewing for a coaching job during the off-season that he was "really not a minority" and "not the right minority." Chung, who also played in the NFL for five years, is Korean American. His account is especially credible because of the NFL's terrible track record on hiring minority coaches. The alleged comments that Chung heard reveal both a contempt for coaches of color and an inclination to pit them against one another.
And let's also not forget that Kaepernick still doesn't have a job after speaking out against racial oppression and injustice.
Despite all the setbacks and empty platitudes, the atmosphere in sports has changed. The athletes who spoke up for racial justice deserve full credit. They have shown that they feel a purpose beyond just providing entertainment for legions of fans.
The many inequities in sports existed long before George Floyd was murdered, and they will continue to exist regardless of athletes' activism. Even so, players' courageous efforts over the past year have shown that staying neutral is no longer acceptable. Then again, it never was.