I'm Not Ready to Perform
A great rock-and-roll show means openness, confrontation, and a kind of danger, and those ideas right now feel too heavy to lift.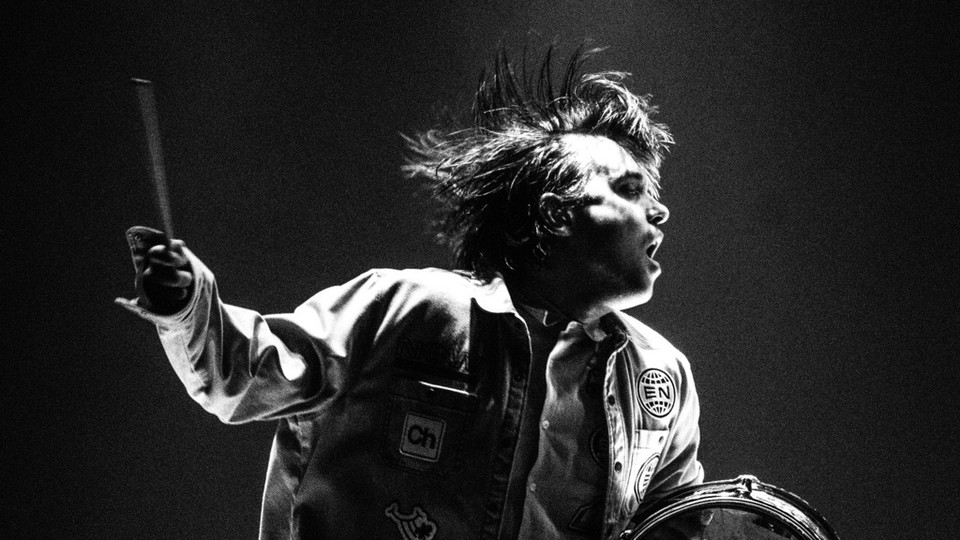 Last October, before the second pandemic wave took off in New York City, I had one last band practice in my backyard in South Brooklyn. Five of us were working on songs from my new solo record. Normally we'd play in the basement, but it's pretty low-ceilinged, and we'd read Zeynep Tufekci's recent Atlantic article on viral spread, so we were all hyper-focused on air circulation. My bandmate Sara had contracted COVID-19—and recovered—in March, but the rest of us had no immunity. Besides, we suspected that we were in for a long winter and might as well hang out outdoors.
It was warm in the sun. After hauling the drums, keyboards, keyboard stands, guitars, and amps outside and plugging everything in, I hadn't wanted to bother setting up microphones, so we had to play softly to hear ourselves harmonize. When we paused for lunch, someone leaned out of a fourth-story window in the apartment building next door and yelled: "Are you done or are you just taking a break? I have things to do, but I really miss live music!" "Me too, man!" I called back. "Should be just a break."
Six months and a difficult winter later, the break is ending. I'm seeing more and more Instagram posts for shows that aren't just wishful thinking. Low-capacity indoor shows are popping up in New York. Outdoor—maybe even full-capacity indoor—concerts are coming this summer. Am I ready to play? Ask me every other day and the answer changes. I'm torn. I'm desperate for sound engineers to get back behind the board and bartenders to start earning tips. I want venues to thrive again, both as places for art in neighborhoods and for the sake of the network that keeps music culture alive in America. I want my booking agent to feel excited again; he loves music so much. And I want musicians to make a living. So many people have been so screwed by the past year. I guess I just want everyone to get paid.
But the actual performance; the rebuilding of the sonic cathedral, as Dave Grohl wrote last spring; communally reaching for rock-and-roll transcendence? I'm not there yet. I'm not concerned that I'll get sick. I received my second vaccine shot at the end of March and am ready to high-five strangers on the subway. My hesitance has an element of crowd-shyness, which we'll all get over. But in my own performance, I don't know how to meet this moment. A great rock-and-roll show means openness, confrontation, and a kind of danger, and those ideas right now feel too heavy to lift.
I used to think of performance in purely aesthetic terms. In the movie La Strada, a clown wearing angel wings does a high-wire act across a crowded piazza. For his finale, he brings out a table on the wire and, while balancing, tries to sit and eat a full plate of spaghetti. The heroine of the movie watches him with an almost religious ecstasy. When I first started performing, I strove for transcendence and stupidity, high concept and low art. My focus was on keeping myself in the air.
When my band Arcade Fire was playing mostly to people who hadn't heard us before, we felt that the best way to get them to open up was to blow the windows and doors out. At an early show in Lawrence, Kansas, my brother, Win, bashed Styrofoam tiles out of the venue's ceiling with his mic stand. We pushed as hard for an audience of six people (two of them my parents) upstairs at AS220 in Providence, Rhode Island, as we did in front of tens of thousands in the desert at our first Coachella show (during which I accidentally cut Win's guitar cable in half by repeatedly smashing a cymbal into the ground).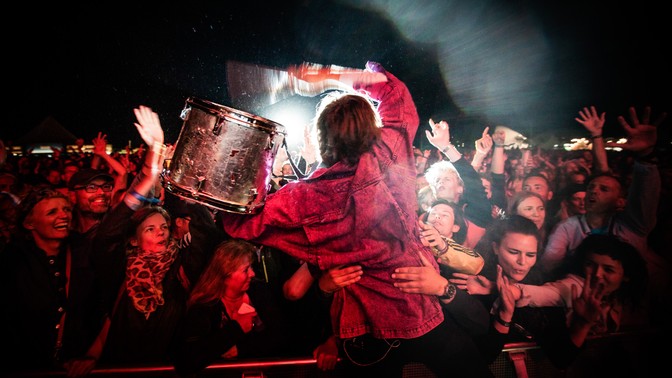 At a certain point, as people got to know our music, my relationship to performance changed. The energy from the crowd was greater than anything coming from the giant speaker stacks. The audience wasn't a challenge to overcome, or an opponent to conquer. We became a team. Not in an abstract, lovey way but how a sports team operates—pushing one another to do better, sometimes failing, sometimes frustrating one another, sometimes just joking around.
The high-wire act of live performance—Will the music come together?—was still there. I've even sometimes tried to make the metaphor real, climbing arena scaffolding with a drumstick in my teeth and a drum strapped over my shoulder to play 30 feet in the air. Some of our crew members hate it—"Will! You have children now!"—but climbing up there doesn't actually feel that dangerous, and a little nervousness is good. I'm reaching for primate simplicity and catharsis: The crowd needs tension to experience release.
But now I have no desire to make tension. I want people to feel safe and comfortable, and I wonder whether creating a feeling of danger and openness is antithetical to that. I know that cultivating a perception of safety and actually making people safe are different. On tour, in a big venue, every night our management and local security have a briefing. It's partly to set a vibe—People are here for music. Everybody be chill. If some teenager sneaks into a closer section, please let them. But the briefing is also serious—where the medics are located, what the escape routes are. Most of the time, these safety measures are invisible. I worry that post-pandemic precautions, as welcome and necessary as they are, will be depressingly visible. Some elements, such as temperature checks, will be inane. Some, such as requiring vaccination, will be important. Regardless, they will also set a tone—not You are entering a place for music, but You are entering a secure location. Dancing is hard when you're looking at your feet; singing is hard when you're thinking about everybody else's breath. I bet the crowd could get over this. I'm not confident I could. With limited capacities and tight procedures, I worry that the stage will feel like the VIP section of the VIP room at a members-only club. Sterile, lonely, all of us chillingly aware that we are part of a ticketed event.
I have another concern that's hard to shake. After this pandemic year, I'm more aware of the responsibility I have not only to the people who buy tickets, but to the driver making deliveries to the show and to the family of the woman working arena concessions, people who really don't care about what I'm doing onstage. Vaccination numbers will grow, and the pandemic will end, God willing. I'm not worried about the spread of the coronavirus in particular. But these links of responsibility remain. The analytical part of my brain turns off when touring starts. Before scrambling back to normalcy, I want to make sure that this sense of connection becomes embedded in how I think. I would really love to just be a musician—but I'm also an employer and a player in an industry that has chewed up and spit out plenty of people, especially in this past year.
My hesitations are all about shows, though, not music. Over the past year, I've rarely played music with others—a few practices and filmed performances; work on the new Arcade Fire record in November; a handful of Zooms with bandmates to help a school's PTA fundraiser or support a candidate in the city-comptroller race. But in all of those instances, I've experienced an ease, a rightness to the communication—not through the screen with whoever was listening, necessarily, but the people I was playing with. That connection felt restorative, like having a night of deep sleep that repairs parts of yourself you don't know how to access.
I know people are ready for live music, ready to forget themselves in a wash of sound, ready to loudly talk with their friends over the song they don't like that much. And so, for heaven's sake, go to Neumos in Seattle when shows come back. Go to the Hideout in Chicago. See your favorite band, or somebody new. Plenty of artists don't share my nervousness. I don't want to add worry to the world; I'm just figuring out my new relationship to performance.
The magnolias are out in New York, and some of the apple trees are blossoming. Temperatures are creeping past 60. The vaccines keep rolling out. The future seems more possible. If I miss an emotion from live shows, it's not any moment of transcendence. I miss the time just after, when, dazed and excited, you still feel the reach of some universal gesture, but the only thing concrete is the people around you.