The Rise of Ron DeSantis
The Florida governor's sudden prominence is partly about him, partly about his critics, but mostly about his state.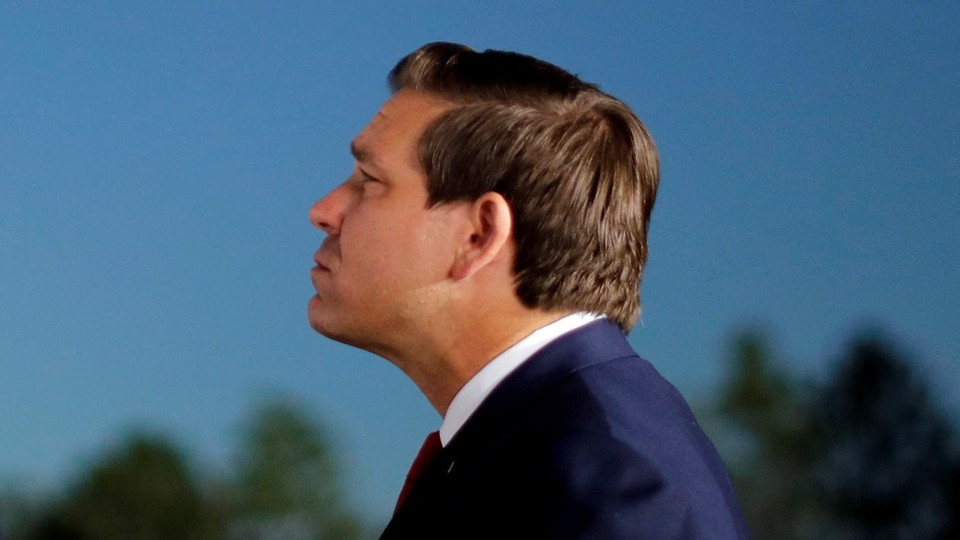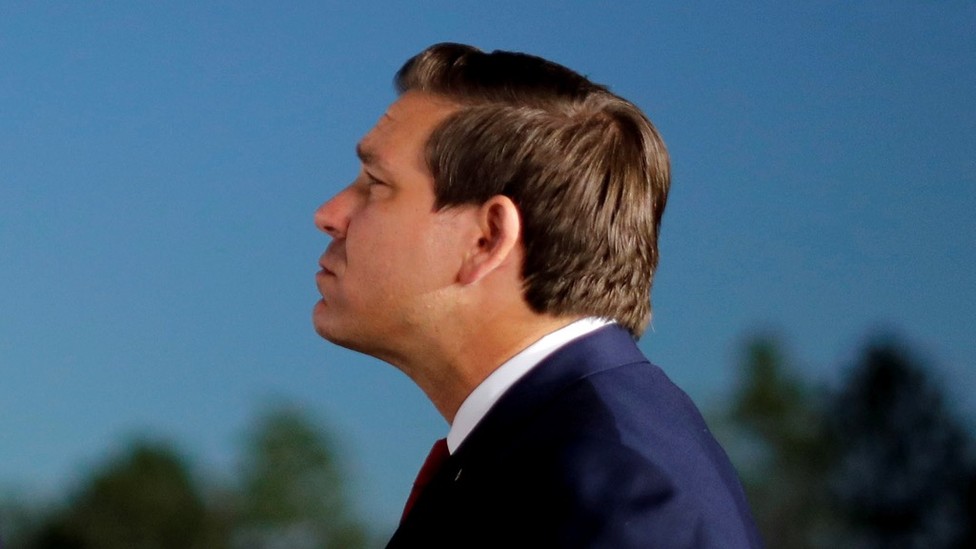 Updated at 6:35 p.m. ET on April 23, 2021.
I first met Ron DeSantis at the Republican Jewish Coalition convention in Las Vegas in April 2016.
DeSantis was then a second-term House member with an eye on Marco Rubio's Senate seat. Rubio had pledged in 2014 that he would not seek reelection if he ran for president in 2016; he would later change his mind. DeSantis was likely anticipating Rubio's reversal when he and I sat down for coffee at the Venetian. But other avenues were open to a smart and determined politician from Florida that spring.
By April, the Republican presidential primary had shrunk to a three-way race: Donald Trump, Ted Cruz, and John Kasich. Polls showed Hillary Clinton with a 10-point lead over both Trump and Cruz. The GOP seemed doomed to a self-inflicted defeat in November. Forward-looking Republicans were already assessing future talent.
In 2017, DeSantis would position himself as one of President Trump's most ardent champions. He would run for governor of Florida in 2018, releasing a commercial in which he instructed his infant children to "build the wall" and read to them from Trump's The Art of the Deal, while a caption identified him as a "pitbull Trump defender."
But back in 2016, the Yale and Harvard graduate and former Navy lawyer seemed a perfectly normal Bush-Romney Republican. Alert and astute, he impressed me and everybody I talked with about him—but not nearly as much as another emerging star at the convention, Eric Greitens, who was then running for governor of Missouri. When later that year I asked The Atlantic for the time and budget to follow one future post-Trump Republican presidential possibility, I selected Greitens. He won the governorship, then resigned amid scandal. Greitens is now back in the news, running for one of Missouri's U.S. Senate seats—but it is DeSantis who is the most mentioned potential non-Trump Republican contender for the 2024 GOP presidential nomination.
DeSantis's rise is partly a story about him. It's partly a story about his critics. But perhaps above all, it's a story about his state.
When the coronavirus pandemic struck, DeSantis followed the wishes of the Trump administration—and like so many other Republican governors, sought above all to preserve an appearance of normality. He delayed closing bars and restaurants until after the end of the 2020 spring break. He ended restrictions early, allowing all Florida businesses to reopen in September. The state of Florida never imposed a mask mandate, and DeSantis forbade local governments from collecting any fines for violations of their own mandates.* Perhaps his most consequential decision was to reopen Florida schools to in-person learning in August 2020.
These actions were bitterly controversial. Yet their net result on morbidity and mortality was strangely modest. Florida ranks in the middle of the 50-state pack in cases and deaths over the course of the pandemic: 23rd in cases, 28th in deaths.
Meanwhile, DeSantis can point to two big wins for his state attributable to his policies.
The first is that the unemployment rate in Florida never spiked as high as it did in some other states. As of March, Florida's unemployment rate stood at 4.7 percent, placing it 19th in the country; California's was at 8.3 percent.
The second, and probably even more important for the long term, is that Florida opened its schools to in-person learning in August, putting students back in classrooms, even as instruction in many other states remained remote.
The DeSantis message for 2024: I kept adults at work and kids at school without the catastrophic effects predicted by my critics. Because I didn't panic, Florida emerged from the pandemic in stronger economic shape than many other states—and a generation of Florida schoolchildren continued their education because of me. Pretty powerful, no?
DeSantis's rise also owes much to his critics. The Florida governor has figured out that Republicans love a culture-war brawl, but that overdoing it can alienate a general-election electorate. His solution has been to provoke narrowly targeted fights over issues that matter a lot to highly engaged conservatives and liberals—but that will not mean much to anybody else come 2024.
On April 19, for example, DeSantis signed a bill that imposes tough new penalties on disorderly protesters. This law immediately sparked a deluge of negative stories in liberal media and on social media. Vanity Fair headlined its story: "Florida's Trump-Loving Governor Just Made It OK to Hit Protesters With Your Car." Anything that so triggered the libs had to be good law, as far as Fox News and its media universe were concerned, so DeSantis collected positive reviews there for his "anti-riot" law.
The governor pocketed those media winnings and then rapidly pivoted back to the middle, professing puzzlement as to what all the fuss was about. He tweeted on April 21: ".@PolkCoSheriff says it best: Peaceful protests are fine, but rioting, looting, burning businesses and ruining lives, that's not acceptable." DeSantis practices a form of political judo that works by employing judicious but limited provocation, followed by a deft, just-in-time retreat to the center, converting the opponent's strength and energy into a resource for DeSantis.
A lot of conservative politicians claim victimhood at the hands of unfair media. DeSantis has a better case than most. Through the year of COVID-19, Republicans watched aghast as CNN promoted New York Governor Andrew Cuomo in chummy interviews led by his own brother. Cuomo even signed a multimillion-dollar book deal to praise his own COVID-19 leadership. California's Gavin Newsom flouted his own rules to attend a prohibited dinner party celebrating a lobbyist's birthday.
Yet it was DeSantis who got the harshest press, culminating in an excoriating 60 Minutes piece this month that accused him of conflict of interest in the management of Florida's vaccination program. Florida has relied on the popular grocery chain Publix to administer vaccines. 60 Minutes insinuated that this decision arose from a campaign contribution to DeSantis by the family that owns the chain. But after the program aired, the Democratic director of Florida's Division of Emergency Management insisted (as he had previously said on the record) that the deal with Publix had originated with him: "@60Minutes I said this before and I'll say it again. @Publix was recommended by @FLSERT and @HealthyFla as the other pharmacies were not ready to start. Period! Full Stop! No one from the Governors office suggested Publix. It's just absolute malarkey."
The differential in coverage has lent credence to every conservative and Republican complaint about non-Fox media—and DeSantis's combative pushback has gained him friends in the GOP base.
Finally, DeSantis's rise is a story about his Republican-trending state. Florida is an immigration magnet; it ranks fourth in the nation in foreign-born population. Miami-Dade County is home to more immigrants than any other U.S. county except Los Angeles.
By conventional political belief, right and left, this immigration should be pushing Florida into the blue column. Instead, Florida Latinos swung hard to Trump in 2020. And DeSantis is even more popular among his state's Latinos than Trump was—DeSantis enjoys a 47 percent approval rating with them.
The themes that have animated the most liberal Democrats may actually be producing an antagonistic recoil among many new voter groups. The Democratic focus on structural racism, the antagonism toward policing, the university-incubated theoretical jargon—all are proving off-putting to many of the voters who were supposed to be wowed by them.
The shock of events forced a reckoning with America's legacy of anti-Black racism to the center of U.S. politics—and to the top of Joe Biden's agenda. Not everybody has welcomed that reckoning, and not all those who react against it are conservative white people. In 2020, 57 percent of California voters rejected a ballot proposition to restore racial preferences in state universities, state employment, and state contracting. Preelection polling indicated that more Asian and Latino voters opposed the measure than supported it.
As America ceases to be majority non-Latino white, it is generating new kinds of cross-ethnic political coalitions and competition. The backward-looking Trump profited from that change, but never understood it and could never effectively use it. A new generation of conservative politicians can and will. DeSantis is already leading the way.
---
*This article previously misstated that DeSantis forbade local governments in Florida from instituting mask mandates. In fact, he forbade them from collecting fines for violations of mask mandates..