Conservative Donors Have Their Own Cancel Culture
University of Texas athletes have pushed their school to disavow its past. Wealthy alumni have other ideas.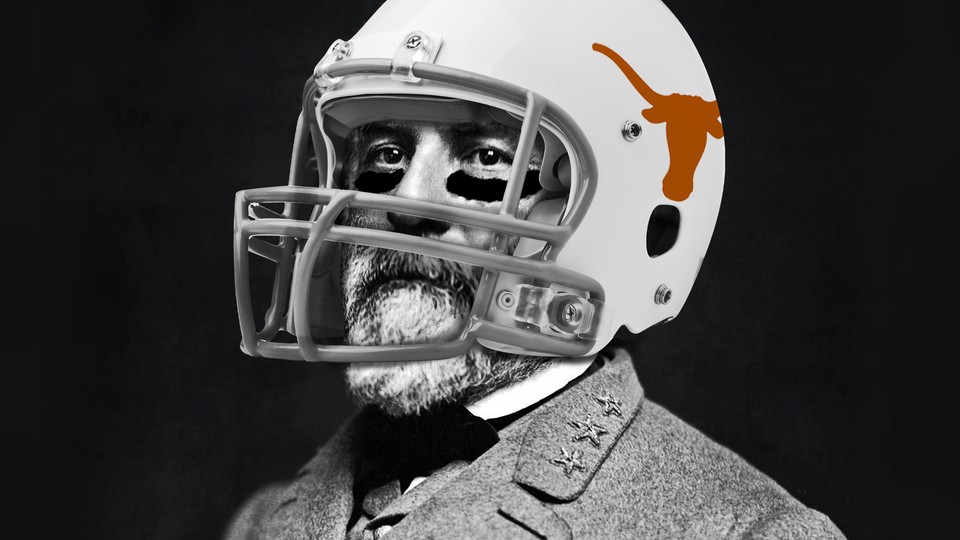 The University of Texas insists that it is willing to confront its past racism and make sweeping changes for the sake of justice. What it won't do is deal with the racist history of its school song.
Last summer, amid nationwide protests over George Floyd's death in police custody, more than two dozen Texas football players and other athletes issued a list of demands aimed at making their school more welcoming. In response, administrators announced reforms to improve diversity on campus, to honor historically prominent Black athletes and other Black alumni, invest in recruiting Black students from underrepresented areas of Texas, and make Black students feel safer and more supported in general.
But the university refused one of the athletes' demands: that it drop "The Eyes of Texas"—the campus anthem steeped in minstrelsy and Confederate nostalgia—and find a song "without racist undertones." President Jay Hartzell announced that the university would retain the current song, which is played before and after football games, despite the discomfort it provokes in many athletes and marching-band members.
Football players who have spoken up against "The Eyes of Texas" have received a torrent of abuse. The Texas linebacker DeMarvion Overshown, a junior who boycotted all team activities last summer until the university began addressing the athletes' demands for equity, told me he has received "hundreds of threats" from fans. "They say, 'You shouldn't be here'; 'Leave'; 'I'm going to do this and that to you,'" he recalled. "They've called me all types of N-words, B-words."
Overshown said the threats don't faze him, but opponents of the song face an even higher obstacle: the university donors who use their money to preserve the status quo. This week, The Texas Tribune published disturbing emails that some of the school's wealthiest donors sent to Hartzell after a close loss to the rival Oklahoma Sooners in October. Donors and alumni not only racially taunted the school's Black players, but also threatened to pull their financial support.
One threatened to take back a $1 million donation. According to the Tribune, another donor wrote:
It's time for you to put the foot down and make it perfectly clear that the heritage of Texas will not be lost. It is sad that it is offending the blacks. As I said before the blacks are free and it's time for them to move on to another state where everything is in their favor.
Another railed against "cancel culture"—which, among conservatives, has become a reflexive epithet meant to reframe racial-justice activism as an assault on their own free expression.
If anyone is engaging in so-called cancel culture, it's the donors, who are suppressing the players' right to speak their mind. The Tribune also reported that after the Oklahoma game, Texas officials forced football players to remain on the field as "The Eyes of Texas" was played, because they feared further backlash from donors and boosters. "We simply asked for their help—no one was forced or required to do so," Athletic Director Chris Del Conte told the Tribune, in a statement. That distinction seems to be a matter of semantics.
The university has been wrestling with the troubling nature of "The Eyes of Texas" for years. The song's title was inspired by William Prather, a former University of Texas president whose catchphrase was "The eyes of Texas are upon you." By his own account, Prather borrowed the expression from Robert E. Lee, who was fond of telling people, "The eyes of the South are upon you." As The Atlantic's Adam Serwer has pointed out, the continued veneration of Lee—a Confederate general and slave owner—is a "key part of a 150-year-old propaganda campaign designed to erase slavery as the cause of the war and whitewash the Confederate cause as a noble one."
Two of Prather's students, Lewis Johnson and John L. Sinclair, used his version of Lee's saying to create "The Eyes of Texas," which they set to the folk tune "I've Been Working on the Railroad"—another song with a troublingly racist history. In 1903, the two students premiered their song at an annual campus minstrel show, where white musicians performed it in blackface. It became a tradition at subsequent minstrel shows and was soon embedded in the university's culture. Some people apparently want to keep it there forever.
Caden Sterns, a defensive back who declared for the NFL draft after last season, recently asserted on Twitter that influential alumni told several Texas football players they wouldn't be able to find jobs in Texas if they didn't sing the school song. That threat only steeled other players' resolve. "When I heard that," Overshown said of Sterns's claim, "I knew right then and there that what we were doing was big. If you have to threaten somebody with that type of threat, [they're] definitely doing something right."
Before he was fired in early January, Texas's head football coach, Tom Herman, took a delicate approach to the issue. He did not require the football players to remain on the field after games and sing "The Eyes of Texas" with the audience in keeping with school tradition. But the controversy escalated in October after the school's 53–45 quadruple-overtime loss to Oklahoma, when a photograph showed the Texas quarterback Sam Ehlinger standing on the field with just a few other players as the anthem played. Even though Ehlinger explained that the situation had been misconstrued, the image was widely taken as proof of the team's lack of unity. Some fans blamed the Longhorns' third straight loss to the Sooners on the song controversy. After Herman's ouster, fans speculated that his unwillingness to force his players to sing the anthem was one of the reasons he was let go. The angry emails from donors add credence to that idea.
Disappointingly, one of the first promises that Herman's replacement, Steve Sarkisian, made when he was hired in January was that the players would "proudly" sing the song. It's easy to connect Sarkisian's immediate embrace of the anthem to the six-year, $34.2 million guaranteed contract he received from the University of Texas system regents. Those same regents have stated on the record that they unanimously support the song, regardless of the discomfort it creates.
Giving the new coach the benefit of the doubt, Overshown said Sarkisian's support for the song suggests that he might not understand the controversy around it. "No way he knows what it means," Overshown told me. "There's definitely conversations to be had about it."
Or perhaps Sarkisian, like other university officials, is willing to stand by players only up to a point. The coach declined to comment directly. A university spokesperson said that he remains committed to school traditions but has maintained an open dialogue with his team about the song.
The school's default position is to simply talk about the "The Eyes of Texas"—and that's all. The university has established a committee to explore the anthem's full history, and will make those findings public. But if the outcome is the equivalent of a term paper, that won't do much to comfort the athletes who have to stomach a tradition that undermines their humanity.
While Hartzell has condemned "hateful" remarks against players as well as the alumni who have threatened them, he is also coddling those hateful boosters by giving in to them. The alums who are capable of making large donations have successfully used money and privilege to get their way. But the university's athletes helped generate $200 million in revenue last year and $223 million the year before. If the power and money are what matter most, then athletes' opinion of the song should prevail, since their labor is what makes the school's sports program so successful and lucrative.
After receiving athletes' list of demands last year, Hartzell certainly sounded eager to confront the school's historical racism, which extended far beyond one song. "During the past month," he said at the time, "I have listened to scores of students. I went into these conversations understanding that UT has worked hard to become a more diverse and welcoming place. I came out of them realizing there is still more work to do—and this starts and ends by creating an environment in which students are fully supported before, during, and after their time at UT."
What Hartzell didn't say was that if that support means confronting and possibly angering prominent boosters and donors, then the athletes should expect to fight alone.