Why America Is Beating Europe on Vaccination
Last summer, France's pandemic response seemed far more competent than America's. In the vaccine stage, everything looks different.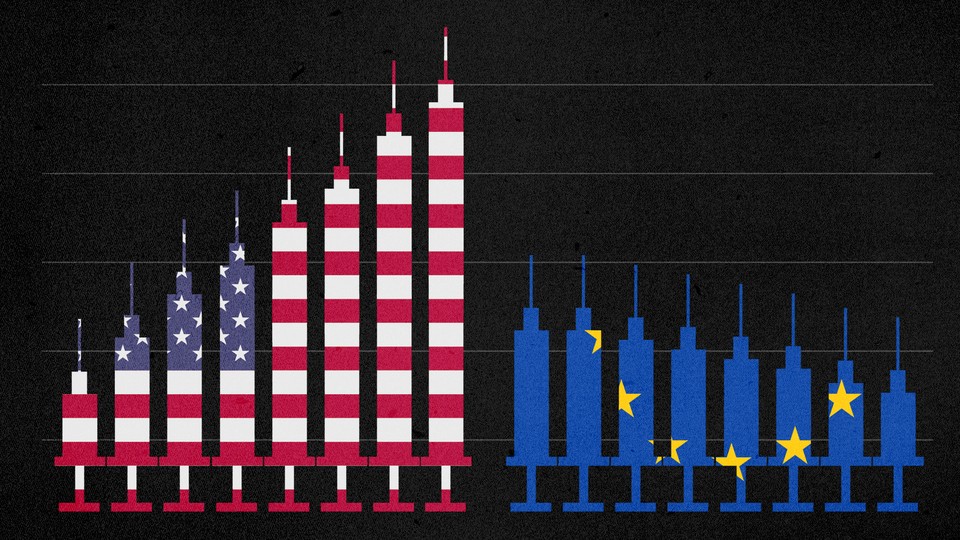 Updated at 3:15 p.m. on March 29, 2021.
Up until a few months ago, I'd felt sorry for my American friends and family, stuck in a Trumpian nightmare of science denial and a warped fealty to personal liberty so extreme that, even as pandemic casualties soared, some people took to screaming, even spitting, at anyone who told them to put on a face mask. The situation in France, where I live, was more under control. Today, however, as the greater Paris region suffers through a third lockdown in response to the new viral wave sweeping the country, the tables have turned. Pandemic competence now is all about access to vaccines in a global race to beat a fast-mutating virus with mass inoculations—and the U.S. is clearly leading Europe.
My parents and three siblings in the United States are now vaccinated. Even my 30-something French stepdaughter and her husband, expats in Texas, have had their first shots. Me? As a healthy 63-year-old, I will not be eligible to get vaccinated in France, according to the official government calendar, until mid-May, because as the doses trickle in, people who are more frail, older, and more essential workers than I am have priority. That's nearly another two months to wait. And when I can finally get my first jab, I will likely not have a choice of vaccines and may well be offered AstraZeneca, which, safety and drug-trial concerns aside, means a 12-week wait for the second dose. Assuming I can get an appointment on day one of my eligibility—which I probably can't—I won't be fully vaccinated until mid-August. So much for the summer of 2021.
The European Union is partly to blame for this debacle. It approached vaccine procurement in its right-minded European way, using the purchasing power of a bloc that represents 446 million people to negotiate for lower prices, and protecting the people's interests by holding pharmaceutical companies responsible in case of problems with new vaccines rushed to market. By contrast, early last year, Donald Trump and his British fraternal twin, Boris Johnson, moved swiftly to partner with drug companies in vaccine development, dismissed liability concerns, and secured first dibs on the end product.
So far, the Anglo-American approach looks like the better one: The United States is already awash with vaccines, and expects more than a billion doses to be delivered by the end of this year. Americans are getting vaccinated at an astonishing clip—an average of 2 million shots in a single day—while here in France, three months into the vaccination campaign, only 2.5 million people, out of a population of 67 million, had been fully vaccinated as of March 24. The United Kingdom has also been vaccinating up a storm. Add a little post-Brexit bitterness to our seething European envy when we see more than 844,000 people vaccinated on a single day in Britain. While less than 10 percent of the French population has received a first dose at this point, 29 million Britons have had their first jab.
The bitterness we feel watching Britain and the United States do better is compounded by a sense of unfairness. European countries, unlike the majority of countries in the world, have the wherewithal to produce their own COVID-19 vaccines. AstraZeneca is an Anglo-Swedish company. Pfizer's vaccine was developed jointly with BioNTech, which is German. The multinational corporation Johnson & Johnson manufactures in Europe. The problem is that not all the vaccines produced in Europe stay in Europe. While the European Union has struggled to fulfill its vaccine needs, it's been exporting vaccines to countries around the world—some 41 million doses to more than 30 countries, including 10 million to Britain and even a million doses to the United States. Exasperated, the EU moved on March 24 to block for six weeks the export of vaccines produced in Europe to countries with higher vaccination rates.
Europe's frustrations are particularly understandable with the Johnson & Johnson vaccine. A multinational giant with a global supply chain, J&J produces COVID-19 vaccine in Europe and ships it to the United States for bottling. But the finished vials are blocked from being re-exported to Europe, thanks to "an outright ban on the export of vaccines or vaccine components," the European Council president, Charles Michel, has complained. Europe learned during the Trump years that it could not count on the United States. It's learning now that in an era of vaccine nationalism, the moral high ground of international cooperation has yielded in the United States and Britain to an our-people-first-because-we-can approach to a terrible global crisis.
Perhaps I shouldn't be surprised that when the priorities of pandemic management shifted away from good daily governance to a scramble for resources, America came out ahead. One way of interpreting what's happening is that, although Trump is no longer president of the United States, it's still "America First." "We're going to start off making sure Americans are taken care of first," President Joe Biden said earlier this month. And he is: At this point, 26 out of every 100 Americans have received a vaccine dose. Compare that with 10 out of 100 in Spain, Italy, Germany, and France—or a mere 3.7 in India.*
Millions of doses are due to arrive in Europe in the coming months. They can't get here soon enough. As the more contagious and more virulent U.K. variant becomes dominant in Europe, hospitalizations and deaths are rising once again. Europe's economy and social fabric risk long-term damage from more than a year of coronavirus shutdowns.
The race here between the virus and getting people vaccinated is neck and neck, and it's a race that Europe must win, not only for Europeans, but as a major vaccine producer that has always been willing to share in an equitable global system. We have the best chance of winning this race with cooperation from the United States, if it would only back down a bit from America First. Biden will virtually attend the European Council's vaccine summit on Friday. Export bans on vaccines and their components will be on the agenda. As an American living in Europe, I ask you, Mr. President, to make me proud—and help me and hundreds of millions of others in Europe and around the world get vaccinated.
---
*This article previously misstated the proportion of people who have received a vaccine dose in several countries.