Meghan Markle Didn't Do the Work
Part of Meghan's problem was her naïveté about the workings of the Royal Family, which she had assumed would be similar to the workings of celebrity culture.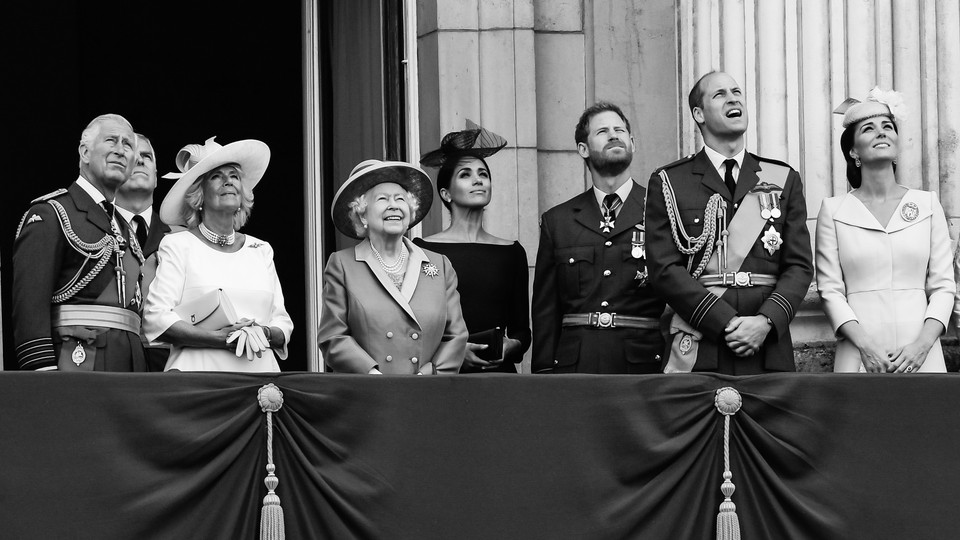 Updated at 12:06 p.m. ET on March 19, 2021.
Looks like Prince Harry married a girl just like the one who married dear old Dad. We recognized all of it: the desperate unhappiness, the adoration of the masses, the beautiful clothes worn beautifully—but especially the easy and immediate way of reaching out to commoners and blessing them with the life-changing gift of her attention. He found—and then gave to us, the grateful public—another Diana. And Meghan Markle more than repaid the palace for her admission to the golden circle. She captured the affection of the entire world, she pumped up interest in the royals, and she had much to offer, all of it gladly given. Like Diana, she had the power to help the Royal Family survive a major challenge to its relevance. But, once again, a talented and life-giving outsider was rejected by the host organism.
In the couple's interview with Oprah Winfrey, Meghan looked poised and thoughtful, and managed to make her series of shocking revelations seem reluctantly tendered, a hostile witness having the terrible truth pulled out of her, much more in sorrow than in anger. When Harry was allowed into the conversation, he sat beside his wife looking like he'd been shot from a cannon. Before he met Meghan, he was a prince of Europe—almost a crown prince—a young man whose life was part of a continuation from Excalibur to Afghanistan, where he fought with valor in the manner of Prince Hal finding within himself Henry V. Now, however, he is like Antonio: tempest-tossed and thrown up upon the wide beaches of the brave new world. Once, he led men into battle, as his forebears had done for generations. Now he is a Californian with a Spotify deal, charged with thinking up some podcasts, which could be a heavy lift. For Harry, the situation is evolving.
Diana joined the Royal Family when the operation was at a low ebb and somewhat imperiled. She signed up in 1981, when the grim realities of the 1970s showed no sign of abating. That decade had been a time of strikes and large-scale unemployment, and young people were disillusioned with many things, not least of them the notion of a family of magical creatures who must be carted around in golden carriages at government expense. In 1977, the Queen celebrated her Silver Jubilee, which touched the hearts of many Britons, especially those who had been young during the Blitz. To them she represented courage, continuity, and endurance. To the young, in the midst of the punk movement and a profound sense of alienation from the country's elite, she represented something very different. They wore Stuff the Jubilee badges, and the same year, the Sex Pistols delivered the imperishable Never Mind the Bollocks, Here's the Sex Pistols, with its famous anthem, "God Save the Queen":
God save the queen
The fascist regime
They made you a moron
A potential H bomb
God save the queen
She ain't no human being
And there's no future
In England's dreaming
Don't be told what you want, you want
The album was a working-class yelp of frustration at the bollocks, that is to say the rubbish, all the things that weren't working in England—the ridiculous Royal Family very much among them. But then, just a year into the new and potentially anti-monarchist decade: Diana. For someone joining the family at the height of the punk movement's hatred of the monarchy, she shouldn't have been such an immediate hit. She was the daughter of an earl who lived in Althorp, a grand pile located on a 13,000-acre estate, the Spencer family's home since 1508. Her first childhood home, Park House, was a short drive from Sandringham, the Queen's country home, where Diana spent an unhappy portion of many unhappy Christmas mornings.* Diana had attended a Swiss finishing school, and her father bought her a fashionable flat when she moved to London, where she became a member of the Sloane Rangers—its beau ideal, actually—a group of well-heeled, sophisticated Londoners. A perfect fit for the fascist regime, or so it might have seemed.
But that's not how it played. Not by a mile. With the announcement of her engagement to Prince Charles—her a naive 19, him a jaded 32—she instantly became a global celebrity, on her way to becoming the most known and most loved woman in the world. She didn't seem like the rest of the royals. She was painfully shy, and she was afraid of the press. She hadn't worked in the kind of Sloane Ranger patronage job she could have had in a second—at Sotheby's, or a PR firm or fashion magazine. She had worked in a kindergarten and as a nanny; she had cleaned her sister's flat on the weekends, for one pound an hour. She was the lonely child of a terrible divorce, which might have led to her great sympathy for children.
She was also a girl without "a history," as people would say, meaning she was assumed to have been a virgin, a girl whose head was filled with romantic fantasies and who had imagined that she was bound for an enchanted life. At first the fantasies seemed plausible: She was borne forward on a giant tide of goodwill and international excitement to her bombastic, category-crushing wedding. There was an actual glass coach, a wedding dress with a 25-foot train, and a honeymoon on the royal yacht.
But Charles, of course, never left Camilla Parker Bowles, and soon enough Diana was embittered. She had revived people's fondness for the silly old monarchy and its endless nonsense, but what were her thanks? Her husband was MIA and her in-laws thought of her as troubled and childish. And soon she was no longer an impressionable teenager. She was someone who wielded tremendous power, who had great feeling for those who were suffering, but who had also become manipulative and narcissistic, vengeful and shallow. When she decided to unload both barrels on the Royal Family, first to the journalist Andrew Morton, the author of Diana: Her True Story—In Her Own Words, and then to the broadcaster Martin Bashir in an explosive television interview, she scorched the earth. She told Bashir that "the establishment," meaning the palace, couldn't stand her. The reason for this, she said—sounding much like Meghan Markle would nearly 30 years later—was that "I don't go by a rule book, because I lead from the heart, not the head … Someone's got to go out there and love people and show it." She would never be the Queen of England, she understood, but she would instead be "the queen of people's hearts." When she was killed two years later, the Queen's apparent indifference to the nation's wild grief almost threatened to overturn the monarchy. Only when Elizabeth acknowledged the loss—flying the flag at Buckingham Palace at half-mast; returning to London from Balmoral Castle, where she had been on holiday; and meeting with mourners outside the gates of Buckingham Palace—was a crisis averted.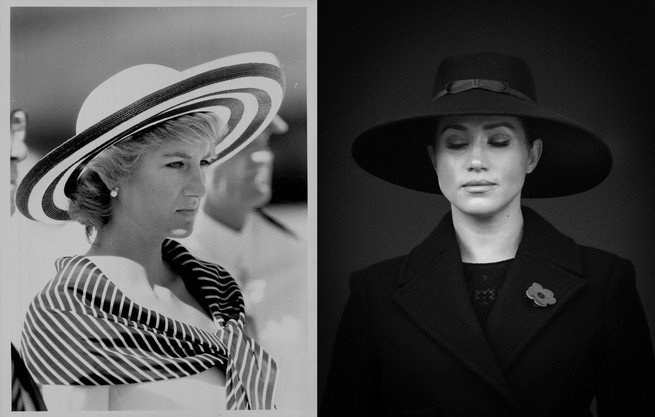 Like Diana, Meghan entered the Royal Family at a time when it faced a considerable challenge to its longevity, one that she was uniquely capable of forestalling. In 1997, Prime Minister Tony Blair's Labour government passed an act that would permanently change the face and character of the United Kingdom, something that the writer and social critic Benjamin Schwarz called the country's "most profound social transformation since the Industrial Revolution." In an effort, apparently, to make the U.K. a full participant in the modern, globalized world, the government radically relaxed immigration policies, making it much easier for people to settle there. It initiated a wave of mass immigration to the country, which continues to this day. As Schwarz noted in his essential essay, "Unmaking England," in 2014 "636,000 migrants came to live in Britain, and 27 percent of births in Britain were to foreign-born mothers." The majority of the immigrants since 1997 were from Pakistan, India, Bangladesh, Somalia, and Nigeria. The result is that Britain, of all places, is becoming one of the most multiethnic, multiracial, and culturally diverse countries in the world—yet a monarchical structure remains within it that is and has always been 100 percent white. Before Meghan, thousands of English girls of color harbored the same princess dreams that white English girls had harbored for centuries. But when they saw pictures of the royals on the Buckingham Palace balcony, at their weddings and special events, and during the exciting moments when they presented their new babies to the world, they didn't see a single person who looked like them. They saw a family that, as Stephen Colbert put it, was a "medieval selective breeding program."
Meghan placed an oxygen mask on the monarchy, offering the potential to future-proof the institution for at least a couple more decades. Suddenly, a beautiful mixed-race woman was having the enchanted wedding, emerging from an ancient chapel under an enormous bower of flowers, and then riding off in an open coach, with her prince beside her. Like Diana, she had the magic touch, a preternatural ability to make a powerful connection with people, in even just the moment or two of encountering them on a rope line. Crowds appeared wherever she went; she was loved.
In October 2019, Meghan and Harry made an official visit to South Africa. Meghan was received with adulation and great excitement, and this was evidence that she was the best thing that could have happened to the Royal Family, making it relevant and modern and respected by a new generation. In Cape Town's Nyanga township, she visited a human-rights organization and made a speech to a large group of women. She began it this way:
"While I am here with my husband as a member of the Royal Family, I want you to know that for me, I am here with you as a mother, as a wife, as a woman, as a woman of color, and as your sister. I am here, and I am here for you."
When I watched the video of the speech, I thought, This woman is going to single-handedly save the British monarchy.
But it turned out that visit was really the end of things. In a documentary about the trip, Harry and Meghan: An African Journey, a reporter asked Meghan whether she was "okay," and she took a long time to answer. "It's hard," she said at last, "and I don't think anyone could understand that. But in all fairness I had no idea." She said that when she had gotten engaged, her American friends had told her that was wonderful news, but her British friends had said, "I'm sure he's great. But you shouldn't do it, because the British tabloids will destroy your life." And then she said that for a long time she had told Harry, "It's not enough to just survive something. That's not the point of life." She could have been Diana talking about leading from the heart, about the way that unchecked suffering can hollow you out. For his part, Harry told the reporter that he fretted about history repeating itself—his unhappy wife following in the footsteps of his unhappy mother, with devastation to come.
And all of this led, strangely enough, to Montecito, California, which is paradise on Earth, an enclave of very rich people living very enviable lives under the clean Santa Barbara sunshine, where the air is perfumed with orange blossoms, lavender, and rosemary. It led to Meghan's sitting down with Oprah for a TV interview in the Edenic garden of a pleasure palace midway between Oprah's Montecito pleasure palace and her own, and it led to her narrowing her eyes, looking at Oprah, and letting them have it back there in England.
Some viewers tuned in not understanding that Meghan is an extremely accomplished person, that she had not arrived in the Royal Family with only a B-list television show to her credit. Not at all. She had gone to Northwestern University, where she'd studied international relations and theater—probably the perfect combination of subjects for her future role as Harry's wife—and she had done an internship at the American embassy in Argentina. She had planned a life in the Foreign Service, although she did not pass the notoriously hard exam. In 2015, she was invited to speak about feminism at the United Nations, and in 2016, she traveled to Rwanda, Delhi, and Mumbai to promote World Vision's Clean Water Campaign. In short, she was hardly an L.A. starlet who got lucky and landed a series but had little else to show for herself. She's smart. Next to poor Harry, she's a Rhodes Scholar.
The interview began with the two women sitting across from each other under a pergola, making a convincing appearance of not knowing each other very well, even though they have a history. Oprah befriended Meghan early on, and saw the ways that she and Harry were suffering. Long before Harry and Meghan left England, Oprah and Harry had begun working together on a docuseries about mental health. So Meghan felt very safe—and was very safe—talking with Oprah and, in her measured and calculated way, plunging the knife into her in-laws' hearts.
The problems had begun about six months after the wedding; that was when things began to turn, when the tabloids decided to create a narrative. They had written that shortly before the wedding, Meghan had made Prince William's wife, Kate, cry in a dustup over flower-girl dresses, but that wasn't at all what had happened! Not at all! What had happened was that Kate had made Meghan cry about the flower-girl dresses. But Kate had made things right. Kate had behaved the way Meghan would have behaved if she had been in the wrong—although she had in no way been in the wrong—by apologizing and sending flowers. The palace should have protected her; the palace should have made a correction. But it had done nothing. The palace was willing to lie to protect others in the family, but not "to tell the truth to protect" Meghan and Harry.
Meghan suggested during the two-hour interview that one of the chief acts of cruelty perpetrated against the couple had been the palace's refusal to "protect" them from the lies of the press. It did not seem to occur to her that the palace has no ability to protect its members from the tabloids, and that a story as inconsequential as tears shed over a flower girl's dress was best starved of oxygen, not inflamed by correction. Diana was killed because the palace couldn't control the tabloid press, and Prince Andrew had to be taken out of rotation because the papers kept the story of his involvement with Jeffrey Epstein alive week after week.
With the calumny of the flower-girl dresses cleared up, it was time to roll a piece of previously recorded tape, featuring Meghan, Harry, and Oprah squeezed into the young couple's chicken coop, which is populated with "rescue chickens." (Meghan: "I just love rescuing.") What was the best thing about their new life? Oprah asked from inside the coop. The chance "to live authentically," Meghan said, as though she and Harry were mucking out stables in Hertfordshire, not tending to rescue chickens on a $15 million estate. "It's so basic," she continued, "but it's really fulfilling. Just getting back down to basics."
Cut to the pergola. The couple's case against the Crown was that the Royal Family had not protected them from the tabloids, had stopped paying Harry—had "cut me off," he said, in the particular expression of shocked trust-funders the world over whenever Daddy decides: enough!—and had not provided any help when Meghan found herself so unhappy that she was having suicidal thoughts. The parents were also shocked by apparent concerns about how dark their future babies would be—a revolting development, but hardly a surprising one.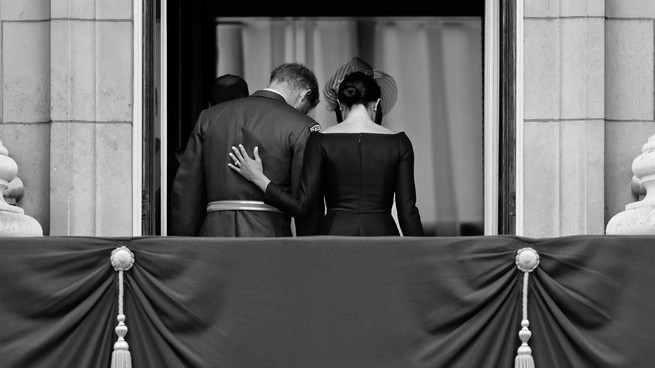 Part of Meghan's problem, it turned out, was her naïveté about the workings of the Royal Family, which she had assumed would be similar to the workings of celebrity culture. What was she, Meghan Markle, a simple girl from Los Angeles, to have understood about such an institution as the British? How was she to know that Elizabeth II, by the Grace of God, of the United Kingdom of Great Britain and Northern Ireland and of her other realms and territories Queen, Head of the Commonwealth, Defender of the Faith was in any way different from the Lady of Gaga? One wonders whether her study of foreign service and international relations, her internship at the American embassy in Argentina, and her work with the UN might have clued her in to the fact that a whole world exists beyond the Jamba Juice on La Brea and the set of Deal or No Deal, on which she had once been one of the beautiful "suitcase girls." Apparently, they had not.
She told Oprah that she had never even Googled her future husband's name—a remark that united the viewing world in hilarity, time zone by time zone. It was an assertion that strained credulity, but it was necessary to her contention that she'd had no idea that the Windsors had not, as we now say, "done the work" when it came to exploring their own racial biases. Had she herself done some work by punching her beloved's name into a search engine, she would have understood that she was not marrying the most racially conscious person on the planet. She would have seen pictures of him dressed as a Nazi at a costume party (his great-granduncle—briefly Edward VIII—had palled around with Adolf Hitler) and a videotape of him introducing a fellow cadet as "our little Paki friend." The Palace said that "Prince Harry used the term without any malice and as a nickname about a highly popular member of his platoon." But the palace had no good explanation for why Harry introduced another cadet in the video by saying, "It's Dan the Man. Fuck me, you look like a raghead."
But it was Markle's piety regarding the British Commonwealth and her possible relationship to it that revealed the essential incoherence of her case against the monarchy. For some reason she seemed to think that representing the British monarchy to the countries it had colonized was valorous. This group of countries, she told Oprah, is "60, 70 percent ... people of color." Absolutely true. But what force brought these nations together? And why is this institution, composed of 54 countries, headed by—of all people—the Queen of England?
The English relationship to the "commonwealth" is a natural (or unnatural) connection to the British empire. Overwhelmingly, these are the countries that were colonized, exploited, and subjected to ruinous campaigns of violence and ethnic cleansing perpetrated by the British in the name not merely of country, but of the specific family Meghan chose to join. And her desire had been to become a special emissary to this confederation of countries as a representative of the Crown, as a standard bearer of a foreign power historically responsible for many of the specific miseries that exist in these places to this very day. Britain's eager participation in the notorious "Scramble for Africa" is directly responsible for the exploitation of natural resources in many parts of that continent. And that's the team she wanted to represent? Meghan Markle: defender of the Queen's "realms and territories."
The best thing the Royal Family could do for the former colonies would be to send money and stay away.
This matter had been left unaddressed by the time Harry arrived under the pergola—a bit flushed, obviously pained, and by no means as comfortable with the complicated new narrative as was his wife—and started answering questions. He revealed that he is estranged from his father, who at some point stopped taking his calls; that he loves his brother to bits, but that this relationship is also strained; that his adored grandmother had disinvited him and Meghan to lunch; and that when Netflix approached the couple with a deal, it was a stroke of luck, because "we hadn't thought about it." When they arrived in Los Angeles, cut off financially and stranded with only the funds left to Harry by his mother (and Meghan's money from her television work), they had been forced to huddle like refugees in Tyler Perry's mansion, allowing the superstar to pay for their security.
But more than any of this—more than Diana's sad life and tragic death, more than Meghan's disappointment at discovering that the Windsors aren't devotees of critical race theory, more than the rescue chickens and the Spotify deal and even the Montecito mansion—the main takeaway from Oprah's interview with Meghan and Harry was that it was spectacular television. Minute-for-minute excellent television. Oprah is one of the most famous people in the world; Meghan is an enormous celebrity. They both looked beautiful, and the setting was a garden of such exquisiteness that most of us will never lay eyes on its likeness outside of television or the movies. But what they were doing was talking about something most women have talked about with other women: in-law problems. They were on the grounds of an estate, but they could have been on the sidelines of a T-ball game or at a girls' night out, or waiting for the subway. The father-in-law was a prick; the brother's wife was a real pain and hadn't done anything to reduce bridal anxieties before the wedding; the grandmother was a doll, but too easily exploited by the nursing-home staff. They were loaded, but they had cut off a favored son when he'd most needed the money. Meghan had, in fact, realized the highest aspiration of many married people: She had convinced her spouse that his entire family was a bunch of losers. (Harry, on life before meeting Meghan: "I was trapped, but I didn't know I was trapped.") She had plucked him out of its bosom and made herself and their child his only true family. She was—depending on your point of view—either a virago or an icon.
Nothing is as galvanizing and unifying as an episode of appointment television in which a hugely famous female broadcaster delivers an exclusive interview with another hugely famous celebrity who is in the midst of what is essentially a personal drama.
I was reminded of Diane Sawyer's 1995 interview with Lisa Marie Presley and Michael Jackson soon after the pair's marriage, an event that had closely followed accusations that he was a child molester. Had she been worried about the charges? Asked him about the charges before marrying him?
"I've seen these children. They don't let him go to the bathroom without running in there with him."
And of Barbara Walters's 1999 interview with Monica Lewinsky. Why had she flashed her thong at Bill Clinton?
"It was saying, 'I'm interested, too. I'll play.'"
And Emily Maitlis's 2020 interview with Prince Andrew. Why had he stayed in Jeffrey Epstein's mansion after Epstein had been implicated in a massive sex-trafficking scheme?
"My judgment was probably colored by my tendency to be too honorable."
These were questions about marriage and crimes against women and sex between powerful men and impressionable young women. They were conversations among famous people, but they were also conversations among all of us: the world's women. They took the most elemental and baleful female conditions—sex and marriage, motherhood, and the ever-present threat of sexual danger—and transformed them into glossy television events. They gave us the kinds of details in which women—even the most intellectual and high-minded women—take an enduring interest, and they gave us an instant way to talk about them with one another.
I had an unpleasant medical procedure a few days after the Oprah special, but I was so focused on my nurse's opinion of the show (surprisingly anti-Meghan) that I hardly noticed the pain. I had forced my sons and husband to watch the interview with me, and when Oprah reminded Meghan that when you marry a person, you are also marrying that person's family, I cried out, "That's right!" The things women care about will always be with us, and the way women work through them is not to drop ordnance on Afghanistan. It's to find one another, put on the kettle or open the wine, and talk.
At the end of the interview, Harry sat beside Meghan, still looking a bit stunned, a bit unsure what was happening to him in this new life. Looking, in fact, a bit like a rescue chicken. Oprah asked him if Meghan had "saved him."
"Yeah, she did," he said. "Without question, she saved me."
Meghan reached out her hand and touched his arm, stopping him from going on.
"I would … I would …" she said, trying to locate the right note, trying perhaps to avoid the impression that her husband was one more chicken in her coop. She hadn't done the rescuing, she said—Harry had. It was Harry who had "certainly saved my life and saved all of us."
And Harry sat there beside her, 7,000 miles from home, in the land of rich Californians and Meyer lemons and eucalyptus trees trailing Spanish moss. He had plighted his troth to this unexpected and very beautiful woman; he had hurt his grandmother, and alienated his father and his only brother. He had thought that having Bishop Michael Bruce Curry deliver the homily at his wedding would reverse a thousand years of English racial attitudes, but he had been wrong about that.**He was a combat veteran, a prince, the grandson, great-grandson, and great-great-grandson of English monarchs, and now he was going to have to think up some podcasts.
---
*This article previously misstated that Althorp House is a short drive from Sandringham.

**A previous version of this article misstated that Desmond Tutu delivered the homily at Meghan and Harry's wedding. In fact, it was Bishop Michael Curry.