Availability Bias Is Messing With Summer Planning
Our natural optimism points in one direction, even as recent history points in another.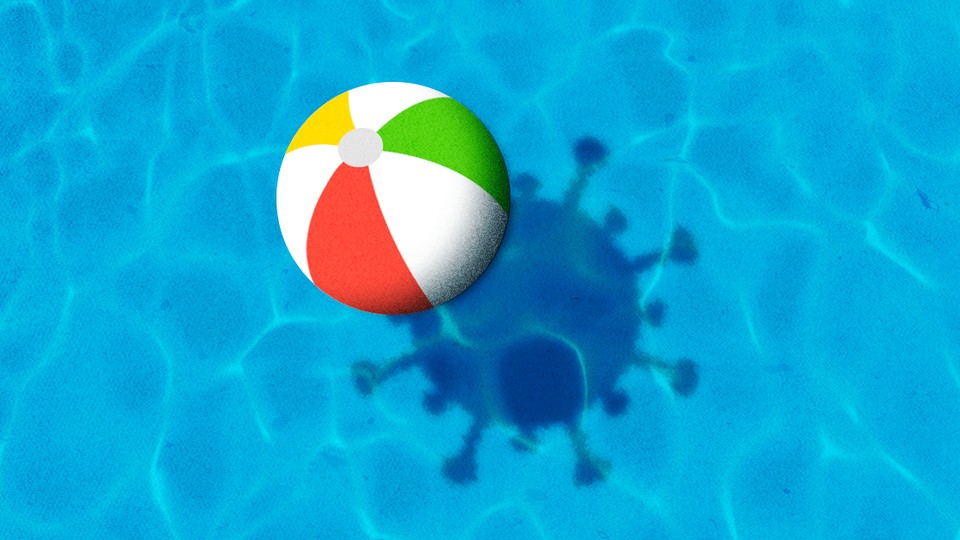 Last spring, Jared Kushner predicted that the coronavirus pandemic would soon end and that the United States would be "really rocking again" by July. Some critics saw his statement, which proved so fatally wrong, as a form of deceit. I saw evidence of something more pitiful: Kushner had fallen prey to optimism bias and availability bias. Optimism clouded his judgment. He wanted things to be better in July, so he assumed they would be. And his thinking was limited by the examples from the recent past available to him. Had the country ever shut down for months in his lifetime? No. Therefore, that wouldn't happen.
One year later, many of us are wondering how to plan for the future without sounding as foolish, in retrospect, as Kushner. Our natural optimism points in one direction, in which declining case numbers and the arrival of vaccines make a more normal summer seem possible or even likely. But the recent past points in another: Restrictions and shutdowns are now the rule rather than the exception. We're at a strange moment in the pandemic.
For advice on the best way forward, I called a few performing-arts organizations. As fraught as decision making might be for individuals, it is much more perilous for symphony orchestras, ballets, and theater groups. American families can be wrong about a relatively care-free summer and lose nothing more than an airline change fee. Performing-arts organizations face an existential threat. Their high-pressure calculations can provide a blueprint for how the rest of us should think about the near future.
"What we've learned this past year is you just have to try things, which is quite counter to how the performing arts have really functioned in the past," Leah Johnson, the head of communications at Lincoln Center for the Performing Arts, told me. In a normal year, Lincoln Center would be programming its 2022 schedule at this point. Instead, it's announcing new concerts month by month, starting with a few small shows in April, all outdoors, on 10 stages built to allow for maximum flexibility in crowd sizes. As the restrictions on gatherings are lifted, the concerts will get bigger. "The notion is to expand and shrink accordingly," Johnson said.
The wisdom of this approach became apparent shortly after we spoke, when Governor Andrew Cuomo abruptly changed New York's rules to allow crowds of up to 20 percent of an outdoor venue's normal capacity rather than a hard cap of 200. For a place such as Yankee Stadium, that meant more than 10,000 fans could now show up. Lincoln Center was prepared for the jump. "If the guidance began to change and open up a little bit, we wanted to be ready," Johnson told me. "Whatever the number of people, we would be ready."
Lincoln Center isn't the only place emphasizing flexibility. Upstate, the Saratoga Performing Arts Center is planning for scenarios in which its amphitheater is 10 percent full (giving availability bias its due) all the way up to full capacity ("really rocking"). "We are ready to pull the trigger the moment the government gives us the green light," Elizabeth Sobol, the organization's president and CEO, told me. "If all of a sudden you no longer have to socially distance, great: We'll sell a lot of tickets. So we've got to have that scenario ready."
Sobol helped put together a coalition of New York arts organizations, including Lincoln Center, the Public Theater, and the Classical Theatre of Harlem, to petition the governor for as much warning as possible about any changes in restrictions. After all, the time required for casting, rehearsals, and advance ticket sales puts a limit on how nimble they can be. The coalition has been speaking every Friday since January to coordinate its efforts. One answer it was trying to get from the state was whether performers might be able to forgo social distancing even if audience members could not. Most ballets, for instance, would be impossible. "You can socially distance an orchestra," Sobol said, "but how do you socially distance a pas de deux?"
The coalition's weekly meetings provide a forum to address practical concerns about reopening, but they also allow members to reassure one another that they aren't acting recklessly to even consider it. Availability bias is difficult to shake off, especially when the recent past is punctuated by strong feelings such as dread and grief. "The world in our heads is not a precise replica of reality," the economist Daniel Kahneman wrote. Our expectations "are distorted by the prevalence and emotional intensity of the messages to which we are exposed." A year of thinking about the pandemic can make thinking about anything else impossible.
The organizations I spoke with, however, had to look beyond the shutdowns if they wanted to survive. Even a limited season could determine whether a furlough turns into a layoff, or whether a venue closes permanently. Seth Pinsky, the CEO of the 92nd Street Y, thinks that his organization's financial future depends on its ability to start getting people back to live performances as soon as possible. To do that with the greatest amount of flexibility, he and his colleagues are planning a short season this spring, with performances announced as late as possible and crowd sizes that will vary depending on the city's case count.
The "mini season," as he called it, serves two purposes: "One is that it advances our mission, because it reconnects us to our community in a way that we haven't been connected for a year. But two is, it also allows us to start to figure out what the new market looks like." Pinsky has also built in the ability to adjust if the picture darkens this spring: "The good news—which would obviously be terrible news for us as a society—is if we have to go backwards, we know exactly how to do that."
Mark Volpe, the managing director of the Boston Symphony Orchestra, made the point in a more extreme manner: "If everyone's dead, we're not going to have Tanglewood. And there's probably something before that point, where you don't have a Tanglewood." (A little gallows humor is another survival technique for the pandemic.) The BSO convened a risk-assessment committee to help plan for its summer season in the Berkshires. The committee members started their modeling at 25 percent capacity, and set forth a few principles: no vocal music, socially distanced orchestras, and audience seating divided into pods. They consulted with the Harvard School of Public Health and the founder of Moderna, who is on the symphony's board. "I don't mean to be overly optimistic, but the people who know more than I do seem a little bit more optimistic than they were four or five, six weeks ago," Volpe said. He also mentioned that the famed cellist Yo-Yo Ma is local to the Berkshires and seems certain to be part of any season. One thing he was sure of: In May and June, the plan will look different than it does now.
The missing element in all of these scenarios is how the public will respond to the possibility of seeing live performances again. Sobol thinks people are "bursting at the seams" to come back, but Volpe was more cautious: "We just don't know the psychology, what people are going to feel like. Everyone's going to be in a different place."
Last fall, I listened to a lecture by a network scientist named Samuel Scarpino. He was trying to explain why the spread of the coronavirus had surprised so many epidemiologists and infectious-disease specialists. This virus, he said, seemed uniquely equipped to "break our mental models." The pandemic response has done something similar. Our society had no recent precedent for extended lockdowns. Likewise, we have no recent precedent for how to emerge from the state we're in, to place COVID-19 in context as one of many risks we face every day. There are coronavirus hawks and coronavirus doves, and the fight between them as the pandemic ends will be intense.
Last April, while Kushner was taking an early victory lap, I was definitely a hawk, scolding my relatives who compared the coronavirus to the flu and urging everyone I knew to lock down hard. With the arrival of vaccines, however, I'm inching my way toward becoming a dove. Government decrees about capacity can tell us only so much about how the summer will look. No one is going to wave a wand and announce that we can get back to our regular lives. We have to decide for ourselves.
If you're feeling stuck between hoping for a normal summer and fearing that things will collapse once again, you might follow the lead of Sobol's coalition. Start small, prepare to scale up or down as needed, and wish for better days to come.