America's Andrew Cuomo Problem
Why was the New York governor's reckoning so long in coming?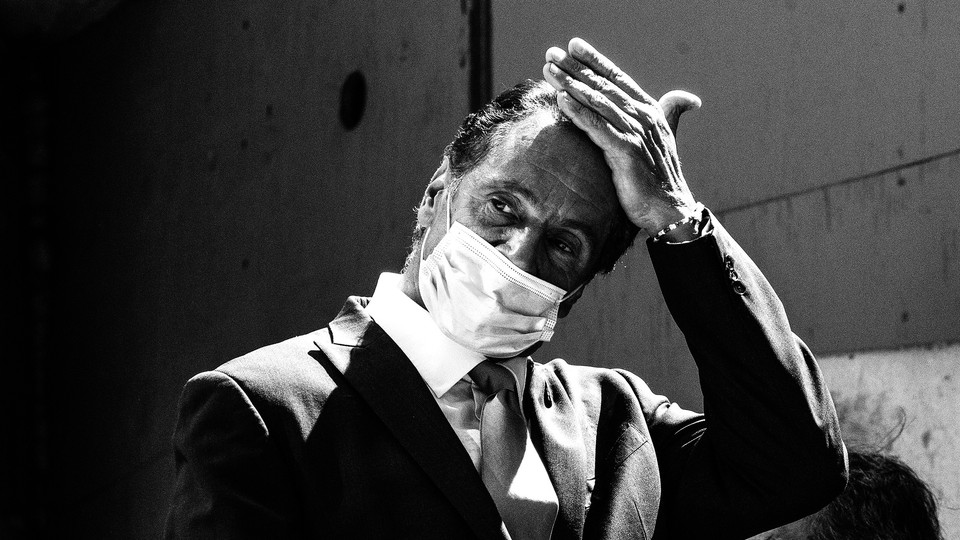 Updated at 12:00 p.m. ET on March 3, 2021.
Cable-news shows treated Andrew Cuomo like a living legend this summer, thanks to his supposedly superlative handling of the coronavirus pandemic, yet his past few weeks really have been the stuff of myth.
But which myth? Is he Icarus, flying too close to the sun in his premature attempt to claim credit for New York's public-health prowess, only to have his wings melted by the heat of scandal? Is he Oedipus, brought low by his determination to eclipse his father? Or is he simply Zeus, a powerful man prone to wrathful outbursts and sexual misconduct?
The New York governor finds himself in a perilous position right now, though it is not yet clear how perilous. Cuomo's COVID-19 approach no longer looks quite so good. Compared with other states, New York hasn't obviously outperformed, and if not all of that is precisely Cuomo's fault, it does make his decision to publish a book claiming credit back in October seem unwise. Worse are revelations about the number of deaths in New York nursing homes, especially after a top aide privately acknowledged that the administration had covered up the toll.
The more immediate threat to Cuomo are claims of sexual harassment. Over the past week, three women, two of them former aides, have come forward to share stories of his disturbing behavior—inappropriate jokes, prying comments, unwanted touching. Cuomo has insisted that his behavior was misinterpreted as flirting and, in short, apologized if anyone was offended, while remaining essentially defiant about the actual behavior. There have been a few calls for Cuomo to resign, though so far they are not widespread. Having skirmished with Albany lawmakers, New York Mayor Bill de Blasio, and the press, Cuomo has few defenders, even in his own party, but there's also no one who can topple him at the moment.
This is, in some ways, a uniquely New York story: the third-term-governor son of a three-term governor in a fight involving the always-poisonous politics of Albany. But thinking about how the Cuomo situation reached this point might be useful for the rest of the country.
Start with one-party rule. New York is functionally a single-party state under Democratic control. It hasn't had a Republican governor since 2006, and it hasn't had a Republican attorney general (a common stepping-stone to the governorship) since 1998. (For a chunk of Cuomo's governorship, he enraged progressives by working with Republicans and a splinter group of Democrats in the legislature, but the fact that these rogue Democrats recognized the electoral wisdom of keeping a D next to their names demonstrates the party's grip.)
Each of the past three Democratic governors has been tarnished by scandal. Before Cuomo, there was David Paterson, who acknowledged an affair with a state employee and was fined for lying under oath while in office, among other scandals. Paterson became governor when Eliot Spitzer resigned in a prostitution scandal. Eric Schneiderman, a Democrat who succeeded Cuomo and Spitzer as attorney general, resigned in 2018 amid sexual-abuse allegations. The misbehavior and abuses seem so widespread, it's hard not to conclude that these scandals occur, at least in part, because Democrats have little to fear from Republican challengers.
States where one party dominates politics tend to breed corruption, incompetence, or both. The phenomenon is bipartisan; I made this point about scandal-plagued, Republican-dominated South Carolina in 2012. (Though I pointed to Cuomo as a counterexample at the time—oops!) In Texas, where Republicans monopolize state power, the attorney general has been under felony indictment for six years and the electrical grid doesn't work. In California, where the Republican Party is moribund, Governor Gavin Newsom faces a recall; in North Dakota, where the Democratic Party practically doesn't exist, a GOP legislator faces expulsion for various allegations of misconduct; and in South Dakota, the Republican attorney general appears to have tried to cover up a fatal car crash.*
Democratic dominance of New York politics doesn't explain everything, though; the New York GOP is also riddled with corruption. Dean Skelos, long the state's most powerful Republican, was convicted of federal corruption charges in 2015. The rot in Albany transcends partisanship. The state capital has long been ruled by the "Bear Mountain Compact," which the journalist Michael Tomasky described in 2003 as an "unofficial concordat of the randy ... by which downstate legislators have agreed that things that happened north of Bear Mountain (about the halfway point between New York and Albany) were never to be discussed south of it."
New York is almost certainly not unusual in that way. Around the country, state capitals are hotbeds (sometimes literally) of scandal. They have all the temptations of national politics, and very little of the oversight—especially as local news outlets, buffeted by years of turmoil, cut back on state-government coverage.
In conservative circles, Cuomo's elevation and belated comedown are evidence of liberal bias. I was especially critical back in May of CNN's inexplicable decision to allow the governor's brother, Chris Cuomo, to repeatedly interview him on air, but more nuanced critique of the media is worthwhile. Cable coverage of Cuomo was certainly too credulous, but the New York press corps has little affection for the governor, and print coverage has been especially probing. The problem, Alex Pareene wrote in a perceptive recent piece, is that "hardly anyone in New York experiences Cuomo the same way studious news consumers or reporters do." These readers know that Cuomo is a thin-skinned, often-deceptive bully, even as the rest of the public has largely failed to grasp his flaws—until recently. "What is happening now is that fans of Andrew Cuomo the television character are being introduced to Andrew Cuomo the newspaper character."
The scary prospect is that with weaker watchdog journalism, the various Cuomo scandals might still be silenced. New York has a fairly robust set of newspapers, including the Albany Times Union and the New York City newspapers, the Times, the Post, and the Daily News, though the last two are shadows of their former selves. In another state capital, where the media have fared worse, a similar scandal could remain hidden.
Politicians may be particularly prone to skeevy sexual behavior, but the harassment allegations are of course not limited to politics. As the #MeToo movement demonstrated, unscrupulous men take advantage of women who work for them in every industry.
What all of these possible explanations share is that they are unlikely to be unique to the Empire State, or to Andrew Cuomo. If the reckoning over Cuomo's behavior is here, it's almost certainly a sign that many other reckonings are equally overdue.
---
* This article previously misstated that the North Dakota attorney general appeared to have tried to cover up a fatal car crash. In fact, the South Dakota attorney general was involved in the incident.