What's the Justice Department Actually For?
A Senate hearing for President Biden's attorney-general nominee is surfacing some big questions.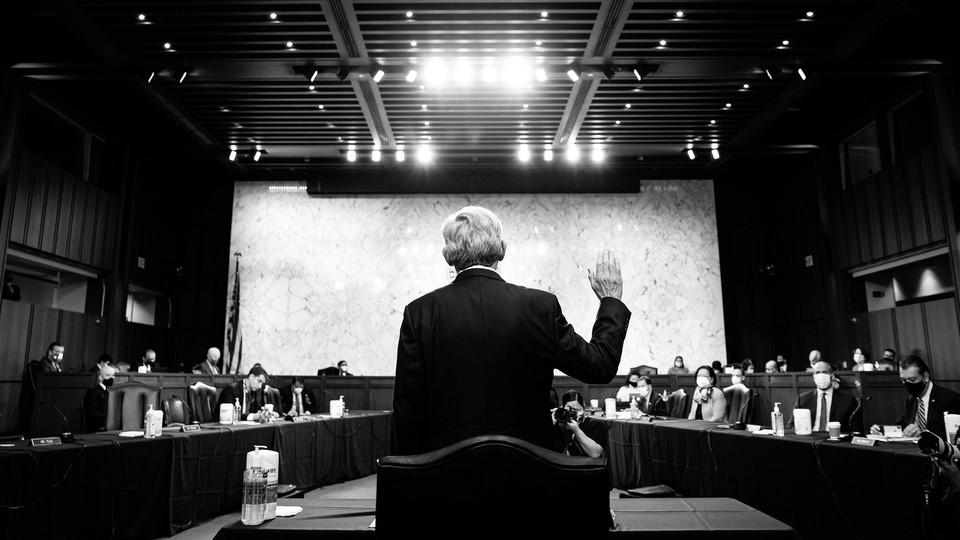 This time around, Judge Merrick Garland is getting his hearing.
Not only is President Joe Biden's nominee for attorney general receiving a Senate audience, but his confirmation seems very likely, a second difference from his 2016 nomination to the Supreme Court, which was stymied by then–Majority Leader Mitch McConnell.
But there's still an important question at stake in Garland's nomination, and if confirmed, in his work as attorney general. The Trump presidency has both underscored and made more urgent a running debate over what exactly the U.S. Department of Justice is for.
"I think being attorney general has got to be the toughest job in the United States government, because you serve at pleasure of president, but you also have an obligation … to equal justice and impartial enforcement of the law," Senator John Cornyn, the Republican from Texas, told Garland during a Senate Judiciary Committee hearing this morning.
That neatly frames the dilemma. For years, the department has veered, sometimes aggressively, between being more or less in thrall to the White House. Under President Donald Trump and Attorney General Bill Barr, the department was arguably less independent than at any time since John F. Kennedy's brother led it. Trump asserted an "absolute right to do what I want to do with the Justice Department." Barr, a longtime proponent of presidential power, generally endorsed and enabled Trump's moves. Biden has promised to restore a greater degree of independence, and Garland's prepared opening statement reads as an extended subtweet of the Trump-Barr Justice Department.
Trump complained that he didn't "have an attorney general" when Jeff Sessions, his first pick for that role, recused himself from the Russia investigation. Trump also told The New York Times, "I don't want to get into loyalty, but … I will say this: [Attorney General Eric] Holder protected President Obama. Totally protected him." (Holder disputed this, saying, "I had a president I did not have to protect.") But Garland, for his part, said that "the president nominates the attorney general to be the lawyer—not for any individual, but for the people of the United States."
Garland's statement also praised "policies that protect the independence of the Department from partisan influence in law-enforcement investigations; that strictly regulate communications with the White House; … that respect the professionalism of DOJ's career employees; and that set out principles of federal prosecution to guide the exercise of prosecutorial discretion." These are all areas where Trump far overstepped norms—if not necessarily the law—in meddling with the department.
Garland told senators that he believes (and says Biden has pledged) that prosecutions and investigations should be handled independently of the White House, but policy questions are dictated by the president (as long as they are constitutional, he was quick to point out). As to whether a president could order an investigation to be opened or closed, Garland said: "This is a hard question of constitutional law, but I do not expect it to be a question for me."
If the new job might allow Garland to sidestep tough constitutional-law questions, it will present plenty of challenges of its own. Justice Department independence has always been more of a political continuum than a clear binary. Janet Reno, who served as Bill Clinton's attorney general, got drawn into highly political fights, such as the one over Elián González, the boy whose mother died while attempting to escape Cuba with him, and who was ultimately returned to his father on the island. Under George W. Bush, the Justice Department fired seven U.S. attorneys for insufficient political fealty, and stocked the Civil Rights Division with political hacks. Investigations concluded that while inappropriate, neither of these moves was illegal. Moreover, the interference in both cases was not directly in the realm of investigations or prosecutions, where Garland drew his line.
Garland is looking further back for a predecessor who can be a role model: Edward Levi, whom Gerald Ford appointed attorney general after the Watergate scandal. Levi was viewed as a paragon of integrity and independence who did not bow to political pressure and who restored the department's standing. He also instituted many of the norms for insulating the department that Trump shredded. Garland cited Levi when Biden nominated him, and he is touting endorsements from Levi's sons, both accomplished lawyers in their own right.
A different way to think about Garland's vision for the role is that he'd be somewhat akin to the head of an independent federal agency. There are a number of commissions and other bodies where the president appoints a leader and the Senate confirms her, but once she's in office, she serves a set term rather than at the pleasure of the president, and is not subject to presidential direction.
"I do not regard myself as anything other than the lawyer for the people of the United States," Garland said. Noting that some senators had asked why he'd leave a lifetime appointment on the federal bench to become attorney general, he explained the decision as one designed to serve the long-term interests of the department's work: "This is an important time for me to step forward because of my deep respect for the Department of Justice and its critical role in ensuring the rule of law."
This idea of the role is naturally similar to being a federal judge. After nearly 25 years on the bench, Garland isn't accustomed to working for anyone or having to worry about political considerations. (Garland worked at the Justice Department under Jimmy Carter and Bill Clinton and was an assistant U.S. attorney in D.C.)
But politics will intrude, and soon. The second questioner at today's hearing was the ranking member Chuck Grassley, who asked Garland for assurances that he wouldn't meddle with John Durham, a U.S. attorney appointed to investigate the origins of the FBI's probe into Russian interference in the 2016 election. (Garland said he had no plans to meddle, but wouldn't commit.) Garland also faced questioning about how he would handle White House pressure about an investigation into Hunter Biden, the president's son. (Garland said Joe Biden had assured him it would be up to the Justice Department.)
Senator Ted Cruz complained during today's hearing that under President Barack Obama, "the Department of Justice was politicized and weaponized in a way that was directly contrary to over a century of tradition of the Department of Justice being apolitical, and not a partisan tool to target your opponents." It is rich to hear such complaints from Cruz and other Republicans who tacitly or explicitly endorsed Trump's handling of the department, especially Trump's efforts to get friends such as Roger Stone and Paul Manafort off the hook from prosecution. (Is there any doubt that Trump would have tried to intervene if his children had been the target of a Justice Department investigation? And does anyone think most Republican senators would have publicly objected?)
But Cruz's remarks hint at where Garland's vision of the department might run into friendly fire. While Garland has pledged to aggressively prosecute those involved in the January 6 insurrection in Washington, the anti-Trump "Resistance" wants to see the Justice Department forcefully pursue Trump, his family, and his cronies. Biden has already renounced any role in making such decisions, leaving the matter to his attorney general—which means that it will be Garland who has to grapple with demands for these politically incendiary moves.
Meanwhile, the more progressive wing of the Democratic Party has raised questions about Garland's bench record on civil liberties, deeming him too friendly to law enforcement, and about whether he is sufficiently committed to an expansive approach to voting issues. (The picks of Vanita Gupta and Kristen Clarke, who have strong progressive records on these issues, for top DOJ jobs may ease those worries.) More broadly, there's been a movement in progressive circles toward a new vision of prosecutors who are more politically engaged and working for social justice. While that effort has been focused mostly at the local level, Garland's old-school approach to prosecution is not in step with it.
More broadly still, questions about the role of the Justice Department serve as a proxy for questions among Democrats about how government should work. On one side are those who believe that Biden's administration should strive to return to the pre-Trump status quo. On the other are those who despise Trump's policies but believe that going back to the supposedly good old ways will just enable the next Trump. Instead, they contend, Democrats should seek to wield the same tools Trump did, only for good. Anything less amounts to unilateral disarmament.
Biden has staked his place in the first camp. He managed to defeat a more forward-looking Democratic field on that promise, then won the presidency on it. It stands to reason that he'd pick an attorney general who agrees. But Biden is already facing pressure from restive parts of his coalition, and if he's confirmed, Garland will also face demands to be more political and to get his hands dirtier.
"I do not plan to be interfered with by anyone," Garland told the Judiciary Committee today. No attorney general does, though. The question is how he reacts when the plan falls apart.