Overcaution Carries Its Own Danger to Children
Incessant pessimism about the coronavirus is hard to kick, but the vaccines are banishing any doubt about reopening schools.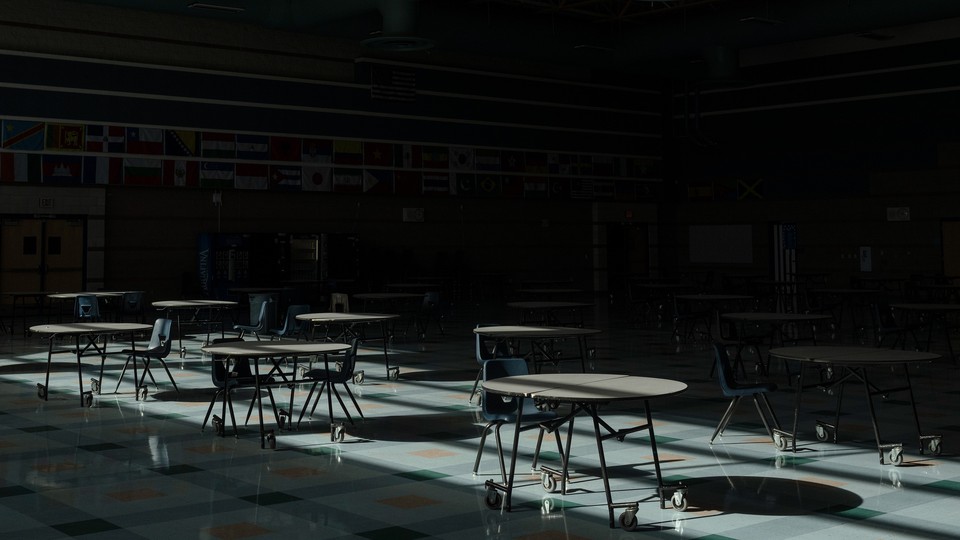 The past year of COVID-19 has been so terrible that many people struggle to imagine any return to normalcy. More than 500,000 Americans have died. The continued shutdown of schools has led to rising rates of depression and anxiety, unhealthy weight gain, and self-harm among students. Now, because of the rapid development and distribution of highly effective vaccines against COVID-19, a long period of devastation for American families—including the children who have been out of classrooms for so long—is coming to an end. Despite the amazing solution of vaccines, however, many educators, government officials, and media commentators cannot seem to permit themselves any optimism yet about when school closures and other emergency restrictions might be eased.
Officials across the United States had to err on the side of caution last March and shut almost everything down, including schools. Too much about the novel coronavirus was unknown. Scientists quickly came to conclusions about which mitigation procedures worked to minimize risk. When measures including masks, physical distancing, and better ventilation were put into practice, people performing essential jobs did not get sick at work. But many schools remained closed. Vaccines were then rapidly developed, and are starting to be distributed more nimbly in the U.S. At this point, the end of the pandemic is not just a glimmer in our eye, but a reality coming closer and closer for countries with a brisk vaccine rollout. But the public narrative in the United States seems to still be swirling around three depressing themes: (1) alarm about more infectious variants of the coronavirus; (2) uncertainty about whether vaccines will stop asymptomatic as well as symptomatic infection; and (3) disagreement about whether schools can safely reopen when not everyone is vaccinated. Regrettably, unwarranted pessimism about the first two issues will complicate the third—despite an emerging consensus among health experts that opening schools is paramount for student learning and mental health.
Millions of people in the U.S. have already received one of the two mRNA vaccines that have proved highly effective against the coronavirus. A one-dose adenovirus-DNA vaccine from Johnson & Johnson is on the verge of authorization. Phase 3 clinical-trial data for five other vaccines deploying different technologies show promising results. Since the peak of the third surge this winter, the number of new cases and hospitalizations has been falling dramatically across the United States. The sharpness of the decline suggests that partial immunity, likely from both natural infection and vaccinations, has started to kick in. In countries with a more rapid mass- vaccination rollout than the U.S., specifically Israel and the United Kingdom, the decline in hospitalizations and cases from vaccines has been even more precipitous.
In response to that good news, skeptics point to several major variants of the virus now circulating in the world: B.1.1.7 (the "U.K. variant"), B.1.351 (the "South Africa variant"), P.1 and P.2 (the "Brazil variants"), B.1.427/B.1.429 (the "California variant"), and B.1.526 (the "New York City variant"). These variants are suspected of being more easily spread from person to person, and conflicting data leave open the possibility that some may be more dangerous to each infected individual.
All of the approved vaccines and major vaccine candidates provide nearly 100 percent protection from severe COVID-19 disease that requires hospitalization or medical treatment, even when tested in countries where variants are circulating. For instance, the Johnson & Johnson single-dose vaccine prevented 100 percent of hospitalizations and deaths across the three sites in which it was tested (the United States, Latin America, and South Africa), despite 95 percent of the viral strains in South Africa at the time being the B.1.351 variant and 69 percent of the strains in Brazil being of the P.2-variant lineage. Protection from mild disease from the variants with the current vaccines is more variable.
Vaccines can work in multiple ways, most familiarly by inducing antibodies that usually provide more short-term protection or protection from mild illness. The COVID-19 vaccines also generate strong T-cell immunity, which not only is more enduring, but works against numerous parts of the virus (including different parts of the spike protein produced by the vaccine), making them more resistant to variants. The astounding protection that the vaccines provide against becoming ill from the coronavirus is likely due to generating a complex T-cell response that makes the disease less severe. In fact, reinfection with variants leading to a symptomatic infection is rare following the development of T-cell immunity to an initial infection. Moreover, vaccines have been shown to generate T-cell immune responses directed against multiple regions of the virus—responses that remain potent across variants. Once vaccinated, an individual should be protected against severe disease from any variant.
Despite considerable data to that effect, frequent predictions of deadly fourth waves of infection because of the variants are generating anxiety among the public, including teachers. Constant speculation that the variants will infect even people who have antibodies to the coronavirus—despite immunity being more than just a matter of antibody production—is distorting the discussion about schools.
Another problem is the frequent confusion of the idea We don't know from the clinical trials whether COVID-19 vaccines prevent asymptomatic infection with the idea COVID-19 vaccines don't stop transmission. Beyond the sheer biological plausibility that a vaccine-mediated immune response would block viral replication in your nose—through which you are most likely to spread the virus—as effectively as it blocks replication elsewhere in the body, researchers now have powerful data from the real-world vaccine rollout indicating that vaccination will reduce spread (from asymptomatic infection), as well as symptomatic disease. A recent article in The Lancet showed that health-care workers in the United Kingdom who were swabbed every two weeks after vaccination demonstrated an 86 percent reduction in asymptomatic infection compared with unvaccinated individuals. Other data, from health-care workers based in Israel and across the Mayo Clinic system, show a similar result: a massive reduction in both symptomatic disease and asymptomatic infection after vaccination. A study from Israel across a more general population during an early vaccine rollout confirms that 89.4 percent of infections are prevented with vaccination (including asymptomatic). In clinical trials, the Johnson & Johnson vaccine was 74.2 percent effective in preventing asymptomatic infection. Furthermore, nasal viral loads from post-vaccination exposures are low and likely noninfectious because of the body's immune defenses rushing in to halt viral replication. With every passing week, vaccines will prevent more disease transmission, and our messaging can change accordingly. However, the number of stories lamenting whether vaccinated grandparents can hug their unvaccinated grandchildren speaks to our failure to absorb this data and move forward with optimism.
Finally, the debate over school openings—which shouldn't be a debate at all—does not incorporate what scientists have learned about the pandemic. Despite a wealth of data from the CDC and other countries suggesting that opening schools is safe for teachers and students with mitigation procedures applied, many districts across the country, especially on the West Coast, have failed to reopen. Oregon and California have no clear path in sight for schools to return to in-person learning. The latter has maintained more stringent and prolonged lockdowns during COVID-19 than any other state in the U.S. and, like many other places, has expressed panic regarding variants. Furthermore, most states have not told their residents that life could pivot toward normalcy for the vaccinated. Oregon teachers recently indicated that they would not return to in-person instruction even after vaccination. Continued fear-based messaging and policies in certain states are likely creating needless anxiety for students, parents, and teachers.
Some parents and teachers felt strongly about keeping schools closed because everyone's personal level of risk acceptance is different. However, as millions of Americans receive vaccines and community spread slows, we will be able to open schools while mass vaccination is under way. Overcaution and overcautious messaging kept our schools closed earlier in the pandemic, but experts and public officials need not emphasize caution when touting the incredible efficacy of the new vaccines and their ability to return life to normal. Telling people that their lives won't change after vaccination is tantamount to telling schools to remain closed.
At this point in the pandemic, Americans know how to keep businesses and schools safe for reopening, and we have highly effective vaccines that protect against severe disease, even from variants of the virus. Children and their families have suffered enormous collateral damage from the failure to open schools. Data point after data point shows that countries with a rapid vaccine rollout are seeing the expected, but still thrilling, decline in cases and hospitalizations. Fear was warranted at the outset by the severity of infection that can occur with COVID-19, and fear dies slowly. But public-health messengers and Americans as a whole must allow remarkable scientific progress to help assuage the misery of the pandemic. At this point, the power of these vaccines is undimmed by variants, and Americans, their public officials, and especially their schools must allow this optimism to now dominate.