The Vaccine Line Is Illogical
Medicines should be distributed equitably, but the neediest are seldom at the front of the line.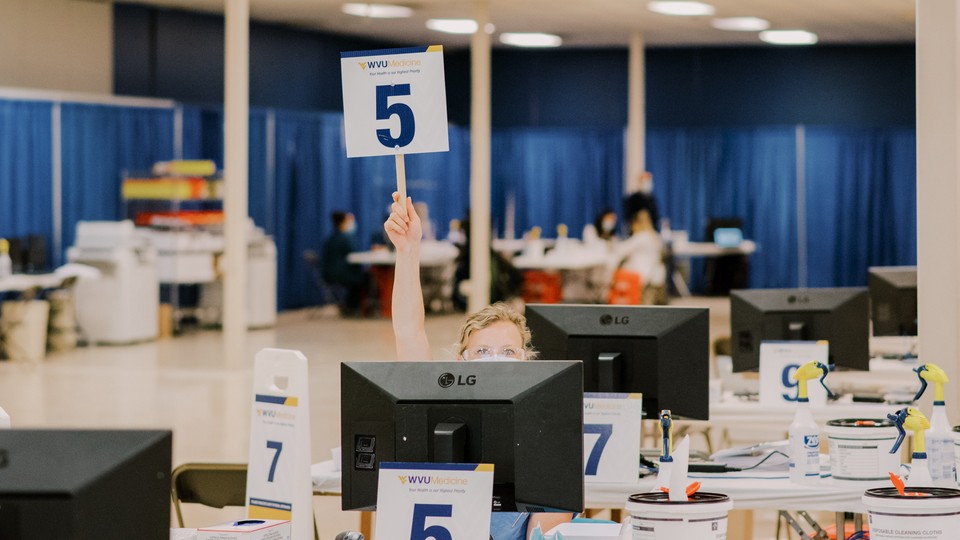 In mid-January, I got an email telling me that I should schedule a visit to get my COVID-19 vaccination. I was a little surprised, as I am only 57 years old and didn't think I qualified for the shot. I am also HIV-positive, but that shouldn't move me ahead in line; my virus is well controlled on antiretroviral therapy, and my life expectancy is near normal. I am a professor at a public-health school, but that does not make me an essential worker. Meanwhile, my 86-year-old mother, who lives in New York, just one state over from where I live in Connecticut, is dutifully waiting for a call from her doctor's medical network to tell her to come in for her first vaccine dose. I told her not to hang by the phone, as I doubted anyone would be calling soon.
Vaccinations and medicines should be distributed equitably, but the neediest are seldom at the front of the line. Every state and every health-care provider has protocols that supposedly direct the first coronavirus vaccines to the people who need them most. Communities are moving down their list at different speeds and in different orders, but the definition of who goes next is being interpreted broadly.
In the earliest phase of the vaccine rollout, hospitals and medical schools were giving out vaccines to administrators, health-care workers who are far from the front lines of COVID-19 care, and even medical students, who are not on the wards. But now I'm seeing 30-somethings on my Facebook feed talking about their vaccinations, and others in their 40s and 50s taking their shots as well.
It's nearing the end of the month, and I still haven't followed through to get my shot. I posed my dilemma to many colleagues—am I queue-jumping if I take the chance to get vaccinated now, when people at far greater risk of acquiring SARS-CoV-2 and getting seriously ill potentially haven't been vaccinated yet? I also took the question to Twitter, where physicians and other health-care workers, ethicists, and members of the lay public urged me to take the opportunity to get vaccinated now. The reasons were compelling. In the chaos of the moment, with supplies low, just getting jabs into people's arms is what is important. Vaccines shouldn't go to waste. I would be contributing to herd immunity. My HIV status still presents some risk beyond that of others in my age cohort. Most of this, particularly the need to get as many people vaccinated as quickly as possible, is true.
But I still don't feel like the advantage given to me is fair. In the United States, we have far too much practice in ignoring the ethical dilemmas staring us in the face, and the coronavirus vaccine rollout continues deadly old patterns. In 16 states that release data on the demographics of vaccination, Black Americans are falling behind, while their white counterparts are being vaccinated at rates two and three times higher. Deaths from COVID-19 have and continue to hit communities of color hard, so even if people callously dismiss calls for racial equity, the epidemiological case stands on its own: Those at greater risk of getting COVID-19 and getting seriously ill are not being vaccinated first.
Zoom out further and the global scenario is catastrophic. Oxfam predicts that nine out of 10 people in poor countries will not get vaccinated this year. Tedros Adhanom Ghebreyesus, the head of the World Health Organization, said on January 18 that more than 39 million vaccine doses had been given in 49 rich countries, but one poor nation—Guinea—had just 25 doses. Imagine if President Joe Biden or one of his counterparts in the G7 said that only 25 people could get even one dose.
I spent most of my life researching HIV, much of it to expand access to AIDS treatment around the globe. All I can see right now is the world repeating the sad history of access to life-saving AIDS drugs. I am alive today because, when the treatment came out in the mid-1990s, I was able to get access to them, first in a clinical trial, then at the pharmacy with a prescription from my primary-care physician.
Access to antiretroviral medicines wasn't even on the world's agenda until the 21st century, when South African, Thai, and Brazilian activists, politicians, and other leaders challenged rich nations to step up and address the obvious injustice. Initially they heard hemming and hawing about the frailty of health systems in the developing world; the need to focus on basic health care before thinking of such "fancy" interventions as antiretroviral therapy; and, in one of the most odious excuses, from the head of the U.S. Agency for International Development, a notion that Africans couldn't tell time, which meant they'd never take their pills as scheduled on a daily basis. But activists in the global south persisted, with leaders including Nelson Mandela rebuking the rich nations of the world for leaving people to die.
The inequities in the AIDS crisis don't happen only abroad. In the U.S., the AIDS epidemic is roaring across the rural South, where one out of two—a full 50 percent of—African American gay men are likely to be diagnosed with HIV in their lifetimes, compared with one in 11 white gay men.
The poor and the marginalized are always at the back of the line. For HIV, for COVID-19. But this is not destiny or fate. Many of the activists in the global south who pushed for access to antiretroviral therapy are at the forefront of this new fight for vaccine equity.
My South African friend and colleague Zackie Achmat, who is HIV-positive, said almost 20 years ago that he wouldn't take antiretroviral drugs to save his own life until his government made them freely accessible to the poor. He was mainly fighting back against President Thabo Mbeki, who blocked access to these drugs while in the thrall of conspiracy theories that suggested HIV didn't cause AIDS and that the drugs were poison. However, Achmat was also taking a stand against drug developers that balked at price reductions and at allowing local companies to produce their medicines. Developers are taking similar stances today. Moderna, for example, has priced its mRNA vaccine out of reach for most of the world and has prioritized access in high-income countries.
Companies and government inaction are standing in the way of progress. But let's be clear: The cult of "me first"—whether it's at the scale of nations hoarding vaccine doses; leaders ignoring the plight of the marginalized in their own backyards; or the mad, individual-level scramble to get a jab as soon as one can figure out how to—is the source of the problem.
What needs to happen? First, the deficit Kabuki theater about how to shrink the pandemic relief bill needs to stop. America is going to need far more than what's on the table now ($1.9 trillion) to vanquish this plague. The past few weeks have also shown that inequity is built into distribution systems in the U.S. Instead of blaming the Trump administration's failed rollout, the Biden administration needs to fix it. The National Academies of Sciences, Engineering, and Medicine have recommended using the CDC's Social Vulnerability Index to guide vaccine efforts with equity as a primary consideration.
Biden has said that he expects we'll have enough doses to vaccinate all Americans by the end of this summer, but he's said nothing about my friends around the world who will watch us once again shove our way to the head of the line with barely a glance backward to see who is left behind. The U.S. needs to massively scale up the production of Moderna's and Pfizer's vaccines right now; they are potent and already in use. If these companies cannot make enough vaccine for the world—and they surely cannot—public production must start in the U.S. and in other countries that have domestic pharmaceutical capacity, such as South Africa, Brazil, and India.
I'm not asking you to give away your shot based on my own ethical dilemma. My delay in signing up for my vaccination might not persuade our political leaders to take equity more seriously than they have to date. If you have the opportunity to get vaccinated, don't wait. Urge your friends, family, and colleagues to do the same.
But for me, watching history repeat itself is just too hard. I can't simply roll up my sleeve and show my vaccination card as some trophy afterward. I'll help my mother get the vaccination she needs. As for me? I'll wait.