Is It Safe to Go Back to the Movie Theater?
Despite being indoors (a red flag), the sort of behavior engaged in at the movies is, relatively speaking, benign.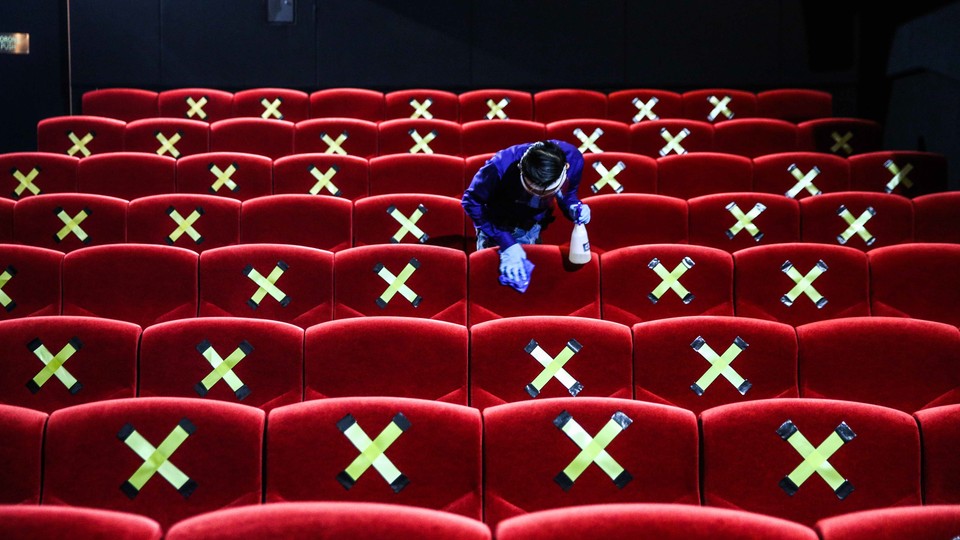 As COVID-19 case numbers drop, hospitalizations decrease, vaccine administrations increase, and blockbuster season approaches, Americans who think big movies deserve a big screen are wondering when they can dare return to theaters. The closest deadline for many is the March 31 release date of Godzilla vs. Kong: If you're going to watch a skyscraper-sized monkey punch a battleship-length lizard, you probably want to do so on a screen the height of a McMansion.
New York Governor Andrew Cuomo spoke for philistines everywhere in August when he stated that movie theaters were "not that high on the list of essentials," and signaled that he would keep them closed in America's largest city indefinitely. And when The New York Times interviewed health experts back in September about moviegoing, they implicitly took Cuomo's side: None advised buying a ticket. But if other indoor activities are reopening—as dining did in New York City on Friday—movie theaters should too. As the epidemiologist Julia Marcus has argued, expecting Americans to abstain from social contact is unrealistic. Marcus advocates "a harm-reduction approach [that] acknowledges that people will take risks for a variety of reasons, including a basic need for pleasure." In that conceptual framework, theaters for some may represent a worthwhile risk.
"I don't think theaters should be closed at this point," Robert Lahita, a clinical professor of medicine at Rutgers New Jersey Medical School and the chair of the department of medicine at St. Joseph's Healthcare System, told me. "In fact, a month ago, I said they should have been open, especially if we're taking kids to school and kids are before teachers in live learning. There's no reason that theaters should be closed."
That's assuming proper precautions are in place: that moviegoers are wearing masks, that auditoriums are not overly full, and that ventilation systems have been improved so as to better filter out exhaled pathogens, Lahita said.
Right now, theaters are nowhere close to full, as a look at the weekend box office will reveal; and theaters have indeed ramped up their efforts to keep the surfaces you touch and the air you breathe cleaner. "What the movie theaters are doing is that they are adding a layer of prevention by increasing the air exchanges" and using stronger filters, David Goldsmith, an epidemiologist at George Washington University who has helped the major theater chains develop their pandemic safety protocols, told me. "[The filters] are very high-contact to capture both garden-variety viruses but also COVID-19, which is similar in terms of [particle size]. But what they're doing is that they're putting in place a better means of keeping whatever viral transmission there might be in movie-theater air. By improving the air exchanges, they are capturing more of those particles, if they are there." In most cases, moreover, each auditorium has its own dedicated air-conditioning system—meaning that cross-theater contamination is not a concern.
In terms of viral hazards, not all activities are created equal, because not all activities are equally conducive to spreading disease-carrying droplets through the air. Houses of worship—where people congregate in close quarters with poor ventilation while singing hymns—are more likely to serve as locations for a super-spreader event than, say, playgrounds. Weddings are more dangerous than picnics. Indoor dining is probably on the dangerous end of the spectrum, but America's patchwork contact tracing has made that more difficult to definitively prove than it should be.
Movie theaters are in a gray zone. Despite being indoors (a red flag), the sort of behavior engaged in at the movies is, relatively speaking, benign. Patrons who can and should wear a mask for the duration of their visit face the same direction and don't chatter much. Theaters are "less risky than places like gyms, where people are breathing heavily and sweating, or bars, where people can get too close or talk loudly and expel more of the virus, even with masking requirements," Natascha Tuznik, a UC Davis Health professor, said when California theaters were considering reopening.
"No one, as far as I have been made aware, has reported that there [has] been, let's say, some sort of a community outbreak as a result of people attending a showing of a movie," Goldsmith said. Cinemark CEO Mark Zoradi told me that he has not been contacted by any level of government about one of his theaters being a site of infection.
Theaters are not perfectly safe; the safest place for most people is at home, and transmission is of course possible in a theater. Cinemark itself, in a suit filed against an insurer to recover COVID-related losses, admitted that "from June to November 2020, at least 14 employees … were exposed to COVID-19 at a Cinemark Location." But let's keep that number in perspective—Cinemark employs thousands of people. Beyond Cinemark, moreover, theaters appear absent from the literature on COVID-19 outbreaks; as recently as December, The Atlantic's Zeynep Tufekci couldn't find any cases traced back to theaters anywhere in the world.
What can you expect if you take the risk? Movie theaters in the age of the coronavirus have placed an almost disconcerting emphasis on safety. On my most recent trip back to my local Alamo Drafthouse, to see Akira in September, theater employees and patrons wore masks; I preordered food rather than interacting with servers, and found plastic wrap on top of the bucket of popcorn delivered to my seat. Before the opening credits, I was subjected to a public-service announcement, rendered in cutesy late-Atari/early-Nintendo-style graphics, explaining everything the theater was doing to keep me from catching the virus. Preordered food! Masks! Touchless entry! Hand-sanitizer dispensers! Distanced seating! Distanced exiting! Deep cleaning after each show!
The National Association of Theatre Owners has codified these and other safety precautions as part of their CinemaSafe program; as someone who used to visit theaters multiple times a week for both business and pleasure, I can assure you that they've never been cleaner. Cleanliness is closer to hygiene theater than a true prophylactic, however; Goldsmith and Lahita concurred that, all things considered, efforts undertaken by theaters really matter only if people are properly wearing masks.
Even assuming mask compliance, the virus is out there, which helps explain the proliferation of private screenings at chains such as Cinemark, AMC, and the Alamo Drafthouse. Customers can rent out a theater and limit attendance to a trusted circle of friends—people you know will be wearing masks and won't be shouting at the screen. Zoradi said they had hosted more than 60,000 such parties when I talked with him late last year. Rounding up a group of trusted friends and renting out an auditorium might be the safest bet in the near term for those who remain hesitant and don't trust the masses; Lahita suggested that we won't near herd immunity until the end of the summer.
Separate from the question of whether it's safe to go to theaters, relative to other indoor venues, is whether it's worth going when there's so much to watch at home. Netflix is dropping new shows and movies every week. Hulu, Apple TV+, and Disney+ are increasing their output. Relatedly, some might wonder why on earth I went to see Akira, a decades-old film that I already own on DVD, in a theater in the midst of a pandemic.
But those people have probably never seen Katsuhiro Otomo's masterpiece in a theater with a punishingly loud speaker system at full blast. Some movies are meant to be seen on a screen that won't fit in your media room, and are best enjoyed with other people. If hapless pols making it up as they go along, like Cuomo, can rationalize keeping casinos open—we don't want to lighten the state's pocketbook, do we?—certainly they can allow people to make up their own minds about the cinema.