'Some Team Has to Want Me'
The NFL has pledged to address racism, but team owners still won't put Black coaches in charge.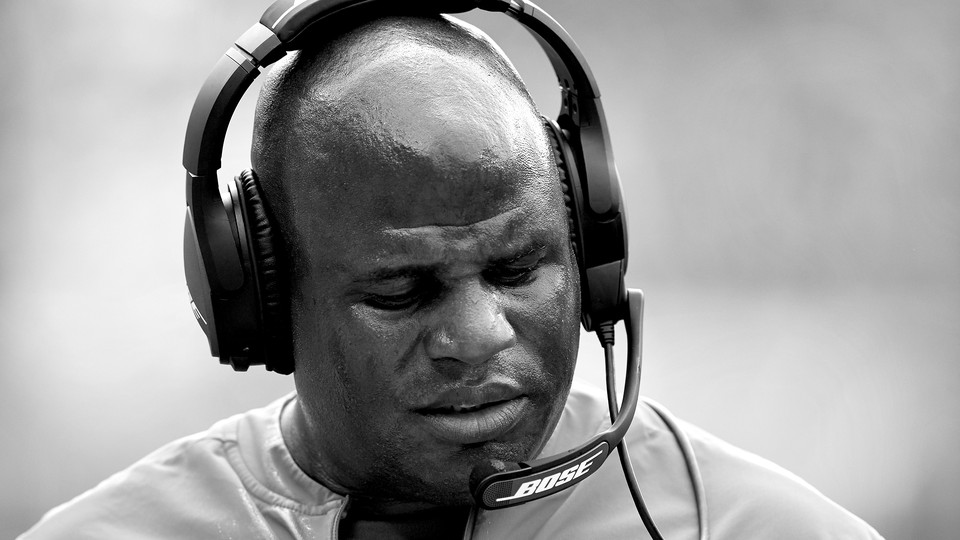 In Sunday's Super Bowl, three of the four offensive and defensive coordinators—the highest-ranking assistant coaches on the field—will be Black. That their teams are competing for a championship isn't the only thing Eric Bieniemy of the Kansas City Chiefs and Byron Leftwich and Todd Bowles of the Tampa Bay Buccaneers have in common. They also are striking examples of how the National Football League continues to fail Black coaches. Last May, after George Floyd's death in police custody, NFL Commissioner Roger Goodell pledged to use "the power of our platform" to address "systemic issues" of racism—but that commitment doesn't seem to extend to the league itself.
Bieniemy, 51, the offensive coordinator for the NFL's defending champions, interviewed unsuccessfully for six head-coaching positions during the current hiring cycle after being passed over for multiple openings in the previous cycle. Leftwich, 41, the Buccaneers' offensive coordinator, was offered no interviews at all this time—a snub that made the Tampa Bay head coach, Bruce Arians, "very, very pissed." Bowles, 57, Tampa Bay's defensive coordinator, is a former New York Jets head coach who was fired after overseeing that perennially mediocre team for a few years. Plenty of white coaches have been able to find new opportunities after being fired, but Bowles has had no such luck on the open market.
Making the insult worse, Bieniemy and other unsuccessful head-coaching candidates are forced to answer publicly for the NFL owners' unwillingness to trust Black men in top jobs while the owners themselves remain in the shadows. "Some team has to want me," Bienemy told reporters when asked about his job prospects at a news conference on Tuesday. "On top of that, there has to be some kind of collaboration, making sure the chemistry is a fit. So for whatever reason, that chemistry has not been a fit." He and other Black head-coaching candidates have to take the high road, even as the NFL's institutional racism pummels them again and again.
NFL owners go out of their way to extend opportunities to white coaching candidates. A case in point is the former Indianapolis Colts offensive coordinator Nick Sirianni, who was on vacation in mid-January when he was called to interview to be the head coach of the Philadelphia Eagles. But Sirianni had a big problem: He didn't have a suit for his interview. That, apparently, did not disrupt the chemistry between him and the Eagles. According to a local reporter, the team brass wore casual clothes to put Sirianni at ease. Within days, the team announced that the 39-year-old Sirianni was the new coach.
The Houston Texans have hired a Black head coach—David Culley, formerly of the Baltimore Ravens. But before doing so, the team interviewed quarterback Josh McCown—even though McCown had never held an NFL coaching position and was on the Texans' active roster last season. Interviewing McCown was an affront to all coaches, but especially Black candidates who over the years have had to witness the relaxed standards for white coaches while many of their exemplary résumés are overlooked.
According to a 2020 report from the Institute for Diversity and Ethics in Sport, about 60 percent of NFL players are Black, but during the 2020 season only three of 32 franchises had Black head coaches. As of this week, the league has only five Black general managers and only one Black team president—the first in the NFL's century-long history. Of the seven head-coaching jobs that opened up in the current cycle, only one went to a Black candidate—Culley. Of the 27 head-coaching vacancies in the past four NFL hiring cycles, just three have been filled by Black coaches.
A year ago, I decried NFL owners' refusal to trust Black men in positions of authority:
Little progress has occurred in recent years, despite Goodell's pledge to address systemic racism; despite new resolutions that the league adopted in November to promote minority hiring; and despite the Rooney Rule, a 2003 league policy that required teams to interview at least one candidate of color for every open head-coaching position.
Even before Floyd's killing and the nationwide protests that ensued, the NFL made a lot of promises to an understandably skeptical African American community. Black fans overwhelmingly supported Colin Kaepernick's peaceful protest against police violence in 2016, but the former San Francisco 49ers quarterback became persona non grata to conservative franchise owners. In 2018, the NFL committed nearly $90 million to the Players Coalition—a group of current and former NFL players seeking to advance social justice—in what was seen as the league's attempt to get players to stop kneeling during the national anthem. At the time, Goodell said he wanted to "get beyond what we call protest to progress, get to the point where we can make that positive change, because people come to our stadiums to be entertained, have fun, not be protested to."
In August 2019, the NFL tapped the rapper and entertainment mogul Jay-Z and his company, Roc Nation, to oversee the league's Super Bowl halftime show. The partnership also includes a collaboration on the league's "Inspire Change" campaign, a 10-year, $250 million initiative to "support the battle against the ongoing and historic injustices faced by African-Americans." The league ran an ad during last year's Super Bowl that highlighted the killing of Botham Jean by a Dallas police officer and another that featured the former NFL player Anquan Boldin talking about his cousin Corey Jones, who was fatally shot by a police officer while waiting for a tow truck.
All of these gestures, while well intentioned and useful in drawing attention to the persistence of racial inequity in the United States, do nothing to address the historic injustices that continue to fester inside the league. In fairness, Goodell works for the NFL's owners. Ultimately, he can do only so much to advance racial progress, since it's the owners who choose their team presidents, general managers, and head coaches. But the evidence suggests that Goodell and the owners vowed to work for racial healing not because it was the right thing to do, but because they believed the players' peaceful protests were hurting the bottom line.
If America's—and the NFL's—ongoing racial reckoning shows anything, it's that the public should compare what is said with what is done. After police in Wisconsin shot a Black man named Jacob Blake in the back last summer, the Eagles' owner, Jeffrey Lurie, told reporters, "There's so much pain both in our country and around the world, and obviously we're going through two terrible, terrible pandemics—one that's existed for the history of our entire country, the pandemic of systemic racism, violence to minorities, oppression, all that kind of activities that have been part of our history; and obviously the once-in-the-last-100-years health pandemic that's been devastating as well." As teams were canceling practices to process Blake's shooting, the Dallas Cowboys' owner, Jerry Jones, a close friend of then-President Donald Trump's who is known to be politically conservative, said: "I want our team to be a part of change." And yet, according to a USA Today report, the Eagles haven't hired a person of color as either head coach or general manager since 1999, and the Cowboys have never done so.
The NFL can't keep saying one thing and doing another if it wants to be considered a real ally to the Black community. The league is rife with hypocrisy and double standards that go well beyond a relaxed dress code for an interview. The NFL owners have sent the message that they'd rather hire Black men as laborers than as leaders.