Is America's Educational System Becoming More Pluralistic?
The past year has produced a cross-class coalition for educational choice that reaches deep into the suburbs.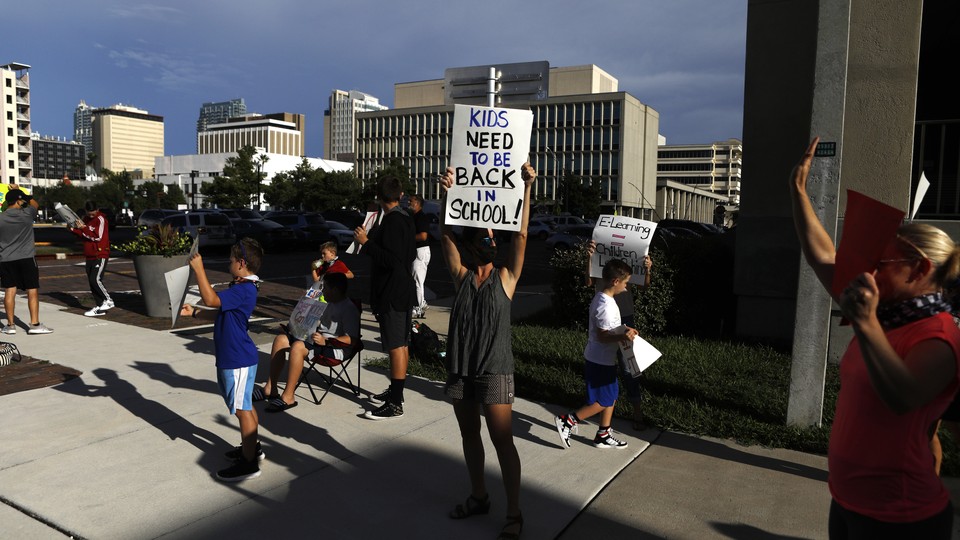 Updated at 1:49 p.m. ET on February 11, 2021.
President Joe Biden has made it clear that he wants to "reopen school doors as quickly as possible," and that he's willing to spend generously to make this happen. But he's not going to get his wish. Even if Congress passes the president's pandemic-relief plan, which includes $130 billion for the reopening of K–12 schools, in addition to the $67.2 billion Congress has already authorized under the CARES Act and the pandemic-relief legislation that passed in December, some teachers' unions are setting out conditions for reopening that will be exceedingly difficult to meet, and threatening further "safety strikes" if they don't get their way. In some districts where the teachers' unions are especially powerful, the return of in-person learning might not happen until well into the 2021–22 school year. And the longer the COVID-19 disruption lasts, the more likely it is to have a deep and lasting impact on the politics of public education.
The heavy toll of school closures—on parents who are finding themselves under intense economic and emotional strain, on students who are experiencing profound learning loss that threatens to compound over time—might have been expected to put teachers' unions at a political disadvantage. That's certainly the impression you'd get from recent reports of fierce battles over school reopenings in cities and towns across the country. Judging by recent surveys, however, parental opinion of teachers' unions has barely budged since the start of the pandemic.
Why has the political response to school closures been so muted? For one, at least 28 percent of students are receiving instruction that is fully in-person, and many reside in Republican-leaning districts. As the political scientists Michael T. Hartney and Leslie K. Finger recently observed, the best predictor for whether a school district offered in-person learning this fall was Donald Trump's vote share in that district in 2016. In California, for example, public schools in politically competitive and right-leaning areas such as Fresno, San Diego, and Orange Counties are mostly in-person while schools in San Francisco, Oakland, and Los Angeles remain entirely remote. Reopening battles between unionized teachers and parents desperate for in-person learning are mostly taking place in Democratic cities and suburbs.
Moreover, blue-state parents are divided on the question of reopening schools. Though learning loss has been particularly pronounced for low-income students of color receiving instruction remotely, working-class Black and Latino parents are far more reluctant to send their children back to school than white parents and more affluent parents, many of whom are clamoring to do so.
One might therefore conclude that parental outrage over prolonged, evidence-defying school closures is a niche phenomenon, which teachers' unions and their allies can safely ignore. But that would be a mistake. The upper-middle-income parents who are most exercised by union resistance to school reopenings play a disproportionately large role in shaping the structure of American public education. If a growing number of these parents decide that they have an interest in alternatives to union-dominated district schools, expect the educational landscape to start looking very different.
Consider that support for educational choice among Democratic voters has, for years, followed a bifurcated pattern, in which Black and Latino people's support for targeted vouchers, universal vouchers, and charter schools has surpassed support among white people. Nevertheless, Black and Latino support for educational choice hasn't made much of a difference in national Democratic Party politics. One explanation is that the organized and focused power of the teachers' unions has proved more meaningful in Democratic primary elections than the diffuse sentiments of working-class parents of color, many of whom do not vote.
Yet the teachers' unions have been at their strongest when they've had grassroots support. More often than not, that support has come from upper-middle-income parents who are deeply invested, literally and figuratively, in their suburban district schools. In an age of civic decline, district schools remain a powerful tool for fostering social ties and a sense of shared purpose among parents in a given community, as the Dartmouth economist William A. Fischel argued in Making the Grade.
Since the advent of the school-choice movement, its most tenacious and effective blue-state opponents have been affluent suburban parents who have an interest in defending the exclusivity, perceived quality, and fiscal stability of their schools. That has meant ensuring that district borders are stringently enforced, local property-tax wealth flows into local district schools, and exits to nondistrict alternatives are kept to a minimum. School-choice policies threaten to undermine every one of these pillars: Interdistrict-choice programs would allow out-of-district students to enroll, thus undermining schools' exclusivity and perceived quality, and they'd enable parents dissatisfied with district schools to find alternatives, diverting resources in the process.
Over time, however, suburban school districts have been growing less fortress-like. A number of states, including California and Texas, have made significant efforts to equalize school funding across districts, which have lowered the stakes of interdistrict choice. And with 14 percent of all public-school students now receiving special-education services of one kind or another, a growing number of suburban parents are embracing the idea that their children might benefit from specialized options beyond their local district schools.
Just as important, I suspect, the COVID-19 school closures have disrupted the community-specific social capital that has been so essential to the political strength of district education. They've led some families to relocate, and many more to consider doing so. If you believe that the rise of remote work is going to lead to a reordering of America's economic and social geography, it follows that schooling patterns will change as well.
Though not all of the families that have been forced to embrace "pandemic pods" to educate their children are thrilled about it, at least some of them will decide that micro-schools are a better option than traditional district schools after the pandemic subsides. Others will look to the relative success of high-performing charter networks and Catholic schools in navigating the tumult of the past year as a reason to welcome increased choice. And while support for the teachers' unions has remained stable in recent months, some evidence indicates that support for educational-choice reforms has been rising. Why fight over reopening your local district school if you can send your child somewhere else, without having to move to another town or another state?
None of this is to suggest that the deconsolidation of American public schooling is inevitable. Demand for alternatives to one-size-fits-all district schools will mean nothing without an increased supply of attractive educational options, and the teachers' unions and their allies can do a lot to stymie the emergence of alternatives. What's also true, however, is that a cross-class coalition for educational choice that reaches deep into the suburbs will be much harder to marginalize and defeat than one centered in low-income urban neighborhoods.
As disastrous as the pandemic has been for education in the short term, it might be the deus ex machina that leads to a more pluralistic educational system in America.