The Pandejo Movement Destroyed California's Pandemic Progress
A cautionary tale about what happens when municipalities lift restrictions too soon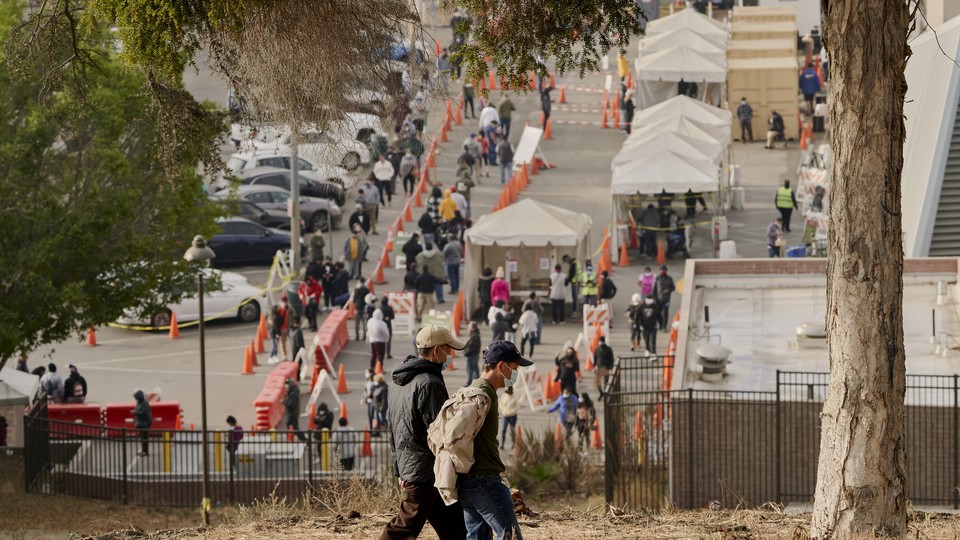 Every Saturday night from my doorstep, I witness the agony and stupidity that is the coronavirus in Southern California. I live in Santa Ana, a supermajority-Latino city that has recorded 18 percent of all COVID-19 cases in Orange County and 18 percent of related deaths, despite making up just 10 percent of the county's population.
When I step outside my home, I see plastic signs staked next to sidewalks asking—urging, really—in English and Spanish for everyone to wash their hands, wear face masks, and practice social distancing. The hashtags #ProtectSantaAna and #ProtegeSantaAna top these instructions.
The earnestness and importance of the messages don't matter: Everywhere I turn, my neighbors ignore the suggestions with gusto. Down the street are tents on front yards packed with people attending a birthday party. Over there is a taco truck where people chow down shoulder to shoulder, despite signs stating that all orders are to-go. Off in all directions, I hear music: live mariachi, conjunto norteño outfits, brass bands, and DJs, echoing from blocks away. Sometimes I can even catch the sermon of a Pentecostal minister who never bothered closing his storefront church to indoor service.
It's the raucous soundtrack to barrio life that's wonderful to hear during normal times. Nowadays, the scene reminds me of the orchestra on the Titanic.
"It's sadness," the newly elected Santa Ana mayor, Vicente Sarmiento, told me. "We're killing our own."
The coronavirus has come through Southern California with such force that we're now a case study of extremes. We were hailed worldwide for flattening the first coronavirus wave. Some even theorized—and too many wanted to believe—that millions of us were already immune to COVID-19. Now we're a cautionary tale for what happens when municipalities lift restrictions too soon and not enough people heed the Anthony Faucis of the world.
As I write, the seven-day average for new cases in the five counties that make up the Los Angeles metro area—L.A., Ventura, Riverside, San Bernardino, and Orange—is 15,583. That's 60 percent of California's total seven-day average, even though those counties are home to just 47 percent of the state's population. On the New York Times' coronavirus map, Southern California's crimson-red hue, highlighting our disaster, is as foreboding as a drought map.
How Southern California became the American epicenter of the disease will be debated for years to come; income disparities and medical inequities are top issues. But one of the more obvious reasons is also one of the least highlighted: The coronavirus is as bad as it is here because it's tailor-made to target those who work blue-collar jobs that are impossible to carry out at home, belong to deep social networks, and live in multigenerational households. Sounds like the Latino community, right? In normal times, we hold these attributes dear, but they are now our Achilles' heel.
"Let's put it like this: It would be a surge for any [group] with these characteristics," says David Hayes-Bautista, the director of UCLA's Center for the Study of Latino Health and Culture. "It just so happens that Latinos occupy that space" in Southern California.
Hayes-Bautista spent nearly all of 2020 publishing policy papers on the pandemic. The title of his next one is the most sobering yet: "COVID-19 Punishes Latinos for Hard Work and Strong Families."
Latinos account for about 39 percent of California's population, but 55 percent of its coronavirus cases and nearly half of its coronavirus deaths. And the list of the hardest-hit areas is a roster of Southern California's most famous Latino enclaves: Pacoima (the hometown of new U.S. Senator Alex Padilla), Boyle Heights, East Los Angeles, Huntington Park.
In Los Angeles County, the Department of Health estimates that daily COVID-19 deaths among Latinos went from about 3.5 per 100,000 people in early November to 28 per 100,000 in January—an increase of almost 800 percent. In Ventura County, two zip codes in the city of Oxnard account for around 30 percent of all COVID-19 cases—and these spots just so happen to correspond with where farmworkers live and pick. In Orange County, Latinos make up 34 percent of the population but 44 percent of all cases and about 39 percent of deaths. This disparity is mostly because of Santa Ana and my Latino-majority hometown of Anaheim, which represents nearly 16 percent of coronavirus cases in the county and nearly 20 percent of deaths.
But I shouldn't ignore a nonstructural issue that makes the coronavirus a potent anti-Latino foe: pandejos. The term is a portmanteau of pandemic and pendejo ("dumbass" in Mexican Spanish) that bubbled up online last year and is the Spanglish equivalent of covidiot. Most of those who flout or protest COVID-19 restrictions are not Latino, but they're definitely among the ranks.
Sheriffs all across Southern California have publicly proclaimed that they won't enforce local or state mandates against gatherings, relying on Oath Keepers–esque rhetoric for their logic—Orange County Sheriff Don Barnes, for instance, appeared on Fox News in December to state that stay-at-home orders don't stand "the constitutional test" (a funny thing to say considering that the Department of Justice is investigating his department and the Orange County district attorney's office over a jailhouse-snitch scandal, but I digress). Roving packs of anti-science wackos are storming malls and supermarkets to scream at people for daring to wear a mask, while police officers stand by and do nearly nothing. Loud protests against curfews and even mask-burning bonfires have popped up along the Orange County coast since the summer. Cities and school boards have sued California over various coronavirus closures, ranging from beaches to schools. And less confrontational but even more frustrating for me are all those compas and comadres in my neighborhood who just keep carrying on as if a deadly disease weren't wasting so many of us.
The blooming of this movement wrecked the advancements Californians had accomplished, Hayes-Bautista says. "This particular epidemic, we had under control in California up to May," he told me. "But then [the Trump] administration … presented these control measures as a socialist thing."
He's referring to former President Donald Trump's skepticism toward any coronavirus-mitigation efforts, including lockdowns ("Our country wasn't built to be shut down") and masks ("Maybe they're not so good").
"We had this very loud, persistent drumbeat narrative" coming from people in power, Hayes-Bautista added. "It got people confused."
Latinos banging that drum deserve particular scorn because they attract unwanted attention to the whole community. For example, on Southern California's top-rated John and Ken Show, the conservative hosts suggested that authorities should crack down specifically on Latinos. Besides, the pandejos should know better, given how la corona has destroyed us: Although Latinos may not be overrepresented among covidiots, they're certainly overrepresented among the victims of that attitude. Again, many in the Latino community are essential workers, and they have no choice but to go out into the world, interact with all manner of anti-maskers, and risk getting infected; then they go home to their multigenerational households, where they could spread the disease. The pandejos who party in their front yard are as bad as the anti-vaxxers and militia types the left rightfully mocks.
Sarmiento agrees with Hayes-Bautista that the politicization of COVID-19 "makes people question why they should even bother to obey any mandates, even if they know they should … I don't think we're an inherently defiant people, but Latinos have been the victims of a lot of misinformation. And you have this ... element that is out there. They're acting like they're invincible."
COVID-19 cases are finally falling in Southern California just as vaccines are beginning to be rolled out. But Sarmiento knows that for all the work he's done to encourage mask wearing, testing, and the like since assuming office in December, he'll have to do yet more to persuade his constituents to get a shot.
"I can already hear people telling me, 'We're not going to take them, because I heard on the internet they're going to put chips in us,'" he said. "It's hard. You're practically begging and pleading for folks to understand, to hold on even for just a couple more months."
Maybe Southern California will get it together on vaccines, but I'm not optimistic—just yesterday, I had to reassure my dad that the coronavirus vaccine won't put a chip in him. As we say in the old country, Ya, güey: Please, stop!