Growing Old, Alone
Isolation has taken a tremendous emotional toll on many older Americans.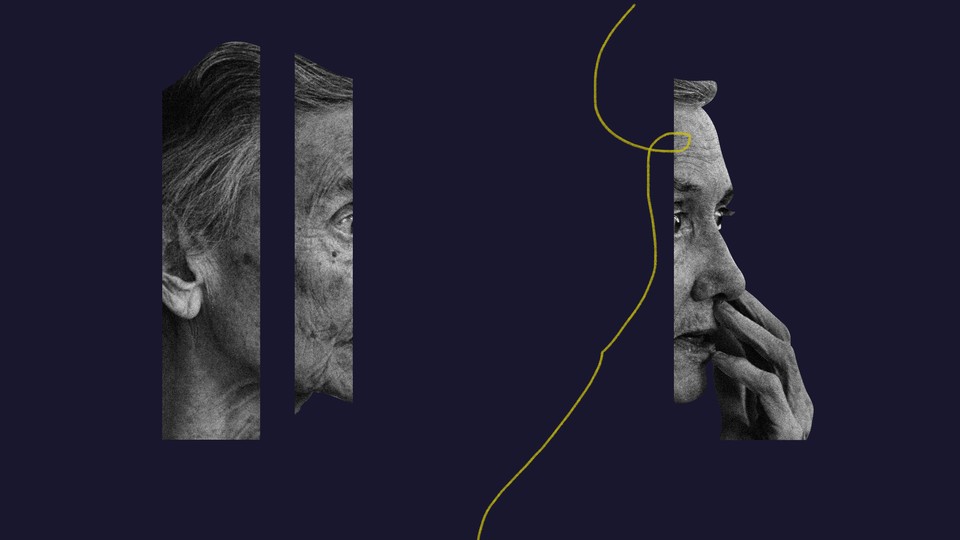 As the country plunged into a deep and unusual economic recession last year, it also plunged into a deep and unusual social recession: atomizing families and friends, evaporating hours of laughter and care and touch.
This phenomenon hit nobody as hard as America's seniors, who are much more likely than their younger counterparts to live in care facilities and many of whom have struggled to connect in a socially distanced or virtual fashion. The elderly bore the brunt of the pandemic's fatalities: COVID-19 has killed nearly 250,000 people over the age of 65. They also bore the brunt of its isolation. Many older Americans spent months discriminated against, frightened, and alone.
"When we look back on this in the years to come, I imagine there's going to be a lot of Monday-morning quarterbacking around whether it was a good idea to blockade older adults in their nursing-home rooms for eight, nine, 10 months out of the year, without letting them have access to their families," David Grabowski, a professor of health-care policy at Harvard Medical School, told me. "I think we're going to look back and say, What the hell were we doing?" What we were doing was failing to save seniors' lives or maintain their livelihoods.
America's inability to—or, really, its decision not to—control the virus has meant a precipitous decline in quality of life for its oldest and most fragile, and a catastrophic number of deaths among them. People over the age of 85 are 630 times as likely to die of COVID-19 as people in their 20s, and 95 percent of coronavirus deaths have occurred among Americans older than 50. Data compiled by the Kaiser Family Foundation show that COVID-19 has claimed the lives of more than 100,000 people in long-term care facilities, meaning roughly 40 percent of coronavirus deaths have occurred in institutions housing fewer than 1 percent of Americans.
The kind of work done and the kind of care needed—the very architecture of life lived—in nursing homes and similar facilities pose a challenge when it comes to preventing the spread of the novel coronavirus. Such facilities congregate people, and have a rotating cast of caregivers, housekeepers, food-service workers, medical experts, and others tend to them. The work is often close, intimate—bed baths, blood draws, spoon-fed meals.
Yet the United States, by any measure, has not met this challenge. Nine months into the pandemic, long-term care facilities are still facing shortages of personal protective equipment. Many are floundering financially, even with help from the government. They are still having problems getting COVID-19 tests turned around quickly. PPE shortages worsened in the third quarter of the year, with 17 percent of nursing homes reporting being low on or out of N95 masks, 11 percent out or nearly out of gowns, 9 percent short of surgical masks, and 8 percent lacking eye protection.
In this environment, care facilities have had little option but to close up. Following guidance from the CDC, many have barred in-person visits and kept residents in their rooms, among other measures. To compensate, facilities have set up Zoom and FaceTime calls, created outdoor areas for distanced visits, set up barriers that family members can talk through, helped residents play online social games, and arranged care-package drop-offs. Many of the care residents I spoke with for this article said that they had taken advantage of those options, and adapted.
Judy Friederici is a retired lawyer who proactively moved into a retirement facility a few years ago, as she is not married and does not have children. Isolation has been tough, she said, particularly given that she moved to her community in part to ensure she would not be isolated as she got older. But she has made a project of calling people in her complex who are likely to feel lonely.
Mary Anna Turner, who turns 100 next year, lives in a Virginia care facility. She indicated that her experience living through worse had given her some grit. "I remember flu epidemics!" she told me. "I remember I had a bad case, and I called a doctor and asked him to send me something for it. The nurse said no, and I asked, Why not? She said, Too many people are dying. We don't have anything to send you." Turner told me she misses her family, but is making do.
Still, the social recession among older adults in care facilities is Great Depression–deep. A survey conducted by Altarum, a nonprofit health-care research and consulting group, found "drastic" reductions in social connections among nursing-home residents. Just 5 percent said they had visitors three times a week, compared with more than half before the virus hit. Nearly all said they did not leave their care facility for a meal or to go shopping, compared with 40 percent before COVID-19. Only one in four was going outside for fresh air. Half said they no longer had access to activities such as art classes or group exercise. Nearly 90 percent said they could no longer eat meals in the dining room. Two in three said they no longer left their rooms to socialize with their peers.
For older Americans, virtual alternatives to in-person visits are often pale alternatives. Teresa Palmer, a geriatrician, called me with her 103-year-old mother, Berenice, who lives in a San Francisco skilled-nursing facility. Teresa has spent much of the year cajoling the local authorities to allow her more access to her mom: Berenice's hearing troubles make masked-and-distanced visits hard.
Turner indicated she had trouble with the same. "Sitting six feet apart, people will turn and say something directly to me, and I cannot understand what they are saying," she said. "It's still good to get together and socialize a little bit. They probably weren't saying anything important anyway."
For those with more profound medical challenges, the pandemic is yet harder. New Jersey–based therapist Abby Grayson's father, Robert Stillman, was a chemist who worked for Bristol Myers Squibb for decades. He has a degenerative neurological condition, and is now in hospice. "He has been in his room since March, 24 hours a day," Grayson told me. "We do FaceTime, but it's hard for him to track. He can't manage the keys and the buttons, and it's not a meaningful experience for him."
As his condition has worsened, his language capabilities have declined and touch has become all the more important, she told me. "I would hug him and hold his hand and stroke his hair, and he'd just soak it in," she said. "He's really eager for affectionate physical contact, which of course, as humans, we all are." But now, she said, "I don't think anyone touches him unless it's to do a medical procedure."
Isolation has taken a tremendous emotional toll on many older Americans. "Oh, it's just awful," Berenice told me. "You go from being a human being to being something that lies in bed most of the day. The nurses don't communicate well with you." It has also taken a health toll. "There's been more rapid language loss, and you see the delay in her responding and her difficulty processing," Teresa Palmer told me. "There's an element of depression. Social isolation, it's just not good for the brain."
Studies have shown that touch, talking, and social connection are crucial for both mental and physical health: Isolation and loneliness are associated with increased risk of depression, anxiety, and heart disease, among other conditions. "We expect the proximity of others, because throughout human history, we've needed to rely upon others," Julianne Holt-Lunstad, a professor of psychology and neuroscience at Brigham Young University, told me. "Our brain has adapted to expect proximity to others, particularly trusted others. When left without it, it triggers this threat response—the sense that everything in our environment is going to be more challenging."
Thankfully, for people living in care facilities, the end of the social recession and the pandemic is just a shot or two away. Nursing-home residents are among the first in line for the new COVID-19 vaccines. Still, the country's mismanaged coronavirus response has failed seniors. "We never found the balance between safety and resident quality of life and dignity," Grabowski, the Harvard professor, told me. Instead, we found some equilibrium that left hundreds of thousands of older Americans isolated and hundreds of thousands more dead.