The WNBA Can't Keep Kelly Loeffler Around
The defeated senator and Atlanta Dream co-owner is too far out of sync with the league's values.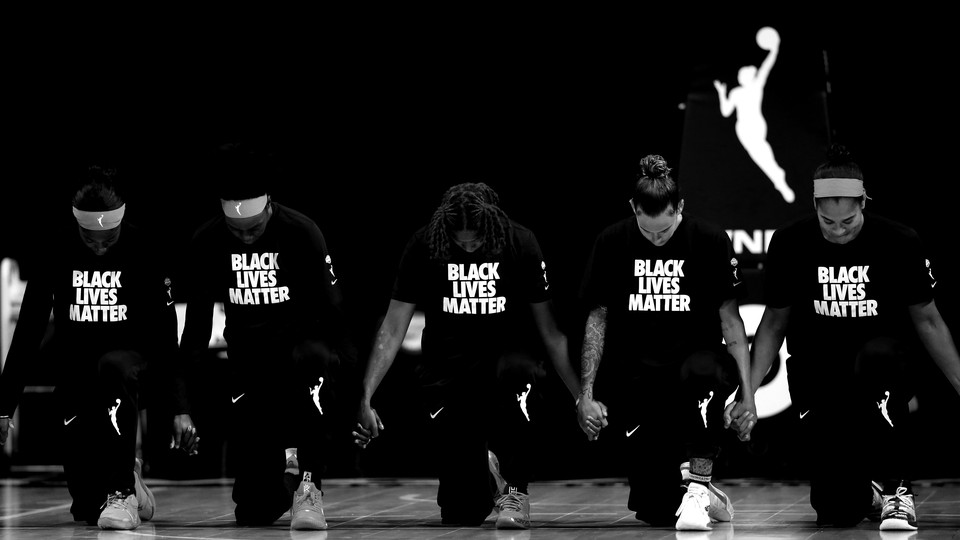 Last week, soon after Georgia chose its first Black senator, an idea began to circulate on Twitter: Perhaps the Reverend Raphael Warnock, who will be the 11th Black senator in United States history, should wear the WNBA's signature orange hoodie when he is sworn in. After all, the women's professional basketball league and its players share credit for Warnock's victory.
Last summer, members of the WNBA's Atlanta Dream and other players in the league decided to campaign for Warnock. The move was made especially newsworthy by this juicy punchline: Warnock was running against the Dream's co-owner Kelly Loeffler, the Republican incumbent who had angered her team and others across the league last summer by disparaging the Black Lives Matter movement as "a very divisive organization" that "promotes violence and destruction across the country" and "seeks to destroy American principles." Warnock was polling at just 9 percent when WNBA players decided to wear T-shirts reading Vote Warnock for their nationally televised games. The move raised Warnock's profile and helped anoint him as his party's best hope.
But now that Loeffler has lost and Warnock has been elected, the question the WNBA must face is: What should the WNBA do about Loeffler as an owner?
The answer is simple. Loeffler has to go.
She owns 49 percent of a team in a league in which 67 percent of the players are Black. As Loeffler's Senate race wore on, the split between her and her team's players only widened. You can be certain that Loeffler's harsh attacks on past sermons by Warnock, the pastor at the fabled Atlanta church where Martin Luther King Jr. once preached, infuriated not only Black religious leaders but many other Black Atlantans. Also, in December, she was photographed with a former Ku Klux Klan leader, Chester Doles, at a campaign event. Loeffler's campaign later explained that she had no idea who Doles was. But her tendency to draw supporters like him was alarming.
Renee Montgomery, an Atlanta Dream point guard, told me that she would have a hard time playing for Loeffler again, though ultimately she would want to show solidarity with her teammates. "It would be uncomfortable because I'd like to think that I stand for something," said Montgomery, who opted out of the WNBA's pandemic-disrupted 2020 season to focus on social-justice activism instead.
Ousting Loeffler won't be easy. The defeated senator, who has portrayed herself as a victim of "cancel culture," has insisted that she doesn't want to sell. Although her comments about Black Lives Matter were distasteful, they were less overtly offensive than the racist comments made by the former NBA owner Donald Sterling, who was banned from the league for life in 2014 after audio tapes of his remarks emerged. In addition to being banned, Sterling was fined $2.5 million—the maximum amount that the league could levy—and he eventually had to sell his team, the Los Angeles Clippers, following a lengthy legal battle.
The NBA didn't have much choice but to force Sterling out, especially after LeBron James, who at the time played for the Miami Heat, publicly stated that someone like Sterling didn't belong in the league. NBA Commissioner Adam Silver couldn't risk alienating James, the biggest star in the league, nor could he jeopardize his credibility with the rest of the league's Black players.
WNBA players have been just as vocal about Loeffler's presence in their league, but unfortunately they don't possess James's leverage. That's why the only thing WNBA Commissioner Cathy Engelbert has done so far is assure the public that Loeffler's views about Black Lives Matter "are not consistent with those of the WNBA and its players."
A lukewarm statement isn't good enough. For years, the WNBA has built social justice into its brand. In 2014, it was the first professional sports league to announce an official LGBTQ Pride campaign. In 2018, the league announced a campaign in which a portion of ticket sales would support Planned Parenthood and other nonprofits devoted to women's and girls' well-being.
The league's activism echoes that of its players, whose commitment to fighting racism deserves the WNBA's respect. In 2016, more than a month before the NFL quarterback Colin Kaepernick famously took a knee during the national anthem to bring awareness to police violence against Black people, the Minnesota Lynx put on warm-up shirts demanding accountability for the deaths of Philando Castile and Alton Sterling, two men shot and killed by police. Law enforcement in Minnesota were so outraged by the Lynx's response that they walked off their security posts during the team's pregame warm-ups. Players were undeterred. The four-time WNBA champion Maya Moore left the Lynx in 2019 at the height of her career to concentrate on freeing Jonathan Irons, a Black man who had been sentenced to 50 years in prison at the age of 18 after an all-white jury convicted him of assault and burglary. Moore's diligent advocacy led to his conviction being vacated by a Missouri judge, and he was freed last July after spending 23 years in prison. (Moore and Irons have since wed.)
With such a dedicated history of activism throughout the league, WNBA leadership should exhaust every avenue to push Loeffler out. It would also be smart business. Atlanta is a majority-Black city, and a WNBA owner who is seen as anti-Black makes it impossible for fans to feel good about rooting for the Dream, despite the team's open opposition to Loeffler.
The awkwardness of having Loeffler as a WNBA-team owner hasn't gone unnoticed. On Twitter, LeBron James suggested that he was putting together an ownership group to buy the Dream. The New York Times also reported recently that the philanthropist Mary Brock, the Dream's majority owner, is thinking about selling the team. This is an opportunity the league must seize for the sanctity of the game and the league's reputation.
This election season, Black women especially proved to be the caretakers of democracy. The WNBA players who helped Warnock get elected were in lockstep with that narrative. But Loeffler's continued ownership in the league would further another existing narrative: that people in power can keep brushing off the danger to Black lives without facing any consequence.