The 10 Best Political Books of 2020 by Black Women
Last year, Black women called upon themselves, made themselves heard, and shared their political talents and minds.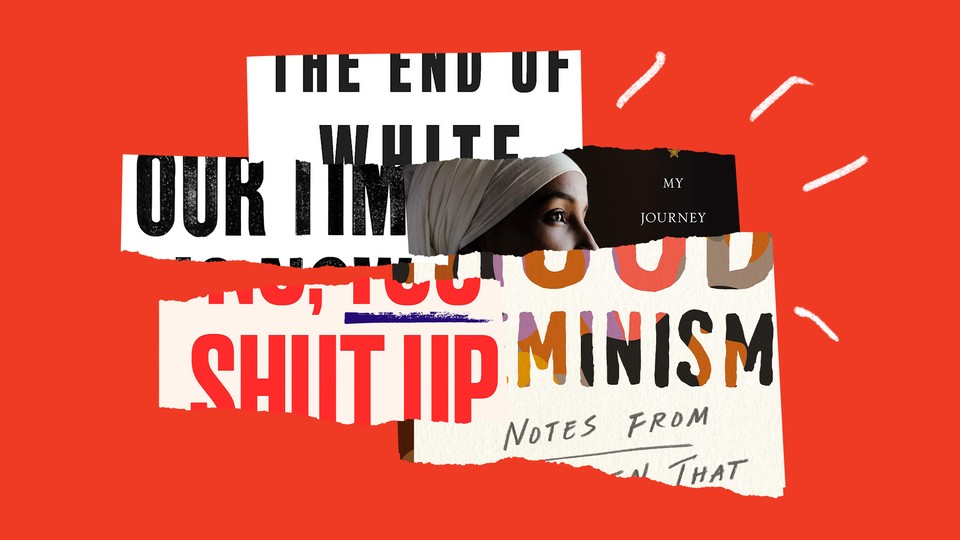 In the early 1830s, it was all but unheard of for women to organize politically. The Seneca Falls Convention lay more than a decade in the future. Women voters and elected officials were practically nonexistent. Even women sharing their political ideas in print, sounding their political voices in public, deeply offended American patriarchs.
But a 29-year-old Bostonian widow, who had been a domestic servant for most of her life, became fed up with the silencing sexism—not to mention America's racism and slavery. White executors had stolen the inheritance of her recently deceased husband. Her mentor, the abolitionist David Walker, had also died. Out of her grief, Maria Stewart became a born-again Christian. Her newfound religious voice inspired her political voice. She resolved to become "a strong advocate for the cause of God and for the cause of freedom."
In 1831, Stewart started writing for The Liberator, a newly established Boston-based abolitionist periodical. "How long," she asked in print, "shall the fair daughters of Africa be compelled to bury their minds and talents beneath a load of iron pots and kettles?"
Quite long, historians can say now. But not if Stewart could help it.
"O woman, woman, upon you I call; for upon your exertions almost entirely depends whether the rising generation shall be anything more than we have been or not," Stewart said in her first public lecture, on April 28, 1832, before Boston's African American Female Intelligence Society.
Five months later, Stewart became one of the first American women to give a political speech before what aggrieved people at the time called a "promiscuous" audience, one containing both men and women, Black and white. She addressed the New England Anti-Slavery Society on September 21, 1832. "Tell us no more of southern slavery," she said, "for with few exceptions … I consider our condition but little better than that."
American patriarchs—white and Black, including abolitionists—resisted her almost to a man. They tried to silence Stewart again and again by telling her again and again that she was just a woman.
"What if I am a woman … pleading in public for our rights," Stewart said in a powerful defense of women that foretold Sojourner Truth's "Ain't I a Woman?" speech 18 years later. Stewart's address on September 21, 1833, was her last. Afterward, she skipped town and quit public speaking. Stewart was ahead of her time, striving to move her time ahead, like other trailblazers across time.
Hours after Joe Biden and Kamala Harris were declared the winners of the 2020 presidential election on November 7, Harris reflected on the "women who fought and sacrificed so much." She spoke of standing "on their shoulders." She spoke of "a new generation of women in our country who cast their ballots and continued the fight for their fundamental right to vote and be heard."
This fight to be heard remains one of the animating descants of Black women's political literature, a genre forged in Stewart's struggle to be heard all those years ago. In 1835, Stewart published Productions of Mrs. Maria W. Stewart, a collection of speeches, essays, and poems that inspired women to follow in her wake.
As Harris prepares to take the oath of office in 2021, here are 10 notable political books on or by Black women published during the history-making year of 2020. Black women called upon themselves, made themselves heard, and shared their political talents and minds in 2020. To recognize Harris's feat is to recognize all that made her election to the vice presidency possible, including the political literature of Black women in 2020.
Our Time Is Now: Power, Purpose, and the Fight for a Fair America, by Stacey Abrams
Our Time is Now is more than a comprehensive chronicle of voter suppression. It is more than a comprehensive exposé of voter suppression. It is a book of clarity. It is a book of inspiration. It is a book of empowerment. Abrams points the way forward to American democracy.
Reclaiming Her Time: The Power of Maxine Waters, by Helena Andrews-Dyer and R. Eric Thomas
Reclaiming Her Time renders Representative Waters's extraordinary career in penetrating detail and with razor-sharp wit. Andrews-Dyer and Thomas have created a beautiful celebration of Waters's great vision, wisdom, and heart.
Say It Louder!: Black Voters, White Narratives, and Saving Our Democracy, by Tiffany D. Cross
Say It Louder! shows, precisely, how white narratives, political campaigns, and voter suppression have combined to diminish the power of Black voters. But this is not a despairing book. Through it all, Cross brilliantly and poignantly foretells the power of Black voters—and their role in saving American democracy. This farsighted book portended the 2020 election.
The Purpose of Power: How We Come Together When We Fall Apart, by Alicia Garza
"Black lives matter" was Alicia Garza's love letter read around the world. The Purpose of Power is another love letter that should be read around the world. It speaks to all that molded Garza, all that molds organizers, all that molds movements.
Vanguard: How Black Women Broke Barriers, Won the Vote, and Insisted on Equality for All, by Martha S. Jones
Jones is the leading political historian of African American women. And this book is the commanding history of the remarkable struggle of African American women for political power. The more power they accumulated, the more equality they wrought. All Americans would be better off learning this history and grasping just how much we owe to equality's vanguard.
Hood Feminism: Notes From the Women That a Movement Forgot, by Mikki Kendall
Hood Feminism paints a brutally candid and unobstructed portrait of mainstream white feminism: a narrow movement that disregards the needs of the overwhelming majority of women. In the storied tradition of Black feminism stretching back to Maria Stewart, Kendall persuasively contends that women's basic needs are feminist issues. The fights against hunger, homelessness, poverty, health disparities, poor schools, homophobia, transphobia, and domestic violence are feminist fights. Kendall offers a feminism rooted in the livelihood of everyday women.
The End of White Politics: How to Heal Our Liberal Divide, by Zerlina Maxwell
Just as I can listen to Maxwell all day long, I can read her political analysis all day long. The End of White Politics is a clear-eyed critique of the racism and sexism corroding American politics, including the Democratic Party. To read this book is to understand the unifying and democratic path forward for the American people.
Mediocre: The Dangerous Legacy of White Male America, by Ijeoma Oluo
Trumpism—and its mission to maintain white male supremacy at all costs—is hardly a new phenomenon in American politics. Oluo adeptly historicizes the brutal effects of white male supremacy on people of color, white women, and white men. In charting a new white masculinity free of racism and sexism, Mediocre is a liberatory book. Liberatory for white men. Liberatory for us all.
This Is What America Looks Like: My Journey From Refugee to Congresswoman, by Ilhan Omar
Representative Omar has one of the most inspiring, engrossing, and American life stories in U.S. politics today. This Is What America Looks Like shares the tale of a little girl who lost her mother, fled war in Somalia, ended up in a refugee camp, learned hunger and death, missed school, immigrated penniless to the United States, and overcame it all to become a college graduate, community leader, and member of the House of Representatives. As this book shows, Omar embodies the American dream if there is one for Black women.
No, You Shut Up: Speaking Truth to Power and Reclaiming America, by Symone D. Sanders
Stewart would probably adore Sanders and No, You Shut Up. The book offers stories of Sanders resisting those who attempted to silence her, of Sanders finding her political voice. No, You Shut Up rouses political voices to make progressive change. Sanders issues a powerful call to speak in a political culture still silencing young Maria Stewarts.
In Stewart's first public speech, in 1832, she uttered words that have echoed throughout the history of Black women's political literature. She voiced a fortitude exemplified by Black women in all 10 of these political books of 2020: "The frowns of the world shall never discourage me."