Perhaps Buttigieg Was the Perfect Pick
Biden's choices say a lot about his theory of governing.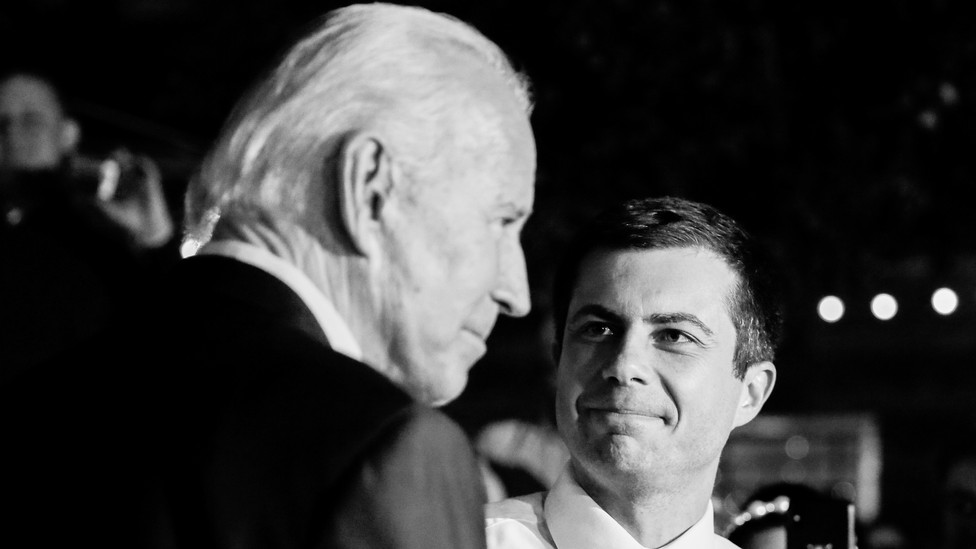 Updated at 3:20 p.m. ET on December 18, 2020.
Not for the first time, people are having strong feelings about Pete Buttigieg.
President-elect Joe Biden announced Tuesday that he'd nominate the former Democratic presidential rival and mayor of South Bend, Indiana, to become transportation secretary, and the reactions were predictably polarized. Buttigieg's fans heralded it as a great job for a young leader and a stride for LGBTQ representation. His detractors complained that it was a political favor for an unqualified rookie—though just a few months ago he was a semi-serious contender for an even more demanding job.
Buttigieg's résumé heretofore certainly didn't point toward the Transportation Department, though, true to form, he had a bullet-pointed list of unusual travel-related experiences at the ready. (Long Amtrak trips? You bet. Spring break on a freighter? Naturally. A marriage proposal at O'Hare? Somehow, yes.)
Deeming Buttigieg unqualified requires a standard for what makes a good transportation secretary. Quick: Name the best secretary in the department's history. Hell, name the current secretary. Or her predecessor. (If you can, either you work in transportation or journalism, or you're a huge asset to your pub-trivia team.) Is the most important qualification for this job subject-matter expertise? That's useful, but often DOT is headed by politicians with only some preexisting transportation-related background (Anthony Foxx, Ray LaHood, Norman Mineta). If nothing else, Buttigieg clearly has the brainpower to master new material.
Or does administrative experience in the federal government matter most? That has sometimes been even more important. Federal bureaucracies, such as the Department of Veterans Affairs, are enormous, and have stymied even experienced private-sector managers. But current Transportation Secretary Elaine Chao was previously labor secretary, and that doesn't mean Buttigieg's lefty critics think she's qualified. A lack of managerial experience might be the biggest reason to worry about Buttigieg, especially if you don't talk about his time at the management consultancy McKinsey & Company, as he would probably prefer you don't. DOT has almost 60,000 employees; South Bend has barely 100,000 residents. DOT's 2019 budget was $87.4 billion dollars, while South Bend's was $358 million.
There's one more way to think about qualifications, though: Who can best champion the department? This is the strongest case for Buttigieg. DOT is not always a high-profile department, though it touches Americans' lives pretty much every day, and his presence will elevate it. Because he is a slick communicator, he will be able to advocate for it publicly, and because he was a notable surrogate for Biden during the election, he'll be able to get the president's attention. (Plus he'll be dealing with trains, a subject beloved by Biden.) There's a similar rationale for Xavier Becerra, Biden's choice for Health and Human Services, who has a limited health-care résumé but has been deeply involved in litigation over the Affordable Care Act, knows Washington well, and has a profile that may elevate an otherwise-sometimes-ignored department.
The most productive way to think about Biden's selection of Buttigieg, as well as other secretaries, is as a whole: What kind of Cabinet is the president-elect trying to assemble? There doesn't seem to be a unifying theme. In some cases, he seems to be choosing for generic leadership skills rather than subject expertise. In others, he's picking people he trusts. In still others, he's picking people to discharge favors he owes, either to individuals or to demographic groups.
Such diffusion is a little unusual. Recent presidents have tended to approach the picks with some conceptual framework (the initial Cabinet, at least; the cohort changes organically as posts turn over). Richard Nixon announced all 12 departmental secretaries live on prime-time TV to suggest cohesion, and then mostly ignored them. Ronald Reagan chose a Cabinet that, as Stephen Hess writes, emphasized managerial competence and experience. When his vice president, George H. W. Bush, succeeded him, he aimed to surround himself with advisers who were personally close to him. "Loyalty is his ideology," a friend told The New York Times.
When Bill Clinton defeated Bush in 1992, he approached the Cabinet as an exercise in representation, promising a team "that looks like America." George W. Bush used his Cabinet to compensate for his lack of experience in Washington, picking a group that had long records in foreign policy and defense. (This did not prevent, and probably encouraged, catastrophic results.)
Barack Obama billed his Cabinet as a "team of rivals," taking inspiration from the 2005 Doris Kearns Goodwin book about Abraham Lincoln's advisers. Obama had chosen a primary opponent, Joe Biden, as his running mate, and he selected another, Hillary Clinton, as his secretary of state. But in general, as Todd S. Purdum wrote in Vanity Fair, he picked a bunch of competent but low-profile loyalists, which made them somewhat unhelpful to Obama's cause.
The Trump Cabinet was, like much of his presidency, not entirely coherent. In some cases, he chose people who he thought looked the part, like Defense Secretary James Mattis, Secretary of State Rex Tillerson, and Secretary of Homeland Security John Kelly, but it soon became clear that he intended to run foreign policy and immigration out of the White House, sidelining the departments, and all three were gone from those roles within two years. In other cases, he just wanted to reward friends (Wilbur Ross at Commerce, Linda McMahon at Small Business Administration), had no interest in the department's work (Ryan Zinke at Interior, Alex Acosta at Labor), or both (Ben Carson at Housing and Urban Development).*
The nascent Biden team is very different from Trump's in most respects, but so far it projects a similar jumble of approaches. There are subject-matter experts in some places. The State Department nominee Tony Blinken is a veteran hand—but he's also a close Biden confidant. The Pentagon pick Lloyd Austin is a four-star general—but Biden passed over Michèle Flournoy, who has more direct experience managing the Defense Department. There are also White House veterans, such as Susan Rice (domestic policy) and Denis McDonough (VA), but they're both removed from their shared background in foreign policy and national security.
Biden has also sought to use appointments as a vehicle for representation, echoing Clinton's vow with a promise to have "the most diverse Cabinet anyone in American history has ever announced." Buttigieg, who would be the first Senate-confirmed openly LGBTQ Cabinet official, fits that. There are many people of color, including Rice, Austin, Becerra, Alejandro Mayorkas (Homeland Security), Marcia Fudge (HUD), Michael Regan (EPA), and Deb Haaland (Interior). There are a number of women, including the pathbreaking Treasury pick Janet Yellen. Biden is also reportedly weighing appointing a Republican, which represents a different sort of outreach.
Finally, Biden is paying off favors. Buttigieg was a key surrogate, and now he gets a Cabinet post. Fudge was pushed hard by Representative James Clyburn, to whom Biden probably owes the Democratic nomination as much as anyone. Neera Tanden, the Office of Management and Budget pick, has long been a loyal party soldier. Biden is rumored to be considering Diana Taylor, the partner of megadonor (and former rival) Michael Bloomberg, for some job.
More than anything, Biden appears to be emphasizing personal relationships, a natural choice for a politician who has centered his long career on connection with people. That works in a few different directions: relationships with Obama-era comrades, relationships with loyal political allies, relationships with voting blocs. Approaching the Cabinet this way has pitfalls, because it passes by some subject-area experts. It also minimizes the chance of the president being truly challenged by dissenting voices—though in practice, commanders in chief have tended not to appreciate that, whether Obama or Trump. But a team of people who get along has the advantage of being a team of people who get along. The recent history shows that any number of approaches to a Cabinet can work—or fail.
---
* This article previously misstated that Linda McMahon worked at the Department of the Interior. In fact, she worked at the Small Business Administration.