Liberals Were Right to Fear the Supreme Court's Election Intervention
The justices' decision not to wade into a sloppy coup attempt is no victory for rule of law.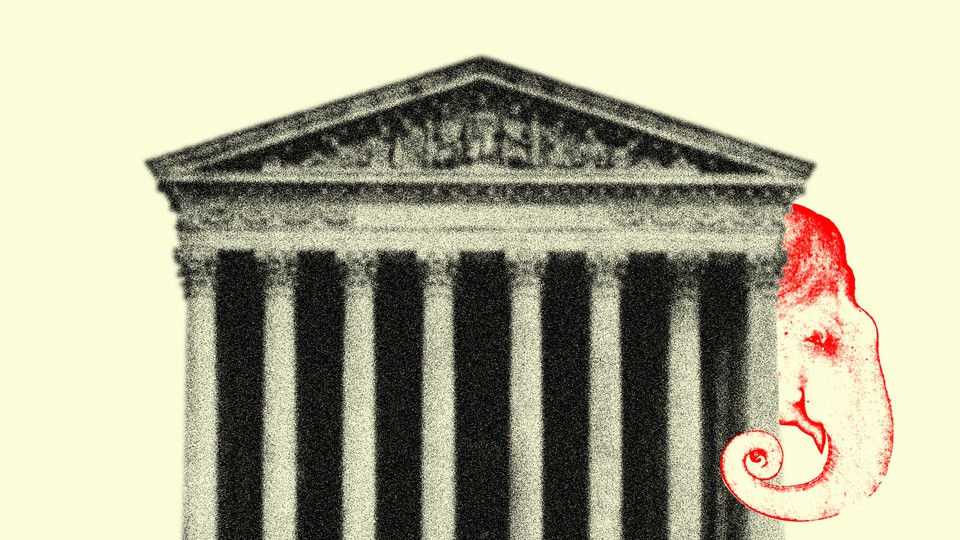 Any time a worst-case scenario doesn't come to pass, the comforting idea emerges that it wasn't really in play after all.
That pattern is now unfolding, following a week during which the United States Supreme Court dealt a pair of what are almost certainly fatal blows to President Donald Trump's bid to overturn the 2020 election results. But concluding that the justices would never have interfered on Trump's behalf confuses what they suggested a willingness to do before the election with what the circumstances of this blowout election actually allowed them to do. And with conservatives firmly in control of the Court, their decision not to wade into a sloppy coup attempt says far more about their political savvy than their alleged principled independence.
The two decisions leave Trump with little recourse. On Tuesday, shortly after he beseeched the justices to "have the courage" to intercede, they turned away a Hail Mary lawsuit challenging the legitimacy of mail-in voting in the key swing state of Pennsylvania. The Court's resolution of the matter came as a one-sentence order with no noted dissents.
Then, on Friday, the justices rejected an even more laughably absurd request from the state of Texas, which had asked the Court to bar Georgia, Michigan, Pennsylvania, and Wisconsin—all of which were won by former Vice President Joe Biden—from using their results to appoint electors to the Electoral College. Trump himself sought to intervene in what he described as "the big one" and "perhaps the most important case in history," and despite its multitude of factual and legal deficiencies, 126 Republican members of Congress and more than a dozen Republican state attorneys general gamely signed on in support.
The Court, however, disposed of it in short order, writing that Texas lacked legal standing to challenge the manner in which other states conduct their elections. Justices Samuel Alito and Clarence Thomas briefly noted their disagreement with the Court's jurisdictional conclusion, but took care to add that they "would not grant other relief" and expressed "no view on any other issue." On Monday, the Electoral College members will convene to formally cast their ballots to make Biden the next president of the United States.
All of this came as a deeply disappointing sequence of events for Trump, who had repeatedly called on the Republican-appointed justices to back his ambitious bid to fashion an unlikely victory out of resounding defeat. (When announcing the nomination of now-Justice Amy Coney Barrett in September, Trump made no attempt to hide his desire to have her confirmed expeditiously: "I think [the election] will end up in the Supreme Court," he said. "And I think it's very important that we have nine justices.") As Election Day approached, many observers—myself included—worried that if the race were close enough to come before the Court, its newly minted 6–3 conservative majority, anchored by three justices appointed by Trump himself, would find a way to return the favor.
The conservatives did little to disabuse Court watchers of this notion before the election, signaling to their Republican allies that a sympathetic Court might await them on the other side. In late October, in a case about Wisconsin's deadline for counting absentee ballots, Justice Brett Kavanaugh endorsed a dubious legal theory from a Bush v. Gore concurrence authored by then–Chief Justice William Rehnquist—a theory the majority, which effectively handed the 2000 presidential election to Republican candidate George W. Bush, did not rely on—that federal courts have a constitutional duty to prevent state courts from interfering with state legislatures' authority over the administration of presidential elections. The language of Kavanaugh's concurrence also evoked some of Trump's more alarming voter-fraud claims, bemoaning the "chaos and suspicions of impropriety" that can proliferate if late-arriving ballots "flip the results." (In dissent, Justice Elena Kagan pointedly retorted that "there are no results to 'flip' until all valid votes are counted.")
Two days later, while dealing with a dispute over Pennsylvania's mail-in-ballot receipt deadline, Alito declared that the election would take place "under a cloud," writing a statement joined by Thomas and Justice Neil Gorsuch that left open the possibility that ballots received after Election Day could go uncounted, depending on the litigation's outcome. A separate dissent authored by Gorsuch and joined by Alito questioned the legitimacy of a six-day extension of North Carolina's deadline imposed by state elections officials. It is not a coincidence that Republicans picked these fights in purplish states where including or excluding a tranche of ballots could, in theory, swing a hotly contested election from one candidate to the other.
As it so happened, the race wasn't close enough for the Court to even try. Nationally, President-elect Biden earned 7 million more votes than Trump. Biden's closest margin of victory, in Arizona, was a bit more than 10,000; in Georgia, he won by some 12,000 votes. His margins in Wisconsin, Pennsylvania, and Michigan—the three midwestern states that propelled Trump to victory four years ago—were 20,000, 80,000, and 150,000, respectively. Even if Trump and his allies miraculously managed to flip not one, not two, but the three most competitive states he lost, the president would still remain one Electoral College vote short of victory.
Given the Court's failure to give Trump another term in office, the preemptive hand-wringing over this possibility might feel, in retrospect, overblown. Conservative pundits in particular are celebrating this supposed vindication of judicial integrity. "All that remains" of Trump's reelection hopes, proclaimed the National Review's Dan McLaughlin on November 24, "is a host of extremely long-shot court challenges—each of which is short on evidence. This was always the likely outcome." On December 11, his colleague Rich Lowry triumphantly praised Trump-appointed judges for demonstrating a "commitment to facts, reason and the law" as litigation unfolded. "With the president of the United States raging at our electoral system and desperately seeking assistance from the courts, the alleged partisanship and corruption of the Trump-influenced judiciary has been nowhere in evidence," he wrote.
Even outside the conservative-media ecosystem, some pundits have suggested that the election's uneventful resolution amounts to a principled repudiation of judicial interference in partisan politics—an encouraging sign in these fractious times. "The judicial system has displayed a strong independent streak for upholding the rule of law throughout the post-election period. That's a big deal," wrote FiveThirtyEight's Nate Silver on Twitter. "There are various reasons to be worried about the future and I am worried to some degree. But it's a big deal."
Not all heavy-handed judicial interventions in presidential elections are created equal, though, or come with the same political price. In 2000, as Bush clung to a minuscule lead in the decisive state of Florida, five of the Court's Republican appointees united to stop the recounts. That was (and remains) deeply controversial; but for judges with any interest in maintaining their credibility, using bone-dry legalese to explain away five- and six-figure margins is too demanding a task. Trump wanted the Court's help, and even before Barrett began taking part in its deliberations, at least four justices hinted at their willingness to get involved, which should terrify all Americans who hope to live in a representative democracy where elections matter. When all the votes were counted, he just fell too far out of their reach.
More important, applauding the justices' supposed restraint here misunderstands the nature of the conservative legal project, which was under way long before Trump's ascent within the Republican Party and will certainly outlast his time in office. For decades, activists on the legal right have worked diligently to install reactionary ideologues as electorally unaccountable judges, cynically leveraging the bench's above-the-partisan-fray reputation to frame their agenda as the neutral, inevitable result of the legal process.
Under Trump, this effort was wildly successful: In addition to overhauling the Supreme Court, he managed to appoint more than a quarter of all active federal-appeals-court judges in just four years. This conservative hold on one of the federal government's three branches will last a generation, no matter who sits in the Oval Office at the end of the day on January 20. At this point, a farcical Court decision endorsing gibberish appeals to ignore the will of multiple states' voters would ruin decades of careful planning. Keeping Trump for another four years of judicial nominations was never as important as preserving the institutional legitimacy of a Court that conservatives dominate.
Already, the Court is delivering the sort of symbolic culture-war victories the legal right has long sought. In November, the Court blocked the enforcement of New York Governor Andrew Cuomo's attempt to limit (among other gatherings) attendance at worship services during the COVID-19 pandemic as an impermissible burden on religious freedom—a dependable cause célèbre in conservative circles. Chief Justice John Roberts dissented, as did the three liberal justices, but in this era of a conservative supermajority, his defection didn't matter. As the University of Michigan law professor Leah Litman wrote in The Appeal, this seismic ruling shows how eager conservatives are to reshape the law as they see fit, especially now that they are no longer constrained by whoever happens to be the coalition's most cautious member. As harmful as the Court was during Trump's presidency, its most consequential rulings will come well after he leaves office.
What the Court didn't say matters too. Despite the public plea of at least one high-profile member of the Supreme Court bar, the justices never forcefully repudiated Trump's postelection conduct; instead, they issued brief, anodyne orders in these matters that did not discuss the merits. Condemning frivolous litigation brought in service of a president's slow-motion coup attempt feels like a low bar for a high court to clear, and its failure to do so is itself a sort of silver-lining victory for certain Trump acolytes. On Friday night, the White House press secretary, Kayleigh McEnany, characterized the justices as having "dodged" the case's substance with a "procedural ruling," defiantly asserting that "the indictment on this election and its integrity still stands."
When taken alongside, for example, Kavanaugh's preelection willingness to countenance "suspicions" about the "impropriety" of mail-in voting, the justices' decision to resolve these matters relatively quietly does nothing to discourage the paranoia about the outcome's legitimacy that remains troublingly pervasive among Republican politicians and voters. And although the Court may not have been willing to overturn an election that Trump lost by such wide margins, the groundwork is now in place for the justices to bless a new era of voter suppression. Depending on how effective these efforts are, the Court might not need to bother with the possibility of intervening in the next close election—Republicans will just win it outright.
It is unequivocally good that the Court didn't deliver a 20th-anniversary redux of Bush v. Gore after all. But the justices are not civic heroes for turning Trump away at the courthouse door, or champions of the rule of law for not laying waste to the democratic process. They appear to be savvy partisan operators, unwilling to expend their political capital to rescue a soundly beaten candidate whose support they no longer need, fully aware that they can accumulate even more goodwill merely by not confirming the very worst fears about how the Court will wield its power. With Trump's postelection gambit all but over, the greatest trick the conservative legal movement can hope to pull off is convincing people that it was never really a threat.